Travelling from Belfast to Giant's Causeway can be tackled in many ways. Here are the key stops along the way.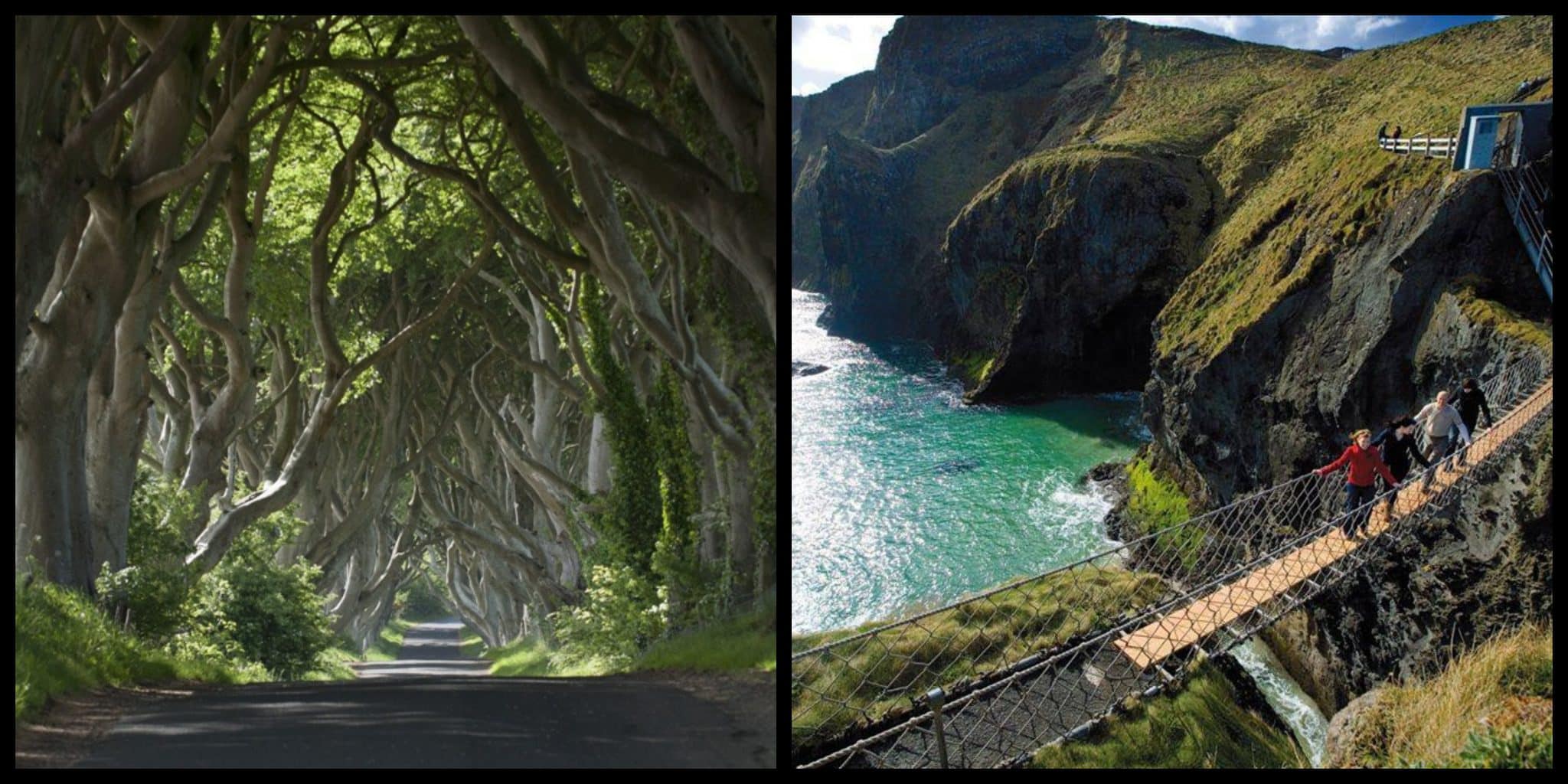 If you're planning a trip to Northern Ireland, no doubt Belfast, the country's capital city, and the Giant's Causeway, one of the best things to do in Northern Ireland and one of the most historical places in Ireland, will be pretty high on your bucket list.
It will take you about two hours to drive the 61 miles from Belfast to the Causeway Coast, and there are plenty of great things you don't want to miss in between.
Read on to find out the best ways to travel from Belfast to the Giant's Causeway as well as the key stops you won't want to miss on the way:
How to get from Belfast to the Giant's Causeway
By car
Travelling by car is one of the easiest ways to get from Belfast to the Giants Causeway, and it gives you the freedom to make as many stops as you like.
If you're looking for the quickest route, it is best to head for the M2 towards Ballymena, then travel up to Coleraine, and on to the Giant's Causeway from there.
However, we would recommend the scenic Causeway Coastal Route, which takes you from Belfast to Larne and up to the Giant's Causeway on a winding coastal road which boasts breathtaking views of the surrounding scenery.
By train and bus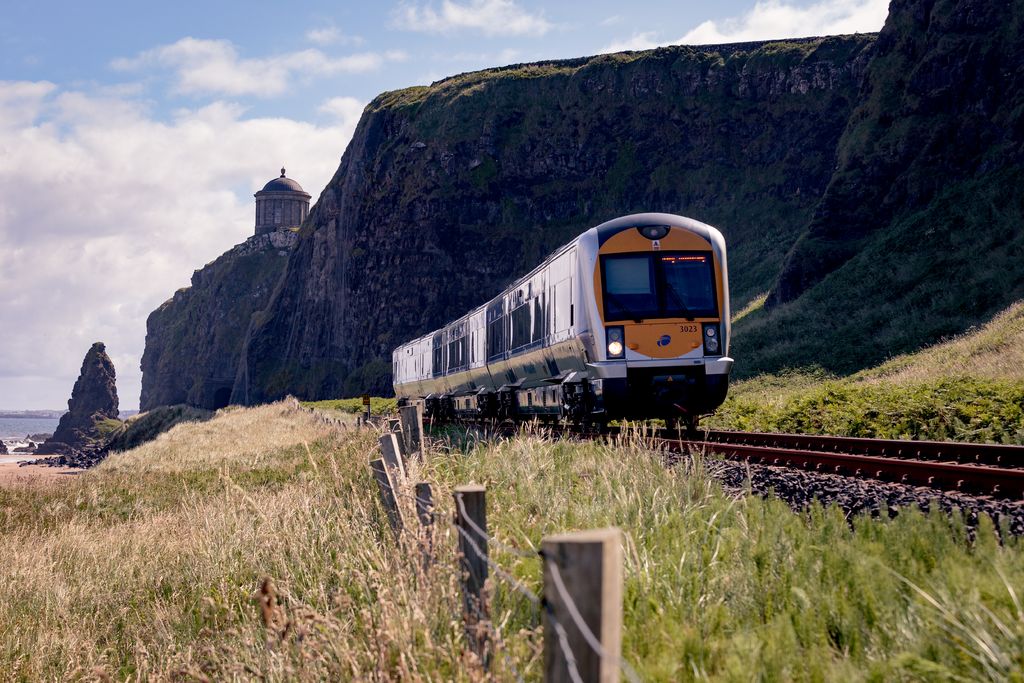 From Belfast's Great Victoria Street, take the train to Coleraine. The journey should last about 1 hour 15 minutes.
When you arrive in Coleraine, get either the 170 or 420 bus, both of which run directly to the Giant's Causeway. From the bus, you will be able to enjoy the spectacular views of the Causeway Coast as you pass Dunluce Castle and Bushmills. For the best views, grab a window seat on the left-hand side of the bus.
Belfast to Giant's Causeway Tour
If you fancy a guided tour, then book onto one of the Belfast to Giant's Causeway Tours. They will take you on a full-day coach tour of both, as well as several significant attractions in between. Prices start as low as just £15, so they're a great and easy way to spend the day!
Where to stop on the way
6. The Dark Hedges, Ballymoney – made famous by Game of Thrones
Popularized by HBO's hit fantasy drama Game of Thrones, the Dark Hedges have become one of Northern Ireland's most popular tourist attractions. The Dark Hedges are pretty much what you'd expect them to be: a long tree-lined avenue.
Make sure to snap a picture because this spot is Northern Ireland's most photographed spot!
5. Cushendall and Cushendun – quaint and idyllic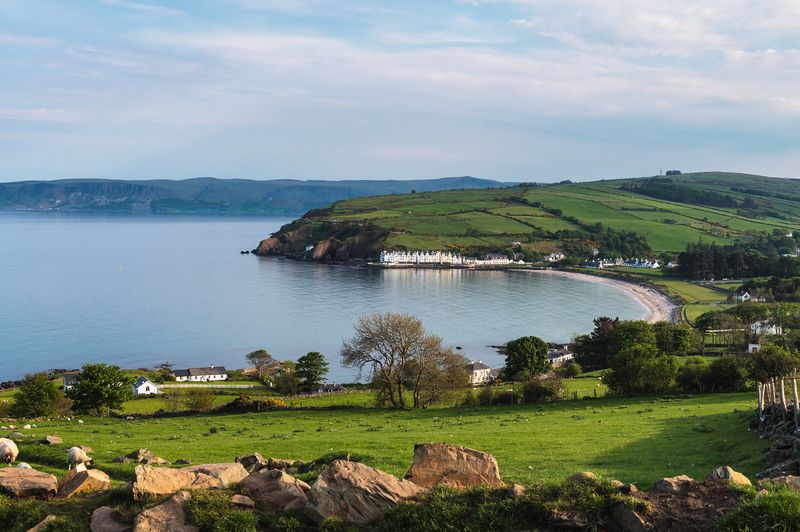 Cushendun and Cushendall are two quaint little villages which boast so much Irish feeling and atmosphere you'll be convinced they were plucked right out of a TV drama set in historical Ireland.
Both villages are situated right in the heart of the Glens of Antrim. Cushendun is a small coastal village which sits right on the sea. In contrast, Cushendall sits further back and boasts an array of brightly coloured buildings. While you're in Cushendun, make sure you say hello to the village's most famous resident, Johann the Goat.
4. Ballycastle – visit during the Ould Lammas Fair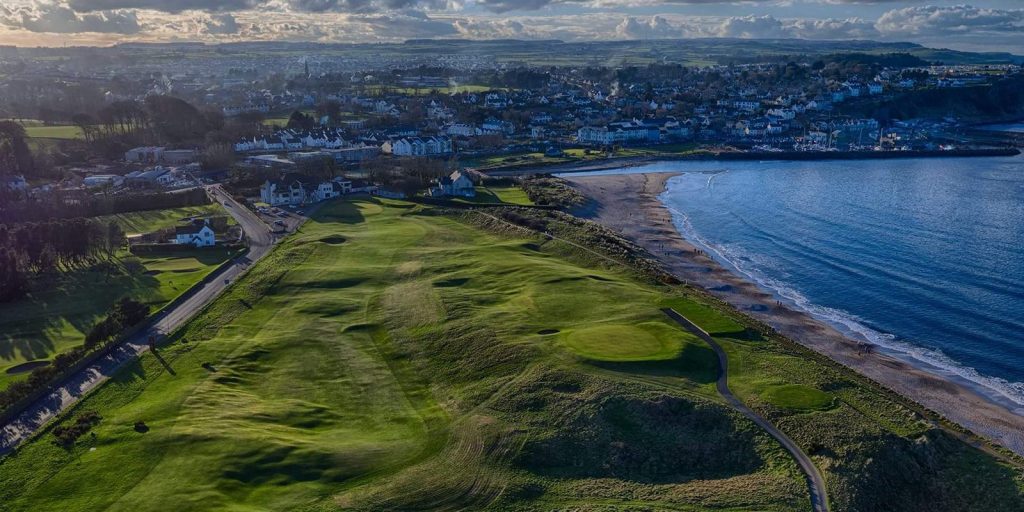 Ballycastle is a quaint, Irish, harbour town by the sea boasting plenty of independent shops and cafes, making it a great place to stop for a bite to eat!
If you're visiting in August, you can check out the 'Ould Lammas Fair'. This 17th-century harvest festival now attracts over 150,000 visitors every year. The fair boasts hundreds of market stalls offering local produce, artisan wares, and handcrafted goods.
3. Kinbane Castle, Ballycastle – Kinbane Castle is surrounded by rugged beauty
Kinbane Castle is a beautiful spot on the Causeway Coast that really makes you feel like you are in Ireland. The castle ruins on a cliff edge surrounded by the rugged Irish coastal scenery will leave you speechless – and not just from the wind.
Lots of couples choose this spot for engagement shoots and its easy to see why. There's just something so magical about it.
2. Carrick-a-Rede Rope Bridge – one of the best stops from Belfast to the Giant's Causeway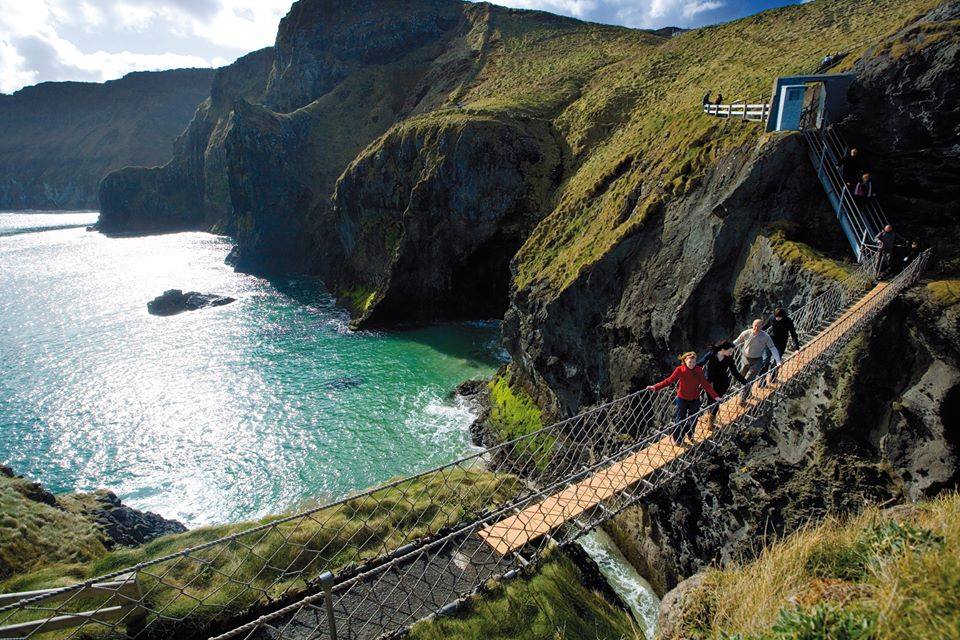 I'm sure that Carrick-a-Rede Rope Bridge is already sitting pretty high up your bucket list of things to see in Northern Ireland as it proves a popular attraction both for tourists and locals.
The rope bridge, which connects the mainland to the small island of Carrick-a-Rede, is today known as one of the best pedestrian suspension bridges in the world but was historically used by Ballycastle's salmon fisherman. It proves an exhilarating walk across – not to mention the spectacular views!
1. White Park Bay – can you see the cows?
White Park Bay is the perfect place to stop and stretch your legs during the long drive, especially when the weather is good. This white sandy beach stretches as far as the eye can see so is the perfect place for a peaceful stroll, you might even get to see the White Park Bay cows, the beach's unusual residents.
If you're feeling hungry, you can also grab a bite to eat at Bothy, a cute little Austrian-style café which sits on the road overlooking the bay.