Are you looking for the perfect city break to soak up the festive atmosphere and Christmas spirit? If so, then Belfast is a must for your winter bucket list.
With twinkling lights and festive Christmas markets, you may not be surprised that Belfast is one of the UK's most festive cities.
Come late November, the Northern Irish capital comes to life with Christmas cheer on every street corner.
Christmas lights line the city streets, Santa visits the popular shopping centres, and the Christmas Market brings lots of festive fun to the grounds of City Hall.
Now officially named one of the most festive cities in the UK, Belfast is a must-visit for Christmas.
How cities were ranked – in-depth analysis on annual festivities
Artificial Christmas tree designers Christmas Tree World considered various factors to develop its official ranking of the UK's most festive cities.
Researchers completed an indepth analysis of cities from all across the UK on social media and Google search data.
By doing so, the Christmas tree experts determined which cities spent the most on their festive decorations and which turned their Christmas lights on the earliest.
From festive hashtag mentions to annual Google searches for Christmas trees, Christmas Tree World came up with its official ranking.
Belfast named among UK's most festive cities – full of festive cheer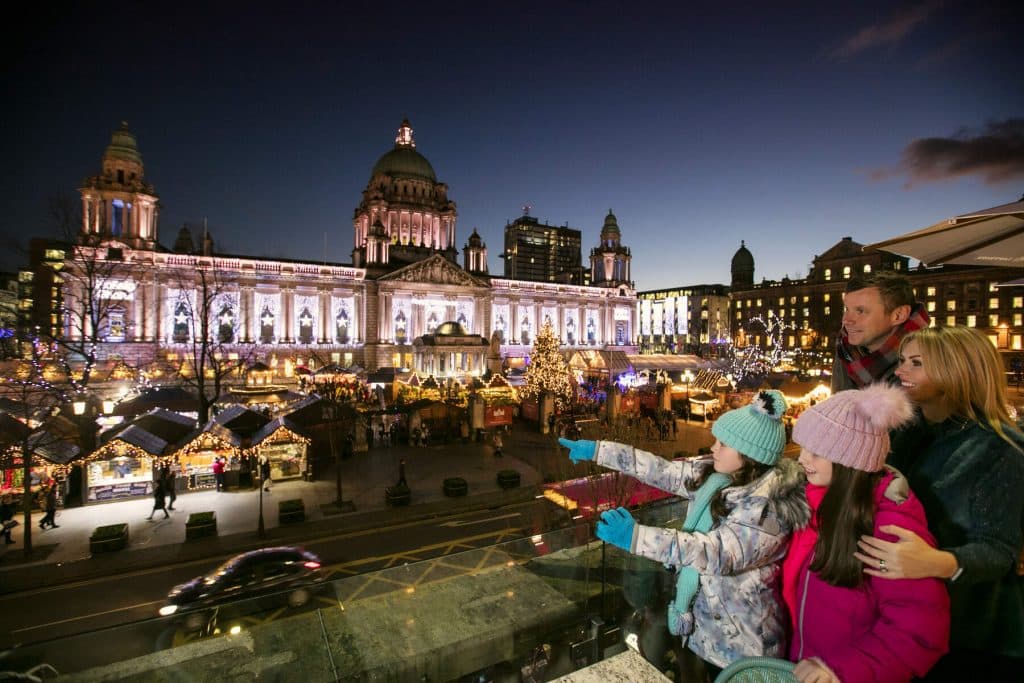 Coming out on top as the most festive city in the UK is Manchester. The northwest city boasted a huge 48,201 social media posts about its Christmas markets, considered to be among the best in the UK.
Closely following Manchester in second position is Glasgow. The Scottish city spent a whopping £498,730 on festive decorations and lights in 2019. This is over £100,000 more than what was spent in Manchester.
Leeds came in third position, with Christmas lights in the city switched on just after Halloween, on 7 November. Edinburgh followed in fourth, boasting an incredible 52,036 hashtag mentions on social media.
Coming just above Belfast in fifth position is Liverpool, with an astounding 47,420 annual Google searches for Christmas trees.
Festive cheer in Belfast – spreading Christmas spirit all around
Belfast ranked among the UK's most festive cities. The city came in sixth position, just missing out on a spot in the top five.
With a spend of £149,744 on decorations, 25,340 annual Google searches for Christmas trees, 7,164 festive mentions on social media, it cannot be denied that the city goes all out for Christmas.
Rounding out the top ten was Newcastle upon Tyne, coming in joint sixth with Belfast. Sheffield closely followed in eighth position, with Dundee and Cardiff in ninth and tenth.
London sees various festivities throughout the city on a whole different scale. So, Christmas Tree World analysed the capital separately.
One of the best Christmas markets – the perfect place for Dutch pancakes
Not only was Belfast named among the UK's most festive cities. Rather, the city's Continental Christmas Market was also named one of the best in the country.
A recent survey conducted by travel website Big 7 Travel mentioned the market in Northern Ireland as a must-visit this festive season.
Just missing out on a spot in the top ten, Belfast's festive market ranked 11th in the UK. Big 7 Travel wrote, "Belfast's beloved continental Christmas market is set to return in 2021 – and it's bigger and better than ever.
"You'll find more than mince pies and mulled wine here, with dozens of traders from across the globe serving up international fare, as well as Christmas trinkets, gifts and stocking fillers. You can finally find your favourite festive tipple at its two buzzing bars."