As a relatively small feat when compared with other countries around the world, Ireland is a very manageable backpacking destination that still offers plenty of amazing attractions to explore.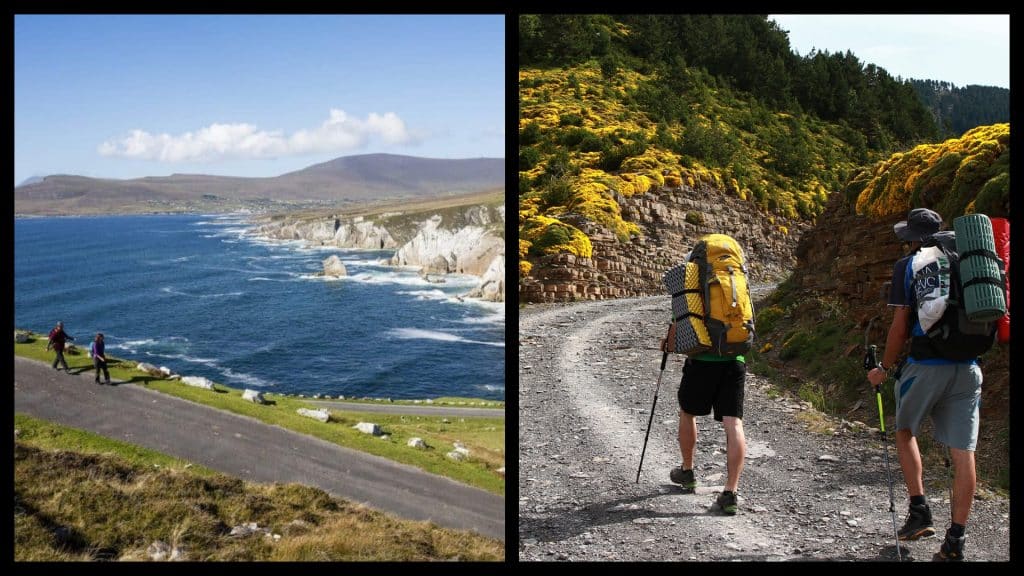 So, you're planning that once-in-a-lifetime trip to Ireland, but you want to remain within a strict budget. Well, you've come to the right place because today, we're filling you in on the ultimate guide to backpacking Ireland.
From the wild and rugged natural beauty of the famous Wild Atlantic Way coastal road that stretches along the west coast of the country to the bustling hub of Dublin, Ireland's capital city, there is plenty for the keen traveller to discover.
There are lots of well-known attractions across this European country that many tourists make a beeline for. And, yes, these sites are truly incredible and well-worth visiting. However, we would argue that some of the best things in Ireland can be found when you least expect them.
After you choose an itinerary, you need to determine how long you will be travelling as there are so many random things you should pack for long term travel!
Thus, with a friendly local feel and lots of budget accommodation options, including hostels and camping sites all throughout the island, the Emerald Isle is a paradise for backpackers. So, pack your bags and get planning. Here is your ultimate guide to backpacking Ireland.
Ireland Before You Die's top tips before backpacking Ireland:
Always consult the weather before you come (and pack a raincoat anyway!).
No matter what type of accommodation you plan to stay in, we recommend booking in advance where possible to avoid disappointment and get the best value for your money.
If your trip takes in both the Republic of Ireland and the North, you will need two different currencies. The Republic of Ireland uses the euro, the North uses the pound.
Ireland is full of beautiful nature walks, so make sure you have comfortable shoes to hand.
Planning Your Trip – all you need to know
Best time to visit Ireland – weather, crowds, events, and other considerations
The weather
Choosing when to visit Ireland depends entirely on what you plan to do while you're here. Ireland is known worldwide for its cold and wet conditions, so it is best to come prepared no matter what time of year you're visiting.
Ireland's weather is incredibly changeable; a day that starts out with sunshine and clear skies can end up grey and wet by the afternoon. It is often said that you can see the four seasons in just one day in Ireland.
However, the wettest months tend to be in autumn and winter. So, if you are hoping for warmer temperatures and as many dry days as possible, or plan to undertake a lot of outdoor activities at places like Killarney National Park, then we advise visiting in the spring or summer months.
Temperatures don't tend to vary drastically throughout the year in Ireland. In summer, temperatures average around a mild 17 to 18 C (63 to 64 F), and in winter, temperatures tend to stay around 7 to 8 C (45 to 46 F).
As Ireland doesn't tend to experience extreme temperatures, this isn't something you'll need to worry too much about when visiting.
Sunrise and sunset times
What it may be important to bear in mind, however, is the variation in the length of daylight between summer and winter. This will be important to note if you're planning to travel between different places as you may require longer hours of daylight.
On the shortest day of the year, which is known as the winter solstice and falls on 21 December, Ireland will enjoy only around seven hours of sunlight, with the sun rising around 9 am and setting around 4 pm.
In contrast, the summer solstice or the longest day of the year, which falls on 21 June, will see the sunrise around 5 am and set around 10 pm, giving Ireland around 15 hours of daylight.
LEARN MORE: The IB4UD guide to the best places to see the sunset in Ireland.
Crowds
Now that we've covered the weather, we'll move on to address crowds. As mentioned above, Ireland enjoys its longest days and warmest temperatures during the summer months. Because of this, summer also tends to be the busiest time in Ireland, especially at popular tourist attractions.
Many schools in Ireland finish for the summer at the end of June and don't reopen again until the beginning of September. This means that many families may be out and about enjoying day trips to the country's most scenic spots.
As well as this, due to the temperate conditions, Ireland sees its highest number of tourists during July and August. So, roads and attractions may be much busier, meaning you may have to book in advance.
On the flip side, as winter sees a lull in tourism in Ireland, many shops and attractions, particularly around coastal areas, tend to shut for the winter months. However, most will remain open from around April to October.
To get the best of both worlds, we would recommend visiting in spring, from April to early June, or September to enjoy mild conditions and lower numbers of crowds.
Annual events
Another thing to consider when deciding when to visit Ireland is the annual events calendar. There are various bank holidays and cultural celebrations that take place across the island throughout the year.
One of the most iconic is St Patrick's Day on 17 March. This annual celebration recognises Ireland's patron saint and sees various parades, celebrations, and festivities taking place across the country.
Other major events in the Irish calendar include Halloween on 31 October, which sees various spooky festivities take place. Christmas and St Stephen's Day fall on 25 and 26 December, and while many shops and businesses may be closed for these holidays, the run-up to Christmas in Ireland is truly magical, with twinkling lights and festive Christmas markets popping up all across the country.
It is worth bearing in mind, however, that these holiday seasons will prove extremely popular across the island. Thus, if you are planning to visit for any of these times, it is best to book well in advance.
What to bring – make sure to come prepared
Before you start your backpacking Ireland adventure, you want to make sure you come prepared. Being organised and packing the right things will ensure your trip goes as smoothly as possible.
As mentioned above, the weather in Ireland can be changeable no matter the season. So, whenever you're planning a trip to the Emerald Isle, make sure to pack layers and clothes suited to all occasions.
Even if you're visiting in the height of summer, we recommend bringing a suitable rain jacket, comfortable, waterproof footwear, and warm clothes in case the temperatures dip. This is especially important if you're planning to visit places like the Wicklow Mountains and the Wicklow Way.
The island of Ireland is split up into Northern Ireland, which is part of the UK, and the Republic of Ireland, an independent state. Both Northern Ireland and the Republic of Ireland operate two different currencies, with sterling in the north and euros in the south. So, if you're travelling throughout the country, it's best to ensure you bring both.
Many roads in the Republic of Ireland are operated using a toll system. Thus, while most businesses throughout Ireland accept card payments, we recommend always carrying some cash in case you need to pay for tolls.
ESSENTIAL READ: Ireland Before You Die's guide to Dublin's M50 eFlow toll.
As well as bringing your gear to allow for a smooth trip, it is also best to make sure you bring along your important travel and ID documents, including insurance documents, passports, driving license, and any required visas depending on where you're travelling from.
Travelling around – plenty of options to choose from
Travelling around is part of the adventure when it comes to backpacking Ireland. As some locations in Ireland are relatively rural and remote, we recommend you either rent a car or brush up on your knowledge of the country's public transport system.
The public transport network across Ireland is not as extensive as those in other countries around Europe. However, bus and train fares are much more affordable than the cost of public transport in places like England, making this a great option if you're backpacking Ireland on a tight budget.
READ MORE: Our guide to renting a car in Ireland.
Trains and buses
Trains and busses will be a great option if you're travelling between Ireland's major towns and cities. However, if you're hoping to visit some more remote and scenic locations, this may be a bit trickier.
Trains in Ireland are modern and comfortable and provide the perfect way to travel between popular locations, such as Dublin, Belfast, and Galway. However, train links throughout the country can often be found lacking in ease and regularity, particularly around the west of Ireland.
With various changeovers required for many journeys, particularly to areas such as Donegal, Sligo, and Kerry, travelling by train may require a lot of planning.
Busses also provide a convenient way to travel around Ireland, with links connecting more remote areas and routes scheduled more regularly than most trains. Companies such as Translink and Bus Éireann provide easy ways to travel around the country.
Many busses are comfortable, fitted with modern amenities, such as air conditioning and lighting, and provide plenty of luggage storage. Bus and train tickets can be booked at local stations or online at buseireann.ie, translink.co.uk, or irishrail.ie.
Some of the most scenic spots in Ireland are isolated and remote, and as such, are not well-connected by either bus or train. To access these, which we highly recommend you do, you will have to either rent a car, book on with a tour, or travel by bike.
Travelling by car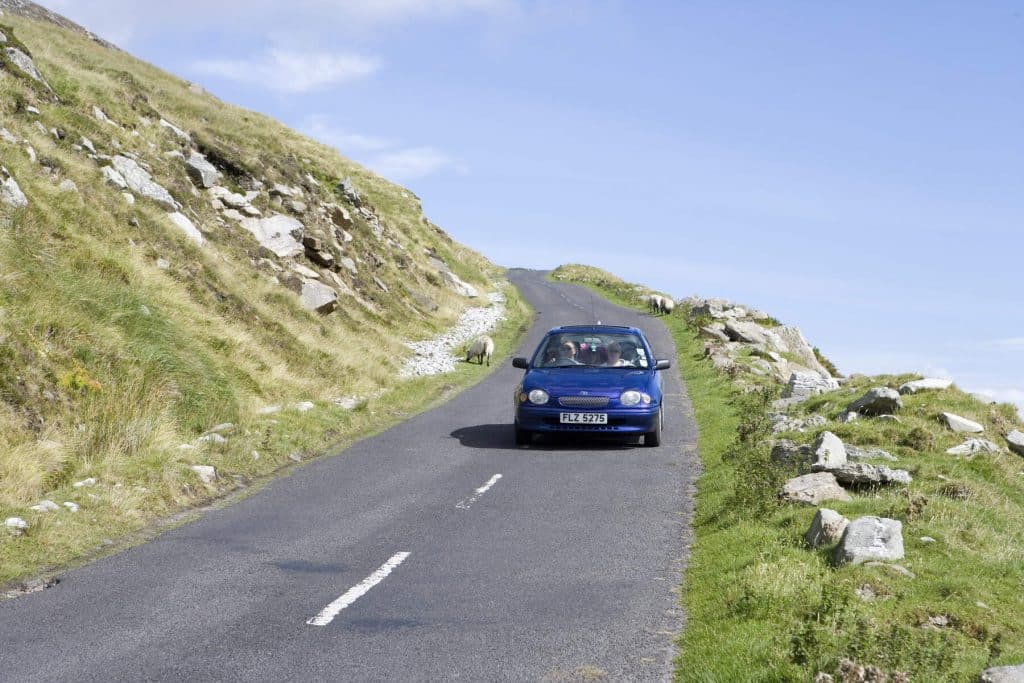 There are a few things you must bear in mind if you're planning to travel around Ireland by car. First, and most importantly, unlike many other countries around the world, people in Ireland drive on the left-hand side.
As well as that, if you're planning to travel between the north and south of Ireland, remember that speed limits are in kilometres per hour in the Republic of Ireland and miles per hour in Northern Ireland.
When renting a car in Ireland, make sure you are fully insured to avoid any legal issues should an accident occur. Finally, many of Ireland's country roads are windy and narrow, so these are best approached with a note of caution.
LEARN MORE: The IB4UD guide to everything you need to know about driving in Ireland.
Top destinations – stunning coastlines, fascinating historical sites, and bustling cities
For being such a small island, Ireland offers a diverse range of activities and attractions for all types of travellers. It would be impossible to list everything you need to see and do across the Emerald Isle in this article. However, we'll highlight some must-visit attractions that you simply can't miss when backpacking Ireland.
Nature spots
For nature lovers, we recommend a trip to Ireland's beautiful national parks, including the historic Killarney National Park in County Kerry, the green mountains of Wicklow Mountains National Park in County Wicklow, Glenveagh National Park in County Donegal, and Connemara National Park in County Galway.
These beautiful, diverse landscapes are truly wonderful to discover. They offer some of the most incredible scenery you are likely to ever encounter. Explore the green hills and mountains on some beautiful walking trails. Our favourites are the Kerry Way, the Wicklow Way, and the Mourne Way.
Visiting country and forest parks, such as Carnfunnock Country Park in County Antrim, Dún na Rí Forest Park in County Cavan, and Lough Key Forest Park in County Roscommon, is another one of our major travel tips if you're looking for free and fun things to do.
Coastal scenery
If you're a fan of breathtaking coastal views and unforgettable scenery, then Ireland is sure to please. Top spots include the iconic coastal cliffs offering fantastic views of the Atlantic Ocean, such as the Cliffs of Moher in County Clare, the Slieve League Cliffs in County Donegal, the Copper Coast in the southeast, and the Dingle Peninsula in County Kerry.
The north coast of Ireland also offers some epic views. From the breathtaking and unforgettable Giant's Causeway, which is cloaked in myth and folklore, to Fair Head in County Antrim to the majestic Mourne Mountains that sweep down to the Irish Sea, you'll be spoilt for choice.
Beaches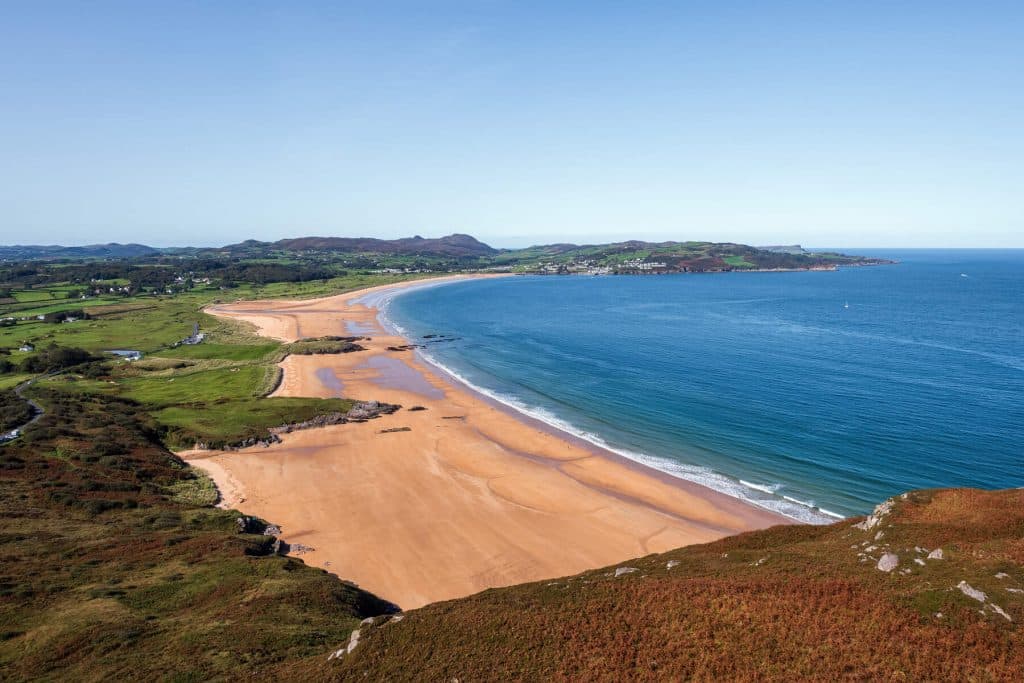 Ireland doesn't offer the sun-splitting weather of destinations, such as Greece, Australia, or Spain. Still, the Emerald Isle still has some breathtaking beaches that are well worth a visit. Some of the best beaches in Ireland can be found along the so-called 'surf coast' of Sligo and Donegal.
You can also discover stunning strands all along the coast in the 'sunny south east' of Wexford and Waterford. Not to mention the west coast and the Wild Atlantic Way, in Galway, Cork, and Kerry. There are even beautiful beaches on the outskirts of Dublin in the east.
The north of Ireland also offers some breathtaking views and coastal scenery. Beautiful beaches are located all around the coast from County Down in the southeast to County Derry in the northwest.
Some of the best beaches in Northern Ireland can be found along the north coast. These include Portstewart Strand, Ballycastle Beach, Benone Beach, and White Park Bay. Other beaches that are worth checking out include Murlough Beach and Nature Reserve, Tyrella Beach, and Ballyholme Beach.
Islands
If you're looking to get off the mainland, Ireland offers a vast array of beautiful islands to discover. There are approximately 80 islands dotted around the coast. So, you will be spoilt for choice when it comes to beautiful spots to explore. Some of the most popular are the Aran Islands in the Atlantic Ocean, off the coast of County Galway.
The Aran Islands are split up into three islands. Inis Mór is the largest of the three, but Inis Meáin and Inisheer also have lots to offer. While on the Aran Islands, we highly recommend renting a bike to explore all the historical sites and epic views.
We also recommend visiting Achill Island off the coast of County Mayo for an unforgettable experience. The Skellig Islands off the coast of Kerry and Rathlin Island off the north coast of Antrim, are two more top spots.
Historical sites
For history buffs, Ireland is a must-visit destination. With thousands of years of history to discover, from ancient monuments to modern historical events, Medieval castles to religious sites, you will have the chance to take a deep dive into the past.
Iconic historical sites in Ireland include the prehistoric Newgrange Passage Tomb in County Meath and Blarney Castle in County Cork. Dunluce Castle in County Antrim and Dunguaire Castle in County Galway are also worth checking out.
Check out The Rock of Cashel and Cahir Castle when in County Tipperary. And, Bunratty Castle and Folk Park in County Clare, Ross Castle in Killarney National Park, the Hill of Tara in County Meath, and Kilmainham Gaol in County Dublin are just a few more that you should visit.
RELATED READ: Our guide to the best castle in each of Ireland's 32 counties.
Cities
Those who feel most at home in a busy city will also have lots to enjoy when backpacking Ireland. From the capital city of Dublin, which boasts a plethora of historical sites, lively bars, and great restaurants, to the Northern Irish capital of Belfast, known as the home of the Titanic, with great nightlife and attractions to explore, the options are endless.
Major cities such as Cork, Galway, Derry, and Waterford also offer city lovers plenty of fascinating sites to explore and attractions to discover.
When in cities, we recommend heading to local bars and restaurants to get an authentic feel for life in Ireland, checking out local walking tours, enjoying great food and drinks, and having good craic with the locals.
Pubs
One thing you can't miss out on when backpacking Ireland is delving into the country's pub culture. It is known the world over that the people of Ireland are fond of the drink, with drinks such as Guinness and Irish whiskey being among Ireland's largest exports.
However, it isn't just the alcohol that makes Ireland's pubs so special. It's the unique culture, friendly local feel, and all-around great craic that makes pub culture in Ireland such a prominent way of life.
Dublin's Temple Bar is a popular attraction and one of the most famous pubs in Ireland, with many pubs around the area also boasting great reputations.
Other fantastic pubs throughout Ireland you must visit include the historic Crosskeys Inn in County Antrim, Thomas Connolly's in County Sligo and O'Connell's in County Meath (you might recognise this spot from the famous Guinness ad).
You should also pay a visit to The Gravediggers in County Dublin and Kytelers Inn in County Kilkenny. Sean's Bar in County Westmeath, Matt Molloy's in County Mayo, among many more are also worth a visit.
READ MORE: Our guide to the best pub to visit in each county of Ireland.
Museums
In search of knowledge? Ireland is home to a plethora of brilliant museums and attractions that will teach you about all aspects of life in Ireland and further afield.
Some of our favourites include the Guinness Storehouse, the National Museum, and the EPIC Irish Emigration Museum in Dublin. In Belfast, you can visit the historic Crumlin Road Gaol, Titanic Belfast, and the Ulster Museum.
For those interested in folk history, you can visit the Ulster Folk and Transport Museum, Bunratty Castle and Folk Park (complete with a 15th century tower), or the Ulster American Folk Park.
LEARN MORE: The IB4UD guide to the best museums in Ireland.
Outdoor activities
Adrenaline junkies and outdoor adventure enthusiasts will also be in their element when backpacking Ireland.
Mountain ranges, such as the Macgillycuddy's Reeks in County Kerry, the Mourne Mountains in County Down, Connemara National Park in County Galway, and the Wicklow Mountains National Park in County Wicklow, offer prime hiking opportunities and green hills with suitable walks for all abilities.
The Wicklow Way, the Kerry Way, and the Mourne Way are some of the most popular routes with plenty of accessible, shorter trails to discover.
Water babies will enjoy an abundance of watersports activities that take place along the Irish coast. These can be enjoyed at the island's most stunning beaches, as well as in lakes and rivers around the midlands.
Choose from fun-filled activities, such as surfing, paddle boarding, sailing, kayaking, windsurfing, and more. Dedicated guides and instructors are also available throughout the country to take you on exciting adventure tours to ensure your safety and allow you to discover the best of the great outdoors in Ireland.
This is only a small selection of the fantastic attractions and sights that Ireland has to offer. With tons of museums, natural attractions, and historical sites, it would take a lifetime to list all the brilliant things to see and do in Ireland.
For more info on the best places to visit, see these articles:
Places to stay – for all tastes, budgets, and requirements
Ireland is a popular destination for backpackers and road trippers. Thus, with so many people backpacking Ireland every year, the island offers plenty of great accommodation options to suit all budgets, tastes, and requirements.
From luxury hotels to hostels, campsites to caravan parks, no matter how you're travelling, you are sure to find somewhere great to stay.
Hotels
Ireland is home to a wide variety of world-class five-star hotels and resorts. However, luxury may not be the main priority for those backpacking Ireland. Thankfully, the Emerald Isle is home to lots of cosy and affordable accommodation options to suit all budgets.
However, if luxury hotels are what you're looking for, check out our guide to the snazziest five-star hotels in Ireland.
Hostels
There are plenty of hostels all across the Emerald Isle. So, it would be impossible to include all of the best here. However, most can be found and booked easily on websites such as Booking.com and Hostelworld. On these sites, you can filter the options by your personal preferences.
Many of these hostels may be able to accommodate backpackers with very little notice. Still, it may be best to book ahead, particularly during busy periods to ensure you have a room.
Hostels in Dublin, Galway, and Cork
Top hostels in Dublin include Gardiner Lodge close to Dublin's Docklands, Abbey Court Hostel beside the Ha'penny Bridge, and Generator Dublin in Smithfield.
In Galway, you can book a cosy and comfortable room at an affordable price. Top spots include the Nest Boutique Hostel in Salthill, Sleepzone in the city centre, or Snoozles Hostel in the Latin Quarter.
For those visiting Cork, Bru Bar and Hostel on MacCurtain Street is a popular choice. Alternatively, you can book a room at Sheila's Hostel in the Victorian Quarter or Kinlay House in Shandon.
Hostels in Kerry and the southeast
If you're hoping to explore the beauty of the brilliant County Kerry, the town of Killarney is a great base from which to work. Some great choices include The Black Sheep Hostel and Coffee Shack, The Shire Accommodation, and Neptune's Hostel.
If you're visiting the southeast, you can book a night at the fantastic Beach Haven Hostel or Portree Hostel in County Waterford. In County Kilkenny, the Kilkenny Tourist Hostel, Lanigan's Hostel, or the Metropole. Or, in County Wexford, Jim McGee's Traditional Bar and Guesthouse, Beaches Youth Hostel, or Pier House Hostel.
Hostels in Donegal and Northern Ireland
Whether you're embarking on a journey along the Wild Atlantic Way or just want to experience the beauty of the craggy cliffs and rugged landscapes of the Irish coast, the northwest is a must.
County Donegal is home to some fantastic and budget hostels. These include Donegal Town Independent Hostel, the Donegal Wild Atlantic Hostel in Dungloe, or the brilliant beachside Bundoran Surf Co. County Sligo also has some fantastic hostels, including Beach Bar and Aughris House, Railway Hostel, and The Benwiskin Centre.
The north of Ireland is no exception when it comes to great places to stay on a budget. If you're visiting the city, Belfast offers various cosy hostels, such as Vagabonds Belfast, Global Village, and Lagan Backpackers.
Similarly, if you want to explore the coastal beauty of the north coast and pay a visit to the iconic Giant's Causeway, you'll be spoilt for choice. Some great options are Rick's Causeway Coast Hostel in Portstewart or Portrush Holiday Hostel and Whitepark Bay Youth Hostel in Portrush.
Camping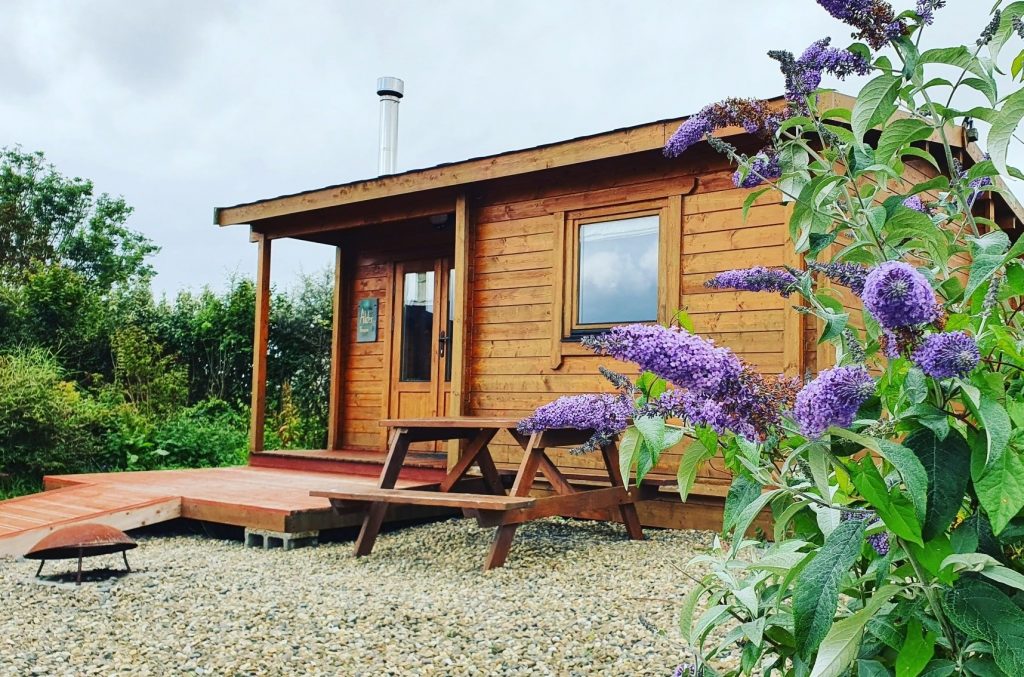 If you're travelling by campervan or want to make the most of the great outdoors by sleeping in a tent, there are lots of brilliant caravan and camping sites dotted all across the Emerald Isle.
Top spots include Pure Camping in County Clare and Clifden Eco Beach Camping and Caravanning Park in County Galway. You should also check out Camac Valley Tourist Caravan and Camping Park in County Dublin, plus many, many more.
Pitching a tent or parking your caravan at any of these spots will be a great way to make the most of the great outdoors and enjoy accommodation on a budget, allowing you to enjoy day trips as and when you like.
READ MORE: Our guide to the best camping sites in Ireland for every camper.
Alongside all the brilliant conventional accommodation choices you will find in Ireland, there are various unique places to stay if you fancy something a little bit different.
From sleeping in a Ring Fort in County Wexford to a Hobbit Hut in County Mayo, a treehouse in West Cork to a castle in County Galway; the options really are endless. We can assure you that staying at any of these fantastic spots will offer an experience you will never forget.
For more info on the best places to stay in Ireland, see these articles:
10 best campervan sites in Ireland according to reviews
The 10 best hostels for solo travellers in Dublin
Top 10 great campervan hire companies in Ireland
The 5 most beautiful and scenic camping sites in Ireland
Top 10 unusual places to stay in Ireland, RANKED
The 10 best hotels in Dublin city centre
10 best hotels in Galway City Centre
Top 10 best cheap hotels in Dublin, ranked
Top 10 hotels in Belfast City Centre
The 5 best hostels in Galway, RANKED
Cost of backpacking Ireland – plenty of great affordable options
There are plenty of affordable, traveller-friendly options. So, backpacking Ireland doesn't have to cost a fortune, especially if you're organised and plan ahead. Depending on your budget, a two-week backpacking trip to Ireland will cost you roughly €900 to €3,500.
Visiting Ireland's main cities, such as Dublin and Belfast, will be much more expensive than some of the more remote and rural areas across the country. It is important to be aware of this. However, we think it is worth paying the slightly higher cost to visit these areas.
Cost of accommodation and food
Depending on what you're after, accommodation can cost anywhere between €20 to €120 per night. Many hostels offer bed and breakfast deals, so taking advantage of these deals can save you money on food. However, if you dine out, breakfast can cost anywhere between €5 and €20.
Similarly, lunch could cost anywhere between €5 and €20 depending on whether you buy food from a local shop or dine out in a café. Dinner can cost similar prices, depending on whether you go for the budget option and buy ingredients from a local supermarket or choose to splash the cash and dine out in a restaurant.
Takeaway joints will also offer delicious options for breakfast, lunch, and dinner. These will be much more affordable than dining in cafés or restaurants.
Cost of transport and attractions
Transport costs vary widely, depending on the journey and what kind of transport you opt for. As previously mentioned, public transport is much more affordable in Ireland compared to other cities around the world.
Plus, money can be saved by pre-booking tickets in advance. A one-way train ticket from Belfast to Dublin or vice versa will cost around €17. Local bus or train fares will cost around €5.
Car hire will prove more expensive than using public transport. Many companies charge around €25 per day, plus taxes and insurance. However, if you're travelling in a group and can split the cost, this could prove more cost-effective. Also, bear in mind that you will have to fill the car with petrol or diesel. These prices can fluctuate depending on global oil prices.
The cost of attractions and experiences can vary widely in Ireland. Some are free to experience and others charge entrance fees costing upwards of €20 to €50 and more. So, when it comes to paying for experiences in Ireland, it is best to do your research beforehand for deals and plan what you would most like to prioritise.
Top tips – safety, useful info, local culture, and more
Safety
In recent years, with modernisation and peace agreements, Ireland has become one of the safest countries to visit, often ranking in lists among the safest countries in the world. However, as with any place in the world, there are still a few safety considerations you should bear in mind.
The most populated cities, such as Limerick, Dublin, Cork, and Belfast, will see the highest rates of crime. So, it is recommended to keep a close eye on your personal belongings to avoid being targeted by pickpockets.
Most people in Ireland are friendly and welcoming and will be happy to accommodate tourists. So, make the most of this hospitality, involve yourself in Irish culture, and get to know the locals. Check local pubs for trad nights and events. These will provide a great way to get involved in Irish 'craic'.
Insider info
It can be fun and exciting to leave your backpacking Ireland adventure up to serendipity. However, we recommend planning ahead so you don't end up overpaying for accommodation or experiences.
Many hostels and transport systems in Ireland will provide a reduced rate if you book ahead of time. So, make sure to do your research if you're travelling on a budget.
There are plenty of ways you can make the most of some of Ireland's best experiences on a budget. If you're a student, make sure to bring your student card. Many museums, attractions, and even travel options offer reduced rates for students. This could end up saving you a lot of money in the long run.
For those interested in history and historical attractions, we recommend getting a Heritage Card. The Office of Public Works (OPW) offers a scheme whereby you can purchase a €25 Heritage Card that gives you year-long free access to Ireland's fee-paying heritage sites managed by the state.
Aside from that, our final tip for backpacking Ireland is to be open to new and unexpected experiences. It is wise to plan the main bulk of your route and outline the attractions and experiences you most want to visit. Still, some of the best experiences in Ireland can happen unexpectedly.
With thousands of hidden gems, beautiful undiscovered areas, and a friendly local feel, we recommend journeying off the beaten track. If the urge strikes, visiting local pubs and make lots of friends along the way.
Backpacking in Ireland itinerary – pick the best one to suit your time and budget
We have compiled some handy guides to get you started on your backpacking Ireland adventure. With expert insights and a focus on the main tourist attractions, our various guides are the perfect place to start as you can pick the best one to suit your own budget and time constraints:
14 days in Ireland: the ultimate Ireland road trip itinerary
7 days in Ireland: the ultimate one week Ireland itinerary
Northern Ireland in six days (road trip itinerary)
Check out all the rest of our itineraries here.
Other useful tips
No trip to Ireland is complete without visiting Dublin. Thus, we would argue that the capital of the Republic of Ireland should be on all backpacking Ireland itineraries. Some of the top attractions in the city include Trinity College and the Guinness Storehouse. Not forgetting Temple Bar, Kilmainham Gaol, Dublin Castle, and many more.
Belfast, the capital of Northern Ireland, is also worth visiting, with attractions like the Giant's Causeway and Crumlin Road Gaol. Coach tours are readily available from all the major cities to the north coast, home to some epic views and filming locations from the famous Game of Thrones.
Aside from that, some of the most epic views and magnificent historical sites can be found along the coast. From the wonder of the north coast to the Copper Coast in the southeast. Discover the magic of the west coast overlooking the Atlantic Ocean, with Achill Island, the Aran Islands, the Slieve League Cliffs, and much more.
Your questions answered about backpacking Ireland
In the following section, we answer some of our readers' most frequently asked questions and those that appear often in online searches.
How much does backpacking in Ireland cost?
The cost of backpacking Ireland depends entirely on your budget. Your choice of accommodation, mode of transport, choosing to make your own food or dine out, opting for free attractions or paying for entrance tickets are all factors that will come into play. On average, a two-week backpacking trip to Ireland will cost you roughly €900 to €3,500.
Can you go backpacking in Ireland?
Yes! Ireland is a great place to backpack. There are lots of attractions in close proximity to one another, friendly locals, and affordable accommodation options.
How long would it take to backpack across Ireland?
Again, this depends entirely on what you want to see and do. Two to three weeks will give you enough time to see all the major cities and tourist attractions. However, spending longer will allow you to get to know the country a little bit better and explore off the beaten track.
How much money do you need per day in Ireland?
If you're travelling on a tight budget, around €50 per day will be enough to cover your accommodation, food, and travel, with a little leftover for attractions. However, if you want a little more wiggle room to indulge in luxuries, we recommend budgeting around €200+ per day.