Father Ted fans rejoice! Tickets for Tedfest 2020 have gone on sale, and here are all the details.
This is not a drill, people! Tickets for Tedfest 2020 have gone on sale, and we're feckin' excited. Craggy Island's calling your name for four full days of Father Ted–inspired mayhem. Grab your nun's habit, dog collar, and teapot and make your way to the West coast of Ireland for this once-in-a-lifetime experience.
What is Tedfest?
For those uneducated on Tedfest, let us explain. Tedfest is an annual festival inspired by the Irish TV series Father Ted. The show and festival take place on Craggy Island (also known as Inis Mór, one of the beautiful Aran Islands) off the coast of Galway.
The island gets transformed into one of the country's most famous islands for the duration of the festival, which will feature themed buildings, themed events, event tents, and characters from the series loping about.
Throughout the festival you'll find like-minded Ted-Heads attending Lovely Girl beauty competitions, Ted's Got Talent shows, nuns' beach volleyball, Human Hungry Hippos, lip sync battles, the Craggy cup, priest dance-offs, and plenty of alcohol to soothe even the shakiest of nerves. Plus, there'll be plenty of tea to go around.
Father Ted: a beloved comedy series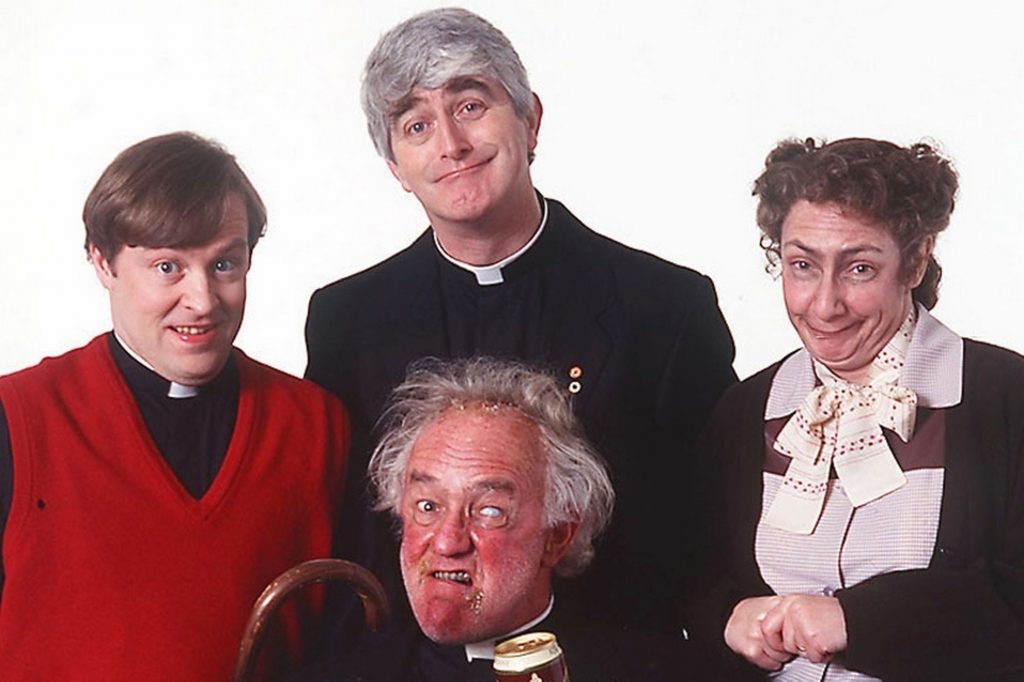 And if you're reading this far in and have never seen Father Ted, then, number 1, where have you been since 1995 and, number 2, have you been living under a rock?
For the uninitiated, Father Ted is a Channel 4 television programme that sees a cast of quirky characters who live on Craggy Island, a tiny landmass off the coast of Ireland, as they stumble their way through mischief and usually Catholic Church related problems.
There's the titular Father Ted Crilly, an exiled priest who's been cast off to the island under the suspicion of stealing a child's Lourdes money to take a trip to Las Vegas (yikes). There's also Father Dougal McGuire, a simple, confused priest, and Mrs. Doyle, the hilarious parish housekeep, as well as countless other characters.
To most Irish people, Father Ted was required viewing growing up, and we highly recommend those who haven't seen it give it a watch. Now that you're all up to speed with your Ted knowledge, let's talk about the details.
Festival details
The festival takes place over four days, Thursday the 20th of February to Sunday the 23rd, and costs €155 plus €3.50 booking fee per person. This doesn't include accommodation, food, transport, or drink (it also doesn't include drugs, or so says their website—careful now), but you do get a cup of tea when you get there as well as being able to access every event and sporty event throughout the weekend.
In addition, you'll be given an event wristband that allows you to take part in everything on the island, including events that are not open to the public.
Once on the island, there'll be lists of accommodation that have been set aside for the festival, so you can choose where you'd like to stay. At night there'll be plenty of drinking and craic as well as ceilis and games taking place. All pilgrims are welcome and encouraged to get involved with the madness all.
The event's known to be wild, with super-fans swarming the island and tickets go quickly so be sure to grab yours while you can. The weekend promises to be full of surprises with guaranteed spontaneous outbursts of "My Lovely Horse" being sung in the streets and Father Ted quotes being yelled at the top of people's lungs.
Getting there
Getting to Inis Mór isn't the easiest thing, but think of it like a pilgrimage, one for the cult of Father Ted. Ferries travel there daily, run by Aran Island Ferries, but if you'd prefer to fly you can grab a plane from Connemara to the islands aboard Aer Arran. Either way, we'd recommend you book soon as both are sure to sell out.
So go buy your ticket, re-watch all three seasons of the show, re-learn all quotes and jeers, and get to work on your outfit so when the time comes you'll be more than ready to experience the festival. Whether you're a Ted, a Father Dougal, a Mrs. Doyle, or even a Sister Assumpta, there's something for everyone over the weekend.
Corral a few friends, the cheapest priest costumes you can find, and hitch a ride on a ferry to Craggy Island. We'll be seeing you there.
Go on, go on, go on, go on, go on… You know you want to go.
More info
For more information and to book tickets, go to www.tedfest.org.
Get featured on Ireland Before You Die
Do you want to get your Irish business more online exposure? Especially to those interested in travelling the best places in Ireland? Then why not get a dedicated feature on Ireland Before You Die. Find out more 
here.