Ireland: the Emerald Isle. I'd always harboured a desire to go there, drawn by the stunning landscapes with dramatic cliffs and lush, green fields, by the legendary charm of the Irish people, and of course by the prospect of a perfectly poured glass of Guinness.
Could it really taste different? I had to see and taste it for myself. Of course, travelling to the other side of the world would take a bit of planning and preparation so I wouldn't have to worry about anything except the weather once I got there (tip – take a raincoat).
If you're planning a trip to this beautiful country I've written up some tips for prepping and for some great things to see and do once you get there.
When to Visit Ireland?
You can have a great time in Ireland all year round, as long as you're prepared to brave some wet and chilly weather.
High season for tourism runs from April through to late September, so if you want to make sure that you can visit all the sites on your bucket list (some close for the off-season, though of course, the beautiful landscapes are still there) without the hoards of tourists, maybe plan to go early or late in the season.
Lingo and Conversation
English is spoken throughout Ireland, and the Irish love to talk to strangers – but be aware that some areas have stronger accents than others!
You'll find many Gaelic speakers as well, don't worry – you aren't expected to learn much more lingo than 'craic' (more on that later).
Remember that Northern Ireland is actually part of the UK – but it's best not to talk to locals about this subject too much as people can be very much divided in their opinion (and very, very passionate about it).
What to Do Before You Go
If you hold an Australian passport you don't need a visa to visit Ireland.
If you hold a different passport you should check your eligibility and immigration status before you book tickets.
You can stay up to 90 days as an Aussie tourist, but if you're planning to do some work or studying, obviously you need to look into the specifics and you may be subject to immigration control.
I was living in Wollongong at the time, which meant having to get to Sydney for the flight out.
I made the decision to drive there on the day, which ultimately made the whole experience that much more comfortable both on the way to and from the airport.
I didn't have to go through the hassle of public transport or inconvenience any of my family or friends by asking them for a lift.
However, choosing to drive meant that I needed to deal with the issue of parking my car safely for the duration of my travels.
Luckily, Sydney airport parking was available, and I even had a choice of a number of secure locations to choose from.
Most importantly (at least to me, at the time) the parking I chose didn't break the bank and the extra cash I saved there, came in handy come souvenir time.
What to Pack?
As for the weather – well, even in the summer you should prepare for a bit of rain – but you can experience all four seasons in a matter of hours.
If you're planning to do a lot of outdoor activities (and I highly recommend that you do) then pack a good raincoat, but also be prepared to strip off some layers when the sun comes out.
Layers are better than a big bulky jacket for outdoor activities.
Where to Go: Top Places 
Ireland is full of beautiful scenery, mysterious Celtic ruins, craggy cliffs with the swirling Atlantic ocean beneath them, castles, forests and lush pastures.
It's also the home of many shooting locations for Game of Thrones, which is a big draw for tourists (myself included).
Here are a handful of the places I visited – there are many more I could have written about, but these for me were the highlights.
1- Killarney National Park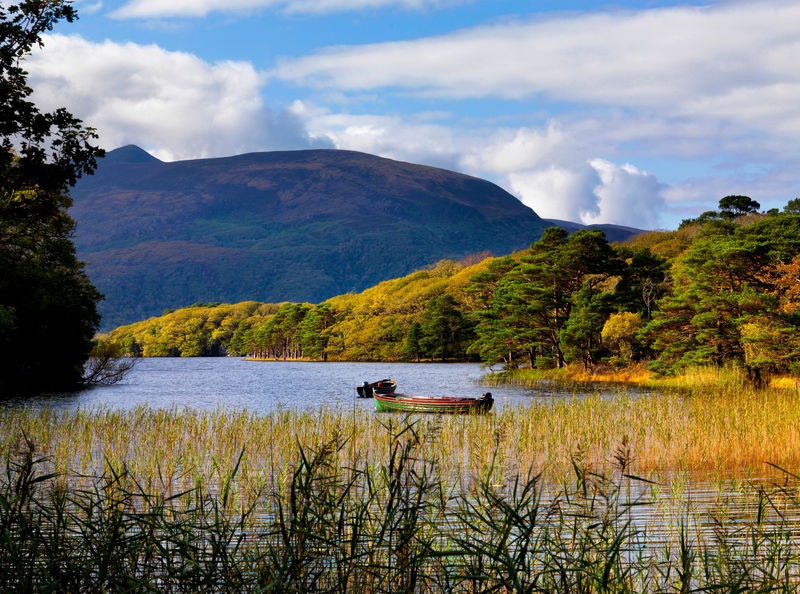 Stunning forestry which is the home of herds of red deer and is broken up by serene lakes, the Killarney National Park is a must for nature lovers. Aside from the deer, it plays host to countless species of birds including kingfishers and ospreys. Great for hikers too, it feels untouched and mysterious, as well as being UNESCO accredited.
2- Famous Filming Locations
Many scenes from Game of Thrones (amongst other big TV and film hits) were filmed amongst the dramatic landscapes of Northern Ireland.
There are organised tours of these locations, as well as a Game of Thrones tapestry in the Ulster Museum in Belfast.
3 – The Rock of Cashel
The site of a grandiose castle since the early middle ages, this is a must for any history buff (as well as Game of Thrones enthusiasts – it looks like it was built especially for it).
Located in County Tipperary in the south of the country it has a mysterious charm, and exploring the ruins and ancient burial grounds surrounding it was an unforgettable experience.
4 – Dublin
Away from nature, the city of Dublin is a city with a real old school feel to it.
Full of life day and night, there is no shortage of stuff to see and do, and endless pubs and bars to enjoy a pint of Guinness in (it does taste different!).
Locals are extremely welcoming and friendly, so expect to come away with a whole bunch of new friends.
5 – Cork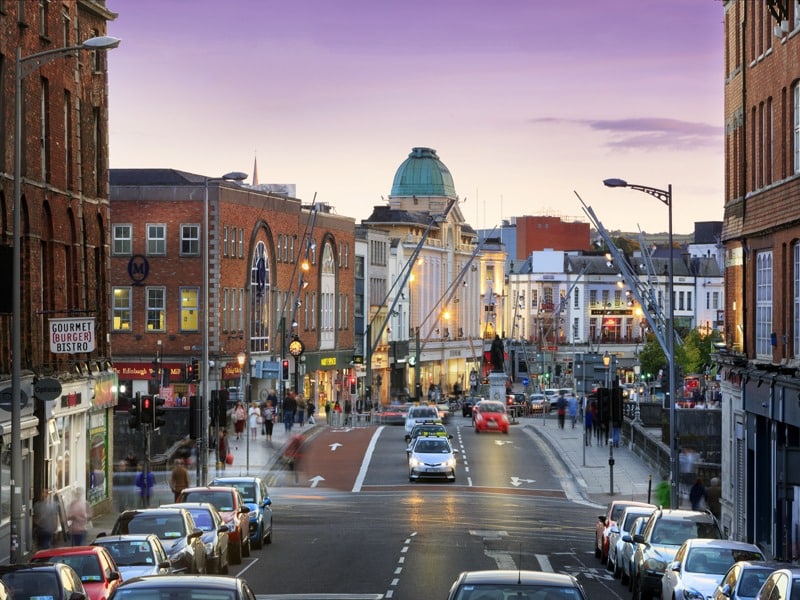 Cork is Ireland's second largest city, but with a population of 120,000 is still small and easy to get around on foot.
It sits on the coastline of Cork County, and aside from the cafes and traditional pubs (as welcoming as Dublin's, but with an altogether different feel) there is the slightly sinister Cork City Gaol to visit, and just outside the city sits Blarney castle, with it's famous mystical stone which you can attempt to kiss (though this is not recommended if you've indulged yourself in a pub beforehand).
Getting Around
The most convenient way to get around the country is by renting a car and as an avid driver, this is the option I chose. There are, of course, trains and buses, but it's much easier to reach the more dramatic and remote locations if you get your own set of wheels.
Food and Drink
Ok, we've mentioned Guinness, which is a must, and available just about anywhere.
If you like something with a bit more of a kick, there are loads of Irish whiskeys to choose from, which are very distinct in taste and vibe when compared with their Scottish counterparts.
Irish food is mainly locally produced, and very tasty to boot. Be sure to try a traditional Irish breakfast, and in the towns and cities make sure you check the food markets out for interesting local dairy products and delicious locally grown fruit and veg.
Whether you're travelling to Ireland solo or with friends, you're sure to have a great time.
It's a perfect balance between stunning nature and wildlife, cute little towns full of life and character and cities with warm, friendly locals and plenty of food and drink.
The Irish are always up for the 'craic' (a good time) and you'll have no trouble getting involved. Enjoy!
This sponsored article was written in collaboration with Sydney Airport Parking.
Get featured on Ireland Before You Die
Do you want to get your Irish business more online exposure? Especially to those interested in travelling the best places in Ireland? Then why not get a dedicated feature on Ireland Before You Die. Find out more 
here.