Can you list all the cities in Ireland? It may prove harder than you think.
Ask any Irish person to name all the official cities in Ireland, and you'll probably be met with a smug and confident response.
But the truth is, many people who have lived here their entire life may find some gaps in their knowledge.
Check out our guide to all the official cities of Ireland as of 2022, listed A-Z.
Tips and advice for visiting Ireland – useful information for visiting Ireland's cities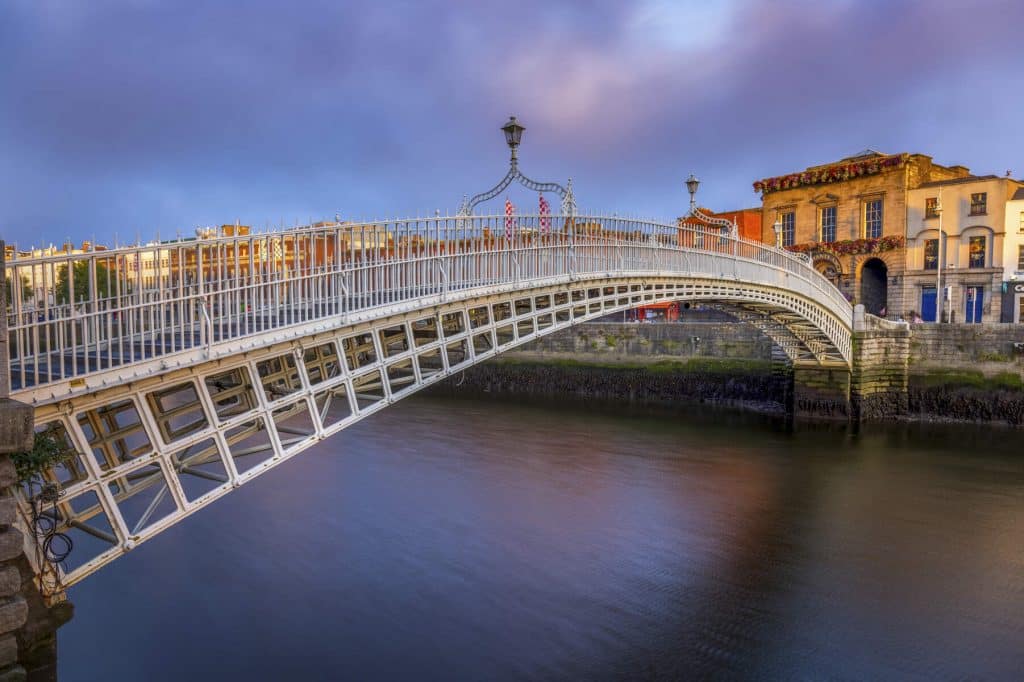 Booking.com – the best site for booking hotels in Ireland
Best ways to travel: Hiring a car is one of the easiest ways to explore Ireland in a limited amount of time. Public transport to rural areas is not as regular, so travelling by car will give you much more freedom when planning your own journey. Still, you can book guided tours that will take you to all the best things to see and do, according to your preference.
Hiring a car: Companies such as Avis, Europcar, Hertz, and Enterprise Rent-a-Car offer a range of car rental options to suit your requirements. Cars can be picked up and dropped off at locations around the country, including at airports.
Travel insurance: Ireland is a relatively safe country. However, it is important to make sure you have appropriate travel insurance to cover unforeseen circumstances. If you're hiring a car, it's also important to make sure that you're insured to drive in Ireland.
Popular tour companies: If you want to save some time planning, then booking a guided tour is a great option. Popular tour companies include CIE Tours, Shamrocker Adventures, Vagabond Tours, and Paddywagon Tours.
Why are most of the cities in Ireland in Northern Ireland? – lots of cities in the six counties
You may have noticed that 50% of the current cities on this list are in Northern Ireland. This is due to the differing meanings of the word 'city' in both places.
In the United Kingdom, the process of designating a place as a city was purely for ceremonial purposes.
These places were given city status to honour them, offering more prestige than alternative municipal titles such as 'township', 'town', or 'borough', without providing any extra legal powers.
In the Republic of Ireland, the word 'city' has an additional designation in local government. After various reforms, the places granted this status have changed over time.
As Northern Ireland is still part of the United Kingdom, this ceremonial designation remains the same. Therefore, despite some of the cities' relatively small populations, those in Northern Ireland are greater in number.
Read on to find out the cities of Ireland, listed from A-Z.
Armagh – recently restored
Gained status: 1994 (again)
Population: 14,777
Armagh has the unique position of having been granted city status twice. Originally gaining the title in 1226, it lost it again in 1840. In 1953, Armagh began to argue for the restoration of their lost status.
In 1994, they got their wish when Prince Charles announced its restoration to mark the 1,550th anniversary of the traditional date of Armagh's foundation by St. Patrick.
Where to stay in Armagh
Located slightly outside of Armagh, Blackwell House is located in the small town of Scarva. Just a short drive from the iconic Game of Thrones Studio Tour, this is the perfect accommodation choice for fans of the hit HBO fantasy drama. Guests can rest up in luxuriously decorated homely rooms at this gorgeous family-run guesthouse.
Located in the heart of Armagh City, the aptly named Armagh City Hotel is the perfect place to stay for those who want to enjoy a convenient, central location. This comfortable hotel offers a variety of rooms, a classy restaurant and bar, and onsite leisure and fitness facilities.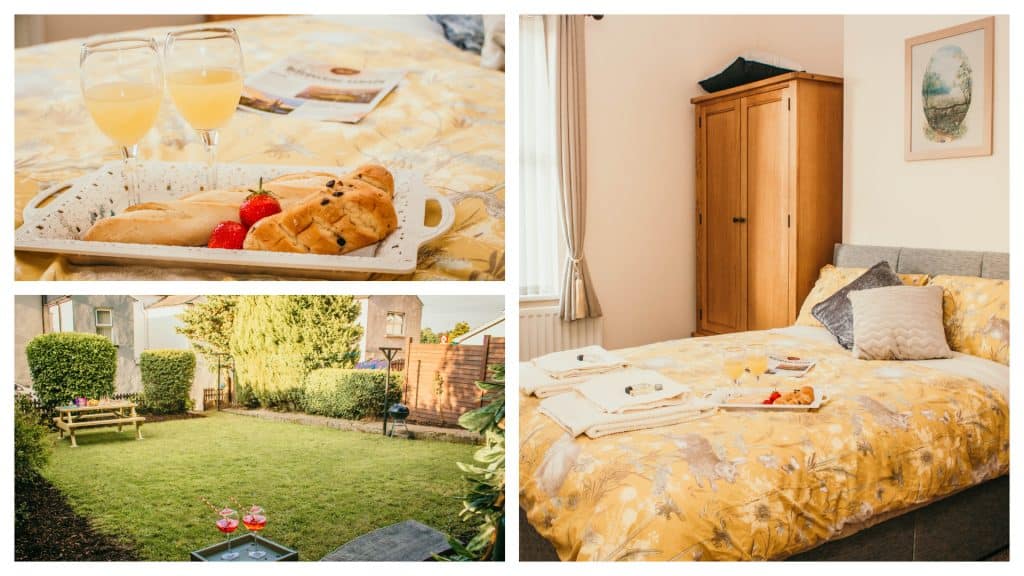 Visiting Armagh on a budget? We highly recommend booking a stay at the Rose Luxury Self Catering Accommodation. Located at the heart of the city, guests can enjoy a homely stay in comfortable private ensuite room and a shared lounge, garden, and kitchen.
Bangor – a seaside city
Gained status: 2022
Population: 61,011
Bangor in County Down was granted city status in 2022 to mark Queen Elizabeth II's Platinum Jubilee.
The city is located just 21 km (13 miles) north of Belfast, at the mouth of Belfast Lough. It has a population of 61,011.
Where to stay in Bangor
The beautiful Clandeboye Lodge Hotel is set on magnificent landscaped gardens on the outskirts of Bangor. Guests can indulge in luxurious and stylish rooms, and dine in the hotel's onsite restaurant.
The fantastic Salty Dog Hotel & Bistro is located on the waterfront, offering fantastic views out over the water. Offering comfortable boutique accommodation and an award-winning restaurant, this is a must-visit.
The stunning Shelleven Guest House is a perfect budget accommodation option in this Northern Irish seaside city. Guests can enjoy spacious rooms in this charming Victorian property and food in the beautiful dining room.
Belfast – the capital of Northern Ireland
Gained status: 1888
Population: 483,418
Way back in 1888, Belfast looked very different. After applying to be granted city status on the occasion of Queen Victoria's Golden Jubilee, it took one step closer to becoming the lively hub in Northern Ireland that it is today.
Where to stay in Belfast
The luxurious Grand Central Hotel rises above the Belfast skyline to offer some of the best views in the city. Guests can relax in spacious rooms, enjoy a meal at one of the hotel's various onsite restaurants, and have a drink in the top-floor Observatory Bar.
Centrally located behind Belfast City Hall, Ten Square Hotel is a great option for a comfortable stay at the heart of the city. With various rooms available to choose from, the onsite Josper's Restaurant serving delicious food all day, and friendly service, this is a great base from which to enjoy the city.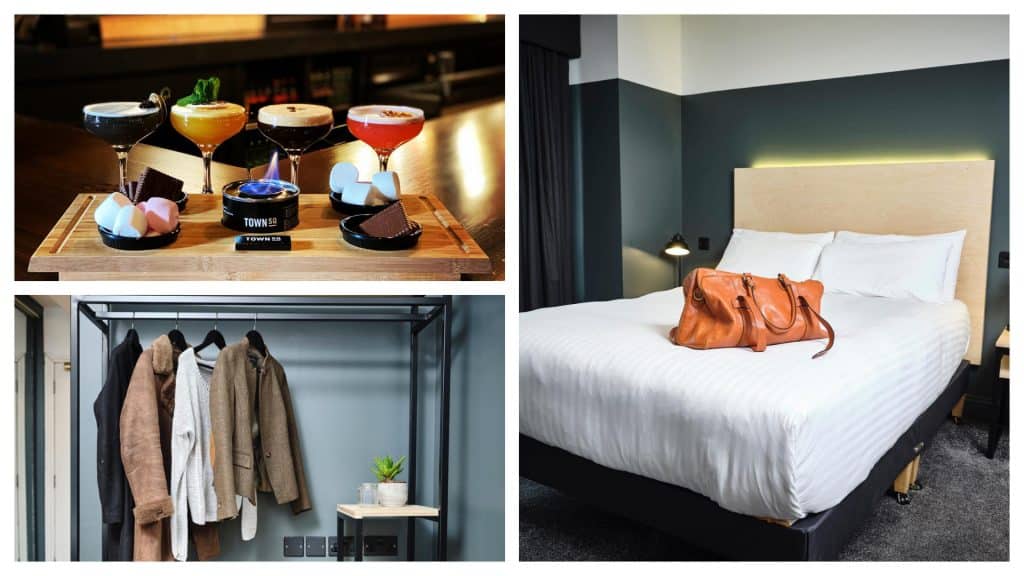 The 1852 on Botanic Avenue, close to Queen's University, is the perfect budget option for those visiting Belfast. Just a short ten-minute walk outside of the city centre, guests can make the most of comfortable and stylish rooms and the Town Square Restaurant and Bar downstairs.
Cork – the Rebel City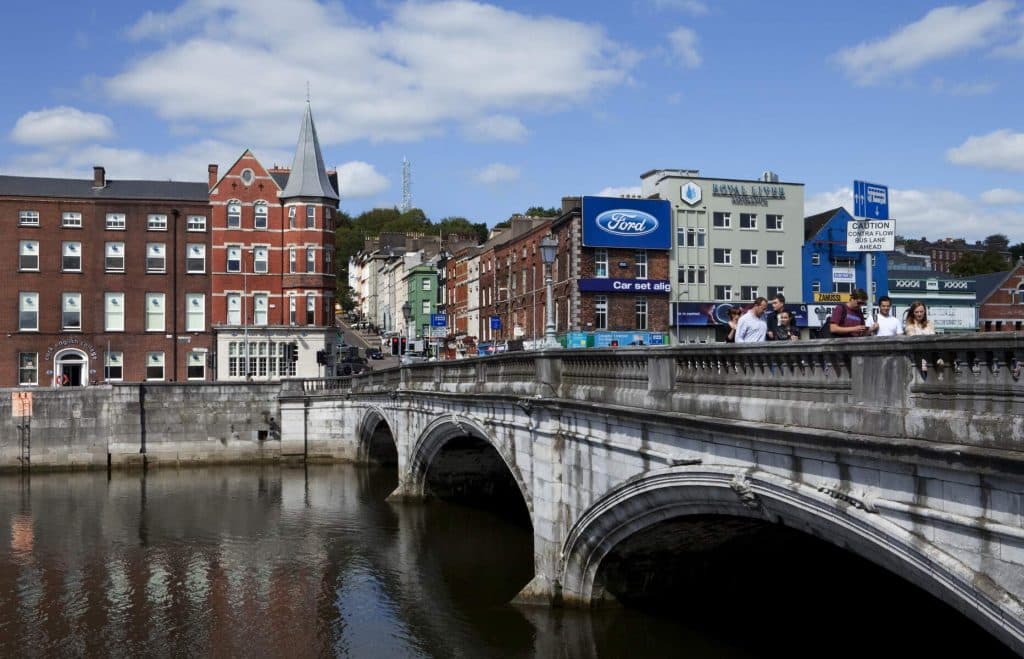 Gained status: 1185
Population: 208,669
Located in the province of Munster, Cork City is the second-largest city in Ireland. Its population today is around 210,000.
Although it is the second-largest city in terms of its size, Cork City has a much smaller population than Dublin and Belfast. Still, many Corkonians will argue that Cork is the 'real capital' of Ireland.
Where to stay in Cork
If it's good enough for Kimye, it's good enough for us. The Hollywood couple enjoyed their honeymoon at this indulgent Cork resort back in 2014. The hotel offers luxurious rooms, an onsite spa, fantastic grounds with one of the best golf courses in Cork, and various fine dining options.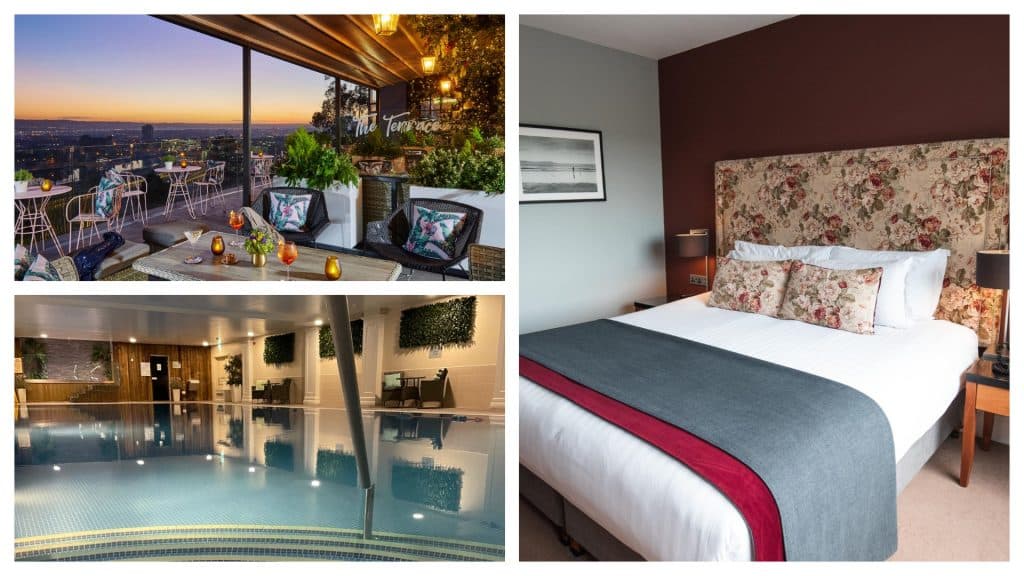 Located in Montenotte, the Montenotte Hotel is a family-owned four-star boutique hotel that provides guests with an unforgettable stay. From the panorama terrace, where you can take in fantastic views of the city while enjoying drinks and nibbles, to the boutique rooms and apartments to the onsite spa and cinema, there is plenty of reason to book a night here.
Luxury at budget prices? If that's what you're after, then we highly recommend booking into the fantastic Imperial Hotel in Cork City. This timelessly elegant hotel offers modern boutique rooms, a luxury spa, a vibrant bar, and various onsite dining options.
Derry – the Walled City
Gained status: 1604
Population: 93,512
Derry City, also known as Londonderry, is one of the largest Irish cities (fourth-largest on the island of Ireland) and the second-largest in Northern Ireland, after Belfast.
In 2013, this vibrant city was the inaugural U.K. City of Culture, having been awarded the title in 2010. This is a city with plenty to see and do. While in Derry City, we recommend visiting the city walls, which date back to the 17th-century.
Where to stay in Derry
Part of the Hastings Hotel group, which covers some of the most prestigious hotels in Northern Ireland, the Everglades Hotel is the perfect place to book a room for a luxury stay in Derry. Comfortable rooms, a fantastic onsite restaurant, and even a Derry Girls-themed afternoon tea are just some of the highlights of this wonderful hotel.
The brilliant Derry City Hotel is a great option located at the heart of the city. This four-star hotel offers a huge collection of rooms to suit all needs and tastes, various onsite dining options, including Hervey's Roof Terrace, and a fantastic health and fitness suite.
You don't need to splash the cash for a comfortable stay in Derry with the brilliant Saddler's House accommodation. This restored 19th-century Victorian townhouse offers cosy and comfortable rooms and a delicious breakfast to start your day off right.
Dublin – the nation's capital
Gained status: 1172
Population: 1,173,179
As the capital city of Ireland, Dublin City boasts an urban area population of 1,173,179, while the population of the Dublin Region (formerly County Dublin) as of 2016 was 1,347,359.
Since it was granted city status in 1172, it has developed to become one of the most historically and culturally rich cities in Europe. Dublin is the most populous city in Ireland.
Known for its Georgian buildings, historic landmarks, and buzzing city life, Dublin City is a must-visit when visiting Ireland.
Where to stay in Dublin
Perhaps one of the most luxurious hotels in Dublin, the beautiful Merrion Hotel is located in the city's historic Georgian quarter. A proud member of the Leading Hotels of the World, this five-star stay is home to luxurious rooms and suites, numerous onsite dining options, including the two-star Michelin Restaurant Patrick Guilbaud, and a fantastic spa with state of the art facilities.
Located on Harcourt Street, The Dean Hotel is a fantastic city centre stay with comfortable rooms, the lively Sophie's Rooftop Restaurant, and access to the onsite POWER gym, relaxation pool, sauna, and steam room.
This fantastic Smithfield Hotel is the perfect place to stay in Dublin if you're travelling on a budget. Dublin is a notoriously expensive city, as the capital of Ireland, which is so expensive, but The Hendrick offers a comfortable stay for an affordable price just 15 minutes outside of the city centre. Boutique rooms and an onsite bar are some of the best bits of this stylish hotel.
Galway – a vibrant hub and the Capital of Culture
Gained status: 1985
Population: 79,934
Only gaining city status in the mid-80s, Galway City has become a popular tourist destination in recent years. It is renowned for its abundance of festivals, celebrations, and events, such as The Galway Arts Festival.
While Galway is much smaller than some of the larger cities in Ireland, it is still a city with plenty of things to do. With stunning natural surroundings, including Connemara National Park, Galway City is a great base from which to explore Ireland.
Where to stay in Galway
For an unforgettable stay in Ireland's cultural capital, we highly recommend booking a room at the eclectic g Hotel and Spa. This five-star hotel offers stylish, spacious rooms complete with all the modern comforts and amenities, various onsite restaurants and bars, and a luxurious spa.
Centrally located in Galway's bustling Eyre Square, The Hardiman Hotel offers a convenient location for those who want to explore the sights and sounds of this vibrant city. With various rooms and suites available, as well as a fantastic brasserie and bar, all your needs will be catered for here.
A budget stay in Galway is made possible with the brilliant Nest Boutique Hostel in Salthill. Comfortable rooms, friendly Irish hospitality, and breakfast provided in the morning are just some of the reasons to stay here.
Limerick – a city of history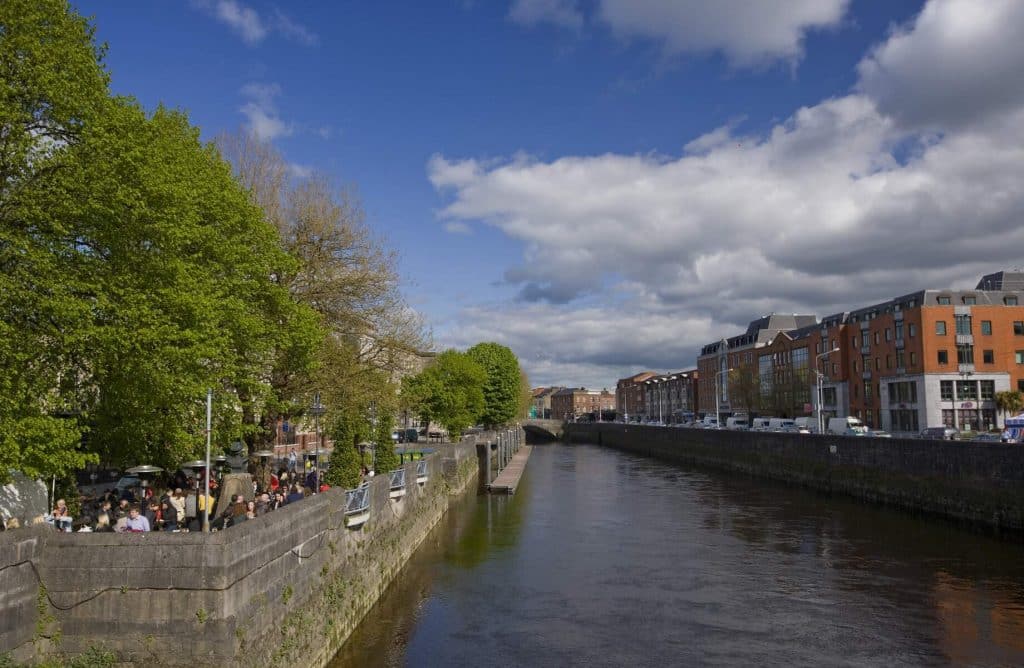 Gained status: 1199
Population: 94,192
The city of Limerick is bursting with history. One of the oldest cities of Ireland, Limerick City, has now gained a population of around 94,192 (according to the 2016 census).
The city of Limerick is contained within what is known as a 'metropolitan district'. The city is also home to one of the most famous medieval castles in Ireland, the 13th-century King John's Castle.
Where to stay in Limerick
When it comes to luxury Irish stays, very few places come close to the elegance and opulence of Adare Manor in County Limerick. A stay at this hotel is an experience within itself, offering luxurious ensuite rooms, fine dining in the various hotel restaurants, a relaxing spa, and various leisure activities across the estate.
The Savoy Hotel in the city centre is a luxury boutique hotel that won't cost an arm and a leg to stay in. Guests can enjoy comfortable ensuite rooms with city views, dining at the various hotel restaurants, and a five-star VB Spa.
Set amongst 3.5 acres of perfectly manicured gardens, the beautiful Kilmurry Lodge Hotel provides a fantastic escape for a budget price. Guests can choose from contemporary or classic rooms, depending on your style preference, enjoy a meal at Nelligan's Bar and Restaurant, and work out at the onsite fitness studio.
Lisburn – a recent addition
Gained status: 2002
Population: 45,370
With a population of 45,370 recorded in the 2011 census, Lisburn is a surprising candidate for the acquiring of city status. But that's just what occurred in 2002 when it was granted the title as part of Queen Elizabeth II's Golden Jubilee celebrations.
Lisburn is much smaller than some of the larger cities in Northern Ireland. However, it is still worth visiting.
Where to stay in Lisburn
This award-winning venue offers unique accommodation options in the countryside on the outskirts of Lisburn. Guests can choose from luxury self-catering cottages complete with cosy fires and roll-top baths or give glamping a go in the estate's lovingly restored Swiss Army Truck.
Haslem Hotel is a relatively recent addition to Lisburn Square, offering a comfortable place to stay at the heart of the city. With a fantastic restaurant and bar downstairs, you can rest assured you will enjoy some delicious food while you're here, too.
Temple Golf Club is the ideal option for those visiting Lisburn on a budget. Recently refurbished, this golf club and restaurant offers six beautifully appointed ensuite guest rooms for you to enjoy.
Newry – an urban town
Gained status: 2002
Population: 26,967
Similarly to Lisburn, this remarkably small city (with a recorded population of 26,967 in 2011) achieved this status alongside the Queen's Golden Jubilee celebrations.
Known as a 'cathedral city', it is the episcopal seat of the Roman Catholic Diocese of Dromore.
Where to stay in Newry
This spectacular four-star hotel is located in the city's Merchants Quay, making it the perfect base from which to explore Newry and the surrounding area. With 110 bright and airy guestrooms and suites, numerous onsite dining options, and fantastic spa and leisure facilities, this is the perfect luxury hideaway.
Located on the outskirts of Newry City, Flagstaff Lodge provides the perfect base to explore the stunning surroundings of South Down. Various rooms and suites are available, catering for all types of travellers, and an onsite bistro and lounge bar offer delicious dining options.
Whether you're looking for a budget accommodation option or just fancy trying something a little different, East Coast Adventure Centre Glamping provides the perfect way to immerse yourself in the great outdoors of this beautiful and scenic area. Glamping pods sleep up to four adults, and there are communal shower, toilet, and kitchen facilities on site.
Waterford – home of Waterford Crystal
Gained status: 1202
Population: 53,504
Known for its renowned former glassmaking industry (Waterford Crystal originated here), Waterford City is the oldest city in the Republic of Ireland. There is evidence of a Viking settlement here as far back as the 10th-century.
The city of Waterford is contained within what is known as a 'metropolitan district'. According to the 2016 Census, 53,504 people live in the city.
Where to stay in Waterford
For a luxury stay in the sunny southeast, it doesn't get much better than the beautiful and historic Waterford Castle Hotel and Golf Resort. Guests can choose from luxury rooms and suites inside the castle or book a night in one of the resort's island lodges. Various dining options are available, as well as an 18 hole golf course.
This fantastic four-star hotel offers a magnificent stay at a relatively reasonable price. Faithlegg House Hotel boasts classically decorated rooms and suites, various onsite restaurants and lounges, and a luxurious leisure centre and spa. Golf lovers can enjoy a game on the hotel's award-winning golf course.
The four-star Granville Hotel offers a fantastic city centre stay with plenty of rooms to choose from. An onsite bar and restaurant make sure all your needs are catered for, and warm Irish hospitality will ensure you enjoy a comfortable and pleasant stay.
Former cities of Ireland – no longer have city status
Aside from Armagh, Ireland also has its fair share of places that were once awarded city status. At one time or another, though, their status has been revoked.
Downpatrick in County Down gained city status in 1403, but by 1661, it had lost this title. Clogher and Cashel lost their original city status in 1801 and 1840, respectively.
Kilkenny, home to Kilkenny Castle in County Kilkenny, had been granted the title of Kilkenny City as early as 1383 but lost it as recently as 2014. Today, Kilkenny is the county town of County Kilkenny.
There were also calls in 1999 for Sligo to be declared a 'millennium city'.
FAQs about cities in Ireland
What is the largest city in Ireland?
Dublin is the largest city in Ireland.
Why are most of the cities in Ireland in Northern Ireland?
The meaning of 'city' in the Republic of Ireland is slightly different to that of Northern Ireland. As city status in the Republic grants additional powers in local government, fewer areas are granted this status.
How many cities are in Ireland?
There are currently eleven cities in Ireland. Five in the Republic and six in the north of Ireland.
Useful articles to help you plan your trip to Ireland…
7 days in Ireland: the ultimate one week Ireland itinerary
14 days in Ireland: the ultimate Ireland road trip itinerary
Dublin Bucket List: the 25 best things to do in Dublin, Ireland
Irish Bucket List: 25 best things to do in Ireland before you die