Fancy a meal with a view? Look no further than this pier-side County Down gem — The Smuggler's Table!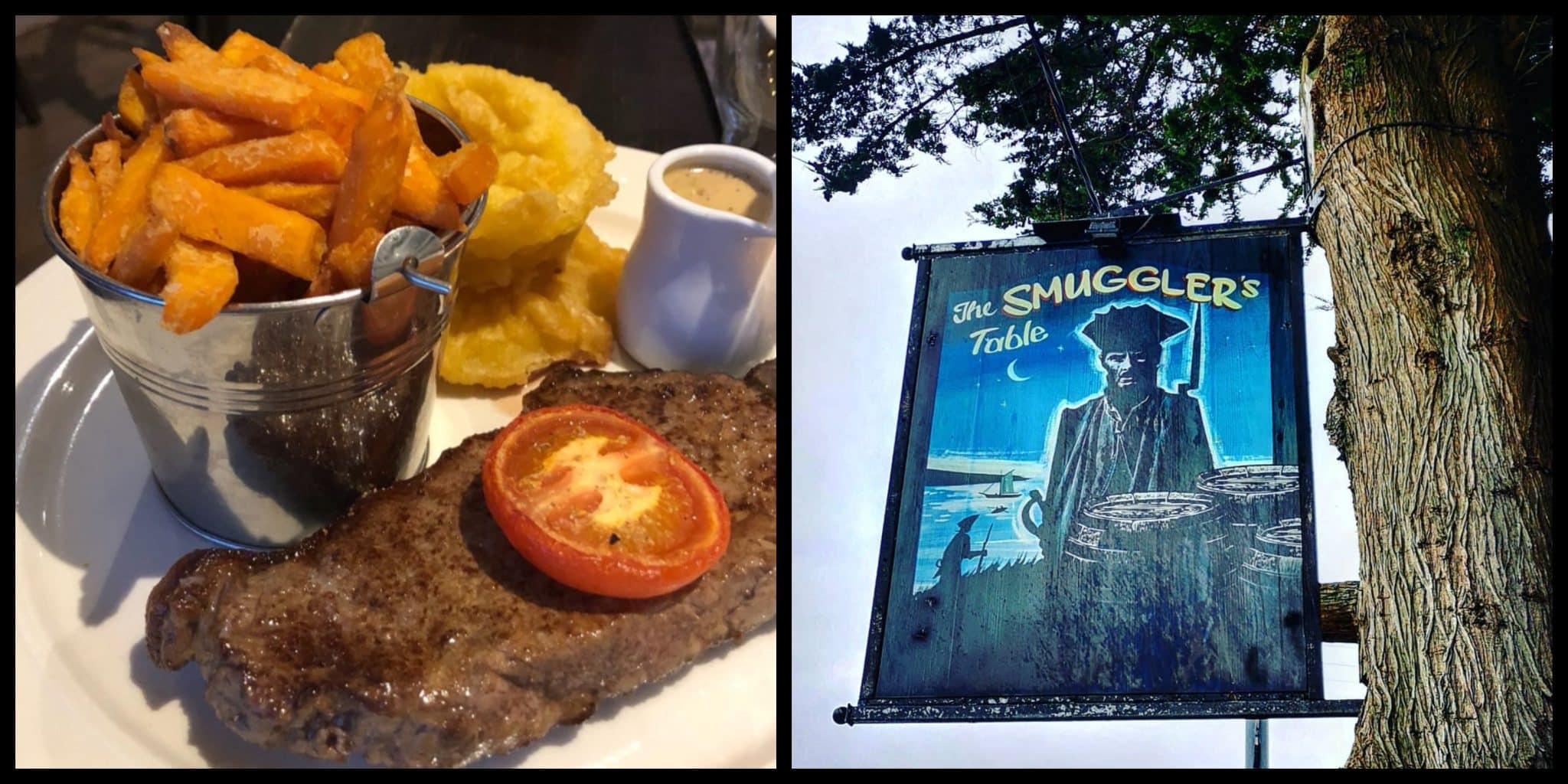 Along the shores of Strangford Lough sits a quiet little town called Killyleagh. If you happen to be visiting this sleepy seaside town, there's one place we feel you need to go: The Smuggler's Table. 
Situated down by the Killyleagh harbour, this cosy bar and restaurant offers visitors a comforting glow and an excellent, delectable menu. Not only will you be amazed at head chef Roy Abraham's fantastic food, but you'll be treated to some of the most interesting wall décor we have ever seen in a restaurant — namely, a dangling ship's steering wheel and old, rusted lifebuoys. After all, it IS situated beside a harbour.
Did we mention it also has an open fire? Perfect for these cold winter nights.
Mains
The Smuggler's Table offers a relatively small main course menu, usually consisting of five or six dishes, but it works perfectly. We honestly prefer a smaller, more concise menu; larger extensive menus, like the one found at Bar + Block, can often leave us wondering whether or not the restaurant can master such a broad range of food. 
But there's no such problem to be found at this County Down gem. We ordered the steak (I prefer it cooked medium-well) with hand-cut chips and a portion of onion rings, and the chicken with champ and veg.
The steak was cooked to perfection and mixed beautifully with the Bushmills peppercorn sauce. It came apart easily and, if there were ever a time to use the cliché of food being "melt in your mouth", this would be the time to use it—and you know what? We're not even going to apologise for saying it. Because it really was.
The chips had a deliciously crispy crunch to them and went well together with the onion rings. Sometimes restaurants can be a little heavy-handed with the amount of oil they use on their onion rings, leaving them soggy and unwelcoming to the palate, but no such issues here, thankfully.
The chicken followed much the same path as the steak: it was cooked to perfection and the peppercorn sauce complimented the dish well. The only negative was that the champ tasted a little dry, but it was such a minor thing that we weren't even all that fussed by it. The dish came with a fair amount of vegetables, so you can be assured there was no skimping of the portions here.
Dessert
For dessert, we ordered the apple and blueberry crumble and the sticky toffee pudding with butterscotch sauce and ice-cream.
The crumble had a lovely tart taste, and we could've eaten another right after. However, a downside to this dessert is how hot it is when it arrives. I had to blow on my dish for a full two minutes before I could take a bite, and I still burnt my tongue. This, unfortunately, affected the rest of the dessert's taste.
The sticky toffee pudding didn't suffer any of the same misfortunes—it was mouth-watering, and the ice-cream paired beautifully with the warm butterscotch sauce.
Drinks
One of the highlights of this County Down gem is its cocktail menu. We recommend trying their version of the classic Long Island iced tea (this writer's headache can vouch for the fact it packs a punch). Don't say we didn't warn you!
Other than its cocktails, The Smuggler's Table has an extensive drinks menu for you to choose from. The visitors will be greeted with a great drinks menu which includes everything from water to whiskey. 
Service
We have to shout out to the wonderful Julie, who was our waiter for the evening. She was incredibly helpful and insightful when it came to the food, and her enthusiasm swayed our order.
Special shout out also to Mervyn who brought our cocktails. Mervyn is a South-African native with great wit and a welcoming attitude. He has mastered the Irish craic with ease.
Prices
As one TripAdvisor reviewer put it, The Smuggler's Table was their "payday treat." It's not over-expensive, but nor is it somewhere we could afford to eat every weekend. We felt the prices were reasonable considering how fantastically cooked everything was. The choices of mains were between £12 to £22, and the cocktails around £8 to £10. 
Overall, The Smuggler's Table is an excellent County Down gem not to be missed if you're in this part of the country. We suggest trying out a few of their fabulous cocktails if you can afford it. We can say for sure that we will be back in the future for drinks and dinner. 
Address: Shore St, Killyleagh, Downpatrick, BT30 9QN