Here we take a look at the history of Tayto, a beloved Irish snack brand and mascot.
Tayto is an iconic potato crisp (also known as "potato chip") brand that was founded in Ireland in the 1950s. Over decades, it has gone from strength to strength, becoming synonymous with Irish food and working its way into every pantry across the island of Ireland, and abroad.
The friendly face of mascot Mr Tayto has defined the crisp's branding for years and is now known and loved worldwide. So, how did all this hoopla spawn for a Dubliner, Joe "Spud" Murphy, and his dreams of inventing the first-ever flavoured potato crisp?
Let's take a look at the history of Tayto!
The start of something good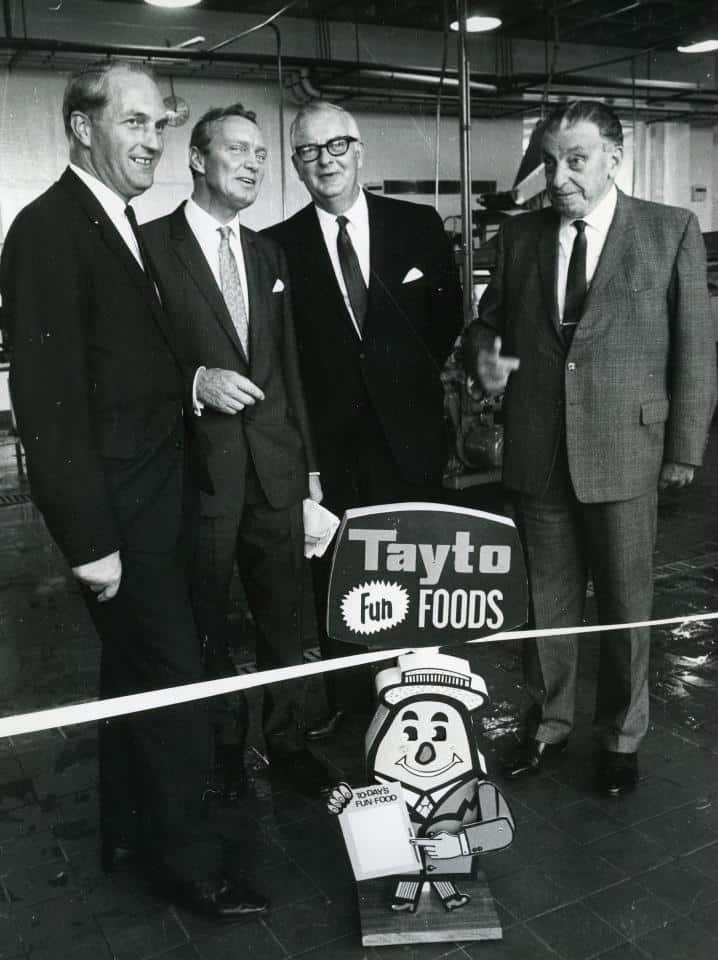 This story starts back in 1954 when Dublin local Joe Murphy—aptly nicknamed "Spud"—had a "HALLELUJAH" moment. Murphy realised that most potato crisps, which were then imported from the UK, were void of flavour (bar the sachet of salt that came enclosed in each crisp packet); but what if, he thought, they came pre-flavoured?
A shrewd entrepreneur, Murphy always had a knack for spotting a gap in the market and filling it. He had introduced a hoard of items to the Irish market (previous to Tayto) such as Ribena and ballpoint pens, so he was no stranger to innovation and start-ups. It was then, at that moment, that Murphy opened his first potato crisp factory.
It was in his Moore Street factory in Dublin city that Tayto grew from the ground up. Soon Murphy was credited as the inventor of the first-ever cheese and onion flavoured potato chip.
The crisps were hand packed by the small team of eight employees and delivered by one single van, in air-tight tins—for added freshness—to businesses. And so, this was the beginning of great things for "Spud" and the Tayto brand.
Growing gold
The first two seasoned crisps produced by "Spud" and his team were cheese and onion and salt and vinegar, closely followed by smokey bacon. As customer demand increased by the bucket load, this breakthrough production process of "seasoned" crisps sparked the attention of crisp companies worldwide. Soon every manufacturer across the globe wanted in on this sterling new development.
So big was its growth that by 1960 the company expanded considerably to meet demand. It was at this point not only a cultural phenomenon but a brand known worldwide; the term "Tayto" even became a general synonym for the word "crisp."
Throughout the history of Tayto, the crisp company's offering has grown and now consists of a broad product range, from the classic Tayto crisp selection to the Tayto Snack range favoured by school kids (with the likes of Chipsticks and Snax). The Tayto Bistro range is on-hand for the more discerning crisp connoisseur, and there is even the Tayto Popcorn range, not to mention Occasions, Ripples, and the Treble Crunch products.
Along with the growth of the business and product range, so too has the role of Mr Tayto—the brand's mascot—grown to be somewhat of a cultural icon, intrinsically linked with the flavoured crisps and Irish pride. The cartoon-type potato-man has blossomed as a result of clever and witty marketing.
He was spoof-suggested as a candidate for the Irish election in May 2007. His humorous and clever (but obviously fictional) autobiography, The Man Inside the Jacket, was published in 2009, and the following year his own Irish theme park, Tayto Park in County Meath, opened to the public, becoming one of the most well-known theme parks in Ireland.
Present day
Presently, Tayto is one of Ireland's leading crisp brands. With over half a century under its belt, it is more than fair to say that Tayto is a household name and one that the Irish treasure.
As sales of the world's first-ever flavoured crisp and its impressive product range continue to dominate shelves worldwide, it seems safe to say Mr Tayto is not going anywhere any time soon.
North Tayto versus South Tayto
Tayto in the Republic of Ireland should not be confused with Tayto in Northern Ireland. These are, in fact, two different companies with two different product ranges.
In 1956, after the instant success of Tayto in Ireland, the Hutchinson family purchased the licensed name and recipes of the Tayto brand. This was a key moment in the history of Tayto, as it allowed them to be able to develop it into their own Northern Irish product range, sharing in the same great flavour and production technique.
Like Tayto from the Republic of Ireland, Tayto in Northern Ireland is most popular for the cheese and onion flavor; however, the branding and packaging are different. There is also an array of alternative flavours, including pickled onion, roast chicken, and beef and onion.