Top tips for driving in Ireland from Ladybird Driving School.
Before explaining the 10 steps involved, let's take a look at some alarming statistics about our Irish road fatality rates.
In 2018 149 people lost their lives as a result of 142 crashes.The figure in 2017 was 156 lives lost.
This is very alarming and even more reason that the learning to drive process in Ireland should be taken very  seriously.
As a result of these statistics and in particular the age group of 17-24 being the most vulnerable road users, there has been new changes in a lot of areas from driver training right through to new law and penalty point offences.
The laws in Ireland have now become very strict for new and existing drivers on our roads.
The new Clancy Amendment law came into effect on December 22nd which allows Gardai to seize the vehicle if a learner driver is caught driving unaccompanied, but, the amendment now means the owner of the vehicle can also be prosecuted for allowing the vehicle to be driven by an unaccompanied Learner driver.
What are the penalties?
The penalty points for a learner driver caught driving alone remain unchanged at 2 points or 4 upon a court conviction.
A learner driver now also faces disqualification and a six month driving ban if they receive 7 penalty points.
If someone gives permission to the learner to use the vehicle the owners vehicle can be detained and could face a fine of €2,000 or 6 months in jail.
Now we have seen some startling facts let's look at the positive and exciting stages when it comes to learning how to drive.
At the end of this article we will have found you the best Driving Lessons Dublin has to offer and the best chance of Passing your Driving Test first time.
1. Prepare for your Theory Test
The learner Driver Theory Test was introduced in 2001. Before applying for a learner permit, a candidate must complete and pass a test of their road safety knowledge and motoring legislation.
Anyone applying for a first learner permit needs to sit and pass the official theory test.
An updated 8th version of the Official Driver Theory Test revision material books and CD rom are available to buy in most big book shops or can be bought online.
The CD has all of the theory test questions asked on the real test itself.There is also a facility to do a mock theory test on the CD rom where you must answer 40 theory questions and record 35 or more correct.
You might be wondering how many questions are on the theory test well the 40 questions come from a pool of around a Thousand questions in total so enough study time is crucial.
The Theory Test checks your knowledge on topics like,
Rules of the road
Risk perception
Hazard perception
Eco driving
Driving etiquette
It is a computer based test and designed to be easy read and easy used selecting an answer from A,B,C,D. You will be able to take a mock theory test run prior to the real test and this is very useful as it shows you how everything is done.
2. Apply for your theory test / Pass the theory test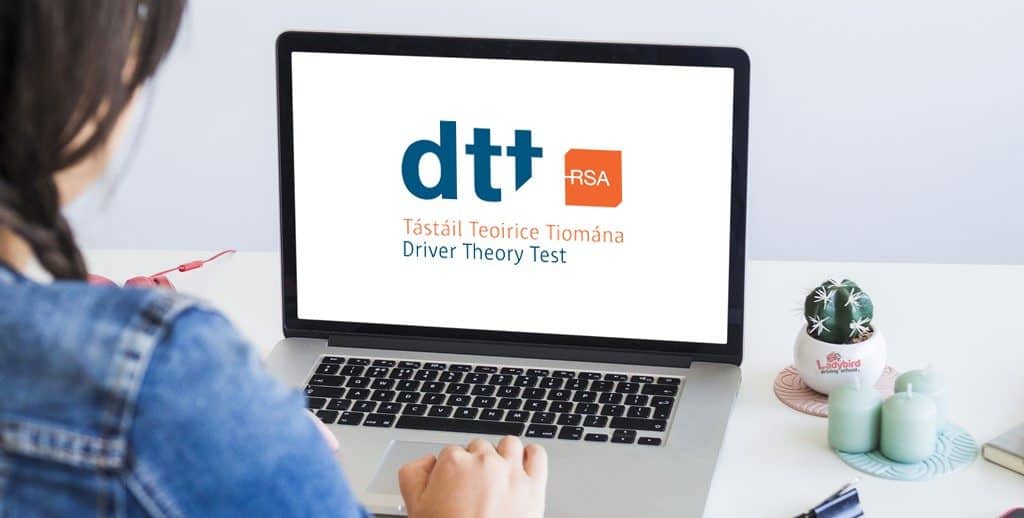 You can book your Theory Test online in 3 simple steps:
1  Revise and study the CD.
2. Select the category of vehicle you wish which is category B for a car.
3. Check the id requirements.
Any of the following forms of Id are acceptable:
Public service card
Passport
Irish passport card
National identity card
Residency entitlements must be proven that you are a national of the European union.
Achieve 35 correct answers out of 40 to Pass the theory test.
3. Applying for the learner permit.
Congratulations you passed your Official Theory Test and know have the theoretical knowledge to move to the next phase and that is to apply for your learner permit and commence your essential driving lessons or EDT lessons as they are known.
To apply for the permit you first must have,
A fully completed application form for a learner permit D201,
An original and upto date authentic driver theory test pass certificate
Photographic id
Evidence of address dated within 6 months
Proof of your pps number
Complete the Ndls eyesight report from
Application fee of €35
Reduced Essential driver training exemption 6 month rule.
On 21st January 2019 the reduced EDT which is a shorter 6 lesson syllabus was introduced for foreign licence holders whose full licence is not recognised within the exchange agreement but does qualify for an exemption. This means that they do not have to sit EDT 2,3,4,8,11 and 12.
4. What is Essential Driver Training ?
Essential Driver Training is a 12 hour mandatory training course that teaches fundamental driving skills to learner and novice drivers.
EDT alone will not solve the problem as you need additional training to have proper experience and Road Craft.
An average number of driving hours to pass a test would dvbe around 45 hours.
Why do I need to do the 12 lessons EDT?
The study's prove that young drivers between the age of 17-24 are more likely to die or be involved in a serious collision and the essential driver training was one of the measures introduced to help educate drivers and give them the skills to deal with and prevent collisions.
EDT was introduced on 4th April 2011 and anyone now who wants to sit the test must now complete the 12 EDT lessons prior to sitting the driving test.
The benefits of EDT:
Understand how to react and be an overall safer driver.
Develop a road understanding of how traffic systems work
Practice fundamental driving skills that will assist your ability to promptly decide the correct course of action for the situation.
5. Apply for the driving test
You can apply online to sit your driving test.
You must have all 12 essential driver training lessons uploaded or you will not receive a date until you do.
Apply to the test centre of your choice but obviously one that is close and accessible to you in which to train.
Fee is €85 and the wait time is generally around 8 weeks give or take now the numbers are lower as a result of a new recruitment drive.
Start searching driving lessons Dublin or driving lessons tallaght online and find the school with the best reviews and online profile and proven track record of pass rates.
Check their social media platforms and see recent activity of passes.
More than likely you will find ladybird driving school.Take 1 lesson first just to see how that goes then book more if you feel you had a good experience with that instructor.
6. Take Expert Pretest Lessons with Ladybird driving school.
We cannot stress how important it is to pick the right school in terms of pass rate success and online profile.
There are some fine driving schools but then some not so fine well say.
On the lessons we explain everything in detail as to how the driving tester wants you to do things.
We have a step by step guide to passing the rest.
We know how the tester profiles your driving and we show you the separate parts of the test and what's needed on the manoeuvres as well as t junction prioritisation and observational techniques.
We speak exactly as the tester will speak and we have the exact marking guideline documentation so you can see clearly what the tester can mark and why the mark could be given.
Charismatic and energetic delivery of our work ensures we have one of the highest pass rates in Ireland and we back it up with proof.
Passing your test is easy if you are with the right school.
7. Apply for your full driving licence category B
Happily you can now make your way to your nearest ndls centre with all of your correct documentation and fee with:
Fully completed application form,
Certificate of competency
Current learner permit
Proof of ppsn number
Evidence of your address dated within the last 6 months
Fee of €55
Photograph and signature will be captured electronically.
You should receive your new full drivers licence in around 10 days time.
8. Motorway Driving lessons
These are a must if you want to transission from test roads to the more busier motorways.
We advise minimum a 2 hour lesson on motorways to get used to the new speed limits of 120km and the traffic volumes and lanes.
Compared to most European countries believe it or not Ireland's Learner Driver steps to driving are a lot cheaper financially than say the likes of Germany where the course to become qualified can be over €2,500 and 25 hours of practical driving lessons.
We wish you luck and sign off with these words…
" FAIL TO PREPARE, PREPARE TO FAIL"
Get featured on Ireland Before You Die
Do you want to get your Irish business more online exposure? Especially to those interested in travelling the best places in Ireland? Then why not get a dedicated feature on Ireland Before You Die. Find out more 
here.