Kerry's beaches offer an amazing array of different landscapes, from the very dramatic, to the peaceful and quiet. Whether you want to find a hideaway or somewhere to take all the family, you must try to go to all the beaches on this list!
8. Cappagh beach, Cloghane – a seldom-visited beach
Cappagh is a seldom-visited beach, near Cloghane and Castlegregory, and is set amid a fairy-tale landscape of beaches and mountains. Seen from high above it looks like a child's drawing, full of fantasy and creativity.
Not far from the spectacular Mt. Brandon, this is the perfect spot to begin a walking trail into the Brandon range, or simply to explore the many nearby beaches dotted around. Don't forget to sample some locally caught food after your visit, in the nearby villages.
7. Kells Bay, Killarney – an unspoiled gem
Kells Bay, on the Ring of Kerry, is an unspoiled gem. The nearby Kells Bay House and Gardens is a truly spectacular sub-tropical garden, complete with rope-bridge, and many attractions besides.
There is a small pier on the beach and the whole place has a quiet and friendly atmosphere, being the traditional fishing village that it is. Set within the protected scenery around it, it is all within reach of Killarney and the National Park.
6. Ballybunion Beach – for nearby golfing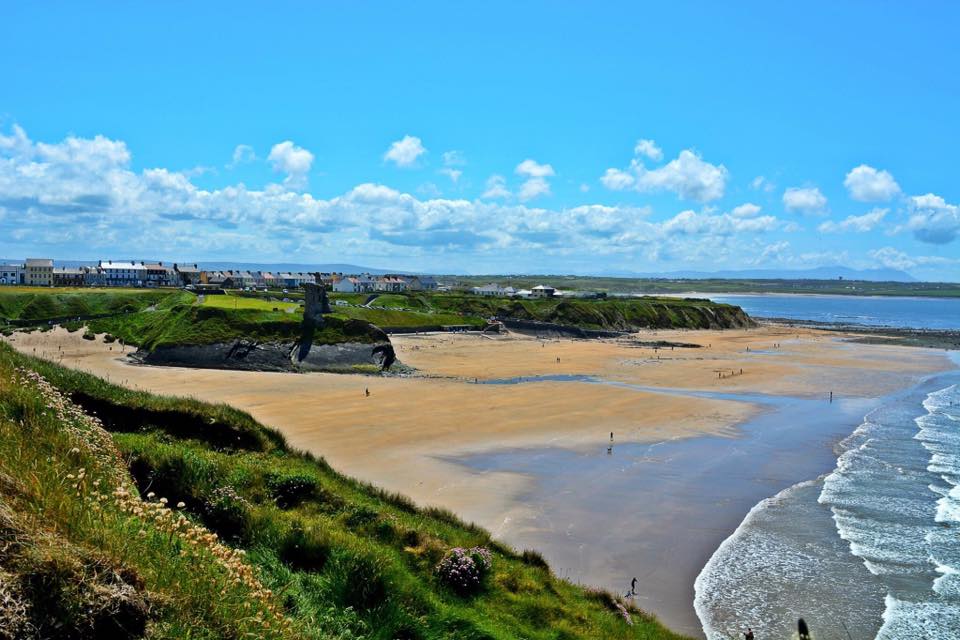 Ballybunion in the north of Kerry has a great deal to offer. It is perfect for kids, as it is safe for swimming and there is so much to explore, with rock pools and small coves to find. In addition, the cliff walk nearby affords great views of the beach from above.
There is also a world-famous golf course nearby. Ballybunion beach is a stunning day out for the family and can be accessed easily from the major town of Tralee.
5. Ventry – for pure white sand
Ventry is a long stretch of pure white sand, nestled in a bay underneath two of the most dramatic mountains on the Dingle peninsula. Horse riding and kayaking are available here, as well as a popular boat regatta each year, with currach races.
Yet there are always quiet spots where you can sunbathe in quiet. Ventry beach is mentioned a lot in Irish myths. A visit to nearby restaurants and pubs in the equally quiet Ventry village is well worthwhile.
4. Inch Beach – for sand dunes and sea stretches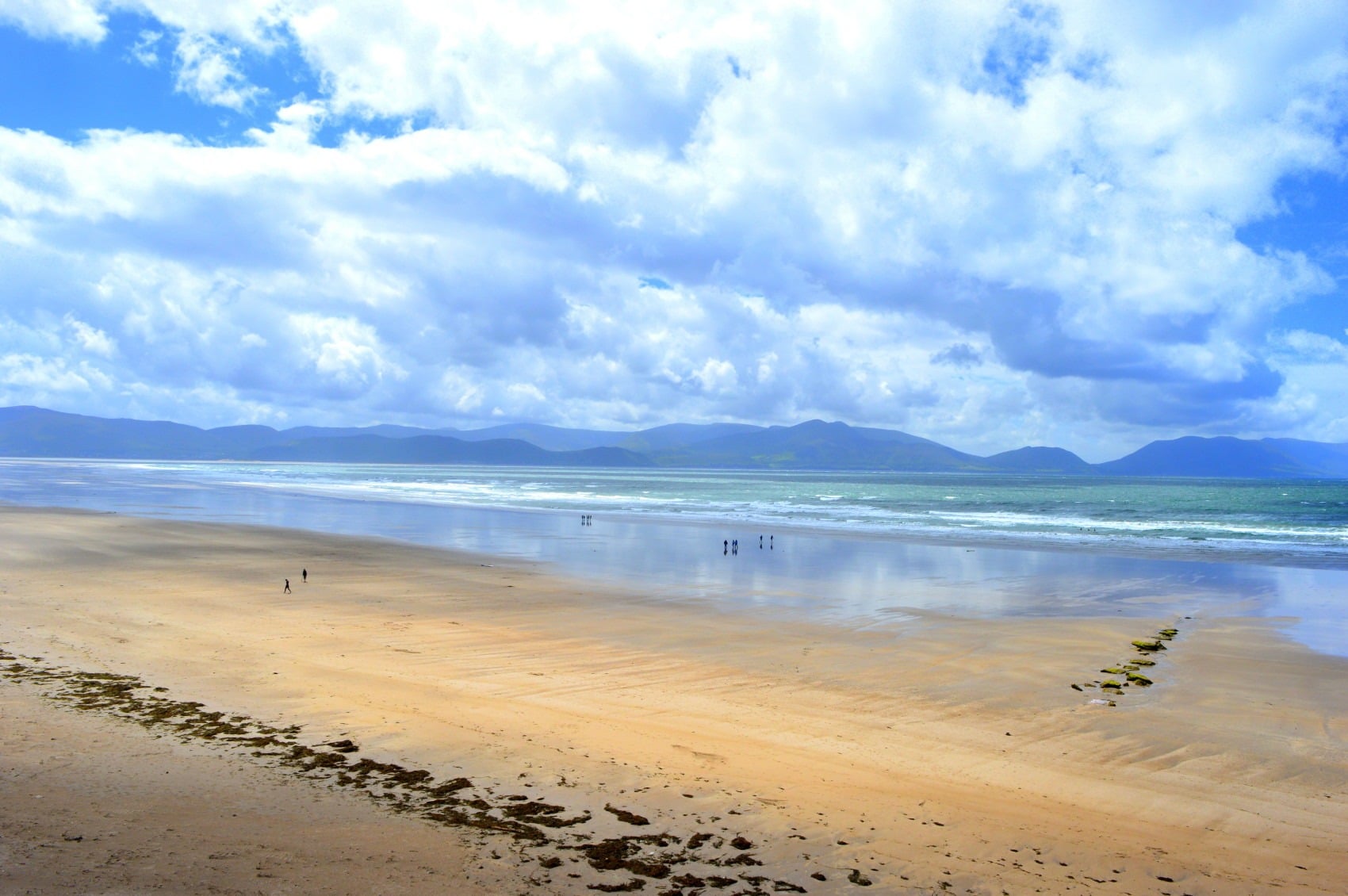 Inch Beach is a gorgeously long stretch of gently sloping sand and sand dunes jutting out between the Dingle peninsula and south Kerry. If you walk along with it all the way, you can also see the other stretch of sand that comes out to meet it, Glenbeigh, on the Iveragh peninsula.
The whole landscape is nestled underneath some lovely mountain-land, and the sand dunes are very extensive indeed. You can drive your car onto the beach if you want to, or horse ride. It is very popular for surfers and swimmers and easily accessed from Killarney.
3. The White Strand, Great Blasket Island – for remote surroundings
This beach is situated in one of the most remote parts of Ireland and is the most westerly beach in all of Ireland. The island it is situated on is the tail of the Brandon range of mountains, jutting out into the Atlantic here, like a giant whale.
The beach is home to a colony of seals which sometimes number up to a thousand. Dolphins, Minkie whales, and Orcas are seen frequently in these waters. The beach itself is perfect and you will almost certainly see some playful seals body-surfing in the breaking waves. Ferry services operate between April and September.
2. Coumineole Beach, Dunquin – for a scenic drive
When you first see Coumineole it appears like an apparition. Its sandy, the white shore is in stark contrast to the mountainous scenery around it. The waves that land here are often so powerful that there is a constant whiteness of foam on the shore.
The David Lean film Ryan's Daughter was famously filmed here and in the majestic scenery around, and you may find the plaque commemorating this above the beach.
Coming to Coumineole along the Slea head drive is really experiencing Ireland at its most wild and its most beautiful. Nearby, the stunning Dunquin Pier is another stellar site to see, if time allows.
1. Derrynane Beach, Caherdaniel – for soothing, shallow waters
There is hardly a more perfect beach than Derrynane in the whole of Ireland. As soon as you see it, it invites you to jump into its waters.
Clean, shallow and often warm, there are long stretches to explore, rock pools, a tidal island to walk out onto, and an amazing area of sand dunes. Nearby, a quiet village with a friendly pub and an open fire beckons you after your dip in the great Atlantic!