Book yourself a week off and embrace the beauty of the Emerald Isle with your partner on this eight-day romantic itinerary of Ireland.
There is much to love about the Emerald Isle. And this eight-day romantic itinerary of Ireland will make you fall in love with this small island that cradles the edge of Europe on one side and keeps the wild Atlantic Ocean at bay at the other.
This is an eight-day long luxury tour of Ireland that is brought to you by the superb Luxury Ireland Tours. It encompasses beautiful views of the vast Irish landscape, quaint villages, and rolling green countryside.
So, if you and your partner want to experience the beauty of Ireland together in one fell swoop, look no further.
We have you covered with this eight-day romantic itinerary of Ireland, moving from the Glens of Antrim right through to the Rock of Cashel in County Tipperary.
Details of this luxury tour of Ireland – arranging your romantic itinerary
By booking this romantic itinerary of Ireland, you will fly into Shannon Airport on your first day. Then, you will fly out of Dublin Airport after day eight.
One night will be spent in Cork, two in Killarney, two in Galway, one in Donegal, and the other in Belfast.
Included in your package are a personalised itinerary, an executive vehicle, and admissions to all sites. You will also receive accommodation, breakfast at all hotels, and the services of private local guides.
Day one – kiss the famous Blarney Stone
Your romantic itinerary of Ireland kicks off with a stay at the stunning Fota Island Resort in Cork. The first attraction is the historic Rock of Cashel in County Tipperary, harbouring 1,000 years of Irish history.
Next up is the famous Blarney Castle in Cork, another hub of Irish history. Make your way to the Blarney Stone. Legend says you are rewarded with the 'gift of the gab' if you kiss the stone, an apt way to begin your romantic tour of Ireland.
Day two – starting your Wild Atlantic Way journey
The second day of your romantic itinerary of Ireland is the beginning of your tour of the famous Wild Atlantic Way.
This includes a visit to Bantry House, a journey to the charming town of Kenmare, and a tour of the majestic Killarney National Park.
Day three – Ireland's most romantic car journey
This day of your romantic itinerary of Ireland is a treat. You will take a drive through the famous Ring of Kerry. This is one of the best tourist attractions the Emerald Isle has to offer.
Moving from your base of The Europe Hotel in Killarney, you will pass Rossbeigh Beach. You can catch magnificent views of Valentia Island and Skellig Island, and then travel on to Moll's Gap.
Day four – magnificent cliff views
Reaching the halfway point now, you will be rewarded with a delicious brunch at the five-star Adare Manor. Brunch is followed by a tour of the 500-year-old Bunratty Castle in Limerick.
To conclude this breathtaking leg of your journey, you will stop at the Cliffs of Moher on the coast of Clare. These are some of Ireland's largest cliffs.
Then, you will end your day at Burren National Park, home to an obscure limestone landscape.
Day five – the very best of the Galway countryside
The fifth day of your romantic itinerary of Ireland will allow you to bask in the unbounded beauty of Connemara National Park.
After this, you will drive through the beautiful town of Clifden, followed by a tour of Kylemore Abbey. You will spend the night at Glenlo Abbey Hotel in Galway.
Day six – into Yeats country
After a tour of the Hennigan's Heritage Centre, you will enter Yeats country.
First, catching a glimpse of the Benbulben Mountain. Standing at over 500 ft (152.4 m) above sea level, many refer to it as Ireland's 'table mountain'.
Day seven – the last of your stops along your romantic itinerary of Ireland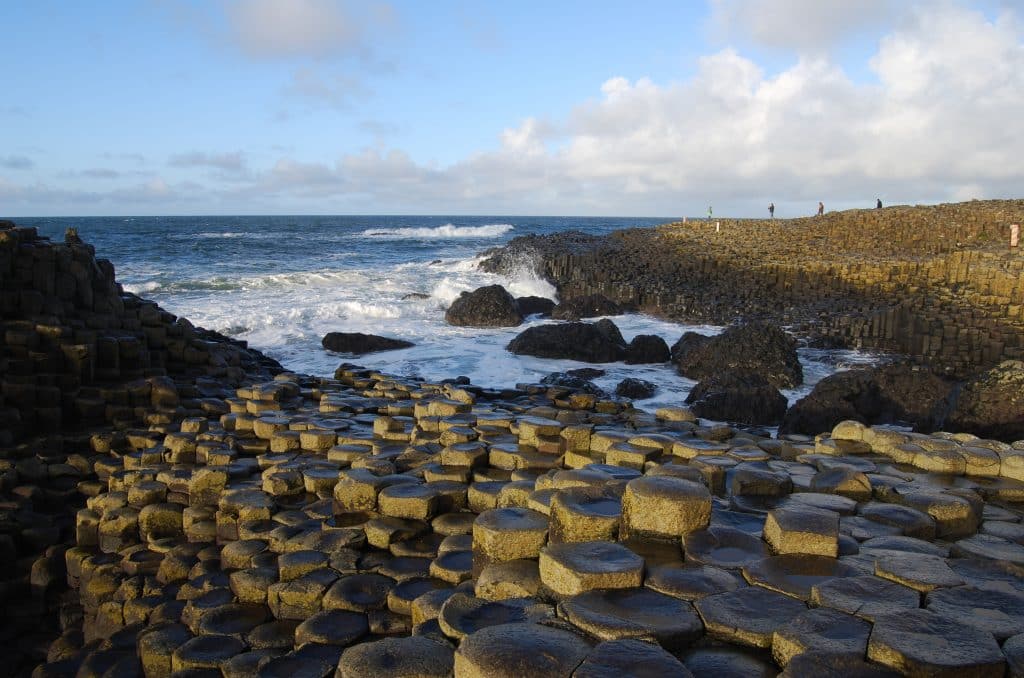 Moving from a stay in Lough Eske in Donegal to Belfast city, the seventh day of your romantic tour of Ireland will be one of your most packed and adventurous.
Your final day of travel will bring you to Dunluce Castle, which dangles on the edge of the Antrim coast.
Next, you will make a stop at the mythical Giant's Causeway. After passing through the Glens of Antrim, you will spend a night basking in the city lights of Belfast.
Day eight – preparing for departure
After an exhilarating and romantic week on the Emerald Isle, you will bid farewell to the endless beauty the island possesses and take with you memories to last a lifetime.
A chauffeur will pick you up and bring you directly to Dublin Airport. Don't worry, this won't be your last trip to Ireland, for your eight days here will leave you wanting more.
More information: HERE
Get featured on Ireland Before You Die
Do you want to get your Irish business more online exposure? Especially to those interested in travelling the best places in Ireland? Then why not get a dedicated feature on Ireland Before You Die. Find out more 
here.