4. Canoeing
Whether you prefer the ocean or one of Ireland's many river systems, canoeing is an activity you can't miss if you are into adventure sports. Additionally, unlike some of the other suggestions on the list, you can actually do this in a team. Canoes vary in sizes, but they can accommodate from two up to six people.
It is also perfect if you want to experience the Irish waters, but you are not too keen on the idea of getting wet. Grab a canoe, paddle for a while and then enjoy a well-deserved lunch in one of the many gorgeous beaches or green areas in the country.
Where to do it? You can try this in Donegal, Kerry, Kilkenny, Carlow, Antrim or Westmeath.
3. Stand-up Paddle Boarding
If surfing is maybe a bit too extreme for you, but you still want to experience some aquatic adventures in Ireland, paddle boarding might be the perfect choice!
You still use a surfboard, but the activity is much gentler and safer than surfing. In this sport, you have to stand up in your board while holding a single bladed paddle that, in theory, helps you to gracefully glide through the water. I was everything but graceful, I must admit. Nevertheless, I still had a lot of fun and would do it again in a blink.
Where to do it? There are plenty of places in Ireland to try stand-up paddle boarding. Dublin, Kilkenny, Donegal, Wexford, Antrim and Clare are only some of the counties where you can try this awesome water activity!
2. Surfing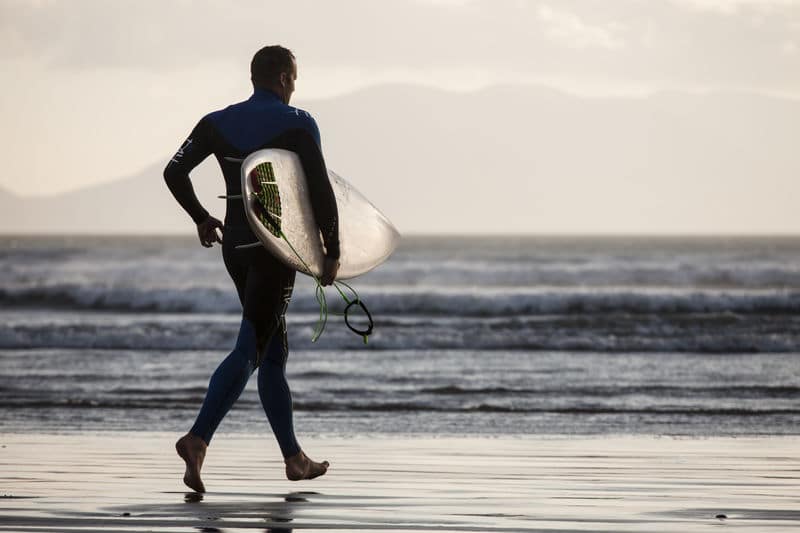 Ireland might not be the first destination that pops into your mind when you think about surfing, but believe me, there are some sweet spots in the island for all the wave lovers out there. It might not have Australia or Hawaii's weather, but the Irish winds combined with the breath-taking beaches make the emerald isle the perfect spot for both, experienced surfers and newbies alike.
If you are an expert, you can just rent some equipment and hit the waves. However, if you are still not sure if it is the sport for you, there are plenty of surf schools available for amateurs. You can find different packages that include snacks, warm drinks and even accommodation.
Where to do it? There are several surfing spots in Donegal, Clare, Mayo, Derry and Antrim.
1. Coasteering
You might be wondering what exactly is coasteering. That was my exact same question before I found myself jumping from a 20-feet high cliff in the Antrim coast. It is hard to define coasteering with just one activity, but, in general, it is a mixture of swimming, diving and cliff jumping. This particular sport has everything any adrenaline enthusiast is looking for. You get to explore natural pools in the ocean, defy the Irish waves and even climb some rocks!
I was a bit worried about the icy water (even though I went during the summer time), but the wetsuits are so good that you can't really feel the cold. Also, don't worry; you don't have to jump from scary heights if you don't want to. But then again… What would be the fun in that?
Where to do it? I did it in Antrim, but you can also try it out in Derry, Kerry and Mayo County.
Get featured on Ireland Before You Die
Do you want to get your Irish business more online exposure? Especially to those interested in travelling the best places in Ireland? Then why not get a dedicated feature on Ireland Before You Die. Find out more 
here.
Legal Disclaimer
We cover articles relating to many activities. Some of our articles showcase gaming and gambling as activities. While we do not take money for bets or own any gambling venues, we feel it is important that our readers know the risks of such venues or sites that we may mention in our articles. Gambling involves risk. Please only gamble with funds that you can comfortably afford to lose. See our legal disclaimer for more info.