Ireland has long been known as a hotspot of mystical goings-on. As the original home of Halloween, the Banshee and a host of stories about "The Little People," there isn't a town or village that doesn't have local lore to petrify or intrigue its children with.
My own grandmother could single-handedly traumatize you with a tale for every night of the year. For those thrilled by the idea of a brush with the other world, here are some of the most spooky spots in Ireland!
7. Bel Air Hotel, Co. Wicklow – for one of the oldest hotels in Ireland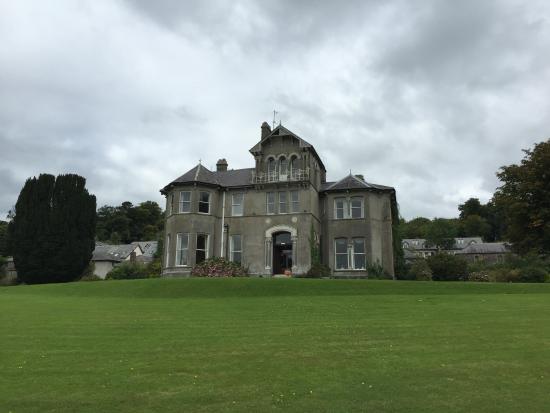 This is one of the oldest hotels in Ireland and it keeps it's haunted status quite low key. You can visit or book a room here without any official tours and discover it's mysteries for yourself. We often stopped in for tea during Sunday drives in Wicklow and the place is just oozing old-world charm.
The faded fabrics and polished but worn surfaces suit the horsey crowd who frequent it and much to my delight the waitresses actually dressed in black with white aprons (not in retro affectation but in a haven't-changed-in-decades way!).
There are many reports of spooky encounters by guests, the most common being a ghostly housekeeper who climbs the old wooden staircase and walks the halls with the same uneven limp she had during her lifetime! The bustling of her skirts can be heard as she straightens towels, pulls curtains and even sits on the side of guest's beds. Surely that's worthy of a few goosebumps!
6. Red Mary and Lemenagh Castle, Co. Clare – for a story you'll never forget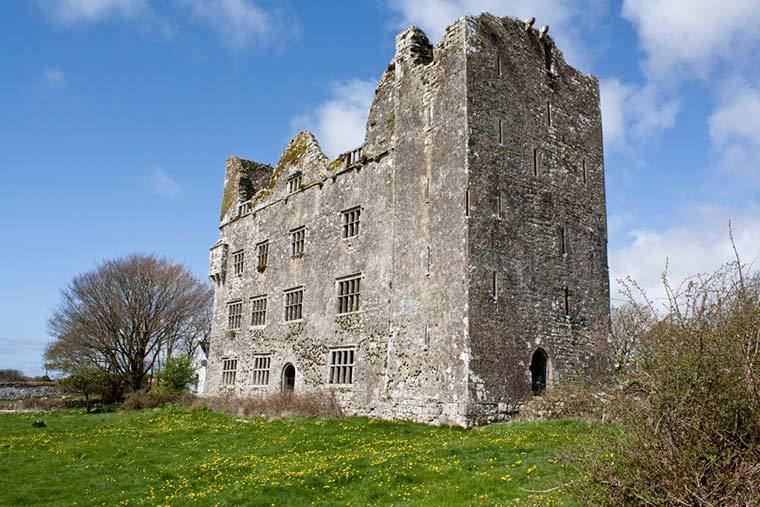 If you're seeking one of the most terrifying things to do in Ireland, look no further than Lemenagh Castle.
The O Brien stronghold of Lemenagh Castle is situated on The Burren, a unique windswept landscape on the west coast. It was built around 1480 but became home to Red Mary in the 1600s. Mary had married an O Brien and was a successful warrior at her husband's side against the Cromwell invasion.
Even after the death of her husband, she managed to hold onto the castle by means of brute force and strategic marriages. She of the red tresses was said to have had 25 husbands in the end, each meeting an untimely demise and leaving her their fortune.
To top it all off she had a harem of young men around her disguised as male servants whom she punished (by hanging) if they crossed her. She was eventually imprisoned in the hollow of a tree until she starved to death but her sinister laughter echoes around the castle until this very day.
5. The Abbey of the Black Hag, Shanagolden, Co. Limerick – for a medieval abbey
The medieval Abbey is nestled in a valley two miles east of Shanagolden and you won't need Instagram filters to get a haunted gothic effect for the place. The Countess of Desmond was mistakenly buried alive here, a fact that only came to light when her apparition prompted an investigation that unearthed her shallow grave.
Upon opening, it became evident she had tried to claw her way out. However, it's the last nun who lived there who gives the Abbey its nickname and its full chill factor. The rogue prioress was said to have conducted black arts in her cell south of the church (where she is buried) leaving the area under unbroken curses.
4. Crumlin Road Gaol, Co. Antrim – for a prison setting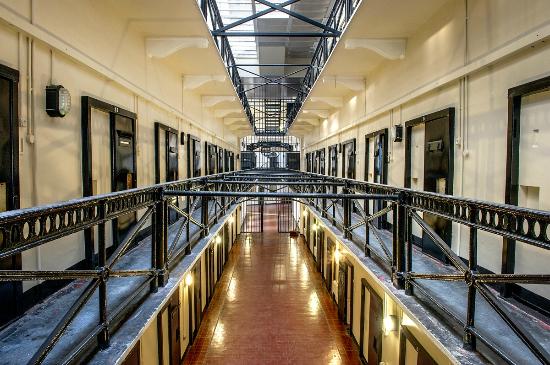 Officially closed in 1998, Crumlin Road Jail is the last Victorian-era prison still standing in Belfast and is a big attraction for ghost hunters. Among reported apparitions is a tall dark phantom, thought to be a guard, who moves from cell to cell. A grey figure is seen walking the tunnel leading from the jail building to the courthouse and footsteps are commonly heard in the empty corridors.
Doors slam, male and female voices call out for help and objects are sent flying across rooms. D-wing is home to a 'watcher' who stands in doorways observing people. There can be little doubt that many a soul from Crumlin Road Gaol finds it difficult to rest in peace. Tours are given to the public and there's a restaurant called Cuffs to complete your afternoon in.
3. Ardgillan Castle, Co. Dublin – for a Dublin castle
Folklore aside it is a sad and recorded fact that Lady Louisa August Conolly, mother of four, tragically drowned while staying at Ardgillan Castle. She was just 34 years old at the time of her death. A keen swimmer she would not be dissuaded by her maid from taking a plunge into the icy waters on a cold November day.
The fateful accident occurred more than 160 years ago but her ghost or 'the white lady' is still seen climbing the steps over the railway line from the shore to the castle grounds. The steps have been re-christened 'Lady's Stairs' in her honour. Locals admit that when the council were doing work at Ardgillan none of the workers would stay to do security at night. Access to the castle is by guided tours only.
2. Leap Castle, Co. Offaly – for full spook factor
While a centuries-old castle holds plenty of clout in the mystery stakes, this one was built on the ancient ceremonial grounds of the Druids giving it just a tad more. The O Bannon Clan responsible for building the castle had two warring brothers.
They both made a fabled leap from the rock where it was to be built to see which would survive and rule, ensuring blood and death be at the very foundations of Leap Castle. A later feud between another set of brothers concluded in one of them, a priest, being stabbed as he said Mass in the chapel.
The Bloody Chapel still houses his ghost, seen by many. Other spectres make the castle their home, including The Wild Captain (searching the castle for his hidden fortune) and a Red Lady reportedly held captive there and repeatedly raped.
She gave birth to a child that was taken from her and murdered driving her to kill herself. She is a said to be tall, wear a red gown and carry the blade she used to end her own life. The castle is privately owned but visitors are usually welcome once they call in advance.
1. Loftus Hall, Co. Wexford – for a dance with the devil
I have saved what may well be Ireland's most macabre house for last. This tomb of a mansion rises up on the Hook Peninsula. Loftus was built by aristocratic landowners whose decadence and cruelty became a legend. The story goes that a ship took shelter from the storm and brought a visitor to the great hall. During the course of the evening, the company played cards and upon dropping a card the young lady of the house bent down to discover the guest had cloven hooves instead of feet.
In case that wasn't clue enough he promptly shot through the ceiling and the hole in it has never been successfully repaired. The more realistic and very tragic story, we're told, is of a rich family, incest, a baby born and buried and a girl locked up until insanity did her in.
Either way most would say, the Devil and Loftus Hall are no strangers to each other. In order to keep this beautiful old house (complete with bats, I kid you not!) from going to ruin tours are being conducted and Halloween Lock-ins are in high demand.