We love a creative pub name, and Belfast has no shortage. Here are seven Belfast bars and pubs with quirky names that are sure to amuse you.
Belfast is a city with a million quirks. With its many accents, unique sayings, and an up-and-coming nightlife scene, the names of Belfast bars and pubs are certain to be creative.
Here's our top seven that would make a great pub crawl if you're up for it—because in addition to being well-named, these venues also happen to be great places for a night out.
7. The Jeggy Nettle – a gem just off Queen's Quarter
Based in Stranmillis just off Queen's Quarter, this gem boasts Belfast culture like no other. Sit by the fire and sip a perfectly poured pint, sing along to live music, join in the pub quiz, and have a Tayto crisp sandwich in a lovely, big Belfast bap. This pub is also dog-friendly, so you're bound to make a few fluffy friends.
Address: 12 Stranmillis Rd, Belfast BT9 5AA
6. The Tipsy Bird – amazing cocktails and fun decor
Down in town on Ann Street, this place is great to go to for a girls' night out. They do amazing cocktails and a flaming pitcher, and the decor is the perfect background for your Instagram snaps. Split a wood-fired pizza with your friend and sing along to some of the best local live music the city has to offer.
Address: 90-100 Ann St, Belfast BT1 3HH
5. Pug Uglys – a place to party all night long
This newcomer to the scene is down on Bedford street. They are well known for their comedy club on Thursdays, and they always have a live band, so you can sing Mumford and Sons until your heart's content. You can party with them all night long on Saturday, then call in on Sunday for a carvery. Could anything sound better?
Address: 21 Bedford St, Belfast BT2 7EJ
4. The Dirty Onion – a classic Cathedral Quarter bar
Based in one of Belfast's oldest buildings, this is your classic Cathedral Quarter bar guaranteed to give you a good night. They will give you a classically Irish experience, with trad sessions, bodhran lessons, and beautiful harp performances. Their live acts vary but will always leave you feeling like you've experienced the true Ireland.
Address: 3 Hill St, Belfast BT1 2LA
3. The Thirsty Goat – a lively crowd-pleaser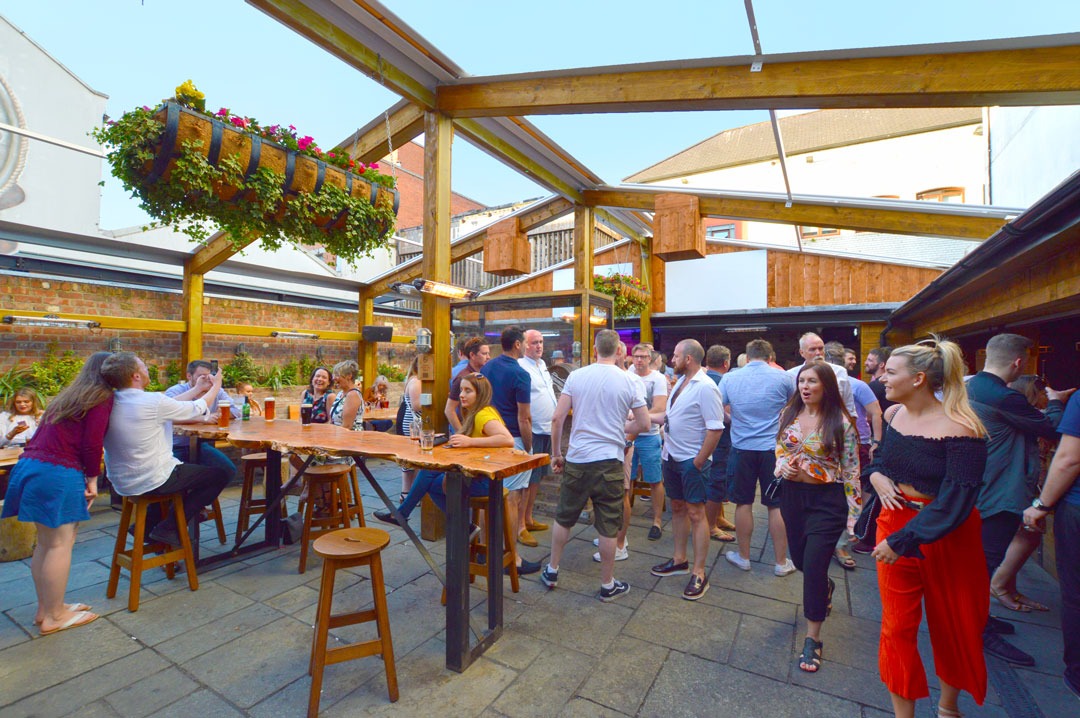 A newcomer on the Cathedral Quarter scene that has largely taken over, the Thirsty Goat is best known for its garden-esque smoking area that is filled with people dancing even in the depths of winter. Their live music combines traditional Irish songs with more modern classics, so you can sing "Tell Me Ma" and "Mr Brightside" and many other crowd-pleasers. Get here early to avoid the queues!
Address: 1 Hill St, Belfast BT1 2LA
2. The Cloth Ear – Irish tradition delivered with class
Nestled in the formidable shadow of the Merchant Hotel, the Cloth Ear is placed in one of Belfast's most historical quarters. They have a penchant for the traditional Irish experience, delivering it with class in their signature Irish dishes, such as their beef and ale puff pastry pie.
They also have "phone gaols" to encourage guests to talk to one another, honouring the Irish tradition of storytelling. Come and listen to their live acts, and leave with friends from all over the globe.
Address: The Merchant Hotel, 16 Skipper St, Belfast BT1 2DZ
1. Filthy McNasty's – a must-visit for a pint and live music
If you like to go out in Belfast, chances are you've been to one of the best bars Belfast has to offer, Filthy McNasty's, at least once. The quirky furniture and décor complement the place's quirky name. You'll find mannequins doubling as tall lamps and vintage vinyls decorating the walls.
For food, you can enjoy some pizza, and for music, Belfast's local musicians can be heard daily from 10pm. Those who would like to show off their own talent can even do so at Filthy's open mic night each Sunday evening.
Address: 45 Dublin Rd, Belfast BT2 7HD
So there you have them—the Belfast bars and pubs with the quirkiest names (in our opinion). Now that you're all caught up on the eccentricities of Belfast's best-named watering holes, go give them a visit; they're bound to leave you with unique memories and a taste for Ireland's unmatched nightlife.
Get featured on Ireland Before You Die
Do you want to get your Irish business more online exposure? Especially to those interested in travelling the best places in Ireland? Then why not get a dedicated feature on Ireland Before You Die. Find out more 
here.