Whatever brings you to this part of The Kingdom, you can be guaranteed you won't be bored here. Whether it be having a Guinness in one of Dingle's half shop, half pubs.
Or whether you're only interested in some of the peninsula's finest seafood – the locals are what make this place come alive. Come with an open heart and make sure to check out the below to make your Dingle Peninsula experience truly unforgettable.
1. Pay a visit to Fungie the Dolphin – Dingle's local dolphin
If you want to see a panda, you go to Chengdu. If you want to see alligators, you go to the Everglades. If you want to see a dolphin, you go to Dingle. It's just common knowledge.
It's true, Dingle's very own bottleneck dolphin has made this magical part of Kerry his home for the last 30 plus years and boy does he live up to the hype. Board one of the many tour boats at Dingle Pier where you can check this fella out for yourself.
A natural-born entertainer in his purest form who has his audience begging for more as he jumps and jives to the rhythm of the tour boat's propeller engine. Never been a shy one, old Fungie, but in case he is, its money back. Wild, fantastically unmissable and assured to have you beaming.
2. Walk in the Footsteps of Antarctic Explorer Tom Crean – a local legend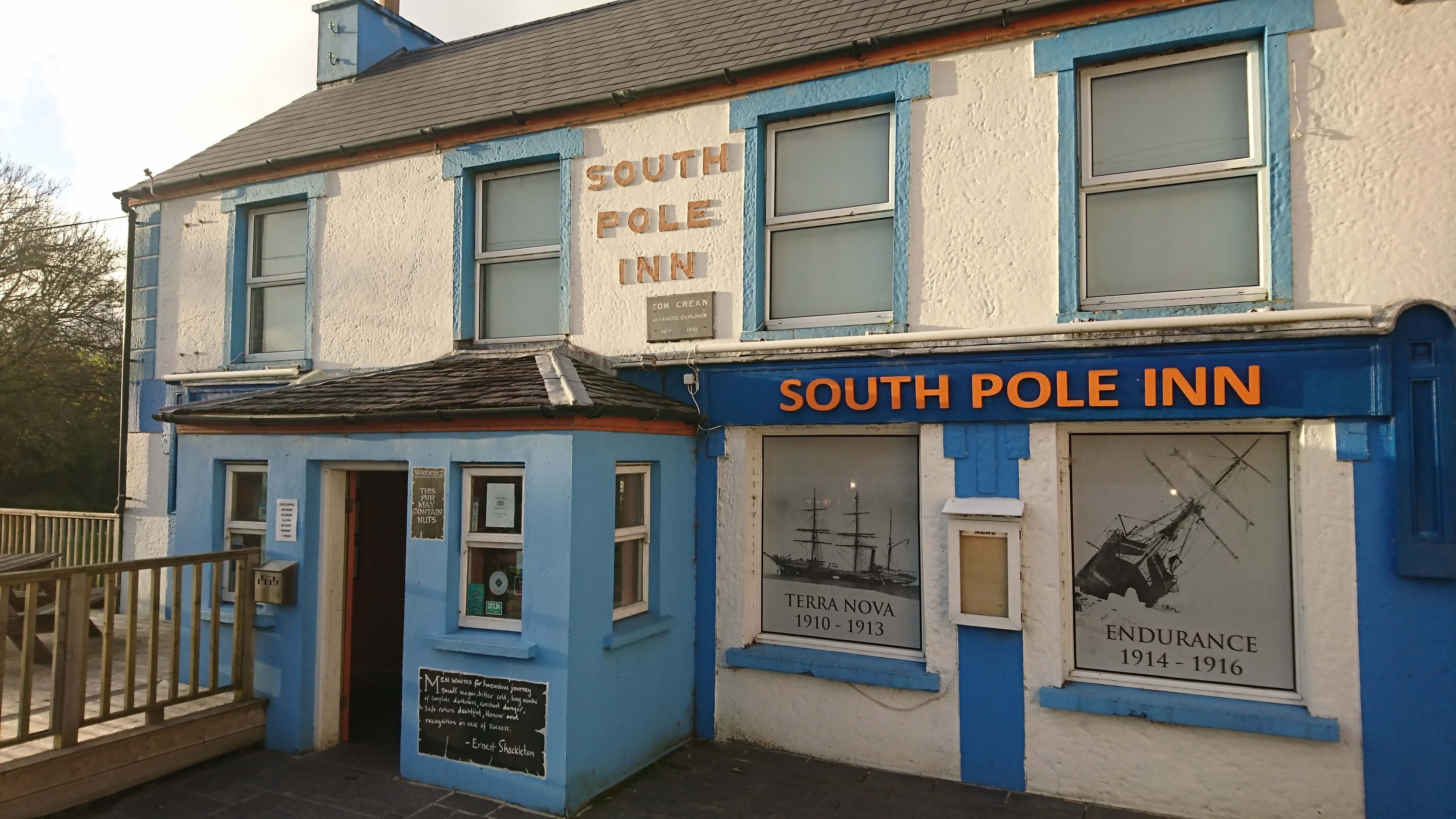 Just over a 20-minute drive outside of Dingle brings you to the former stomping ground of one of Ireland's most unsung heroes – Antarctic Explorer Tom Crean and his former hometown of Annascaul.
Crean's incredibly brave exploits in the early 20th-century in the Race to the South Pole aboard the Terra Nova expedition have rightly earnt their place in Irish folklore. If you haven't read the man, the myth, the legend's story, please do.
Then get yourself to Annascaul for a pint of his own brewed lager at The South Pole Inn (Crean's pub he opened when he miraculously returned home) – you'll feel steeped up to your knees in history.
3. Enjoy a Session in Dick
Mack's – amongst the locals
No trip to Dingle is complete without a stop in this old gem. A leather workshop come lively whiskey bar filled with craic has kept this pub popular amongst locals for over 100 years, as well as some big-name stars.
Dolly Parton, Bono and Julia Roberts have all earned their star outside the famous pub for enjoying a pint here. Local patrons told us Tom Cruise wasn't granted the same honour for not ordering one. You've got to have a code, after all.
Sessions in this place can break out like wildfire. Keep your eyes peeled for one of Dick Macks' regulars -a man called Joe introduced to us as 'Ireland's best freehand whistler' – the man didn't disappoint.
4. Stroll
the Vastness that is Inch Beach – for stretches of sand and sea
'Give him an inch and he'll take a mile' – no better place does the phrase relate more so to than at Inch Beach on the Dingle Peninsula. All three miles of this expansive stretch of sand represent something for everybody.
A paradise for surfers with long rolling waves, a spectacle for bird watchers on a clear brisk day or a headspace for hungover strollers when the mist is in (I can vouch for the third one).
Used in scenes in Hollywood movie Ryan's Daughter, the beautiful coastline is located between Dingle Harbour and Castlemaine Harbour and is well worth a trip.
If time allows, make sure to stop by the nearby Dunquin Pier for a postcard backdrop!
5. Channel your inner Luke Skywalker at the Sybil Head Lookout – for cinematic moments
If like me, you are a fanatic of all things taking down the Galactic Empire then be sure to check out Ireland's very own piece of the Star Wars Universe – the magnificent headland of Ceann Sibeal, Sybil Head, home to the Jedi temples in the upcoming installation in the saga – The Last Jedi.
You can swing on down around the Ring of Kerry to get a look at Skellig Michael as well if you want to continue the trail and be at one with The Force even further.
Likewise, if you're not a fan of the show and you think Tattooine is, in fact, a female ink artist – you're still going to be given gorgeous landscape views. Not bad, at all.
6. Bask in the Panoramic View on The Conor Pass – for breathtaking scenery
This winding road is the perfect way to finish your trip to the Dingle Peninsula, offering glorious viewpoints from the summit of Ireland's highest mountain pass – An Chonair.
It presents the most dramatic and impressive way of leaving Dingle village and into Kilmore Cross with bounding waterfalls, steep mountain cliffs and several lakes providing the dream ending to your trip here.
Make sure to pit-stop at the scenic car park at Conor's peak with views as far as the Aran Islands off Galway, all but dodging the native sheep who roam the nearby hills – truly breath-taking.