Ah pirates, those ruthless, violent rogues who terrorised the high seas and became the colourful anti-heroes of books and movies. We typically associate pirates with the Caribbean and other warm locations, but over the centuries Ireland has been both a birthplace of piracy and a victim of pirate raids.
Fiona Hurley from Tales of the Wild Atlantic Way outlines a few Irish locations where you can find traces of piratical history. Yo ho ho and a bottle of poitín!
6. Kinsale, County Cork – Birthplace of Anne Bonny
Piracy was a male-dominated business, but a few tough women broke through that glass ceiling with cutlass and pistol, and one of the toughest was Anne Bonny. Anne was born in Kinsale in about 1700, and she was causing trouble from birth. Her father was lawyer William McCormac, and her mother was his servant Mary Brennan – which greatly angered William's wife! William took young Anne and her mother to the Charleston in South Carolina to escape the scandal.
Red-haired Anne was stubborn and vicious; she once stabbed a servant with a knife, and beat one man so thoroughly he spent months in hospital (although in the latter case he deserved it, having tried to rape her).
At 16, she married small-time pirate James Bonny; she was disowned by her despairing father and moved to the pirate haven of Nassau in the Bahamas. But the cowardly James turned informant, so she left him for the more flamboyant "Calico Jack" Rackham, captain of the wonderfully-named Revenge. Kinsale girl Anne Bonny became one of the most notorious pirates of the 18th-century Caribbean. You may know her from the TV series Back Sails, where she is played by Clara Paget.
Modern Kinsale is still a town proud of its maritime heritage. Wandering its colourful streets and its harbour, you can imagine the place that gave birth to a pirate legend.
5. Baltimore, County Cork – The stolen village
On 19th June 1631, the inhabitants of Baltimore in West Cork settled down for the evening. At the same time, a group of ships anchored themselves at an inlet just outside their harbour. They were a fleet of Barbary Corsairs, pirates from the coast of North Africa. At around two in the morning, they ran up the pebbled beach and attacked.
Their night raid took 109 villagers, half of them children, and transported them in chains to far-away Algiers. It was the largest ever attack by Barbary pirates on Ireland or Great Britain. The Algerians demanded ransom, but the remaining few inhabitants of Baltimore lacked the money. Despite desperate pleas from those left behind (including William Gunter, who lost his wife and seven sons), the Irish and British authorities wouldn't pay either. The unfortunate captives were sold into slavery, and only two are known to have ever returned to Ireland.
In Baltimore today, the name of the Algiers Inn recalls that terrible night when an entire village was enslaved by North African pirates.
4. Dublin – A city founded by raiders
The Vikings were Scandinavian pirates of the early Middle Ages, terrifying the Irish population as they plundered up and down the coast. They were also responsible for founding some of the earliest Irish towns, including a little place they called Dyflin (from the Irish Dubh Linn meaning "Black Pool").
Dyflin became a major trading centre, ruled by Vikings and their descendants for three centuries. They were eventually defeated by Irish High King Brian Boru at the Battle of Clontarf in 1014.
Those Viking days are recalled by two of Dublin's most popular tourist attractions: the Dublinia museum at Christchurch, and the Viking Splash Tours that run from St Stephen's Green. Both are recommended for children of all ages.
3. Saltee Islands, County Wexford – Treasure islands
From the 16th to the 18th centuries, the remote Saltee Islands found themselves in the path of a major trading route between Britain and its new American colonies. Pirates from Spain and France used the islands as a base to plundering any unlucky ships that passed by.
Locals helped themselves to salvage from the many shipwrecks, sometimes even luring the boats towards the rocky shores. The islands became known as the "the graveyard of a thousand ships". It is said that treasure is still hidden in places such as Lady Walker's Cave or Hell Hole.
Today the Saltee Islands are uninhabited, but tourist boats sail from Kilmore Quay to Great Saltee. You're unlikely to find treasure, but you will enjoy the company of many seabirds.
2. West Cork coast – A haven for crooks
In the early 1600s, a group of English sea captains found themselves hiding out in Ireland. Queen Elizabeth I had employed them as "privateers" to harry and raid the ships of her Spanish rivals. Her successor, James I, made peace with the Spanish and no longer had need for them. But the plundering life was a hard one to leave behind, especially when there were friendly harbours to be found on the rugged West Cork coastline.
The locals were happy to help out, as long as they got a share in the profits. Merchants sponsored pirate missions, while alcohol sales and prostitution thrived. The judiciary took their cut; even the Vice-Admiral of Munster was involved. In Dutchman's Cove and Canty's Cove, steps were carved out of rock to facilitate the movement of goods up from the beach. At Leamcon Castle, William Hull ran a thriving enterprise dealing with stolen goods.
Crookhaven had originally been named for local baronet Sir Thomas Crooke, but its name became more apt when the town served as a base for illegal activities. According to Sir Henry Mainwaring, a pirate turned pirate hunter, "Ireland may well be called the nursery and storehouse of pirates."
This cheery set of affairs (from the viewpoint of the pirates and their allies) was dealt a deadly blow in 1613 when the Dutch attacked Crookhaven Harbour. Some of the surviving pirates escaped to seek their fortunes on the Barbary Coast or in the Caribbean.
The West Cork peninsulas – Beara, Sheep's Head, Mizen Head – are still beautifully untamed. Signposts for the Wild Atlantic Way will lead you to some of the hidden places where piracy once flourished.
1. Clew Bay, County Mayo – Home of the Pirate Queen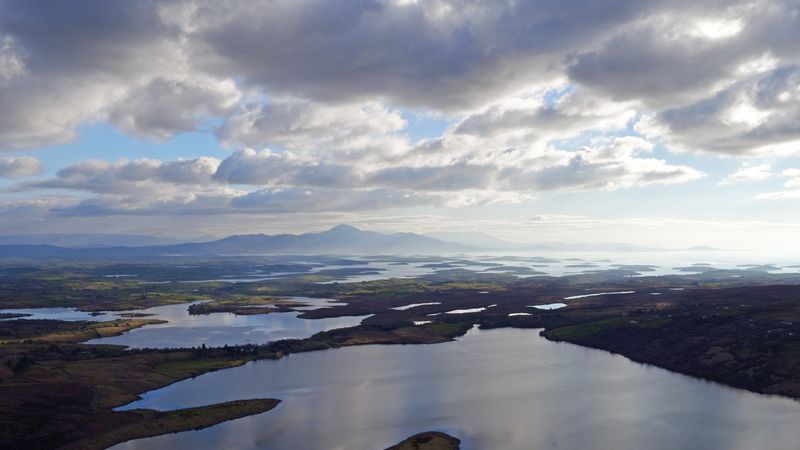 Her name was Gráinne Ní Mháille, her father chieftain of the O'Malley clan of Clew Bay. The English would call her Grace O'Malley. As a child, she asked her Dad to let her sail with him; he told her that her long hair would get caught in the ship's ropes, so she shaved her head and snuck on board with the boys. This gained her the nickname Gráinne Mhaol ("Bald Gráinne"), or Granuaile.
She would grow up to become the most powerful woman in Connacht, running a lucrative pirate base from her home on Clare Island. Her first husband was so troublesome and disorganised that she took on his role as chieftain even before he died in battle.
From her second husband, she gained control of Rockfleet Castle on the shores of Clew Bay – and promptly divorced him. She attracted loyalty from multiple clans who were normally at war with one another, in an age when few men would accept authority from a woman. She must have been formidable.
In 1593, a 60-year-old Granuaile sailed to London to negotiate the release of her son and half-brother, then imprisoned by the governor of Connacht. Queen Elizabeth I was impressed enough by this wild Irishwoman to order the release of Granuaile's relatives, on condition that she refrained from further pirating. But the Pirate Queen hadn't long returned to Clew Bay when she reneged on this promise, and she kept on plundering despite her advanced years. She spent her final days at Rockfleet and was buried at Clare Island Abbey. Her descendants built Westport House on the foundations of one of her many castles.
You can still see some of her properties around Clew Bay: Granuaile's Castle on Clare Island, Rockfleet Castle near Newport, and Kildavnit Castle on Achill Island. In Westport House, you can visit her dungeons. The grounds of Westport House also contain a Pirate Adventure Park, where children can play at being Pirate Queens and Kings near where Granuaile once ruled the seas.