There is no doubt that a trip to Temple Bar is paramount when you visit Dublin, despite having the most expensive pints of Guinness in Dublin. However, do you think that you would be put off by the overpriced pints, lack of seats & hoards of boozed up stags & hens?
Most of us that know Temple Bar, will tell you this is the reality of Dublin's most popular boozing street.
Music here can be quite commercialised, meaning it dilutes the traditional sense of an Irish Ballad session.
The great news is if you veer away from the crowds of tourists, you will uncover Dublin's real Irish pub culture.
1. The Cobblestone, Dublin 7
The Cobblestone is located close to the Smithfield Markets & Jameson Distillery. This amazing pub stands testament to the old saying Don't Judge a Book by its Cover".
While The Cobblestone is not much to look at from the outside, inside the pub is where the magic happens.
Every day there are some top musicians, gelling together, to form probably Dublin's greatest Traditional Music Pub.
It is infamously said that The Cobblestone is a "music pub with a drinking problem." The atmosphere in the Cobblestone, specifically on weekends is electric. So make sure you get here early to get a seat.
2. Darkey Kelly's, Dublin 8

If there ever was a place to enjoy real Irish Food, super friendly Irish people & great Irish Music look no further than Darkey Kelly's Pub. A stone throw walk from Temple Bar "Darkeys" is located in Dublin 8, just beside Christ Church Cathedral. To avoid the hectic bars & streets, you can enjoy all of the fun in one of Dublin's best trad music pubs.
The best part of the pub is the spacious dancing area, here you can mingle with the locals while enjoying a beer. A whacky fact is that "Darkeys" used to be a brothel. It is named after Dorcas "Darkey" Kelly who was the madam of the brothel. She was burned at the stake for killing 5 of her guests in 1761.
3. The Celt, Dublin 1
The reason the Celt Bar is so good, is it holds 50 : 50 ratio of locals & tourists alike. This creates an electric atmosphere, with local music knowledge combined with the enthusiasm of the tourists.
They host music 7 nights a week, however, get there on a Friday or Saturday to grasp a real feel for the craic. It is located on Talbot St in Dublin 1, which is next to a wonderful restaurant called Le Bon Crubeen. Both places are under the management of the same owner.
This makes the bar food in The Celt top notch. The decor has an array of flags, banners & photos from all around the nation of Ireland. So make sure you come here for the reasonably priced pints, super pub grub & a great night of trad music.
4. The Confession Box, Dublin 1
Not many locals or tourists will be able to tell you where this place is, as not too many come here to confess their sins. During the Irish Civil War 1922- 1923, Free State Soldiers where stated to confess their sins to a priest here.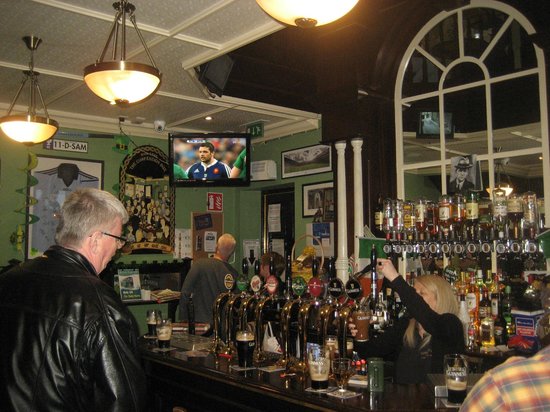 It is said that The Confession Box was a popular watering hole for rebel leaders, one of which we all know called Michael Collins. This is where the new name of the pub The Confession Box arose. Not only do they have great trad sessions here on the weekends, they serve one of the best pints of Guinness in Dublin.
5. O'Donoghues, Dublin 2
This pub is where probably Irelands most known traditional music singers "The Dubliners" became famous. Located on Baggot St in Dublin 2, about a five-minute walk from St Stephens Green, you are always guaranteed a great night out in O' Donoghues.
The interior is quite rustic made completely of varnished brown wood. When the pub fills up, things can become crowded & cramped. You won't be thinking that though when the music comes on, making the show more intimate. While it's not the most comfortable of these pubs, it sure does make up for it in class.
6. The Brazen Head, Dublin 8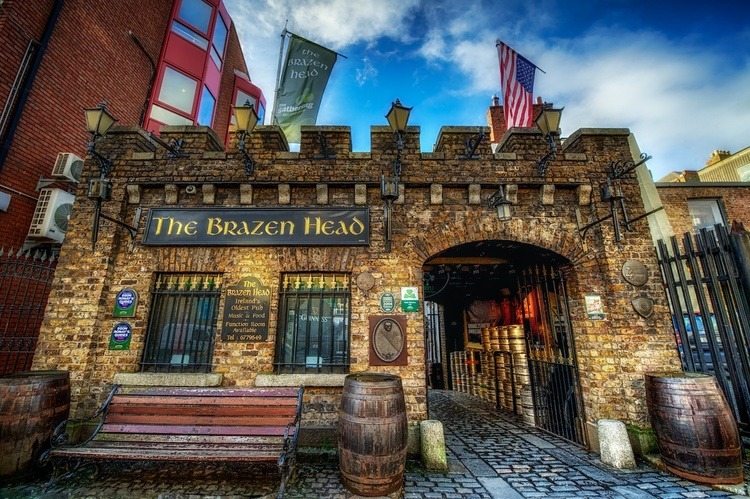 As we're on the subject of tradition, we have to include Irelands oldest pub The Brazen Head. It is estimated the place opened their doors in 1198. The location is on 20 Bridge Street Lower, Dublin 8 which is just on the outskirts of Dublin city centre.
It's incredibly old, full of history & a beautiful place to have a pint of Guinness. Not only do they have live music 7 nights a week, there is also some nights of Irish storytelling.
Renowned the world over for having the gift of the gab, it's no wonder we are unique storytellers. If you're looking for something a bit different than music, they offer a Folklore and Storytelling dinner show.
Get featured on Ireland Before You Die
Do you want to get your Irish business more online exposure? Especially to those interested in travelling the best places in Ireland? Then why not get a dedicated feature on Ireland Before You Die. Find out more 
here.