From entries to The Guinness Book of World Records to mind-boggling statistics and fun facts, here are 50 shocking facts about Northern Ireland you never knew.
Rich in culture and character with a colourful history, these 50 facts about Northern Ireland (NI) are sure to shed some light on the region in question!
50. Northern Ireland is governed by the United Kingdom, although it lays down its own laws. The Republic of Ireland, by contrast, is an independent nation.
49. In 1998, a peace agreement among Northern Ireland, the Republic, and Great Britain was signed. It was at this point that the Irish Constitution was amended to remove the republic's territorial claim to Northern Ireland.
48. Across the entirety of Ireland, people speak English. In schools and particular region, people learn and speak the native Gaelic language.
47. Pre-famine, the Irish population was 8 million. Still to this day, the community has not recovered, and the population still lies under 7 million. 
46. In Northern Ireland, there is only one legally recognised flag: the Union Flag.
45. The tradition of Halloween actually originated from the island of Ireland.
44. In Northern Ireland, many Irish names begin with "Mac". This directly translates to "son of."
43. Last names also often begin with "O" which means "grandson of" in Gaelic.
42. In the 17th century, colonists from Scotland and England began arriving in Ireland.
41. During the years spanning 1968 – 1998, conflict tore through the Republic of Ireland and Northern Ireland. This time is referred to as The Troubles.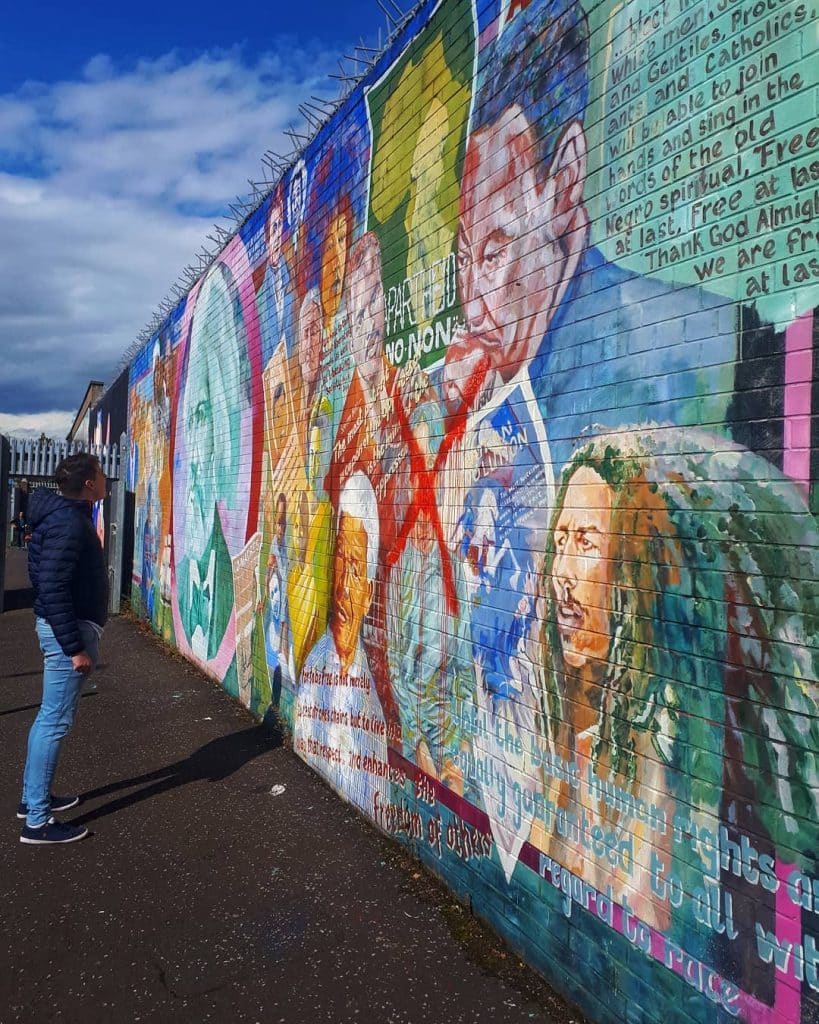 40. Many people think that during this war, there was only the nationalists and unionists. Still, some people and groups drifted somewhere in the middle, for example, the Northern Ireland Civil Rights Association (known as NICRA).
39. Over 10,000 bomb attacks occurred in Ireland and the UK during The Troubles.
38. Another one of the lesser-known facts about Northern Ireland is that a vast percentage of people killed (around 1,500) during these bombings were in the Belfast area.
37. During the 1981 Hunger Strike, armed forces fired nearly 30,000 plastic bullets. In comparison, only 16,000 plastic shots were fired during the next eight years.
36. An estimated 107,000 people experienced some kind of physical injury during the Troubles.
35. A Troubles riot inspires the U2 song "Bloody Sunday".
34. A lot of musicians drew inspiration from NI's Troubles, including Sinead O'Connor, U2, Phil Collins, Morrissey, and Flogging Molly.
33. It is generally agreed that the Troubles ended with the Good Friday Agreement on the 10th of April, 1998.
32. Obel Tower is the highest building in Ireland, and it is located in Belfast City.
31. Crosskeys Inn in County Antrim is Ireland's oldest thatched pub.
30. The ill-fated ocean liner, the Titanic, was built in Belfast.
29. Contrary to popular belief, only about 9% of people in Ireland have naturally red hair.
28. Lough Neagh in NI is not only the largest freshwater lake in Ireland but in Ireland and Britain.
27. In Northern Ireland, it is an offence to be drunk in public.
26. Contrary to popular belief, St. Patrick wasn't Irish – he was Welsh!
25. No snakes ever lived on the island of Ireland.
24. Nigerians drink more Guinness than those from Northern Ireland.
23. The Giant's Causeway has been around 50-60 million years.
22. Slieve Donnard is the highest mountain in Northern Ireland.
21. The Tippling Act of 1735 once entitled peasants to drink ale for free. Unfortunately, this law has now been repealed.
20. Northern Ireland's longest river is the River Bann at 129 kilometres (80 miles).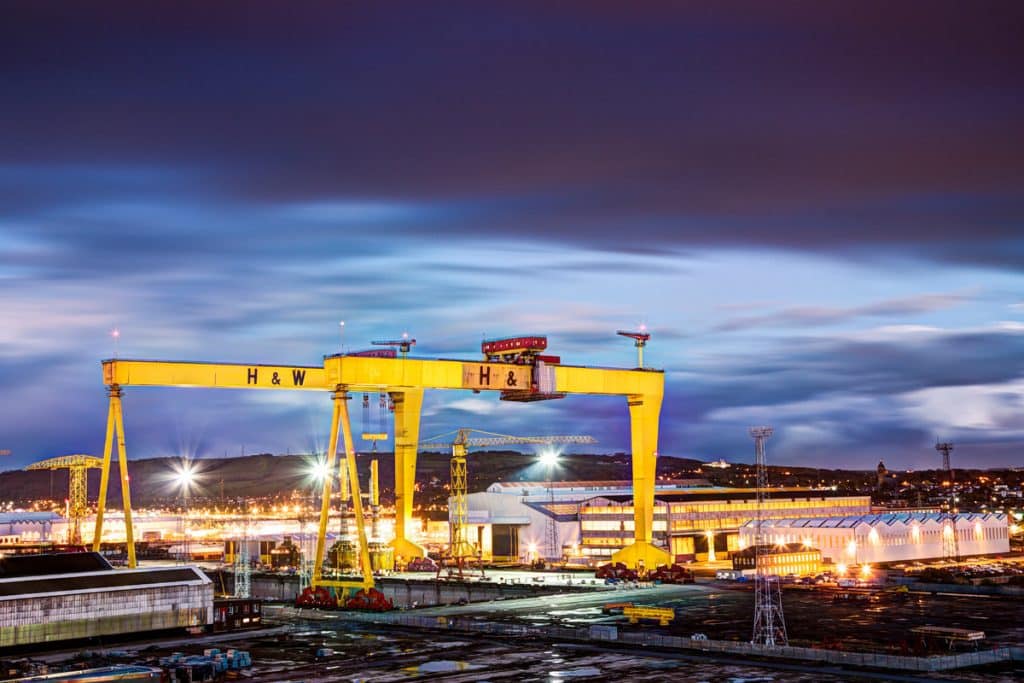 19. The land where Belfast City lies has been occupied since the Bronze Age.
18. The narrowest bar in Belfast is The Glass Jar.
17. 12 years before women could study at Oxford, they could hold any office at Queen's University in Belfast.
16. The iconic song 'Stairway To Heaven' by Led Zeppelin was first played live in the Ulster Hall.
15. Many American presidents have Ulster roots, including Jackson, Buchanan, and Arthur.
14. Game of Thrones was filmed mostly in Northern Ireland.
13. The average price of a house in Northern Ireland is £141,463.
12. Many famous people were born here too, including Seamus Heaney, C.S. Lewis, Liam Neeson, and Kenneth Branagh.
11. Nearly half of the population of Northern Ireland is under 30 years old.
10. Belfast is iconic for its Peace Walls which divide the Catholic and Protestant communities.
9. Another of the best Northern Ireland facts involves John Dunlop. He invented the pneumatic tire in Belfast, which made a significant impact in the development of cars, trucks, bicycles, and aeroplanes.
8. In February 2020, a schoolboy from Northern Ireland entered the Guinness Book of World Records after making a loom band bracelet that was 6,292 feet in length.
7. Ballygally Castle in County Antrim – which is now a hotel – is told to be the most haunted place in Northern Ireland.
6. At its closest point, Northern Ireland is only 13 miles from the Scottish coast.
5. Belfast's famous Samson and Goliath cranes are the biggest free-standing cranes in the world.
4. Killyleagh Castle in County Down is the oldest continually occupied castle in Ireland.
3. Northern Ireland has 157 wet days a year, that's less than Scotland but more than Dublin!
2. In Northern Ireland, it is technically illegal to go to the cinema on Sundays. This is due to a 1991 law in observation of the Sabbath.
1. As per the Marketing of Eggs Act an "officer of the Ministry, duly authorised by the Ministry in that behalf either generally or in respect of a particular occasion, shall have the power to examine eggs in transit". Bizarre!
There you have it, the top 50 facts about Northern Ireland.