I don't think that any Irish person ever gets bored of hearing shocking facts about Ireland.
Ireland is not only one of the most beautiful countries in the world, it is also an amazing country, full of amazing facts. For such a little country with a small population, Ireland has a massive amount of culture, history, and has had a huge impact on the world.
There is so much to learn about Ireland, so here are fifty amazing facts about Ireland in no particular order.
1. More Irish people are living abroad than there are in Ireland. Mass emigration means that there are 80 million Irish people outside of Ireland and only around 6 million in Ireland.
2. The president of Ireland has very little power. The Taoiseach is the head of the Irish government and controls all the power across the Republic of Ireland.
3. Ireland is known as the Emerald Isle because of its rolling green fields.
4. Ireland has hundreds of accents, and each town in Northern Ireland and the Republic of Ireland has its own unique flavour.
5. Ireland has two official languages: the Irish language, Gaelige, and English. Roughly 2% of people in Ireland speak Irish daily.
6. Ireland's patron saint, St. Patrick, was born in Wales, not in Ireland.
7. More Guinness is sold in Nigeria than it is in Ireland.
8. Croke Park in Dublin is the fourth biggest stadium in Europe.
9. Drinking is a central aspect of Irish culture. Ireland ranks sixth worldwide in the average consumption of beer per person.
10. The submarine was invented in Ireland by John Philip Holland.
11. The longest place name in Ireland is Muckanaghederdauhaulia. Try pronouncing that after you have had a few pints!
12. Halloween was derived from an Irish Celtic festival called Samhain.
13. Ten million pints of Guinness are produced in Dublin every day.
14. The harp is the national symbol of Ireland and not the shamrock. It is featured on the front of Irish passports. Ireland is the only country with a musical instrument as its national symbol.
15. Ireland has the third-largest consumption of tea per capita.
16. Another of the top Irish facts is that a form of the Irish sport hurling is over 3,000 years old.
17. The White House, where the president of America lives, was designed by an Irishman.
18. In contrast to the popular belief, only around nine per cent of Irish people are actually natural gingers.
19. St. Valentine is actually buried in Whitefriar Street Church in Dublin.
READ ALSO: The fascinating links between Ireland and St. Valentine
20. More people speak Polish at home than speak Irish.
21. There were never snakes in Ireland, even before Saint Patrick. Many animals common on mainland Europe cannot reach Ireland as it is an island nation.
22. Irish is technically the first language in Ireland and not English.
23. Same-sex marriage has been legal in Ireland since 2015.
24. Abortion has been legal in Ireland since 2018.
25. The Wild Atlantic Way, which follows Ireland's coast along the Atlantic Ocean, is the longest coastal drive route in the world.
26. The oldest yacht club in the world is in Ireland. It is known as The Royal Cork Yacht Club and was founded in 1720.
27. The Irish flag was inspired by France. However, the Irish flag is green, white, and gold as opposed to blue, white, and red.
28. One of the Ireland facts you may not know is that Argentina's navy was founded by an Irishman.
29. The vast majority (88%) of Irish people are Roman Catholic.
30. Irish surnames that start with "Mac" means 'son of' and Irish surnames that start with "O" means 'grandson of'.
31. Newgrange in County Meath, Republic of Ireland, is 5,000 years old. This makes it older than the ancient pyramid of Giza and Stonehenge.
32. Ireland has won the Eurovision song contest seven times, more times than any other country. Throughout the 20th century, Ireland won in 1970, 1980, 1987, 1992, 1993, 1994, and 1996.
33. Bram Stoker, who wrote Dracula, was born in Dublin in 19th century. He also attended Trinity College in Dublin. Dracula is said to have been inspired by the Irish legend of Abhartach.
READ ALSO: Ten Fascinating Facts about Dracula and Irish Author Bram Stoker
34. Croaghaun Cliffs on Achill Island, County Mayo, the largest island in Ireland, are the second highest cliffs in Europe. They are 688 metres above the Atlantic Ocean.
35. The Tara Mine in County Meath is the largest zinc mine in Europe and the fifth-largest in the world.
36. The guillotine was used in Ireland before it was used in France in the 18th century.
37. The River Shannon is the longest river in Ireland.
38. Since 2009, it is illegal to be drunk in public in Ireland.
39. An Irishman designed the award given at the Oscars.
40. Ireland is home to one of the oldest pubs in the world, it opened in 900AD.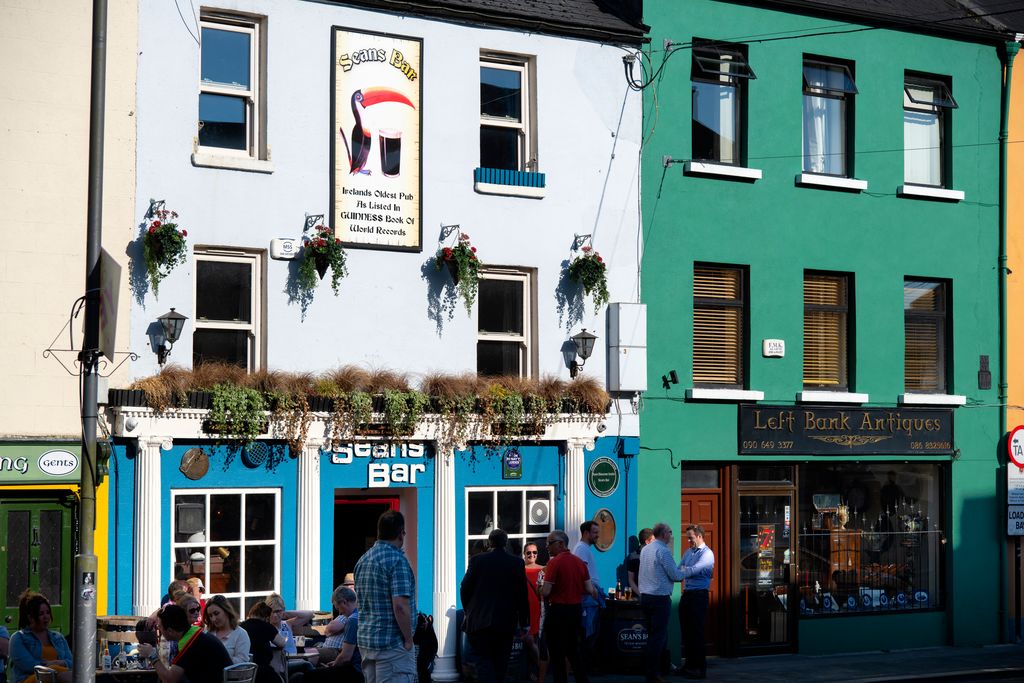 41. Hook Lighthouse in Wexford is one of the oldest lighthouses in the world.
42. The Titanic was built in Belfast, County Antrim, Northern Ireland.
43. Ireland has one of the youngest populations in the world because of its high birthrate, especially within the last 50 years.
44. There have been people living in Ireland for approximately 7,000 years.
45. Ireland has had two female presidents, more than most countries in the world.
46. Ireland has its own ancient version of the Olympics called the Tailteann Games.
47. In the 18th century, County Cork was the largest exporter of butter in the world.
48. The Woodenbridge Hotel in Wicklow is the oldest hotel in Ireland. It opened in 1608.
49. Lots of multinational companies set up offices in the Republic of Ireland because of low tax rates.
50. Roughly 34,000 Americans reported Irish descent in the 2000 US census. People from all across the world boast Irish roots.
There you have it, the top fifty Irish facts you probably didn't know! How many of these facts were you aware of?
READ ALSO: 50 shocking facts about Northern Ireland you never knew
Your questions answered about Ireland
If you still want to know more about Ireland, we have you covered! In this section, we've answered some of our readers' most popular questions that have been asked online about this topic.
What is a cool fact about Ireland?
Ireland is the only country to have a musical instrument as its national symbol in the world.
What is Ireland's nickname?
Ireland has many nicknames, but two of the most popular are "The Emerald Isle" and "The Land of Saints and Scholars".
What is Ireland's national animal?
Irish hares are the national animal of Ireland and have been native to the island of Ireland for at least a couple of million years.