Seeing as Ireland is a mystical land rich in wild weathered landscapes, dense woodlands, ancient mountain ranges, and postcard-worthy pastoral settings, it comes as no surprise that it is popular with nature enthusiasts.
In fact, a hefty portion of native and international tourists explore all the island has to offer on foot. With dramatic hikes and challenging treks, as well as laid-back trails and woodland wanders, there is something for everyone.
Here are the top five walking trails in Ireland that need to be on your bucket list!
5. Cuilcagh Way, Co. Fermanagh/Cavan – the sustainable walking trail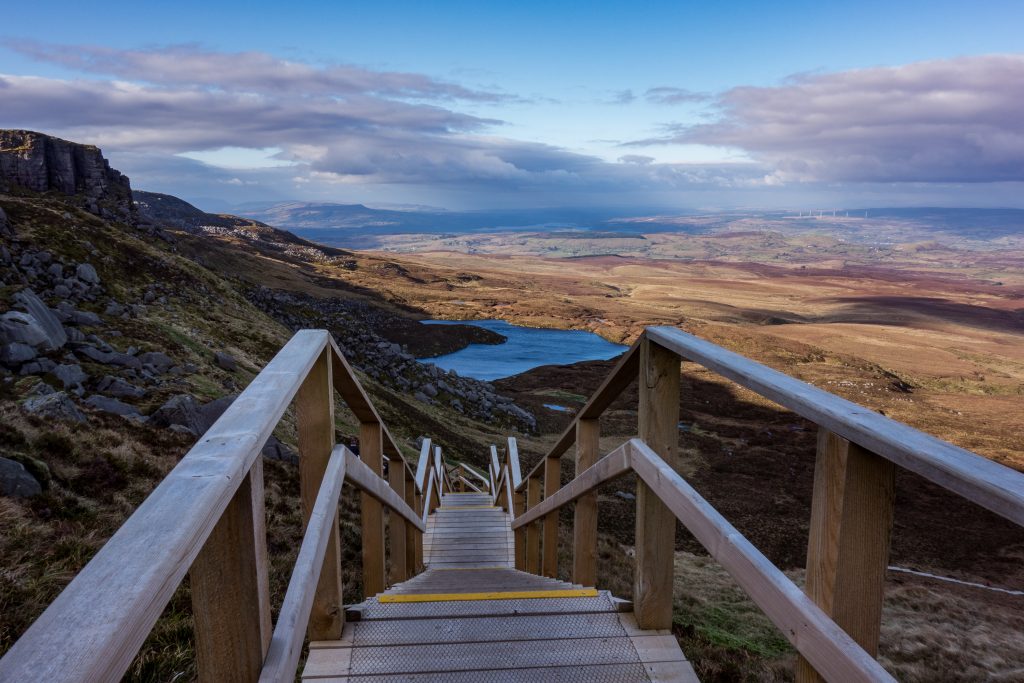 This challenging walking trail is located in Northern Ireland in the Southern region of Fermanagh, straddling the border of Cavan.
A boardwalk, which is suspended above the rich native landscape, was constructed with sustainability in mind and is intended to protect the dense blanket of bogland that hugs the terrain below.
The Cuilcagh Way Boardwalk stretches 4.6 miles and is certain to challenge even the most experienced of hill walkers. Expect steep ascents and a 450-step stair master-type challenge, which will have your thighs burning under pressure!
With bird's-eye views over unspoilt landscapes in the heart of the North, however, it'll all be worth the while!
There are often conservation works along this trail, so check online, plan in advance, and remember to pack essentials (water, sunscreen, etc.) before embarking on this element-exposed boardwalk stretch.
4. Croagh Patrick, Co. Mayo – the ancient pilgrimage
For many who see Ireland as an ancient land of endless adventure, this is the first hike on their bucket list. This biblical trail extends back generations and is seen by many as the leading conquest in all of the Emerald Isle.
Located in County Mayo, Croagh Patrick is Ireland's preeminent "Holy Mountain" and has been the site of major mass migrations each year.
While religious pilgrimages to the mountain have peppered textbooks in classrooms for as long as we can remember, modern-day travellers continue to take on the trail.
Each year hundreds of local and international tourists take part in this pilgrimage, which is challenging in its final climb. The mountain, they say, was the staging ground for when Saint Patrick banished the snakes from Ireland!
3. Sugar Loaf Way, Co. Wicklow – for views over the capital
Next on our list of walking trails in Ireland for your bucket list is the Sugar Loaf Way in County Wicklow.
This challenging but accessible mountain passage stands proud against the backdrop of County Wicklow (colloquially known as the "garden of Ireland") and overlooks all of Dublin city from its summit, as well as Djouce, Bray Head, and Carrigoona.
While this would be considered a strenuous walk, many families with older children take on this route. The trail is approximately 4.3 kilometres in length and starts from the Kilmacanogue 1916 Commemorative Garden.
This hiking trail takes just over an hour to complete, making it super suitable for a daytime activity that doesn't take up the whole day!
2. The Sheep's Head Way, Co. Cork – the mega-marathon trail
A key hiking trail in Ireland that should be on everyone's bucket list is the Sheep's Head Way in County Cork. This trail is a mega-marathon and not suggested for the faint-hearted or those less experienced with the real outdoors.
This intensive loop trail would take approximately four days to complete, and the landscape offers various slightly shorter trails for those who want to slim the experience down a tad.
If you're keen to go the full hog—which we suggest you do—you will start from Bantry in County Cork. The circular route is 88-kilometers in distance, so pace yourself!
Follow the North peninsula coastline to the lighthouse, then head back along the Southside. The return journey will offer a little look into remote country villages such as Kilcrohane, Ahakista, and Durrus.
Hillwalkers can expect to encounter some stunning panoramic scenery, bird's-eye summits, mountain passages, country roads, remote townlands, enchanting woods, prehistoric stone circles, and ancient churches along this mega walk!
1. The Gap of Dunloe, Co. Kerry – for utter beauty
When it comes to walking trails in Ireland, the ultimate one has got to be the Gap of Dunloe in County Kerry. This famous mountain pass narrowly slides in between the bases of the MacGillycuddy Reeks and the Purple Mountain and sits alongside the winding River Loe.
Expect a meandering trail that runs between towering mountain ranges. Natural beauty comes by the bucket load at the Gap of Dunloe, and while the setting is scenic and remote, it is also favoured by cyclists and marathon men and women.
Also be aware that on occasion, cars can be found navigating this slight mountain pass. We do not advise cars to take on this route due to its treacherous blind-turns and high volume of pedestrians.
While this route can be challenging at times, it is also stunning and makes for a great adventure when the weather is right!