Who is your favourite Irish trad band?
Music and Irish bands are a massive part of Irish culture. In fact, it is probably the leading characteristic which defines our nation. From an early age, it is woven into the very fabric of our being, and by the time you reach the legal age of drinking, it defines our nights out, too!
Whether you're sitting listening to a "trad session" in the local pub or watching friends jam together, it's a big part of our culture which signifies camaraderie.
Well then, there's no surprise that there are traditional Irish bands aplenty. Although it's near impossible to whittle them to down to a top five, we've given it a go.
5. Horslips
Horslips is one of the traditional Irish bands who infuse Celtic rock into their music style. The band have repeatedly been celebrated for using traditional airs, jigs and reels as the foundation on which they have made their music.
The band were founded in Dublin in 1970 and became a defining band of the Celtic fusion genre, before taking an extended break between 1980 and 2004. Since their come back, they have been doing what they do best and still have quite the following.
Importantly, at the time of The Troubles in Northern Ireland, the band played both North and South of the border and were accepted by everyone. They became an element of unity between those with opposing political views.
4. Clannad
This Irish band first started out as a "family band" consisting of siblings Ciarán Brennan, Pól and Moya Brennan, as well as twin uncles Noel and Pádraig Duggan. The band formed in 1970 in County Donegal and soon reached international success.
They have released an array of music across the course of their career. Between 1980 to 1982 they toured with Enya, and have even completed their very own international tours.
They have won many awards for their talents and have earned a Grammy Award, a BAFTA and a Billboard Music Award over the course of their term. Although the band have always stayed true to their Celtic roots, they are often considered to have received more widespread recognition overseas than at home.
3. Planxty
This Irish band first formed in 1972 in the regions of Dublin and Kildare. The band, which popularised traditional folk music, consisted of Christy Moore, Andy Irvine, Dónal Lunny and Liam O'Flynn. All of whom were masters of traditional instruments.
As typical with most traditional bands, the group saw many more temporary musicians play alongside them throughout their career. The group played for three defining terms; the first was 1972-75, the second 1978-83 and the final resurgence was 2003-2005.
There are no rumours of a comeback; however, frontman Christy Moore continues to write and produce music and is still as popular as ever. He will be touring Ireland in 2018/2019 to promote his new album, On the Road.
2. The Chieftains
The Chieftains are one of Ireland's most loved traditional folk bands. They first formed in 1963 in Dublin and they are still active 'til this very day.
The Chieftains was founded by Paddy Moloney, Sean Potts and Michael Tubridy and with a strong Irish identity, they are recognised as being key players in the contemporary evolution of traditional Irish music.
The Chieftains gained worldwide success, with across the UK and the United States. This success was only heightened by their involvement in the soundtrack of Stanley Kubrick's 1975 film, Barry Lyndon, which went on to win an Academy Award.
They have won a tremendous amount of awards for their contribution to music at home and abroad, as well as being given the honorary title of "Ireland's Musical Ambassadors" in 1989.
1. The Dubliners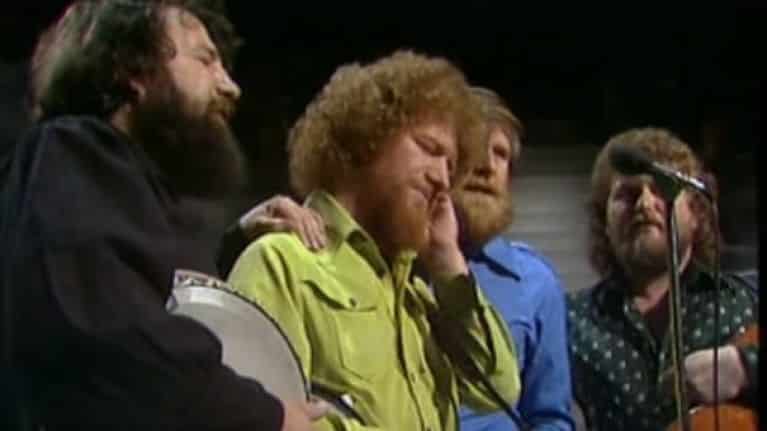 The Dubliners are arguably the best traditional Irish band to have spawned from the Emerald Isle. They were founded in 1962, and the lead members have always been lead singers Luke Kelly and Ronnie Drew.
Although the line-up changed drastically throughout their career (which spanned half a century) Drew and Luke remained instrumental to the development of The Dubliners.
They have received countless awards for their involvement in the Irish music renaissance and won a Lifetime Achievement Award in 2012, as well as receiving endless streams of support from followers such as Bob Dylan and Jimi Hendrix.
Following the death of the final founding member, Barney McKenna in 2012, the band decided to call it a day, having had a healthy 50-year career.