Looking for a romantic hideaway with your significant other? Have a look at these romantic cottages for 2 with hot tub in Ireland.
No matter if you have an anniversary to celebrate, a big birthday, or want to pop the question – a romantic weekend getaway is always a great idea to show your favourite person how much you care.
And we are blessed in Ireland to have countless charming cottage options for you to spend some quality time with your loved one.
Ready to stargaze from your own hot tub cottage, cosy up by the log fires, and explore the gorgeous countryside? Us, too!
To make sure you enjoy your time at these romantic holiday cottages, we have put together a list of the most romantic cottages for 2 with hot tub in Ireland.
And, if your weekend ends with a ring on your lover's finger, we'd love to see a picture!
5. Mayo Glamping, Co. Mayo – for a romantic cottage with a twist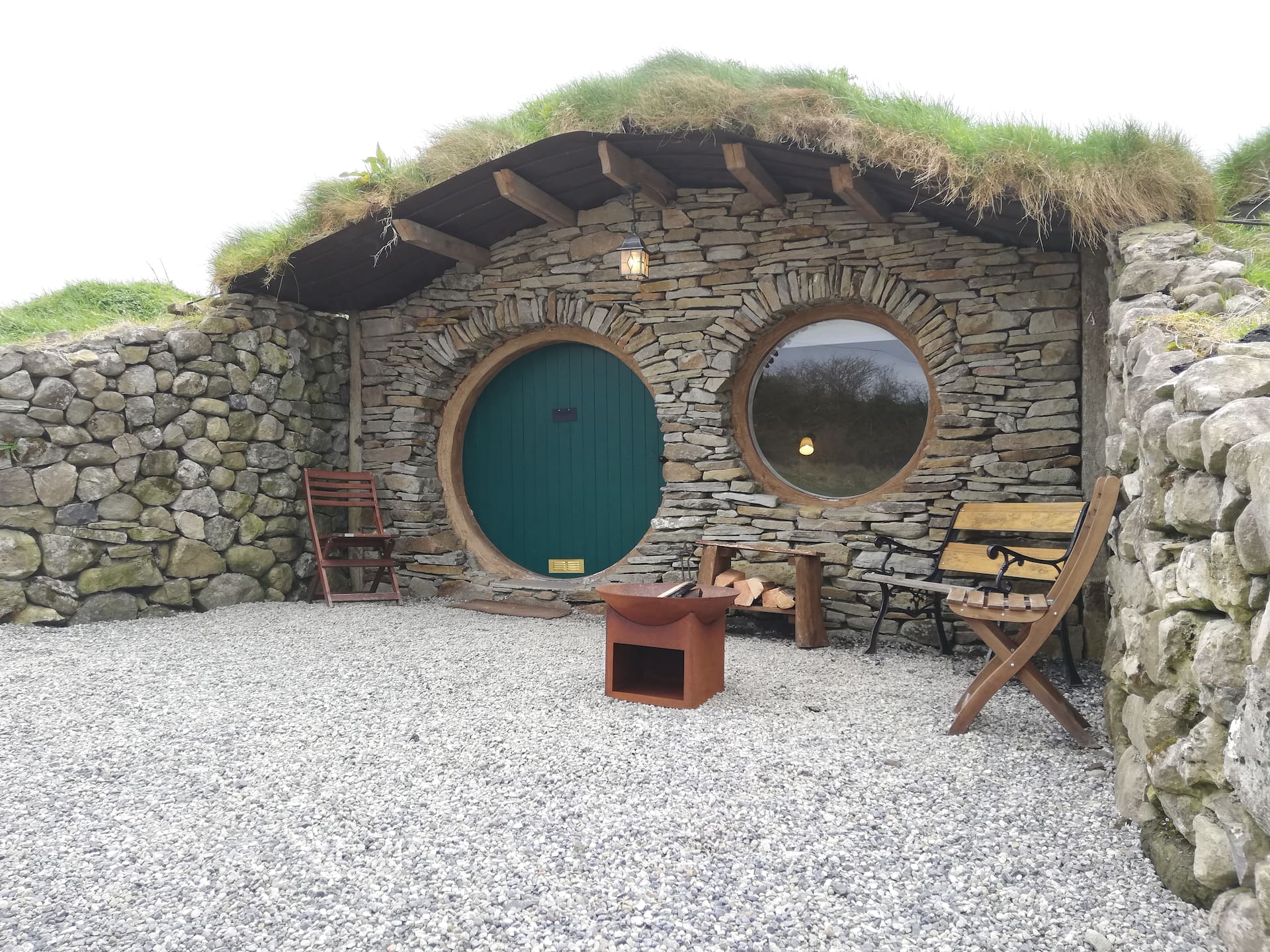 Embrace your inner Hobbit in this cottage-style property that looks like straight out of J.R.R. Tolkien's fantasy world. A twist on the traditional holiday cottages, this is one of those rural retreats you'll never forget.
The homely hut, with a green grass roof and round windows and doors, is not only one of our favourite romantic cottages for 2 with hot tub in Ireland but also one of the most unusual ones.
Nested in the stunning countryside of central Mayo, this is a great place to cuddle up with your significant other.
A perfect base from which to explore, you can retreat to this delightful single-storey cottage to recharge your batteries after walking or hiking during the day and stargazing on a clear night.
There's a BBQ, firepits, and even a pizza oven. And have we mentioned that is is a hot tub cottage, too?
Address: Castlebar, Co. Mayo, Ireland
Prices: from €100
More info: HERE
4. Cosy Log Cabin, Co. Cork – a couple cottage with a private sauna and hot tub
Situated in an idyllic location, this rural retreat can be found in a garden in West Cork. This perfect couples' luxurious retreat has its own on-site spa including a Finnish sauna and a hydro jet hot tub.
The luxury log cabin-style cottage itself boasts a cosy double bedroom, a living room with a couch, a small kitchen and a sun deck. On top, you have the garden for yourself. And if you are up for an outdoorsy self-made dinner, you can rent a BBQ for a small fee.
The hot tub cottage is surrounded by gorgeous countryside best enjoyed on foot or on a bike, making it a great place to relax from busy city life. Please note that pets are not allowed, so make sure to look elsewhere if you're looking for a dog-friendly cottage.
Address: Cork, Co. Cork, Ireland
Prices: from €172
More info: HERE
3. Artsy cottage for garden lovers, Co. Down – a luxury cottage with a beautiful garden in the North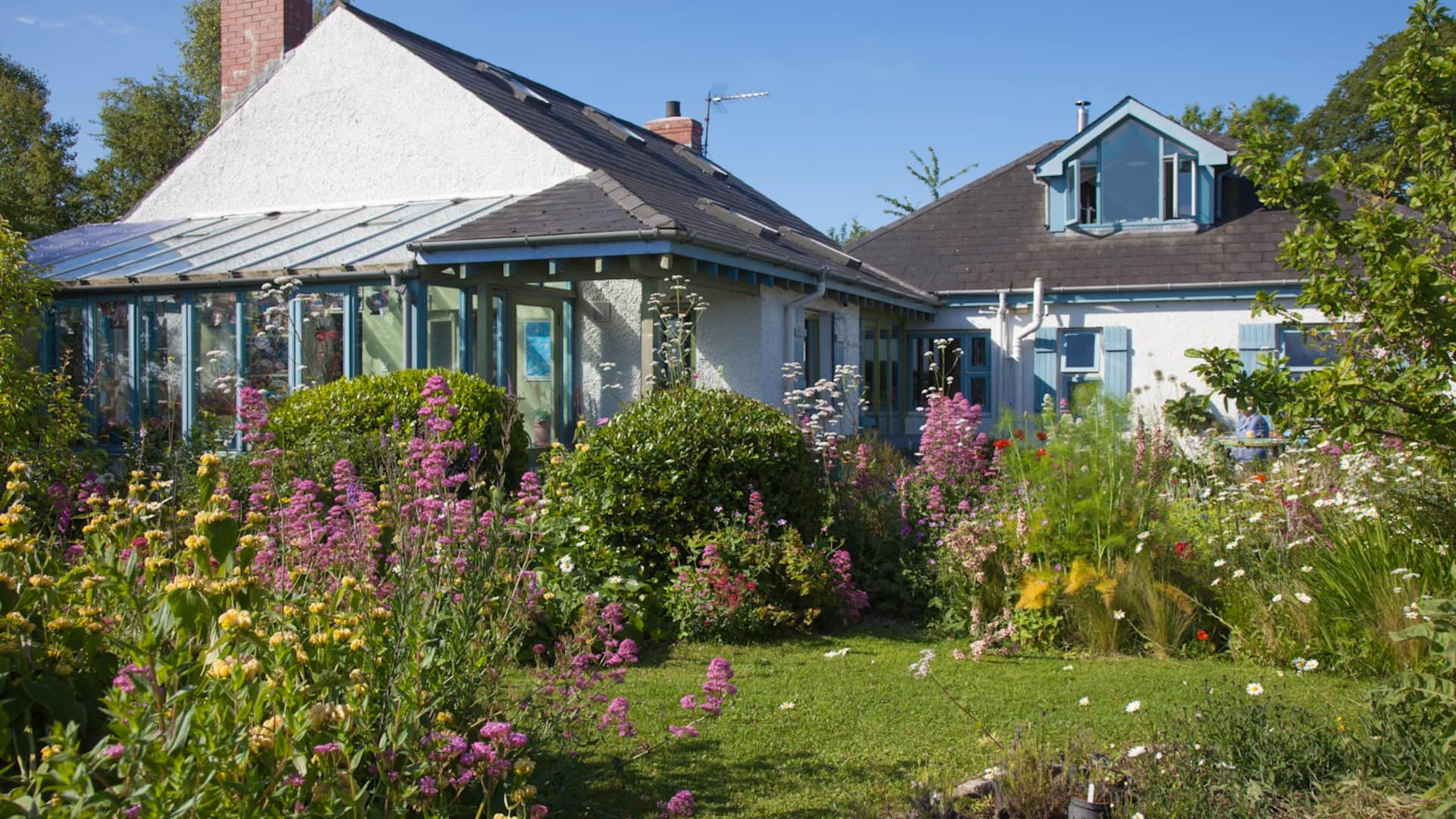 Lake to the rear, mountains out front, this cosy cottage for couples is certainly one of the most romantic cottages for 2 with hot tub that you can find in Northern Ireland.
Situated in the lovely village of Killyleagh, guests can enjoy the rural location and spectacular views of Strangford Lough.
Surrounded by a beautiful wildlife garden including a small pond, it comes with a cosy bedroom, a living room with cathedral ceiling and a huge home cinema screen (plus lots of DVDs!) as well as a wood burning stove.
The highlight however is the private hot tub overlooking the lake – get ready to sip a glass of prosecco under the stars! The perfect way to spend some precious time with your significant other.
Fresh home-made bread, butter, eggs, milk, marmalade, and cereals are provided for breakfast – and if you are lucky, you might even get some veggies from the owner's greenhouse.
Address: Killyleagh, Co. Down, Ireland
Prices: from £75 (2 nights minimum stay)
More info: HERE
2. Mountain Chalet, Co. Wicklow – one of the most romantic cottages for 2 with a hot tub in Ireland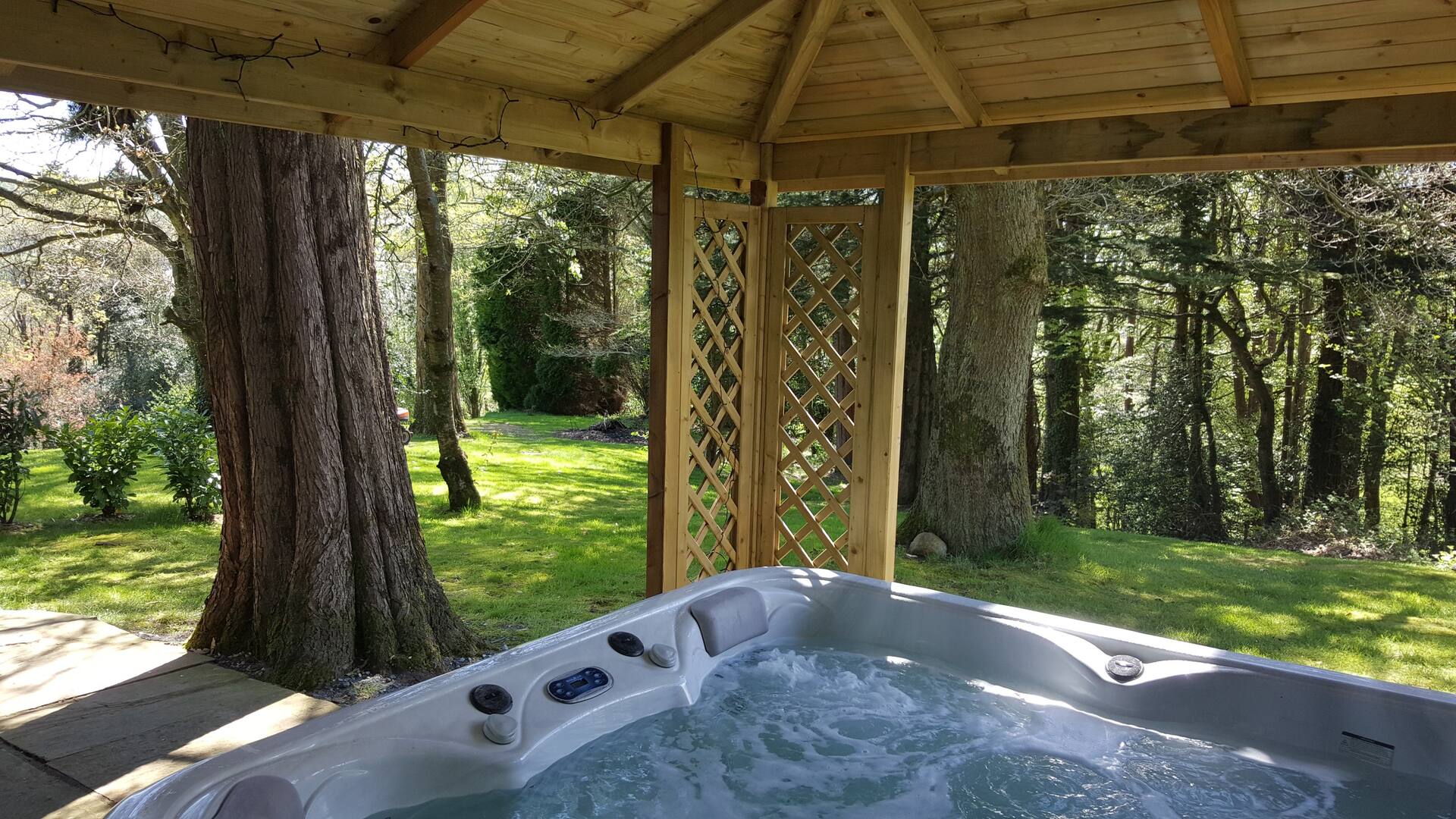 A beautiful country retreat right in the Wicklow Mountains, this is another of our favourite romantic cottages for 2 with hot tub in Ireland.
The luxury log cabin is just 100 metres from the woods, making it an ideal place for hiking, cycling, and other outdoor activities. Heading out into the National Park will allow you to enjoy unrivalled panoramic views of the surrounding area.
Glendalough and the beach are a 20-minute-drive, meaning you can make the most of the rural location and ancient woodland, but also enjoy stunning sea views and beautiful beaches.
While the interiors are slightly old-school, the cottage has all the amenities modern travellers could wish for, from flat screen to unlimited Wi-Fi and a Nespresso machine.
Our main reason to check in at this beautiful holiday cottage would be the hot tub on the terrace though, where you can cuddle up after a day of exploring surrounded by a breath-taking mountain panorama.
Complimentary breakfast includes breads, fruit, local jams, yoghurt, coffee or tea, and freshly squeezed orange juice. This is undoubtedly one of the most romantic retreats from our selection of handpicked cottages.
Address: Glenealy, Co. Wicklow, Ireland
Prices: from €105
More info: HERE
1. Cottages for Couples, Co. Cork – the perfect holiday cottage for couples with maximum privacy
Cottages for Couples specializes in spicing up your romantic life and we are 100% positive this love shack will do the trick. Situated in the heart of West Cork, close to Skibbereen, you can choose between four luxury properties all with a maximum of privacy.
Surrounded by acres of countryside, the rural location of this romantic bolthole is unrivalled when it comes to cosy cottages.
Some of the most romantic cottages for 2 with hot tub in Ireland, they are former stable blocks turned into cosy hideaways, think funky self-contained jacuzzi suites with your own little outdoor space.
The contemporary self-catering cottages come with king size beds, comfy living rooms, kitchenettes, flat screens and Bluetooth speakers.
Light the candles, open the bubble, and enjoy your private hot tub with picture-perfect views of the Irish countryside.
Address: Carbery Enterprise Park, Skibbereen, P81 HF72, Co. Cork, Ireland
Prices: from €149
More info: HERE
Notable mentions
Above we have listed some of the most, luxurious holiday cottages, rural retreats, and cosy cabins. However, Ireland is home to plenty of other traditional and contemporary holiday cottages that are worth checking out. While not all are hot tub cottages, these are some of the best cosy cabins that we think also deserve a mention.
One of our favourites is the stunning Portbradden Cottage in County Antrim. This seaside holiday property offers beautiful views of the Atlantic Ocean stretching out before you. Close to the coastal village of of Bushmills, this is one of the most magical holiday cottages you will find.
Another one of the beautiful handpicked cottages we'd like to mention is Cnoc Suain in County Galway. Located in the beautiful location of Connemara National Park, this delightful single-storey cottage will offer the most beautiful views you could get from Irish country retreats. Plus, it's not too far from the coastal village of Spiddal.
The Visiting House in Gorteen, County Galway, is a characterful, single-storey barn conversion that we just can't get enough of. Located not far from the quaint village of Gorteen, this perfect holiday cottage can be found in the beautiful location of the Galway countryside.
FAQs about cottages for couples in Ireland
Where should I go for a romantic weekend in Ireland?
There are so many great places across Ireland to enjoy a romantic weekend. From quaint villages like Kinsale in County Cork and Adare in County Limerick to the busy, bustling heart of Dublin City. With beautiful locations spread out across the country, you'll be spoilt for choice.
What can couples do in Ireland?
There is something for every kind of couple in Ireland. For the city-dwellers, Dublin, Belfast, and Cork will all provide an unforgettable stay.
For the outdoor adventure types, we recommend beautiful locations like Wicklow, Donegal, or Mayo.
For those in search of a seaside holiday property, the Causeway Coast or the Sunny Southeast are two great options.
Is Dublin a romantic city?
Yes! With such a history of literature and culture hand-in-hand with an amazing dining and pub scene, Dublin is the perfect city to spend some time with your significant other.