From endless adventures and stunning scenery to island getaways and local culture, here are the five reasons why Mayo is the best county in Ireland.
Situated on the west coast of Ireland, County Mayo is flanked by a rugged coastline which hugs the Atlantic Ocean.
Wildly untainted and rich in natural beauty, County Mayo is an ideal location for a countryside escape, family holiday, or romantic getaway. It is also a favourite of backpackers and road trippers.
Whether you're after the Wild Atlantic Way – which offers endless adventure and activities – or are in search of some tranquillity, look no further.
Here are five reasons why Mayo is the best county in Ireland. And a much-needed addition to your Irish bucket list!
5. Charming countryside vibes – absolutely quaint and serene
Not only is Westport one of the most idyllic towns in all of Ireland, but it was also voted the best place to live in Ireland in 2012! And we are not surprised.
Situated on an Atlantic inlet, the Georgian village offers the most picturesque setting one could imagine. Think tree-lined streets and meandering rivers, bike trails, stone bridges, and quirky boutiques throughout the town.
Westport is rich in small-town vibes, but it has a lot more going for it than just that. There are cultural and historical draws to the town, making it a must-visit when in the county.
When in the locale, make sure to stop by Westport House and gardens in Mayo, Ireland – one of its biggest attractions, and well worth a visit. If you want to practice your backswing, check out the championship golf course, Westport Golf Club. For a good eat, head over to Cronin's Sheebeen. 
4. History and heritage – the county is full of culture
History thrives in abundance in County Mayo. There are endless opportunities to soak up some heritage alongside other sites and scenery. Whatever you do, make sure to add some of these experiences to your itinerary.
Moyne Abbey is a key sight not to be missed when in Mayo. This Irish-Gothic friary is both majestic and marvellous against the backdrop of endless green. And it also makes for a great, authentic Irish photo-op.
Croagh Patrick – Ireland's ultimate pilgrimage site – is located in the county, and is bucket-list material, if time allows. Another site of note is Doolough Valley (also known as Famine Valley) where many lost their lives during the Great Famine of the 19th century.
3. Opportunity for adventure – everything from hiking to archery
Looking for a little adventure? You have come to the right place! Adventure is what makes Mayo one of the best places on the Emerald Isle.
No matter what sort of adventure you are after, you are bound to find it in this county. From angling and archery to horse-riding and watersports, this coast county has it all.
We suggest you dust off the bicycle and take to the Great Western Greenway. This 42-kilometre track starts in Westport and ends in Achill, offering endless sights and scenery along the way.
2. Natural beauty – full of sights to behold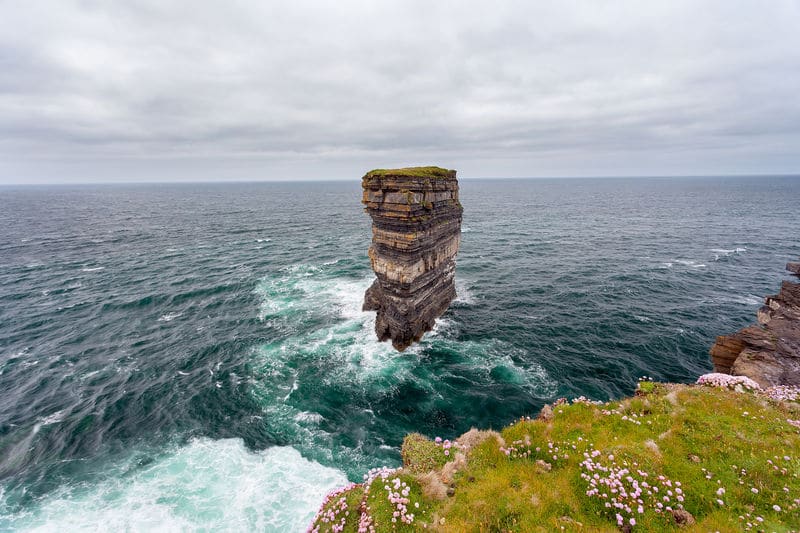 If natural beauty floats your boat, look no further. This is, without doubt, one of the top five reasons why Mayo is the best county in Ireland.
There are far too many locations to list, but those that make their way onto our "unmissable" list include Killary Harbour and Downpatrick Head.
Killary Harbour is one of just three rare examples of glacial fjords on the Emerald Isle. It acts as a natural border between Galway and Mayo. It juts out into the Atlantic Ocean, offering stunning, postcard-worthy setting.
Only a mere stone's throw from the coastline is Downpatrick Head, a majestic sea stack which stands a whopping 40 metres about sea level. The fantasy-like natural formation is genuinely stunning, and well worth a visit when in Mayo.
1. Island getaways – get away from it all
If you are looking for an island paradise, look no further than Achill Island. Renowned for its paradise landscape of rugged beaches, clear waters, and sea cliffs, this little slice of serenity makes for the perfect island getaway.
Achill Island is attached to the mainland by a bridge, making it accessible all year round. We suggest you visit in Spring or Autumn to avoid the rush but trust us: visit on a sunny day, and you will be in Eden.