Dublin or Belfast? This is a question that many tourists ask before venturing onto the Emerald Isle for the first time. Other visitors overlook Belfast entirely, as it may not even be on their radar. Dublin is, after all, the best-known city on the island.
That said, both cities have their charm, managing to embody a magical blend of cosy cobbled streets and Irish jubilance with a capacious cosmopolitan feel. And while both are deserving of a visit, this article proves why you should actually choose Belfast over its southern sister.
Whether you're here for a day or a week or even thinking of making a permanent move, there's every reason to stay in the North's scenic capital. Here are the top five reasons why Belfast is better than Dublin.
5. Affordability
If you're looking to knock back some Guinness and artisanal whiskeys at a cosy Irish pub (and who isn't?), TripAdvisor might recommend Dublin's Temple Bar. But you'd be forking out a small pot of gold.
While you'll frequent bars in Dublin that demand at least €5-8 for a pint, you'll be hard-pressed to find any pub in Belfast that asks for more than £5 (note that Belfast uses a different currency) for a pint of an equal standard. And as we've highlighted in the past, Belfast has some excellent Irish pubs to rival Dublin's.
Heading to dinner or a movie? In Belfast, you'll pay up to 30% less in restaurants and 46% less in the cinema than you would in Dublin, according to data collected by Expatistan. And why spend more in Dublin when Belfast has some of the best restaurants around? (See #2.)
On top of that, the overall cost of living is much lower in Belfast than it is in Dublin. According to a report made by The Journal, the average cost of monthly rent in Ireland sits at €1,391 per month. This inflated cost of rent is driven largely by Dublin, where the average cost of monthly rent sits at a whopping €2,023.
Belfast, on the other hand, has an average rent of between £500 and £600 a month, less than half the cost of Dublin.
4. Accessibility
Belfast is a lot smaller than Dublin, with a population of around 300,000 against Dublin city's almost 600,000. You'll run into familiar faces a lot more frequently and begin to recognise the locals in your go-to shops, pubs, and eateries.
Because of the high rent in Dublin, it's super common in Dublin to live an hour's drive away, or even further afield, and travel in and out of the city centre to cut down on expenses. But this is hardly an issue up north, where travelling from the suburbs into the heart of the city takes hardly any time at all.
A walk from Belfast's trendy Cathedral Quarter into its hustling city centre takes only 15 minutes. You can also walk from one side of the city to the other in half an hour, making it very accessible even if you're only in the city for a day or two.
3. Hassle-free public transport
Let's paint a picture: you've just gotten on a bus in Dublin's busy town centre. You ask the bus driver for a single fare to O'Connell Street and hand him a 10 note. "I only accept exact change," he says.
Come up north, where bus drivers have the technology in their vehicles to provide you with change for a 10-pound note. Ground-breaking stuff!
Belfast's smaller size also means it doesn't need a busy tram service like Dublin's Luas, and this has the added benefit of making the roads less saturated in large, noisy vehicles. This is yet another reason why Belfast is better than Dublin.
Of course, Belfast's more compact size means that you won't even need public transport most of the time. Use your most efficient form of transport—walking—and see the beauty of the city as you commute.
2. Superior food
You might have heard of a full Irish breakfast, but what about an Ulster fry? For this, we recommend Maggie Mays, a comfy chain of pub-grub-esque restaurants based in Belfast's city centre and Queen's Quarter that delivers hearty local cuisine at incredibly reasonable prices.
They even plaster their menus in hangover recommendations, knocking away your booze-related regrets one soda bread at a time.
If you have a sweet tooth, try Belfast's fifteens. Fifteens are a Northern Irish specialty—a type of traybake composed of digestive biscuits, marshmallows, cherries, condensed milk, and coconut.
These tasty treats are found in pretty much any bakery in the city; try French Village as their desserts are well-known amongst locals for being top calibre.
1. Natural beauty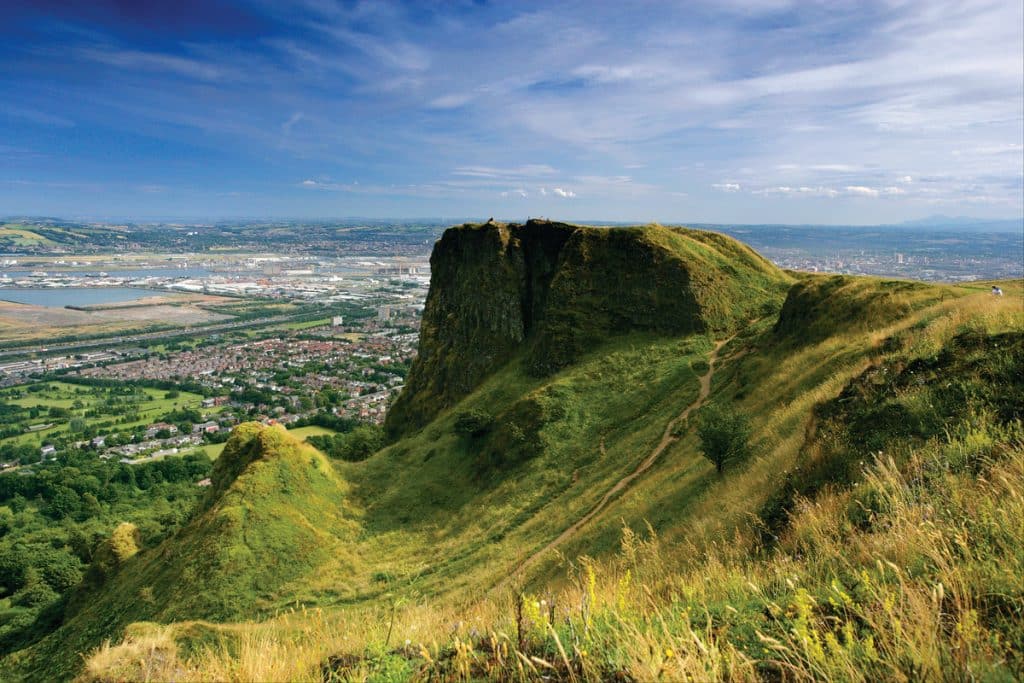 The top reason why Belfast is better than Dublin is the area's natural beauty. Don't get us wrong—Dublin has some charming streets and surrounding areas of outstanding natural beauty, but we don't think they stand up to Belfast and its nearby Antrim Coastline.
The North's coastal roads are a bit safer to drive on than many of the rocky, winding roads in the south, and iconic wonders like the Giant's Causeway, or Game of Thrones filming locations such as Ballintoy Harbour, Portstewart Strand, and the Cushenden Caves, patch the coastline and sit just an hour's drive from Belfast.
If you're not looking to venture outside of the city, then Belfast itself has a spectacular view atop its adjoining mountain face, Cavehill. And if you're looking to indulge in some maritime landscapes, Belfast's Titanic Quarter is easily reached from any point in the city and overlooks the Irish sea.
No matter what you're looking for during your travels to Ireland, be it city vibes or beautiful scenery or affordable cuisine, Belfast provides it in abundance and makes the Irish experience extremely accessible regardless of budget, timescale, or itinerary.
Sorry Dublin, but the North's capital just does it better.