From the castles to the food, here are our top 5 reasons to have a destination wedding in Ireland.
Some might choose sunshine resorts and huge, cosmopolitan cities as their location of choice when getting married, but we're here to tell you why everyone should include Ireland as their number one choice for a wedding location.
Whether it's for their world-class hospitality, spectacular landscapes, or an assortment of ancient traditions, there is every reason in the world to tie the knot on the Emerald Isle.
Here are our top 5 reasons to have a destination wedding in Ireland.
5. The beautiful indoor venues (including castles!)
Ireland hosts a plethora of gorgeous, rustic venues that would make for the most magical of wedding locations. Some of our favourite fairy-tale venues include Lough Eske Castle (Donegal), Lough Cutra Castle (Galway), and Bantry House (Cork). These regal country manors offer magnificent views across both beautiful forested areas and scenic coastal points.
If you'd rather be able to paint the town red after your wedding, then we'd suggest either No. 25 Fitzwilliam Place—located in the heart of Dublin's city centre—or Belfast Castle, nestled on the slopes of Cave Hill on the outskirts of the capital city of Northern Ireland.
Both venues offer an equally refined, opulent taste in décor and a huge space with floral surroundings while also allowing guests easier access to urbanisation and public transport.
4. And beautiful outdoor venues
Indoor weddings aren't your thing? No worries; Ireland is jam-packed full of spectacular areas of astounding natural beauty.
Get married atop enormous cliff faces that offer incredible panoramas over the sea at Mussenden Temple (County Antrim) or the Cliffs of Moher (County Clare).
Alternatively, if you'd prefer to be wedded beside a tamer body of water that makes time seem as though it's standing still, then we'd suggest the lush outdoors of Crom Estate (County Fermanagh).
3. Enjoy Irish traditions on your big day
Make your destination wedding in Ireland truly authentic and adopt some old traditions into your ceremony.
Why not introduce the Uillean pipes as the perfect musical backdrop to your day? This iconic instrument is often compared to the harp for its gentle notes, but it has its own distinctiveness that makes it evocatively romantic.
If you're looking for a more obscure tradition, then you could incorporate handfasting into your big day. This ancient convention involves the happy couple binding their arms together with a cloth to signify their engagement until the end of the ceremony.
And if your wedding is an outdoor event, you could also keep the notorious Irish weather at bay with a few traditional wooden relics (known as the Child of Prague) dotted adorably around your venue.
2. The massive selection of authentically Irish, locally produced food and drink
Nutrient-rich soil, a mild climate, and the rain that we perpetually moan about make Ireland a perfect location for farming, and it shows. For many generations, Ireland has had an enormous farming industry, meaning much of its produce is sourced locally.
This means that the food and drinks you consume at your wedding can be as genuinely Irish as your venue and entertainment.
Incorporate an Irish stew, a range of fresh seafood, colcannon (a blend of creamy mashed potato, scallions, milk and butter), or even some hearty soda bread into your wedding menu to fill your bellies before you knock back any liquor.
On that note, you should know that Ireland's alcohol brands stretch further than just Guinness, Bushmills, and Jameson's—try a Dingle gin, an Orchard Thieves cider, or an ale from Heaney's Brewery. While not as famous as their older contemporaries, they pack just as much of a punch and taste equally as delicious.
1. The vast stretches of landscape waiting to be discovered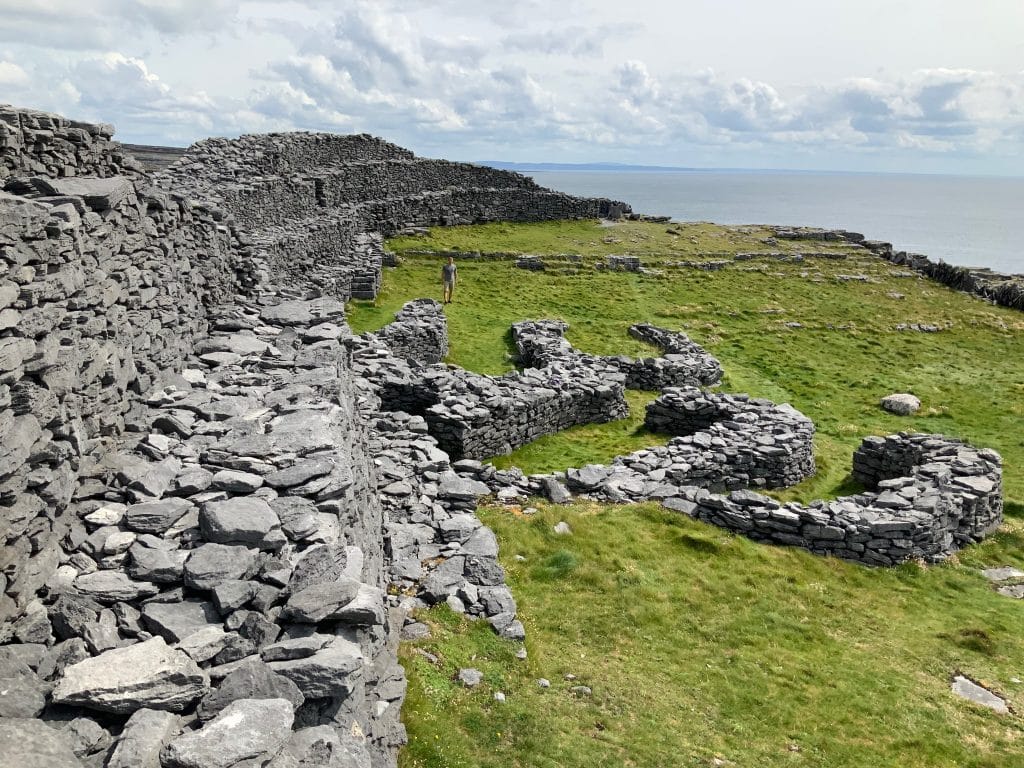 If getting married in the great outdoors wasn't enough, then know that both before and after the event you can explore the various coastlines, sylvan greens, and mountainous regions that blister the entire island. Don't let our pale complexions fool you—the Irish are massive lovers of the outdoors, and there are innumerable spots to visit while venturing here for your wedding.
Getting married near Galway? Take a ferry out to the Aran Islands for blissful bike rides and gorgeous sceneries. Perhaps your venue of choice is further south, where you might like to take a drive around the gorgeous fields, cliffs, and winding roads of Slea Head in the Dingle Peninsula (County Kerry). And if you're up north, then the entire Antrim Coastline is worthy of exploration.
We hope that you've been tempted to take the plunge and get married on our beautiful Emerald Isle. But if you need any more convincing, then check out our guide to the most exclusive and magical Irish wedding venues for more reasons to make Ireland the seat of your destination wedding.