From an alehouse in Belfast City to trad night in Galway, traditional culture is on alive and well in these five places to see Irish step-dancing in Ireland.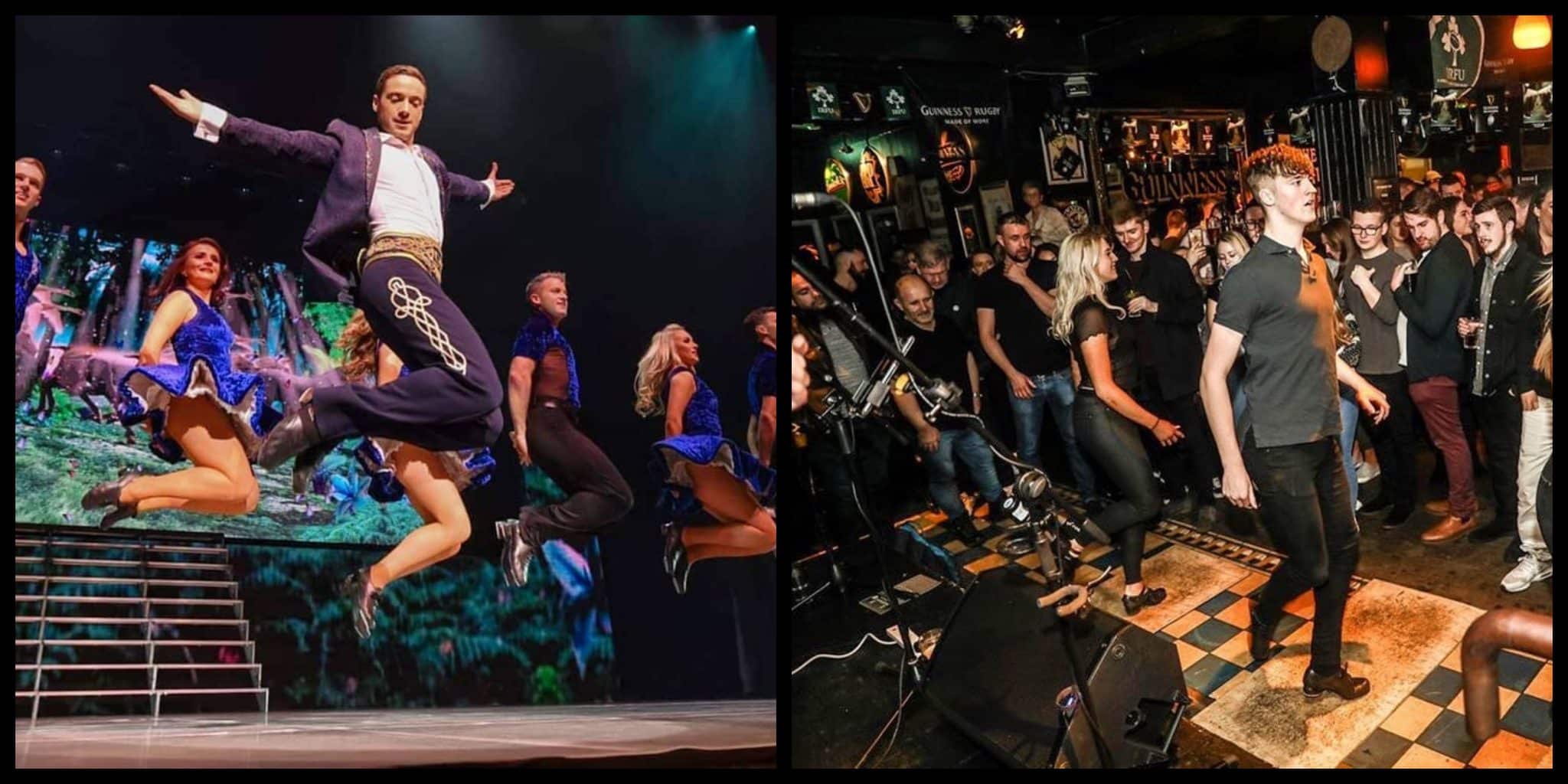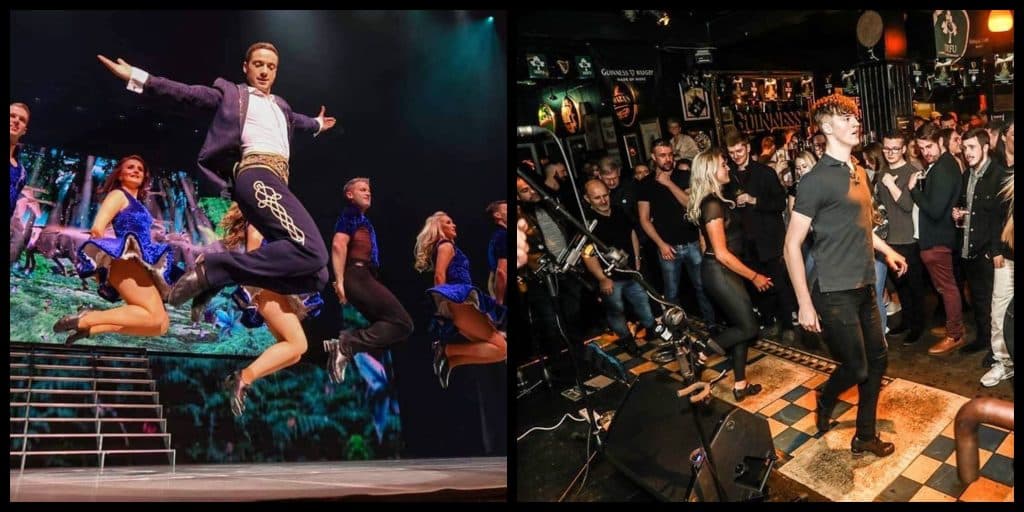 Deriving from traditional Irish dance forms, step-dancing – which evolved in the eighteenth-century – has grown in popularity thanks to the rise of the world-famous productions of Riverdance and Michael Flatley's Lord of the Dance.
A large part of Irish culture, and one which continues to entertain audiences to this day, a live performance is a must-see when visiting the Emerald Isle.
Check out our picks of five places to see Irish step-dancing in Ireland below.
5. The Points Irish and Whiskey Alehouse, Belfast – an all-round Irish experience
Located in Belfast City Centre, this busy pub offers visitors an authentic Irish experience with live folk and trad music each night throughout the week as well as having a host of traditional food and drink on offer, including the choice of over eighty local and international whiskeys and ales!
Additionally, every Friday and Saturday evening (from 10pm onwards) guests get the chance to experience traditional Irish step-dancing, as performed by the venue's dancers.
More info: Here
Address: 44 Dublin Rd, Belfast BT2 7HN
4. Celtic Nights Dinner and Show, Dublin – for traditional Irish song and dance
Situated near O'Connell Bridge in Dublin, diners will be entertained by the talents of All-Ireland winning musicians and the old-style Irish step-dancing of World Championship dancers as they chow down on a traditional Irish three-course meal.
As the show, which encourages audience participation, is performed seven nights a week, all year round, this family-friendly event (now in its twenty-fourth year) is certainly one of the best places in which to see Irish step-dancing in Ireland.
More info: Here
Address: 23 Bachelors Walk, North City, Dublin 1, D01 E8P4, Ireland
3. The Irish House Party, Dublin – for dinner and dance in an elegant Georgian setting
Started by local musicians who together held a desire to create an atmosphere similar to that of a 'real Irish house party', this popular dinner and dance show is set in a beautiful eighteenth-century Dublin townhouse.
With performances by All Ireland Championship dancers and various musicians, guests can enjoy the show while tucking into a gorgeous three-course spread. Regularly voted as one of the top ten things to do in Dublin, we would highly recommend this to anyone looking for a place to see Irish step-dancing in Ireland.
More info: Here
Address: The Lansdowne Hotel, 27 Pembroke Rd, Saint Peter's, Dublin 4, D04 X5W9, Ireland
2. Gaiety Theatre, Dublin – best place for Riverdance in the summertime
For its summer run, the Gaiety Theatre is playing host to the firm family favourite Riverdance:a world-renowned Grammy Award-winning production that has touched the hearts of many.
What started as merely an interval performance act during the 1994 Eurovision Song Contest has since grown to become a beloved full-length stage show which has toured the world for the last quarter of a century (currently over twelve thousand performances seen by just shy of thirty million people in 547 different venues across the globe!)
More info: Here
Address: South King St, Dublin 2, Ireland
1. Trad on the Prom, Galway – the best place to see Irish step-dancing in Ireland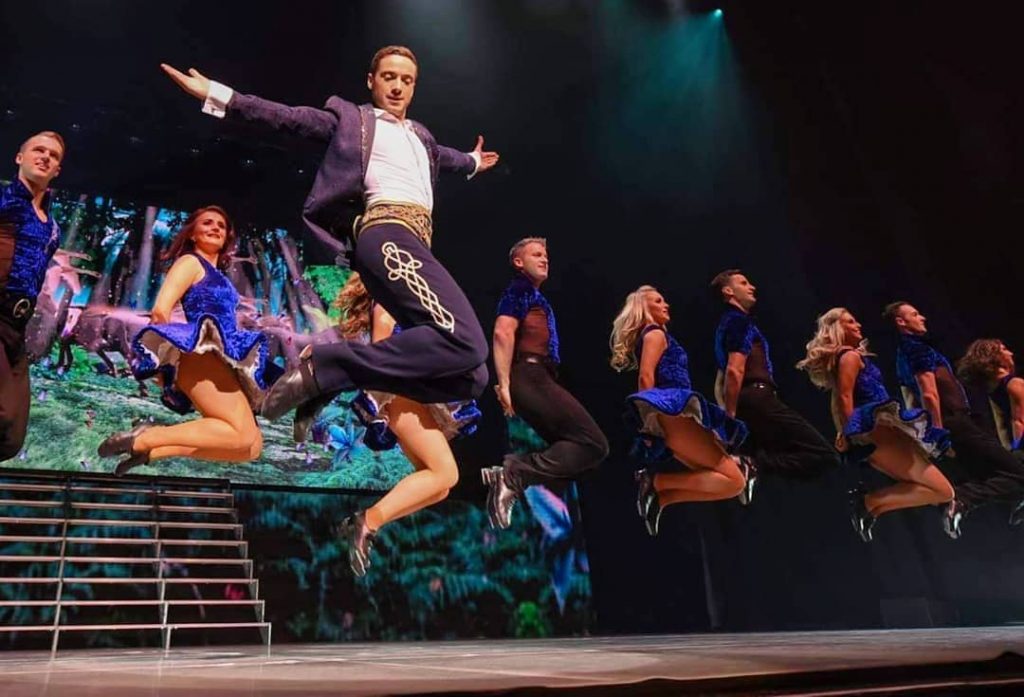 From the performers of Lord of the Dance, The Chieftains, and Riverdance, this show (now in its fourteenth year) offers visitors the chance to experience a true spectacle of traditional Irish music and step-dancing.
Performing every Tuesday, Thursday, and Sunday night (from May through to September) alongside a variety of World Championship dancers and talented musicians is famous trad musician Máirín Fahy (soloist for Riverdance and The Chieftains) who, collectively, put on a spellbinding show that is suitable for all.
Dubbed the number one rated place for concerts and shows in Galway by Trip Advisor (2019), this event at the Lesiureland Theatre should be first on your list of the best places to see Irish step-dancing in Ireland.
More info: Here
Address: Salthill Rd Lower, Galway, Ireland
And there you have them: five of our favourite places to see Irish step-dancing in Ireland. Whether in a relaxed pub setting or under the bright lights of a theatre stage, there are plenty of places up and down the country for one to choose from.