Where can a Muggle go on the Emerald Isle for a taste of the wizarding world? Here are five places in Ireland that Harry Potter fans will love.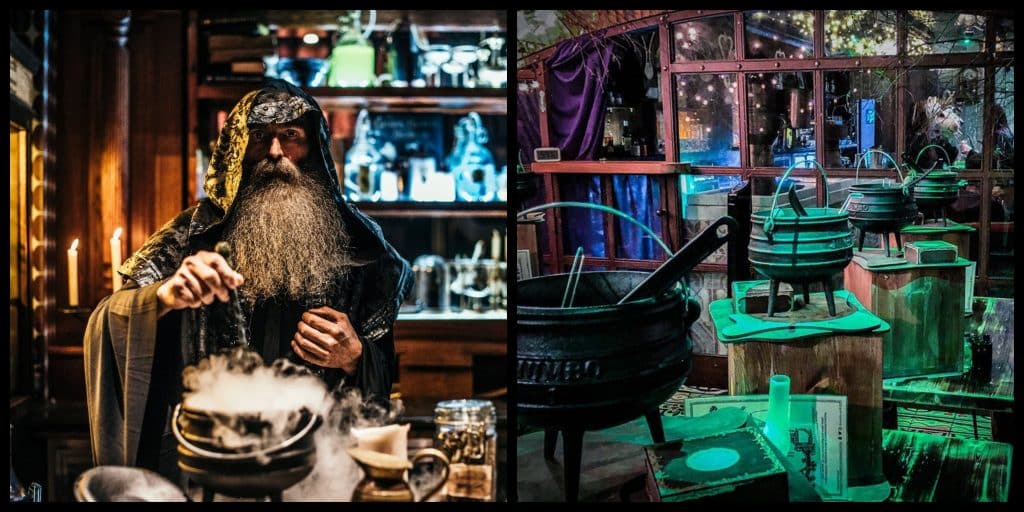 Harry Potter fans exist in great numbers around the world, and the Emerald Isle is no exception. Dublin has its own annual Harry Potter fan convention, for example (more on that below), and Ireland's official Quidditch team has qualified for the 2020 Quidditch World Cup.
While there are undeniably more Harry Potter sites in Great Britain (where the books and films are set) than in Ireland, various Irish destinations will nevertheless tickle Potterheads' fancy.
So where can a Muggle go on the Emerald Isle for a little taste of the wizarding world? Here are our top five places in Ireland Harry Potter fans will love.
5. The Cursed Goblet (Belfast) – a pop-up potions class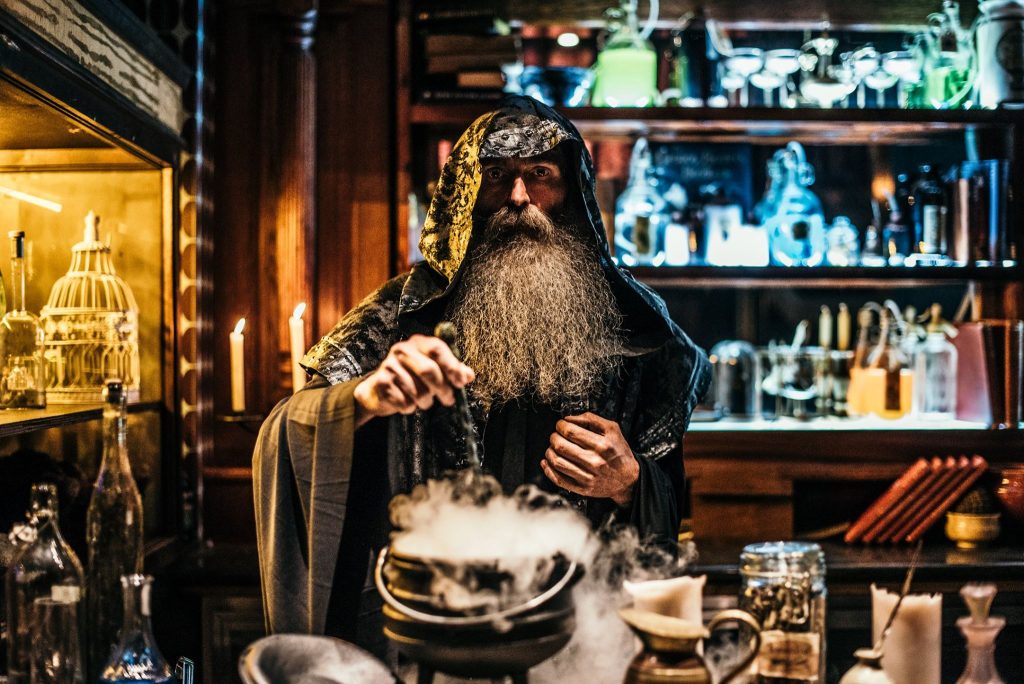 How are your potion-making skills? Need some practice? We'll point you to just the place—and no, it's not Hogwarts, but it's still pretty magical. The Cursed Goblet is a pop-up experience currently in the Parlour Bar in Belfast, where, upon entering, you will receive a robe and a wand on loan.
Once dressed appropriately, you can then enjoy a two-hour self-guided experience with instructions on how to brew, extract, and conjure three deliciously magical potions. Tickets are £30 and include 3 alcoholic concoctions (yes, you heard that right—it's in a bar after all!).
Book here: https://thecursedgoblet.com/book/
Address: 6 Elmwood Ave, Belfast BT9 6AY
4. The Cauldron (Dublin) – a magical cocktail experience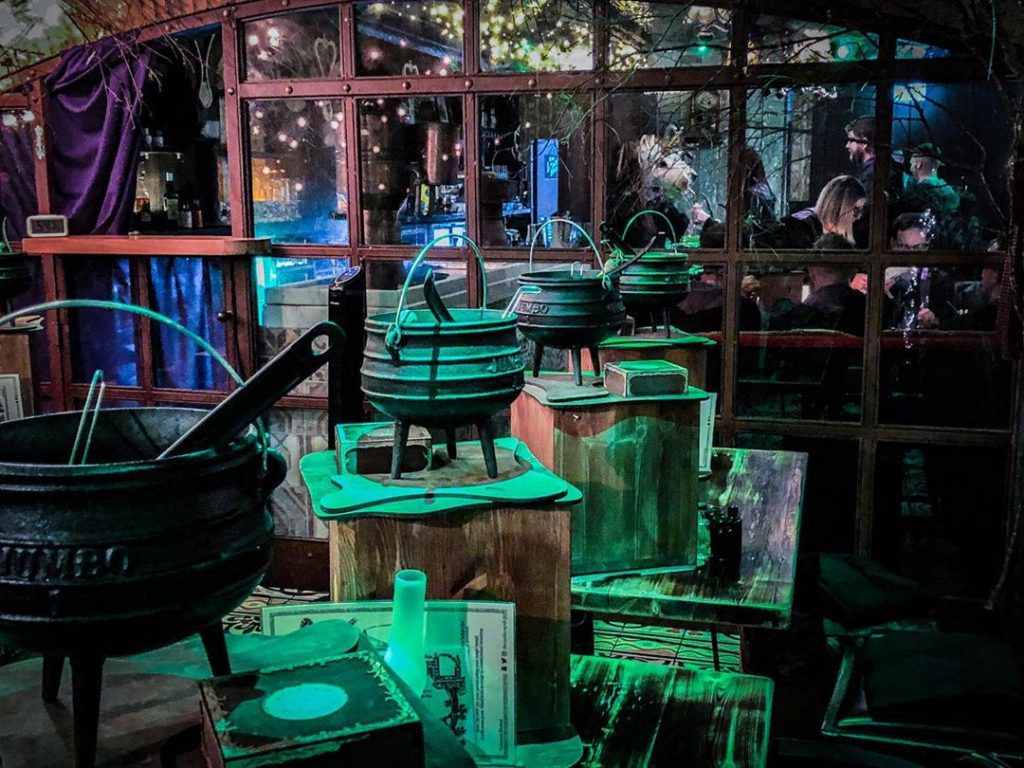 This Harry Potter-themed pop-up bar opened in Ireland's capital in 2019, creating a magical cocktail experience for Dubliners. It will be back again for "Volume II" this year (2020), according to its website, and we can't wait.
Last year the bar featured an immersive class where visiting Muggles could wield a magic wand to brew drinkable elixirs—while wearing a wizarding robe, of course. To be notified when they launch their 2020 tickets, sign up to their mailing list here.
Address: 6-8 Essex St E, Temple Bar, Dublin, D02 HT44, Ireland3. Cliffs of Moher (filming location)
3. The Cliffs of Moher – a dramatic filming location
Thanks to CGI film-making wizardry, you may have never noticed that the Cliffs of Moher—as well as nearby Lemon Rock—feature in the sixth Harry Potter film, Harry Potter and the Half-Blood Prince. In fact, Lemon Rock near it is also featured in the same scene. The filmmakers used CGI magic to combine Lemon Rock with the Cliffs of Moher.
Do you remember the Horcrux scene in the cave in? Yeah, that scene—eek. At one point, as seen in the video clip above, Harry and Dumbledore are standing on a rock that appears to be moving towards a sea cave in the face of a towering cliff.
The rock is in fact Lemon Rock, and the towering cliffs above are the Cliffs of Moher. So the famous cliffs, a must-visit in their own right, are one of the top places Ireland Harry Potter fans will love (especially fans of the films!).
Address: 11 Holland Ct, Lislorkan North, Liscannor, Co. Clare, V95 HC83, Ireland
2. The Long Room (Dublin) – a Hogwarts-like library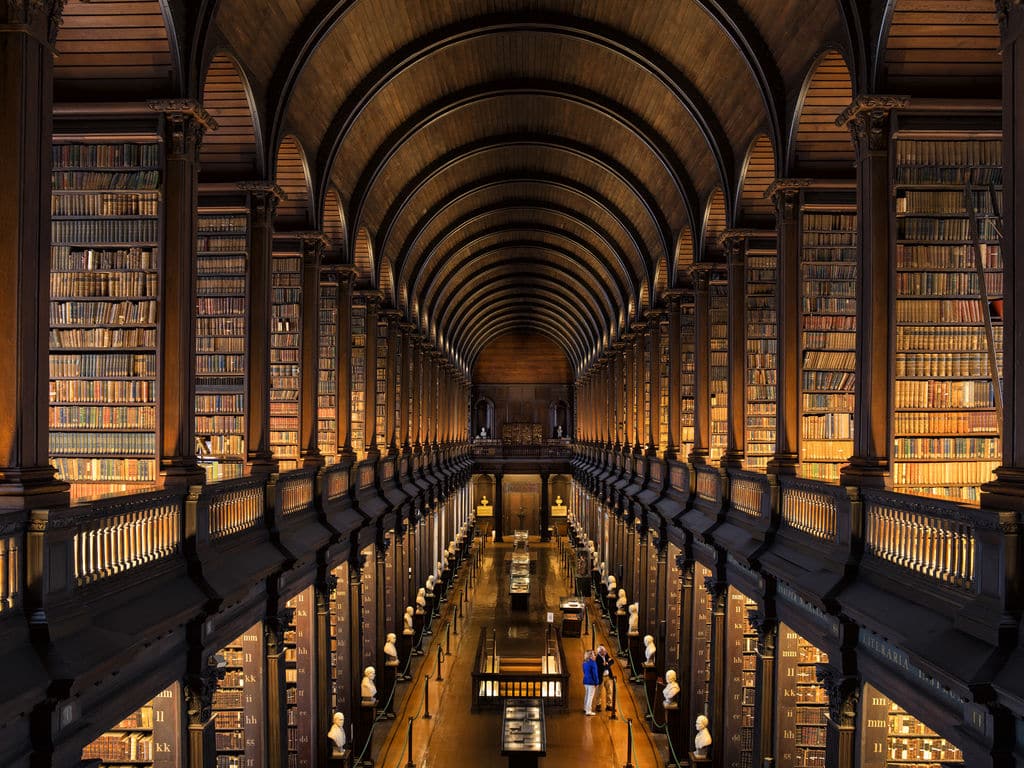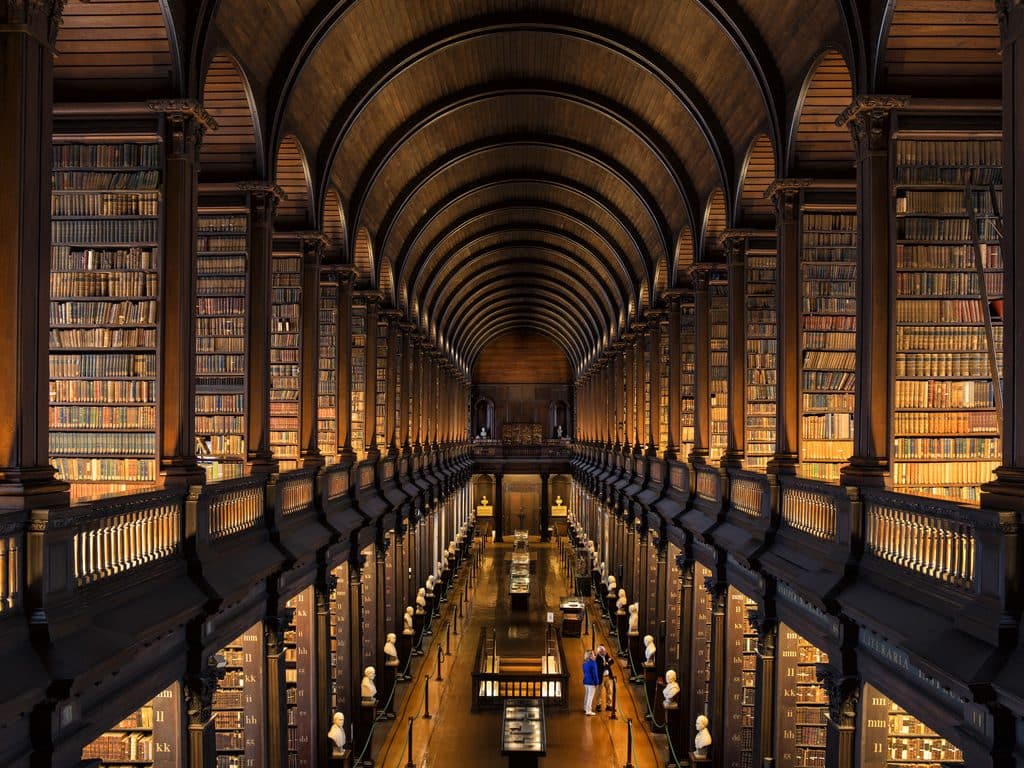 Part of the Old Library at Trinity College Dublin, the Long Room bears quite a resemblance to the library used in the filming of the Harry Potter movies. While it wasn't actually used in the films, Harry Potter fans who visit the Long Room are always enthralled by its busts of philosophers and writers—not to mention the nearby Book of Kells, which isn't a medieval spell book but has the look of one!
Address: College Green, Dublin 2, Ireland
1. Dublin Wizard Con – a gathering place for Harry Potter fans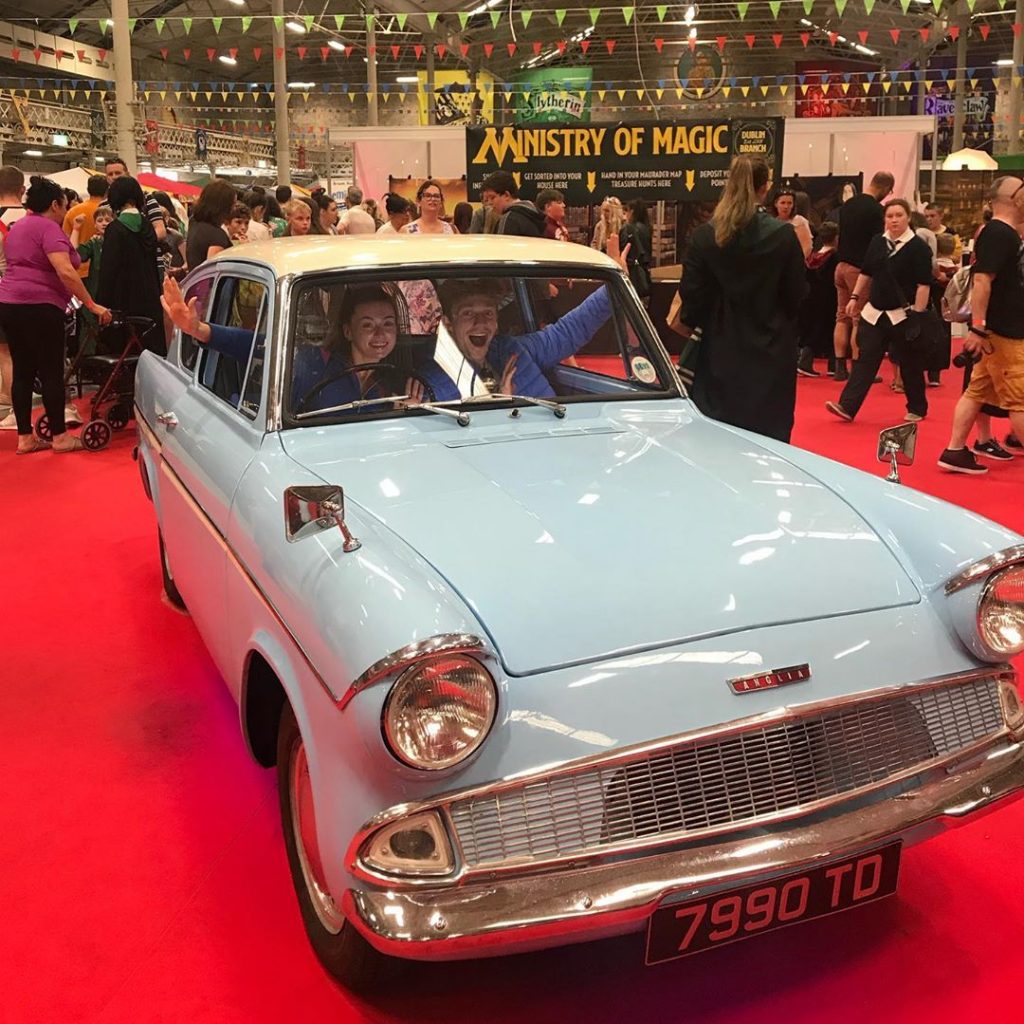 We mentioned in the introduction that Dublin has an annual convention for Harry Potter fans; this would be none other than the Dublin Wizard Con. After successful conventions in 2018 and 2019, we are delighted to hear that it is happening again this year, on the 30th and 31st of May, 2020.
Dublin Wizard Con is a fan-made, fan-focused event aiming to connect wizards through magical, interactive activities all housed in Dublin's RDS Arena. And you can bet that, like last year, there will be some fantastical costumes in attendance!
Book here: https://www.dublinwizardcon.ie/tickets
Bonus: Alan Hanna's Bookshop – read a book in the Harry Potter throne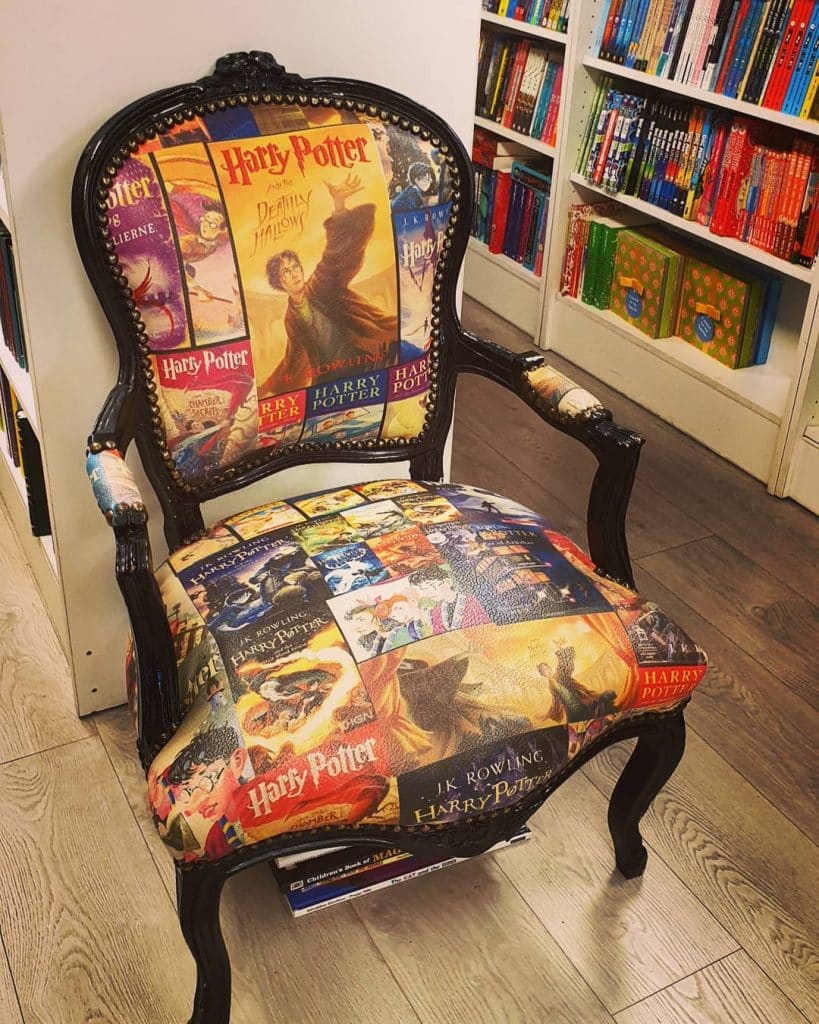 We have to give a shout-out to a cosy bookshop in Dublin for their Potter-ific chair (pictured above). Stop in, have a seat, and get lost in a book!
Address: Rathmines Road Lower Rathmines Rd Lower, Rathmines, Dublin 6, D06 C8Y8, Ireland