Snow is a rare treat in Ireland, and a snowy castle is an especially enchanting sight. Here are five Irish castles captured on camera after a snowfall.
Snow, unlike rain, does not visit Ireland often. Even in the depths of winter, many parts of Ireland remain green. It's called the Emerald Isle with good reason, after all.
But every once in a while, on a particularly cold winter's day, flakes will dance down from the sky, turning the Emerald Isle white. And for that brief period, the island remains beautiful, but in a whole a different way.
There is something especially enchanting about a snow-covered castle—perhaps because it makes us think of wintry fairy tales like "The Snow Queen," or simply because it is such a rare treat. Regardless, castles in Ireland take on a different ambience when surrounded by white rather than green.
As we dream of snowy castles this winter, here are five Irish castles that have been captured on camera after a snowfall in recent years.
5. Trim Castle – a riverside gem
Sitting on the south bank of the River Boyne in County Meath, Trim Castle is the largest Norman castle in Ireland and dates back to the 12th century. The castle is noted for its appearances in the movie Braveheart starring Mel Gibson. (No, Braveheart was not filmed entirely in Scotland, as some might assume!)
Trim Castle is a sight to behold no matter the weather, and while it's normally surrounded by green, snow (as pictured) can add a magical touch to its appearance.
Address: Trim, Co. Meath, Ireland 9. Blarney Castle (Co. Cork)
4. Blarney Castle – a stone's throw from Cork city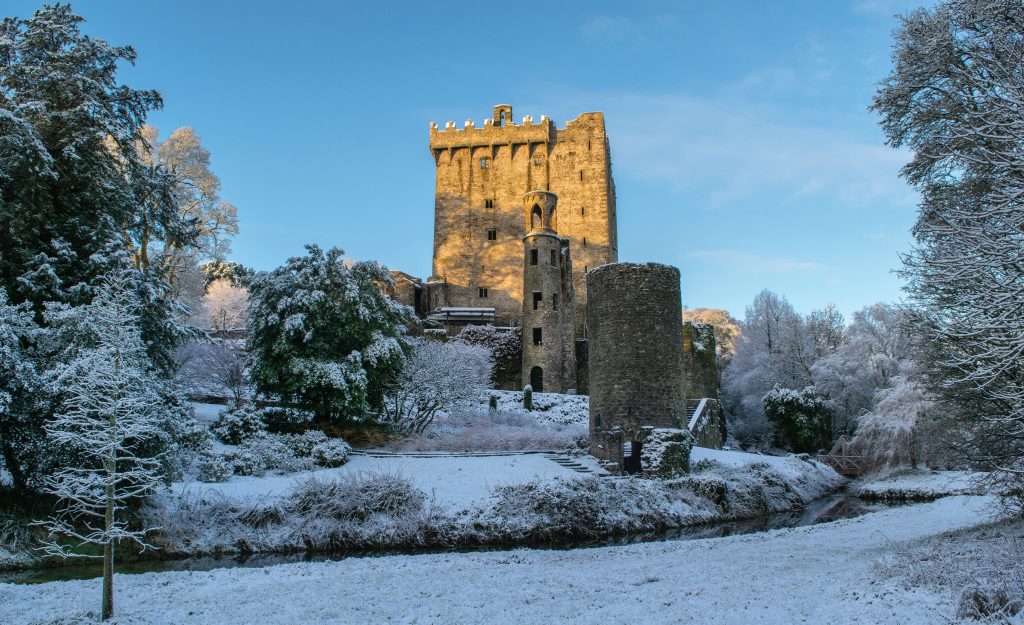 Blarney Castle, located in County Cork, is most famous for being home to the Blarney Stone, which is said to have the power of conferring eloquence on all who kiss it. But the castle is a beautiful site in and of itself, its current structure dating back to the 1400s.
Some people visit in the winter to evade the crowds of tourists who come to kiss the Blarney Stone—and they have been lucky enough to see the castle and its grounds blanketed in snow.
Blarney Castle is also one of the most magical castles in Europe, so it is well worth a visit!
Address: Monacnapa, Blarney, Co. Cork, Ireland
3. Drimnagh Castle – a Norman beauty
There is but one castle left in Ireland with a flooded moat, and that would be Drimnagh Castle. Located in a suburb of Dublin called Drimnagh, the remains of this Norman castle date back to the fifteenth century.
Drimnagh Castle Secondary School is located next to the castle. Can you imagine being lucky enough to go to school next to a castle—and looking out the window on a winter's school day to see it covered in snow? We wouldn't be able to get any work done!
Address: Restoration Project, Long Mile Rd, Drimnagh, Dublin 12, Ireland
2. Roscommon Castle – swan-sational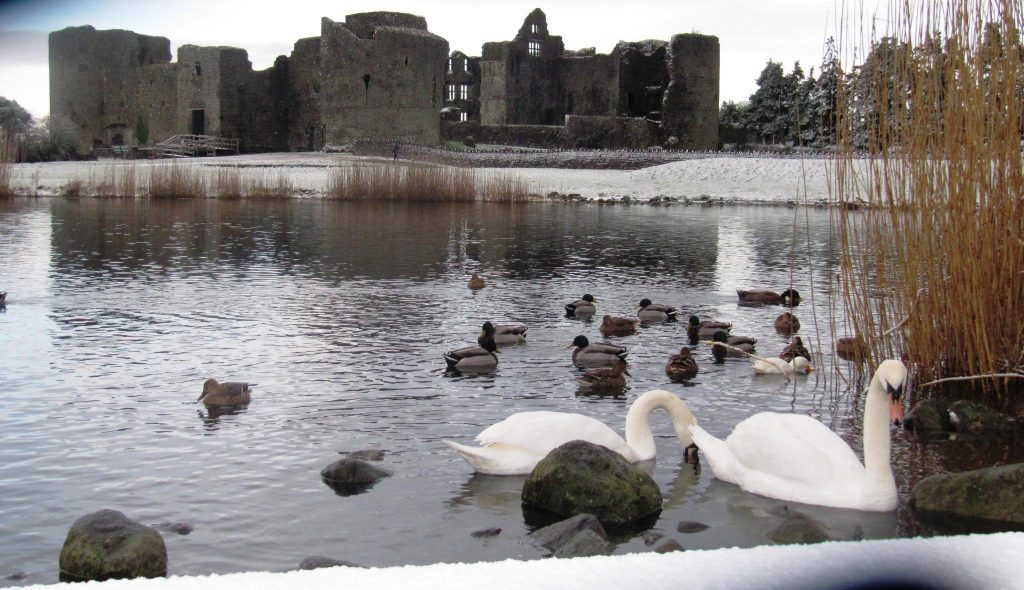 Roscommon Castle sits on a hillside just outside the county town of Roscommon. Built in 1269 by Robert de Ufford, Justiciar of Ireland, the castle is still a magnificent sight for what remains of it, and it makes a peaceful stop during any visit to Roscommon.
The castle rests alongside a small pond where ducks and swans are known to float. And when you put swans, snow, a pond, and a castle together in one picture, you can't get much more magical than that.
Address: Castle Ln, Cloonbrackna, Co. Roscommon, Ireland
1. Dunluce Castle – a coastal wonder
Dunluce Castle, set on the Antrim coast in Northern Ireland, is one of the most beautiful castles on the island regardless of the weather. But on the rare occasion when it's blanketed with snow, it's an extra magical sight. In fact, with its dramatic cliffside setting, we think it wins first place on this list by a long shot.
The castle was first built by the MacQuillan family around 1500, and the earliest written record of the castle dates to 1513. Dunluce's epic setting is as epic as its history and folklore, which includes tales of a banshee and how the castle kitchens fell into the sea one stormy night in 1639. How's that for a winter's tale?
Address: 87 Dunluce Rd, Bushmills BT57 8UY, United Kingdom
Now that you've seen this photographic proof of Irish castles that look dreamy in snow, we bet you'll be keeping an eye on the weather this winter. We hope you get a chance to see such wintry magnificence yourself!