Irish artists have been showcasing their talents for thousands of years. Here are five that will make you proud to be Irish.
Let us not forget just how important Ireland's greatest artists have been for showcasing the nation to the world. Irish artists were often inspired to paint based on their feelings of joy that came to them by simply being around their countrymen and living in Ireland's fair cities and countryside.
Of course, the history of Irish art started several thousand years ago at the Newgrange megalithic tomb, where ancient man carved Neolithic stone carvings at the site. This article, however, will showcase Irish art that is a little more modern.
Here are five Irish artists who will make you proud to be Irish.
1. Walter Osborne (1859–1903) – known for his empathetic paintings of children
This Irish artist who painted Dublin life at the turn of the century is known especially well for painting children.
Born in Rathmines, a farming village on the edge of Dublin, Walter Osborne was the son of an equestrian artist. Unsurprisingly, considering his father's artwork, the young Walter Osborne often painted animals including pets and farm animals and showed remarkable skill and enjoyment from such painting even at an early age.
Osborne went on to study at the Royal Hibernian Academy in Dublin before moving onto the Royal Academy of Fine Arts in Antwerp, Belgium. While in Belgium, Osborne was able to study the colours of Rubens and the composition of Jules Bastien-Lepage. Osborne would then move to Quimperle, France before relocating to England. Osborne was then able to move freely between England and his home city of Dublin.
Since his teenage years, Osborne always held an affinity for painting children he encountered in everyday life, depicting them with a calm dignity. In the 1880s, Osborne looked after his orphaned niece, Violet. This gave the artist the opportunity to study his niece and her friends at play. His empathy for Dublin's large number of destitute children is clear to see throughout his paintings.
Osborne died in 1903 after contracting pneumonia. His final work, Tea in the Garden, which he left unfinished, hangs in the Hugh Lane Gallery of Modern Art in Dublin.
2. Mary Swanzy (1882–1978) – one of Ireland's first abstract painters
A renowned painter of numerous styles including cubism, Mary Swanzy was one of Ireland's first abstract painters.
After being fortunate to have survived a weak infancy, Swanzy described her childhood as being a "gift from Heaven". One of the great Irish modernist painters, Swanzy was both well-educated and travelled. Swanzy was trained as an artist in Paris with her time in the French capital described as straight-laced, conscientious and hard-working.
This artist's life was one of travel and adventure as well as turmoil. Her family were caught up in the Irish loyalist and sectarian riots in the 1920s – this is perhaps the reason Swanzy went on to travel to various places before finally settling in London.
A master of many styles, Swanzy explored her own intense version of expressionism in the 1940s. "To be an artist… you have to be very severe with your amount of energy," stated Swanzy. "To have an overriding hobby, that's the secret. Mine was an overriding hobby, I couldn't get rid of it."
3. Sir John Lavery (1856-1941) – master of capturing movement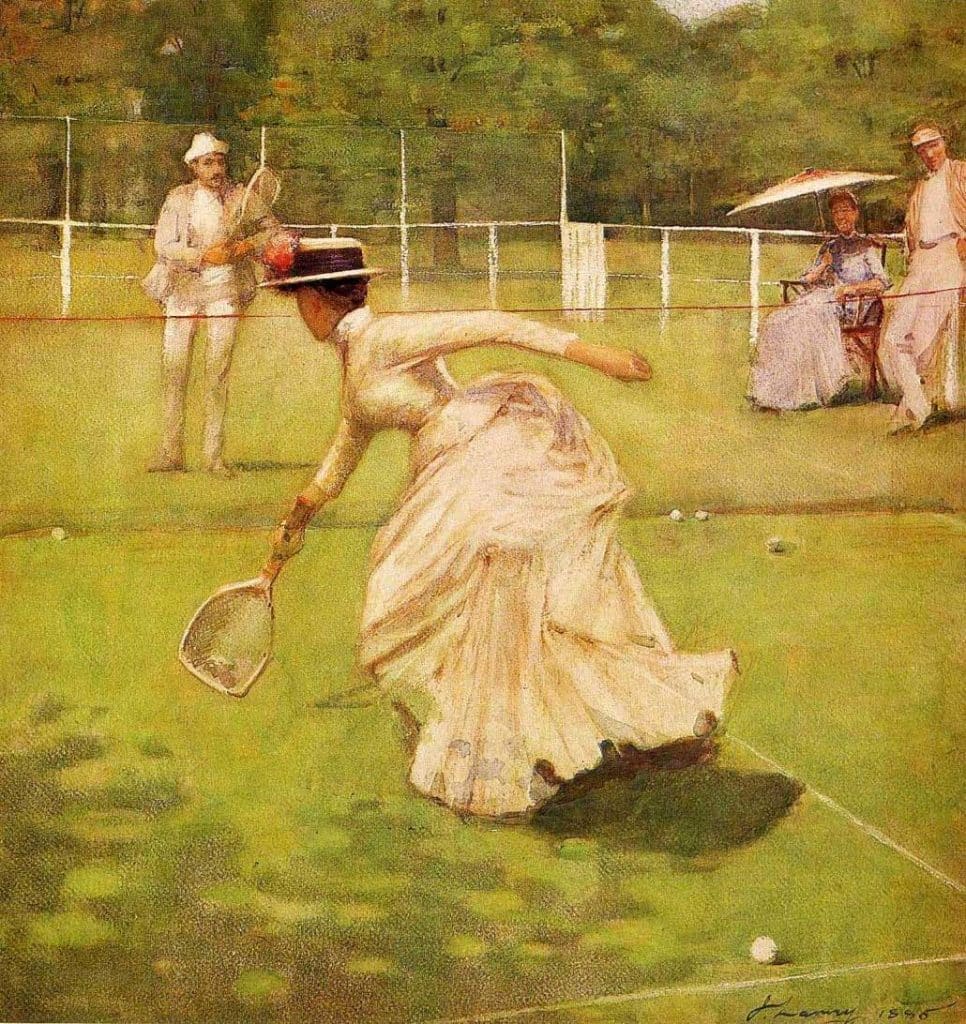 Belfast-born but travelling often during his artistic career, Sir John Lavery excelled at capturing movement, a skill honed from the French master Jules Bastien Lepage.
Orphaned from an early age, Lavery had a tough early life. His father died in a shipwreck, while his mother was thought to have died from heartbreak only several months after her husband. Fortunately, his family was able to look after him firstly in Ireland and then in Ayrshire, Scotland.
In his early twenties, the artist, eager to establish himself, ventured to Glasgow to study under the tutorship of J.B. Maclair, a photographic artist and portrait painter, before opening his own studio in the city. In 1879, Lavery found a slice of fortune in a very unlikely circumstance.
In the same year, it was opened, his studio burnt down in a fire, but rather fortunately, it was insured for £300. This insurance money allowed Lavery to travel to London to study at Heatherley's academy.
In the 1880s, Lavery exhibited his work across Scotland before journeying to Paris to further increase his studies. It was in France where Lavery was heavily influenced by Jules Bastien Lepage, and so he embraced plein-air painting. It was in 1888, though, when Lavery established a reputation that would be remembered for years to come.
He was commissioned to record the visit of Queen Victoria to the Glasgow International exhibition. His glowing reputation allowed him to set-up his own studio in Kensington.
Lavery's work can now be found in numerous art galleries across the world, including the Ufizzi Gallery in Florence, Musée d'Orsay in Paris, and the Tate Gallery in London.
2. Jimmy Lawlor (1967 – present) – art with an Irish sense of wonder and humour
Born in Wexford 1967, Jimmy Lawlor has been exhibiting his work for over 20 years. His paintings are based on the Irish sense of humour and the realisation that the old way of life will soon vanish to make way for the new generation.
Lawlor's art often depicts the innocence of life in the form of children, animals, and the elderly, juxtaposed with the ever-changing background of life that can sometimes appear daunting and encroaching but more often matches the fun and vibrancy of the figures in his artworks.
The artist's work takes elements from his surroundings and mixes these elements with the people of the place, bringing them together in a unique and innocent but sometimes melancholy fashion.
Lawlor now lives in Westport in the west of Ireland and continues to produce his wondrous works of art.
1. Nathaniel Hone the Younger (1831-1917) – a great Irish landscape painter
One of the most significant Irish artists and landscape painters of his time, Nathaniel Hone the Younger trained in France and took influence from Gustave Courbet and Camille Corot. Hone produced a variety of superb watercolour paintings including the one seen below during his trip to Egypt.
As a yachtsman, Hone was also a master at painting maritime scenes, depicting the various boats and ships with an eye for accuracy and authenticity.
As Hone advanced in years, his artworks became more confident. Most of his later paintings are landscapes. The influence of France allowed Hone to return home to Dublin to apply his newfound skills in strong and confident brushworks to the painting of Irish subjects.
Finishing touch
Hopefully, if you are reading this and you are not from Ireland, you will be inspired by the works of art from our own Irish masters. If you are from Ireland, then we are glad you have continued reading until the end.
Mentioning Ireland to non-Irish folk will undoubtedly bring up the usual Irish stereotypes of course, but no, we do not all adhere to be like Conor McGregor and his potty mouth, nor are we leprechauns from the famous Rainbow Riches Pick N Mix series.
Irish artists may not have the same headline appeal of old Flemish masters or the Italian renaissance geniuses, but they showcase our great nation to the world – the mystery of our jaw-dropping landscapes, the heart-warming nature of the Irish people, and everything else that makes our nation what it is today – the good and the bad.
Note: our travel articles should be used only to plan future trips. Please stay at home until the government has advised otherwise.