'The Royal County' as Meath is commonly known, is full of many historical sites and monuments. Trim, a designated heritage town, renowned as one of Ireland's most beautiful towns, holds unique historic character in the heart of Ireland's ancient east and has something to offer everyone.
Set on the river Boyne, Trim, once the medieval capital of Ireland, has been around for hundreds of years and owns many special monuments and locations to prove it. With Trim Castle the most significant historical feature of the town, Trim also boasts many other wonderful and picturesque ancient locations around its beautiful townland and we are here to direct you to the five most historical sites in the Boyne Valley below.
5. St. Mary's Abbey
An Augustinian Abbey built-in 1368, St Mary's Abbey has weathered over time, and all that is left is an east wall of the historic feature, known as the Yellow Steeple. St. Mary's Abbey, believed to have been built on the site of Ireland's first great church in Trim, by our patron saint, St. Patrick but demolished at least twice by battles back in medieval times. Used as a parish church on these grounds, the Abbey was later destroyed by English leader Oliver Cromwell, leaving the Yellow Steeple which still stands strong today. Trim is the perfect town to host the notable and historic Abbey, as it lies along the banks of the river Boyne and is a short walking distance to Trim Castle which attracts tourists from all over the world.
Address: Trim, Co. Meath, Ireland
4. Ireland's Oldest Bridge
Standing strong since the early 13th century, with only some minor alterations in the eighteenth to nineteenth century, this narrow, four-arched bridge in Trim is not just a medieval structure but Ireland's oldest surviving, complete and unaltered bridge. This bridge, which founded on solid bedrock, consists of four pointed arches with solid parapets finished with coping stones connects two sides of the town to one another across the River Boyne. Rumour has it also, that this was Ireland's first ever toll bridge too, implemented by the owners of Trim castle hundreds of years ago, charging people to use the primary bridge in their town to cross the river Boyne, those cheeky kings!!
Address: Bridge St, Townparks South, Trim, Co. Meath, Ireland
3. Trim Cathedral
Built in 1803 and known as the Cathedral Church of St Patrick, this beautiful landmark boasts a 15th Century tower and resides on St. Lorman Street in the centre of Trim town. Since the 18th century, this site has been a centre of religious activity when Saint Loman became the first Bishop of Trim. After a small church in county Armagh, it stands as the oldest church in Ireland, and the church porch and grounds contain some medieval grave slabs. The Cathedral Church of St Patrick is a suitable fit to the town of Trim and it connects greatly with the many other medieval architectures scattered throughout the townland.
Address: 53°33′16″N 6°47′31″W, Ireland
2. River Boyne
Flowing a total of 70 miles along its journey, the river Boyne is a huge historical landmark in its own right. The river has been around since ancient times or its namesake is the title for one of the biggest battles in Irish history, 'The battle of the Boyne', which saw Prince William of Orange who, Scotland defeat King James II of England. Trim is one of the few towns in which the river Boyne flows directly through and there are many beautiful and historical walks around the river which give a sense of the true element of history it holds so dearly.
1. Trim Castle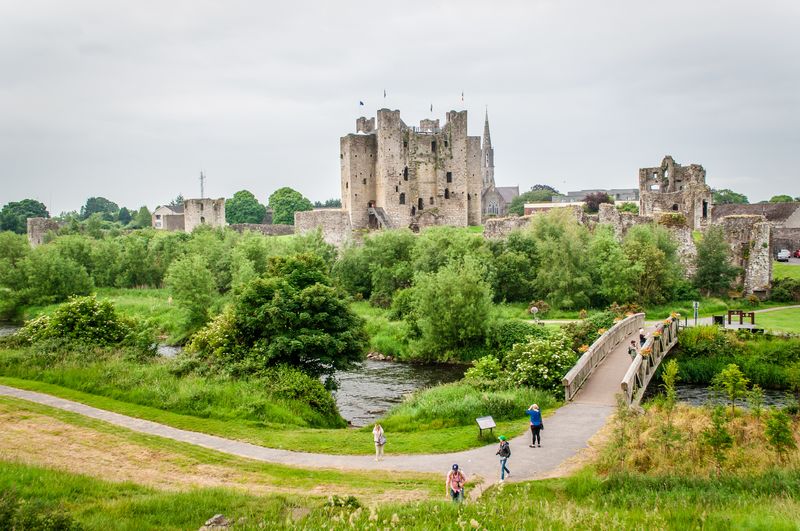 One of the most famous sites not only in Ireland but in the world is Trim Castle. The ruins which date back to a mere 1176, is a Norman castle and is one of the most critical Norman military constructions in Ireland. Set on the south banks of the beautiful river Boyne in the historic town of Trim. Built by the Lordship of Meath at the time, Lord Hugh De Lacy and his son Walter over a thirty year period, Ireland's largest Anglo-Norman castle which included a moat, ditch and a curtain all visible on today's site. Not only is Trim Castle perfect for wedding photo backdrops and daily guided tours, it is also a great setting to shoot a Hollywood movie. That's right the infamous blockbuster 'Braveheart' starring Mel Gibson used the grounds of Trim Castle and the royal county of Meath to shoot scenes back in 1995, yet tourists and movie fans still flock to this historic monument today.
Address: Trim, Co. Meath, Ireland
Written by Grainne Gallogly.