Killarney is a magical place in County Kerry on the west coast of Ireland.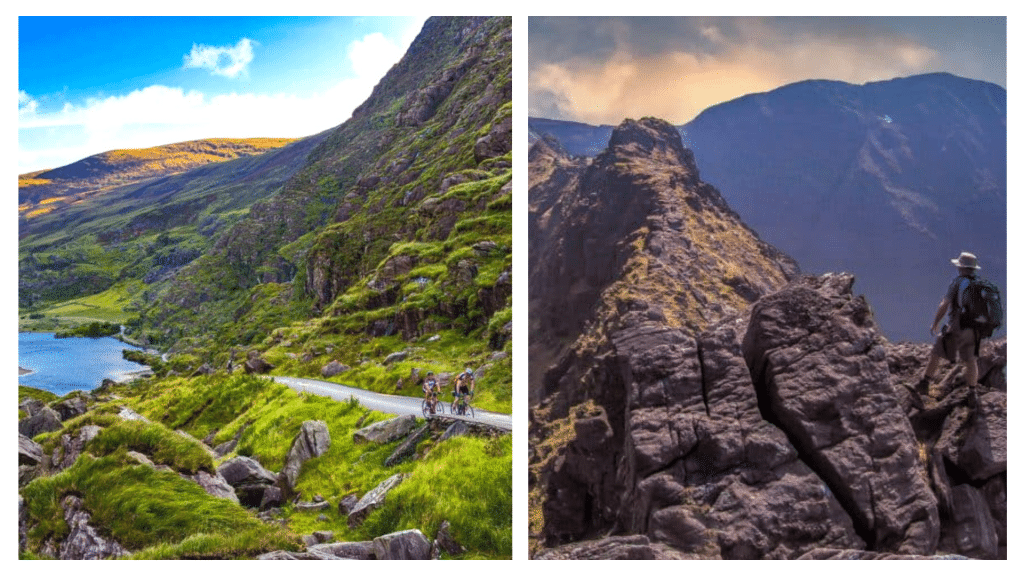 Killarney is a land of rolling hills, green pastures, postcard-worthy Instagram moments and some of the most untouched landscapes you could dream of.
With its wild beauty and stunning scenery, it is a playground for adventurers who come to Killarney to turn the landscape into their very own obstacle course.
Hiking is huge here, and with the number of impressive summits, hikes and hills to explore, there is no surprise why! Here are our top five hikes around Killarney to check out when in the area.
5. The Blue Pool − one of the best hiking adventures
This short and sweet hike in Killarney is perfect for those looking for a good ole' leg stretch but who don't want to commit to an all-day adventure.
Only moments from key tourist hubs and transport connections, hikers will forget how close they are to civilisation in this outdoor oasis: The Blue Pool trails.
"The Blue Pool" is the collective name for the Cloghareen and Blue Pool Nature Trails, both of which are similar in intensity and atmosphere. The trails start quite close to the entrance of the Muckross Park Hotel, making them super accessible.
Both trails are worthy of a walk (or run) in their own right, and both overlap at a point as well.
The pool itself makes for a perfect picnic spot on a balmy summer's day, and seeing as these trails are graded "easy" 2.5km (1.5 miles) distance, they are perfect for all the family.
Address: The Blue Pool, Muckross Road, Killarney, Co. Kerry, Ireland
4. Torc Mountain − experience Torc Waterfall up close

Credit: Instagram / @annetteobrien_mua
Torc Mountain and Waterfall is one of the most popular and dynamic hikes to undertake in Killarney. Only a stone's throw from town – 7 km (4.3 miles) to be exact – this is a perfect trip to undertake, starting from Killarney centre.
There are two routes you can take to reach the summit of Torc Mountain. The route you choose can be based on the level of intensity and time allowance for your trip.
There are two starting points: one at the bottom of the mountain, not far from the base of the waterfall; the other start-point is from the "upper carpark" which gives hikers a head-start on the ascent.
If starting from the upper carpark (the most popular choice), the route is about 8 km (5 miles) in distance with a "moderate" intensity grade.
The hike does have areas of steep inclines and is advised for those of moderate fitness levels. The route can be appropriate for families with older kids in good weather conditions.
Address: Torc Mountain, Killarney, Co. Kerry, Ireland
3. Gap of Dunloe − spectacular views for those with high skill levels

Credit: Fáilte Ireland
This is one of the most cherished hikes in and around Killarney.
It is seen as the ultimate Kerry experience to many as it winds its way through the wilderness, across the Gap of Dunloe (an ice age-carved valley), through to Killarney National Park, and past the three lakes.
Only 12 km (7.4 miles) from the town of Killarney, this narrow mountain pass is the perfect addition to a town stay.
There are tonnes of tours you can do, too, and you can even opt to begin your journey via horseback, by horse-drawn cart, on a bicycle, as well as on foot.
The Gap of Dunloe spans about 11 km (6.8 miles) and can take up to five hours in duration. The level of intensity is "strenuous" and should be tackled by fit and experienced hikers only.
Address: Gap of Dunloe, Killarney, Co. Kerry, Ireland
2. MacGillycuddy's Reeks − one of the best hikes around Killarney

Credit: Fáilte Ireland
The McGillycuddy Reeks is Ireland's highest mountain range. With a total of 11 peaks, hikers will be in their element with the choice on offer. Seeing as these trails are as varied as they are dynamic, we've decided to include the lot!
Should you decide to don your adventurer's hat and take them all on in one go, you'll never look back. The total hike is 18 km (11.1 miles) in distance and is classified as "very difficult". It would take an extremely experienced hiker 10 hours to complete.
The route starts by tackling Caher West Peak, which is 973.4 m (3,193 ft) tall and winds itself through the remaining summits, ending at the Gap of Dunloe.
Address: The McGillycuddy Reeks, Killarney, Co. Kerry, Ireland
1. The Kerry Way − a challenging hike with incredible views
If you are an extreme adventurer, this one is for you! The Kerry Way is a long-distance endurance hike which stretches across the landscape, reaching a total of 214 km (133 m) in distance.
This mega-hike is most certainly not for the faint-hearted and should be taken with serious consideration before undertaking. The usual break-up of this journey is in nine stages over nine consecutive days.
However, it is advisable to consider some rest days in between – even if it's just to stop and appreciate the landscape.
Address: The Kerry Way, Killarney, Co. Kerry, Ireland
Other notable mentions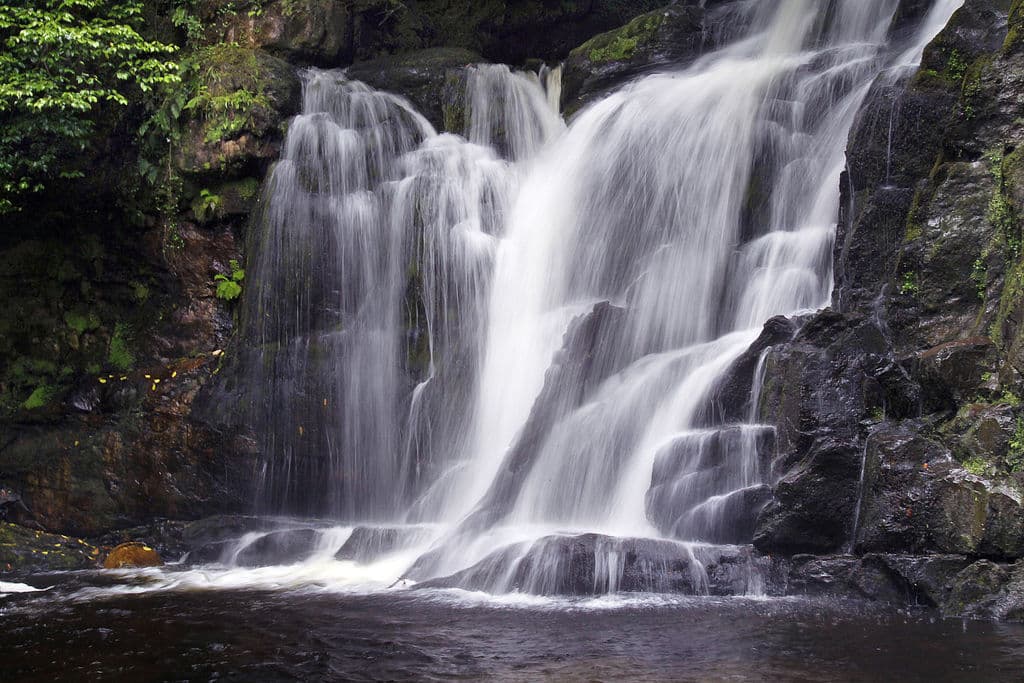 Torc Waterfall Loop from Muckross House: Another great hiking trail within Killarney National Park is the loop from Muckross House to Torc Waterfall and back.
You will get to experience a beautiful view of Muckross Lake during this hike. You should be able to spot excellent views of Muckross Abbey in the distance, too.
Ross Castle Loop: This is a pretty gentle 5.6 km (3.4 miles) circular trail near Carker, County Kerry, that generally takes one hour and 15 minutes to complete. You'll be able to see Lough Leane through the tree during your hike.
Kerry Cliffs: The Kerry Cliffs are somewhat of an underrated spectacle. It's a 2.1 km (1.3 miles) out-and-back trail near Portmagee, County Kerry, so it's perfect for day hikers or those seeking an easy trail. It's a scenic trail that offers panoramic views of the Skellig Islands and Irish wildlife.
FAQs about the best hikes around Killarney
What is the best hike in Killarney National Park?
The Gap of Dunloe is one of the most famous routes in Killarney National Park, one that offers wonderful views for keen hikers and cyclists. As such, it has to be considered one of the best.
What is the tallest mountain in Kerry?
The tallest mountain in Kerry, and, in fact, in Ireland, is Carrauntoohil at 1,038.6 m (3,407 ft). It is a stunning hike with incredible mountain views to undertake.
What is the easiest walk in Killarney?
Some of the easiest walks and hikes in Killarney include the Knockreer Circular Route, the Muckross Abbey Loop, and Library Point on Ross Island.