For Guinness with a twist, here we reveal five tried and tested Guinness cocktails and how to make them.
We expect that a few of you who read "Guinness cocktails" in the title are probably groaning right now. Fair enough—we understand that, to some, messing with a pint of the black stuff (Guinness) is nothing short of sacrilege.
But honestly, just hear us out. We were sceptical at first too, but some of these cocktails have genuinely won us over. We're not saying that they're better than the real thing—all we're saying is that they're definitely worth a try.
Now, with that out of the way, let's get into our list of five Guinness cocktails we believe you need to taste.
5. Black Velvet – to add some sparkle to your St. Patrick's Day
This Guinness cocktail just sounds cool, evoking mental images of some James Bond car pulling up to a bar late at night; the name is what made us want to try it. And we're glad we did.
Alright, so you're probably wondering what's in it—well, Black Velvet is a straightforward mixture of Guinness and sparkling champagne; that's it. It's surprisingly delicious. Normally, we don't consider ourselves particularly big fans of champagne, but with some creamy Guinness added to the mix, it's utterly fantastic.
To make it, simply fill a champagne flute halfway with the black stuff, then slowly top it up with your choice of champagne. With St. Patrick's Day coming up, this cocktail would make a great drink to celebrate the day with. Enjoy! 
4. The Snakebite – a lovely mix of Guinness and cider
The Snakebite is usually a mixture of Guinness and apple-flavoured cider, but feel free to get creative and try a different flavour. We tried it first of all using the recommended apple, then after, a lemon-flavoured cider.
We actually preferred the lemon, so that's why we're telling you to get creative with your mixtures. We liked the natural bitterness of Guinness mixed with the lemon cider. But the pear was great too—it made us think that the Snakebite would be an excellent winter drink, due to how warm we felt while drinking it.
It has a deliciously crisp, sweet flavour—something you think would likely overpower the creamy, coffee-flavourings of a pint of Guinness, but it goes together grand.
3. Irish Black Russian – a twist on a classic
In all honesty, this one was probably our least favourite of the bunch, but it got some amazing reviews from friends that we made it for, so we figured it's worth putting in.
The classic Black Russian drink usually involves vodka, Coca-Cola, and coffee liqueur. The Irish Black Russian drink follows pretty much the same suit, only it adds, of course, Guinness to top it all off. The initial coffee taste is delicious, but we think where the drink lost us was the strong vodka aftertaste.
We thought maybe we had just used too much vodka, but even with a lesser amount we still weren't completely sold on the taste. Hopefully you'll have a better experience with the drink.
2. Baby Guinness – for an exciting shot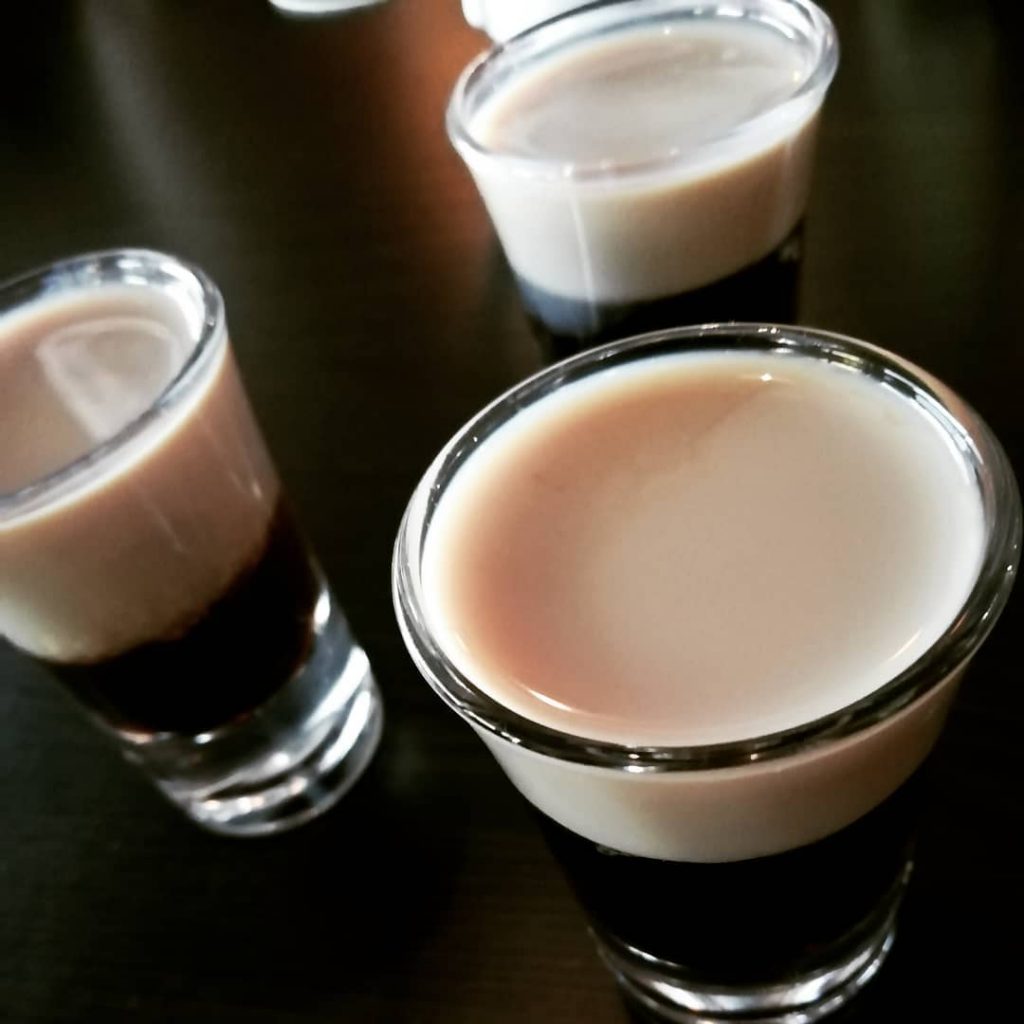 Okay, so this Guinness cocktail doesn't actually contain any Guinness, but it looks like it does.
As implied by the name, the Baby Guinness looks like a very small shot-glass–sized pint of the black stuff. It's totally Instagram-worthy, if that's your kind of thing.
So, what's in it then? Simply, a Baby Guinness is made up of equal parts Bailey's Irish Cream and Kahlua coffee liqueur, and it is mouth-wateringly delightful. It nails down the taste of a pint of the black stuff in one little mouthful.
We could easily drink a dozen of these—though we're glad we didn't because this article never would've gotten done otherwise—they're that incredible.
1. Mulled Guinness – for the perfect aromatic drink
We've truly saved the best for last on this list. Though this one takes longer to make compared to the other Guinness cocktails, it's totally worth it.
We all know how amazing a glass of mulled wine can be, right? Well, a mulled Guinness completely blows it out of the park.
To make it, put 500ml pressed apple juice, 440ml (a can) of Guinness, one cinnamon stick, and one star anise into a saucepan and heat over medium heat. Bring to a simmer and then add one tablespoon of honey, stir, take the pan off the heat, and finally remove remaining whole spices.
You can thank us later.