Cobh, one of the hardest to pronounce Irish place names, is one of the most scenic and atmospheric towns in Ireland. Located in County Cork and built on a hill, it is a stunning little town filled to the brim with history and heritage.
If you are already sick of listening to the iconic 'I'm bored' tagline from your kids during school holidays and are looking for ways to keep them entertained at any point throughout the year, Cobh is the perfect destination to pack them in the car and head off for a day, or even a weekend trip away. Here are some fun ideas of things to do with kids in Cobh.
5. Escape Cobh – for adventurers
If you are looking for something a little different, Escape Cobh is a great team building activity for families and groups of any kind. Participants are locked into a room (don't worry, you are not actually locked in and staff are always present to let anybody out whenever they want to) where they have to solve a series of riddles and puzzles in order to escape. Communication and teamwork is key, so try to keep family conflicts at bay or you could be stuck there longer than planned.
This activity is recommended for those above the age of 8, but younger kids are still welcome to get involved and participate! There are three themes: Bank Heist, Sherlock's Final Case, and Escape from Spike Island. The price per person depends on the size of the team. Prices range from €12 to €25 per person. It is recommended you book online in advance, however they can sometimes accommodate groups at short notice over the phone, depending on availability. Escape Cobh is open Monday to Saturday 9:30 to 21:00, with Sunday times depending on season. They are located in the centre of Cobh in the Cunard Centre.
4. Spike Island – for an island activity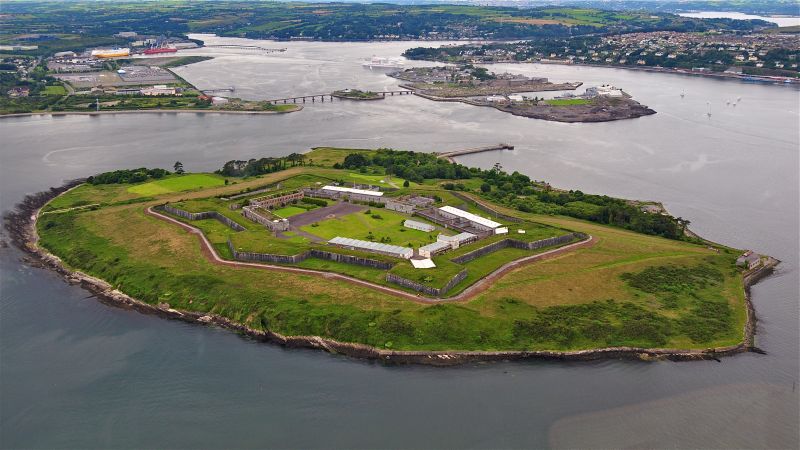 Voted Europe's leading tourist attraction in 2017, Spike Island is a fascinating must-see when in Cobh. Dominated by the 200-year-old Fort Mitchel, the site has a history dating back to the 6th century when it was a monastery. The island was home to the largest convict site in Victorian times, holding over 23,000 prisoners. This is an educational experience full of history and fascinating stories such as the daily life of a prisoner, the conditions inside the prison, stories behind convicts, and the transportation of prisoners to and from Spike Island. You can try your hand at steering a ship into Cobh harbour via an interactive experience, or learn how to use a cannon in the artillery park. This is geared more towards the older kids who might understand and enjoy the trip more than the little ones.
The whole tour takes approximately 3.5 hours and is a great day out in itself. There is a café on site or alternatively, you could pack a picnic and enjoy the beautiful scenery of Cork harbour. The ferry over to the island departs from Kennedy pier, right next to the Titanic Experience. Tickets can be bought at the ticket office but it is recommended to book online to avoid disappointment. Tour times and opening hours vary month to month so make sure to check their website before visiting. Make sure that you do not leave Cobh without visiting this island; you will not regret it!
3. Take a walk down the promenade – for a seaside stroll
What is better than finding a free way to entertain your kids? The promenade in Cobh offers some beautiful scenery of Cork harbour and is a free and fun way to get out in the fresh air. You can begin your trip by watching the boats come in and out of the harbour from the pier. You might even be lucky enough to watch a cruise ship dock in the port. After that, why not go get some delicious ice cream to keep the kids happy (and quiet)? Fantastic Flavours is located right beside the pier and serves delicious ice cream and great coffee to go.
There are also two playgrounds along the promenade, one on either end. If walking along the promenade isn't your thing, why not catch a ride on the road train? This train ride is an exciting experience for the kids, and adults, in any type of weather. It brings you on a tour of the town and lasts around 50 minutes. You can even get off and explore at the different stops if you wish. This train departs from outside the Titanic Building and brings you around some of Cobh's most prized treasures. Even if the kids aren't interested in the tour, the ride is sure to be a novelty in itself. There are eight tours a day and it costs €8 for an adult, €5 for a child, and €20 for a family of four.
2. Titanic Experience – for history
You cannot visit Cobh without visiting the Titanic Experience. The last port of call before the iconic ship set sail for America, Cobh was then known as Queenstown. The Titanic Experience is located in the original White Star Line ticket office in Casement Square and is now one of the most popular tourist attractions in the area. It is easily located beside Kennedy pier, the site where almost 2.5 million people emigrated to America between 1948 and 1950. This is a mesmerizing and educational experience for adults and kids alike.
The experience begins with a 30 minute guided tour, after which you are free to explore at your own leisure. At the beginning of the tour you are issued with a passport. This passport contains the name and details of one of the 123 passengers who boarded the Titanic in this very location. This experience brings you through a day in the life onboard the ship, the tragic incident, the rescuing of survivors, inquiries into the tragedy, and the discovery of the wreck. Information is through on storyboards, audio-visual presentations, and cinematographic experiences. The experience is open 9 am to 6 pm all throughout the summer months, with tours running every 15 minutes. You can upgrade your ticket to include the Titanic Walking Tour, which brings you around the town of Cobh, highlighting areas and events associated with the Titanic and other areas of Irish history.
1. Fota Island Wildlife Park – for the animal kingdom
Whether you have tiny tots, school kids, or 'I hate everything' teenagers, all will be entertained here. A day in Fota really is a great day out for all, adults included. The main objective of the park is for visitors to not only to enjoy themselves but to also to come away with some new knowledge on conservation and biodiversity. Numerous wildlife talks take place during the day, and events are run throughout the year. Make sure to check the website before your visit for feeding times, events, or activities running during the time of your visit. If you are feeling energetic you can pack a picnic, if not, there are two cafes on site. You can wander around the park at your own leisure or take the park train and see Fota in a different light.
If like most people, your kids make you want to tear your hair out during any school holidays, Fota also offers activity camps for children aged between 5 and 12 during Easter break, summer holidays, and October mid-term. The Park is open 7 days a week from 10 am to 6 pm, with last entry at 4:30 pm. Please note that parking on-site costs €3, which goes back into the maintenance of the park. A bonus extra; there is a playground within the park where you can let them loose and tire them out, and hopefully at home time, you have content, worn out kids – all the sign of a good day.