What better way to enjoy Ireland's breathtaking landscapes than from the comfort of a train's window seat? Here are our top five fairy-tale train journeys through Ireland.
It's no secret that Ireland is home to some breathtaking scenery—from rugged coastlines to rolling countryside, winding rivers, and more. However, there just simply isn't enough time to explore it all in one trip, so why not get a whistle-stop tour while making your way between stops.
Train journeys through Ireland have a lot to offer in terms of incredible views. You'll be treated to lots of green fields, coastal sites, and even some engineering marvels that will tell you a little about the island's history.
If you want to know the best routes to take to make the most of Ireland's incredible landscape, then read on to find out our top five picks.
5. Dublin to Belfast – rolling countryside and seaside views
The journey between the two capital cities is nothing short of spectacular. On your way up north, you will pass through miles of rolling countryside, which you can view from the viaducts you pass over in Drogheda and County Armagh.
Hop on the northbound train that departs Dublin's Connolly Station and make sure you get a window seat so you can take in the seaside views as you pass through Malahide, gaze out across the Drogheda and the Boyne River from above, and enjoy the scenery of the Mourne Mountains as the train crosses the border between Dundalk and Newry train stations.
4. Cork to Cobh – one of the most scenic routes in Ireland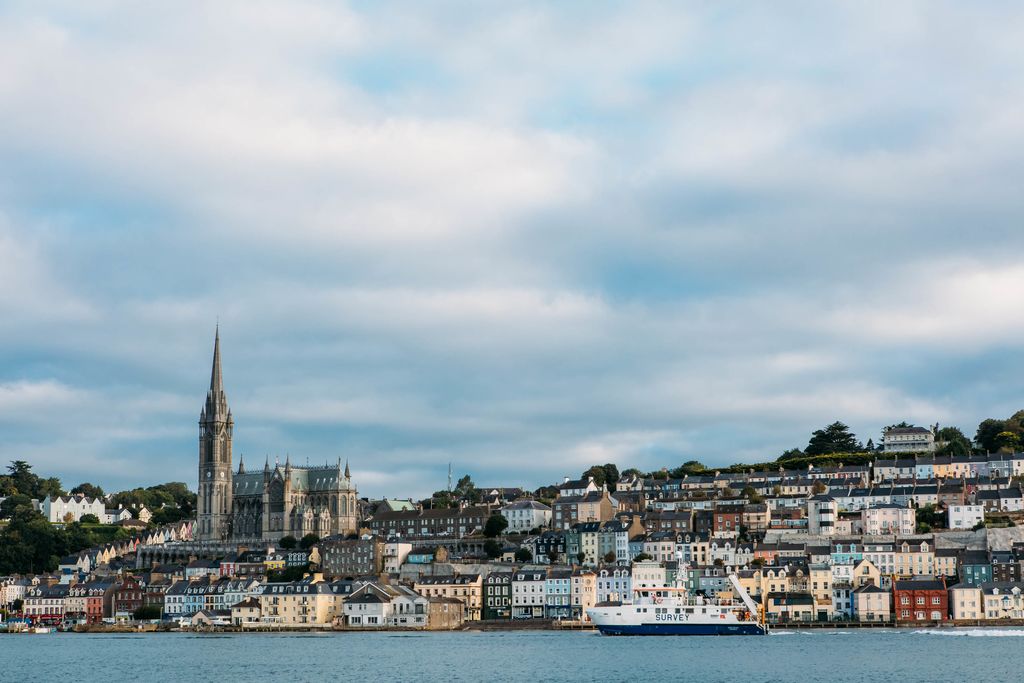 A pretty short train journey at only 24 minutes long, the route between Cork and Cobh has to be one of the most scenic in Ireland.
Departing from Kent station in Cork, the train passes over the Belvelly Channel, which boasts stunning views out over the Atlantic Ocean on a sunny day. The route also includes stops at Little Island, Fota Wildlife Park, and Carrigaloe before arriving in Cobh.
The fairy-tale views don't stop after you've stepped off the train, as you will be welcomed by the port town's brightly painted buildings and towering cathedral.
3. Dublin to Galway – the best comes last
Towards the end of this journey is when you'll get the best views. The train comes to a coastal stretch along Galway Bay after it passes Oranmore, and from here you'll be treated to views which, on a good day, stretch as far as Burren in County Clare.
Throughout the journey from Dublin to Galway, you will also pass over Lough Atalia and the stunning nineteenth-century iron railway bridge over the River Shannon at Athlone. This is a journey not to be missed!
The journey ends at Eyre Square, from which you can easily explore one of Ireland's most famous tourist destinations, the beautiful harbour city of Galway.
2. Howth to Greystones – spectacular coastal scenery
It's best to avoid this one during rush hour, as Dublin's DART trains can get overly crowded very quickly with commuters making their way to and from work. At off-peak times, however, this route definitely makes it onto our list of the top fairy-tale train journeys through Ireland.
From a window seat, you get spectacular views out over Dublin Bay boasting breathtaking coastal beauty and elevated views out over the city.
1. Derry to Coleraine – one of the most breathtaking train journeys in the world
The north coast of Ireland is home to some of the most breathtaking views you will see in your life, and what better way to enjoy them than from the window seat of a train? Michael Palin once described the trip between Derry and Coleraine as one of the most beautiful train journeys in the world, so if you're about the North Coast, it's a must-do.
Hop on the train at Derry station and be taken on a journey along the River Foyle, through the rolling countryside of County Londonderry, and then on past the sandy shores of Benone Beach and Downhill Strand, which form Northern Ireland's longest beach.
From here you will pass through the narrow tunnel under Mussenden Temple and finally through the quaint little seaside town of Castlerock before arriving at your destination.
You can book your journeys to travel Northern Ireland here.