The rugged coastlines, ancient castles, and green countryside make Ireland one of the most epic places to elope.
Ireland's rugged coastlines, ancient castles, and green countryside make it the perfect backdrop for your dream elopement. There are so many stunning locations to choose from, so we have listed our top 5 epic places to elope in Ireland.
Elopements are quickly becoming one of the most popular alternatives to the traditional wedding ceremony and where better to tie the knot than in Ireland? The Emerald Isle has so much to offer couples on their big day with its fairytale landscapes and rich history.
5. Dunluce Castle, Co. Antrim – a fairytale setting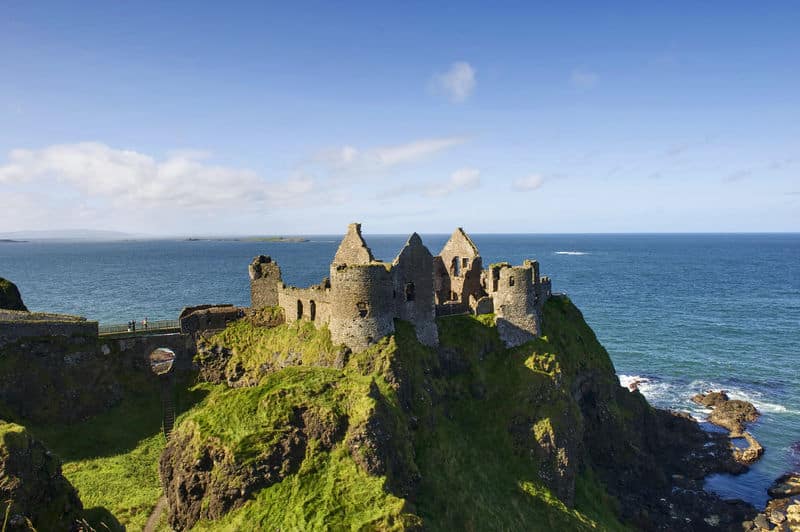 Dunluce Castle sits on the north coast of Ireland, right on the cliff-edge overlooking the Atlantic Ocean. This location has it all with stunning views of the cliffs spreading out into the distance and the picturesque backdrop of the old medieval castle ruins.
This picturesque location becomes even more breathtaking as the sun begins to set over the Causeway Coast, making you feel like you are living in a fairytale.
As if this location wasn't already magical enough, you can head down beneath the castle to the mythical Mermaid's Cave, which provides another idyllic location to say your vows.
Address: 87 Dunluce Rd, Bushmills BT57 8UY
4. St. Oliver Plunkett's Family Church Ruins at Loughcrew Estate, Co. Meath – a unique bohemian setting
One of Ireland's best-kept secrets, Loughcrew Estate, provides the perfect bohemian-style venue for your dream elopement. The beautiful gardens provide a charming backdrop for photos as five-thousand-year-old cairns and ancient yews surround you.
Although the estate is only an hour from Dublin, the estate gives a secluded feel as it is set in the rolling countryside of Co. Meath. The grounds are home to the ruins of St. Oliver Plunkett's Family Church which offers the perfect setting to elope.
Address: Loughcrew, Oldcastle, Co. Meath, Ireland
3. Mussenden Temple, Co. Derry – breathtaking views to say your vows
Another breathtaking location to elope on Ireland's north coast is Mussenden Temple. Perched atop a 120-foot cliff overlooking the stunning Downhill Strand and the Atlantic Ocean, Mussenden Temple is hard not to fall in love with.
The temple, which was built in 1785, was inspired by the Temple of Vesta in Tivoli near Rome so it's no surprise it is such a stunning location.
The surrounding area, Downhill Demesne, features cliff-top walks with incredible views over Ireland's north coast, colourful sheltered garden paths, and several 18th-century ruins. So while there are plenty of stunning backdrops to choose from, the temple itself is by far the most popular among couples for a location to say their vows.
Address: Mussenden Temple, Sea Coast Rd, Coleraine BT51 4RH
2. Killarney National Park, Co. Kerry – something for every couple
Killarney National Park in County Kerry is the ultimate place to tie the knot in Ireland. With over 25,000 acres of land there are so many stunning spots to choose from. There is something for every kind of couple.
For history fanatics, Muckross Abbey is one of the most popular choices. This old abbey ruin, founded in 1448, even has an ancient yew tree in its courtyard!
Nature-loving couples will be in awe at the Gap of Dunloe, an old mountain pass with stunning views of the lake and surrounding mountains.
For those who want to combine nature and history, Ross Castle is the perfect spot. This 15th-century tower, situated on the edge of Lough Leane, is the ideal backdrop for those couples who want to make the most of everything Killarney National Park has to offer.
While you're there, we recommend checking out Torc Waterfall to get some whimsical, romantic photos of your big day.
Address: Killarney National Park, Killarney, Co. Kerry, Ireland
1. The Enchanted Forest at Killyon Manor, Co. Meath – the perfect place to elope
Killyon Manor offers the perfect setting for the increasingly popular bohemian-style elopement with its enchanted forest setting. Eloping couldn't be much more of a fairytale than this!
The enchanted forest and stunning ruins offer a whimsical, rustic feel to add to the romance of your special day, not to mention they are perfect picturesque settings to take your photos!
According to their website, they have 'let nature take the lead more and more' on the 60-acre land around the Manor, helping to enhance the authenticity of the rustic, natural setting.
As if that wasn't enough, you can explore the old pigeon house, the stunning ballroom, and a library filled with curiosities.
Address: Killyon Manor, Killyon, Hill of Down, Co. Meath, Ireland