Where's your favourite place to drink guinness in Belfast? If you're not yet sure, then you're in for a treat!
Guinness is a part of our heritage; you could say it runs through our veins and is as prevalent in our diet as potatoes are. While some out-of-towners may consider "the black stuff" to be the stuff of days gone by, how wrong they are.
Guinness is, in fact, as popular as ever, with all ages. Having had a trendy revival in recent years, it's now considered the "hip" thing to drink as well as remaining the quintessential beverage of older generations.
So, as a Dubliner who has been brought up on the stuff and who takes as much pride in the Dublin-brewed stout as I do in Brennan's Bread, Tayto and Barry's Tea. It is safe to say that I'm a pretty harsh critic when it comes to a good pour of "the black stuff".
On a recent trip to Belfast I decided to take it upon myself to investigate the pubs in the city with the best pour of Guinness, and here are my top five!
5. The John Hewitt Bar
Located in the heart of Belfast's Cathedral Quarter is the John Hewitt Bar. Since first opening its doors to thirsty patrons Christmas of 1999, this Irish bar has firmly become one of the best places for a Guinness in Belfast city, for tourists and locals, alike.
Not only is Guinness the most-sold drink at John Hewitt Bar but it's also poured to perfection. And, with a perfect old-world Irish pub vibe and live local music at least six nights per week, it is the ideal setting to enjoy the classic Irish stout that has defined our nation over generations.
Perfectly creamy with a good "white residue" on the glass, I have to give the team at the John Hewitt Bar a solid 4/5 for their pour.
4. Harp Bar
If in need of a solid pint of Guinness in Belfast City, a good option has got to be Harp Bar. This contemporary Irish pub has an old-school twist with eclectic décor adding to its overall ambience.
Rich leather furniture, stately armchairs, a dynamic back-bar and Guinness iconography aplenty only add to the first sip of a cold, tall pint of Guinness.
Staff have been clearly trained to perfection on the two-step approach to pouring the ultimate pint of "the black stuff", and the end result is top notch: a caramel-y, creamy pint with a perfect ¾ – 1 inch head. Top marks indeed – Harp Bar gets a solid 4/5 for their pour of Guinness.
3. Duke of York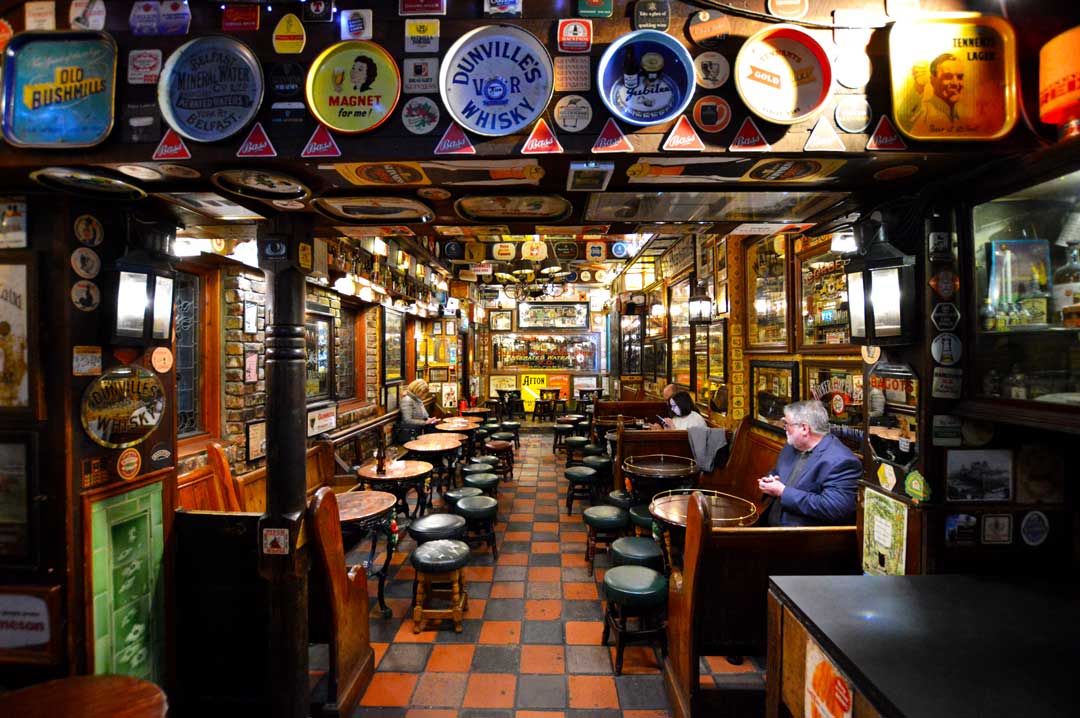 Set down an enchanting cobble-stone alleyway in the heart of Belfast's Cathedral Quarter is the Duke of York. This classic Irish pub is rich in character, only amplified by its quaint alleyway entrance.
The venue itself is a classic Irish pub: wooden bar furniture, exposed brick and low-ceilings. As for the Guinness: near perfection. Lovely staff with the Irish "gift of the gab" are on hand to serve and clearly know how to pour a solid pint of Guinness. Just think creamy, rich, stout-y perfection. Overall, the Duke of York has got to get a 4.5/5 for their pour.
2. Hercules
Hercules is a local bar on Castle Street in Belfast, only moments walk from the hustle and bustle of the high street. This bar is a perfect escape from the crowds, not to mention that it pours some of the best Guinness in Belfast City.
Always warm and inviting with a steady stream of locals, who always seem to be ordering "the black stuff", this is an ideal location to set up shop post-dinner or before a big night out.
In this simple and classic Irish pub setting, you can be assured a no-nonsense attitude with straight-up good banter alongside some of the creamiest Guinness in the North of Ireland.
All in all, Hercules has got to get a solid 4.5/5 rating for their Guinness.
1. Kelly's Cellars
Only around the corner from Hercules is Kelly's Cellars Irish pub. Not only is this one of the best places to hang out in Belfast city it is also the oldest traditional Irish pub in the capital of Northern Ireland.
The energy is electric as groups of old friends start impromptu trad sessions, and the outdoor heated gazebo attracts groups from near and far. And, the Guinness? Well, let's just say, simply put: 5/5.
Get featured on Ireland Before You Die
Do you want to get your Irish business more online exposure? Especially to those interested in travelling the best places in Ireland? Then why not get a dedicated feature on Ireland Before You Die. Find out more 
here.