From sit-in restaurants to straight-up takeaway chippers, here is our rundown of the best places for Fish and Chips in Dublin!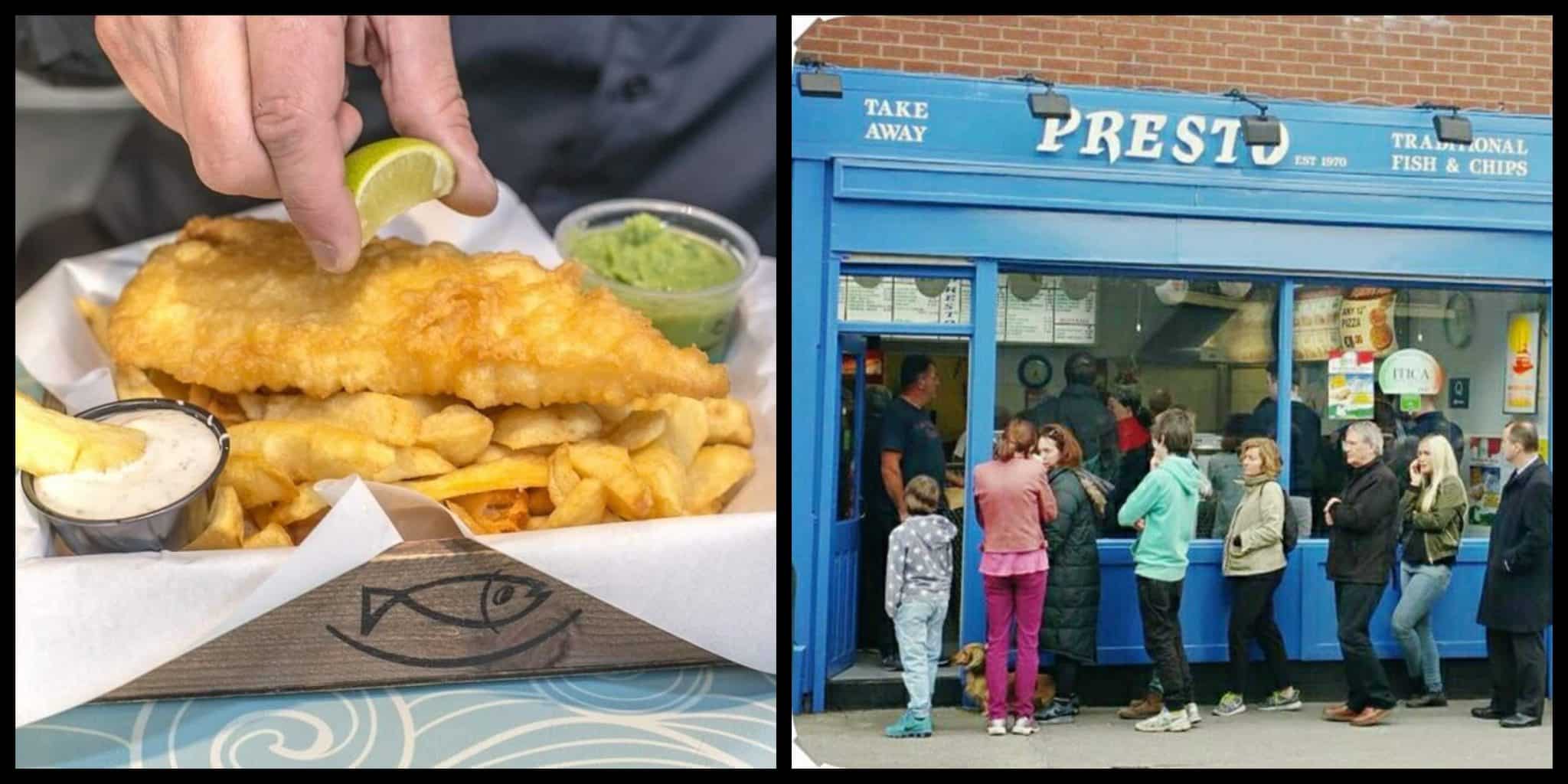 Dublin is the capital of Ireland; it is home to pubs aplenty, tonnes of sights to see, things to do, places to party, a hell of a lot of Guinness and some of the finest examples of fish and chips there is out there!
With so many places to choose from it can be a little overwhelming. Just to quantify the sheer amount of fish and chip shops in Dublin, think of it like this: the standard town usually consists of a pub, post office and a "chipper" – which translates into Irish slang as a fish and chip shop… that means there's a lot of chippers in Dublin.
Now, we put together the ultimate list to ensure you get the best serving of this Irish staple. Here are the top five places for Fish and Chips in Dublin.
5. Teo's
Located in Cabra, this local favourite is a fine place to get your fix of classic fish and chips.
Priding itself on fresh ingredients cooked before your very eyes, what do you have to lose? The only downside to Teo's is the ultimate reality of a blissful food coma post-meal.
With three locations across Dublin including Cabra (the ultimate choice), Coolock and Riverchapel, you're never too far from a Teo's.
Meal deals which rarely exceed €10 mean you're not going to break the bank and the Tuesday snack box special (which is two for one, we might add) are all strong reasons why Teo's has made it on our list.
Location: Teo's, 105 New Cabra Road, Cabra, Dublin 7, Ireland.
4. Presto Chipper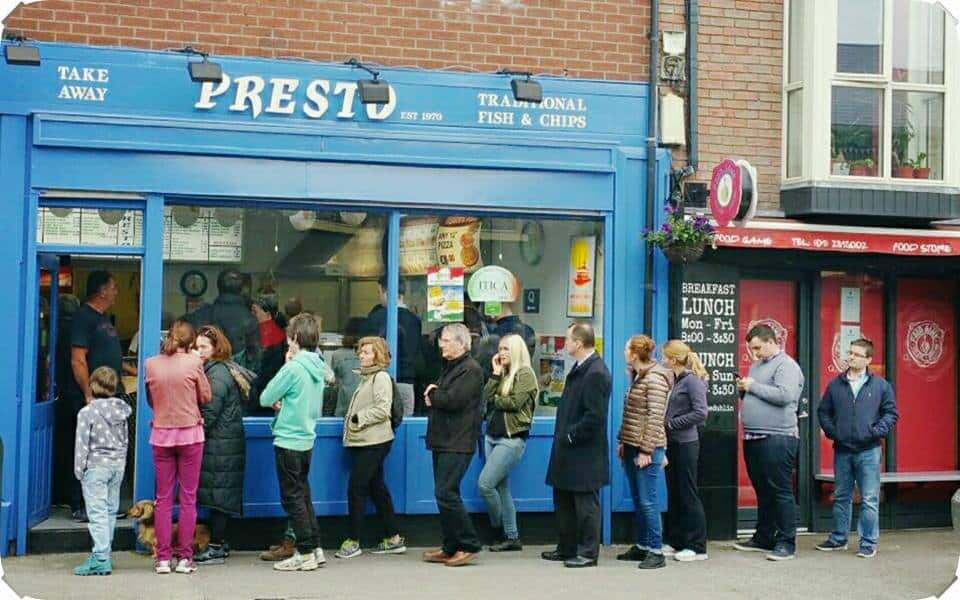 This is your classic, no-frills, good ole' Dublin chipper. With quality fare fit for your family at the core of this business, Presto Chipper prides itself on fresh food served at affordable prices.
The slight difference, which gives this joint its edge, is that it is an Italian chipper, meaning it not only serves up the lightest battered Dublin fish but also offers homemade proper Italian pizza.
Downsides to Presto include the lack of seating and the inevitable queue, but the upside of having your food made fresh by the owner who is forever pleasant and welcoming far outweighs that.
Location: Presto Chipper, 8 South Lotts Road, Beggars Bush, Dublin 4, Ireland.
3. Beshoff Bros
Beshoff Bros fish and chipper are more of a Dublin institution than an eatery. This joint has been around for over 70 years and now has expanded to open shops in Clontarf, Malahide, Dame Street in Dublin city and Mespil Road in Dublin 4. Saying that the original Howth Harbour location is always your best bet!
Specialising in traditional fish and chips with a fantastic offering of everything from hake and haddock to calamari and cod, this is a great place to pepper up your Howth visit – just grab your meal and sit along Howth pier soaking up the local atmosphere.
Note: this is one of the most popular places to eat in Howth and garners quite a crowd on weekends and sunny summer evenings, so prepare to wait (but it will be well worth it!).
Location: Beshoff Bros, 12 Harbour Rd, Howth, Co. Dublin, Ireland.
2. Fish Shop
If in search of truly gourmet fish and chips in Dublin, this is your best bet. An ultimate success since it opened its doors some years ago, the founders behind Fish Shop decided to take the concept of the classic "chipper" and turn it into an upscale (but still oh so indulgent and affordable) diner.
Not only has it won the love of the locals, but the restaurant – which is owned by husband and wife duo Peter and Jumoke Hogan – was awarded Winner of "Best Seafood Experience in Ireland" at the 2017 Irish Restaurant Awards.
Dine in or take out, this fish and chip shop is certainly not one to be missed!
Location: Fish Shop, 76 Benburb Street, Smithfield, Dublin 7, Ireland.
1. Leo Burdock
Serving Dublin since its inception in 1913, this classic Dublin chipper is loved by locals and tourists. The original location in Christchurch (it now has numerous locations across Dublin) is always buzzing with happy heads waiting for their freshly battered fish and golden fries.
This place is so popular that it has even caught the attention of celebrities such as Tom Cruise, U2 and Bruce Springsteen who have been spotted joining the queue of locals eagerly waiting for their orders to come through.
One top tip is to remember to ask for the "crispy bits". These are little golden fried nuggets of potato which Burdock's have become famous for, and are sprinkled across your fish and chips. Yum!
This place is one of the best places for fish and chips in Ireland and our top spot for Dublin!
Location: Leo Burdock, 2 Werburgh Street, Christchurch, Dublin 8, Ireland.
So there you have it, our rundown of the for five best places for Fish and Chips in Dublin. Was your favourite chipper in there or did we miss it? Let us know in the comments section below.