A Sunday Roast is a staple meal in Ireland. It is one of the most important parts of the weekend. There is nothing like the smell of a roast in the oven on a Sunday morning, especially after a wild Saturday night. It is the cure to all hangovers and is like comfort on a plate especially if you've been away at college all week.
However, there are days when you aren't prepared for the Sunday roast or that you just don't want to cook. On those days it is essential to know the best places to go for a quality Sunday Roast. Below are the top 5 spots for the all-important Sunday roast in Waterford.
5. The Granville Hotel
The Granville Hotel is located at Meagher's Quay and overlooks the River Suir. The Bianconi restaurant is located in the Granville Hotel and has been awarded an AA Rosette award for outstanding food. Sunday lunch is served every Sunday from 12:30 pm to 5 pm. Sunday lunch consists of a 4-course meal starting with delicious starters, followed by a hearty traditional main course, a freshly made, and tea or freshly brewed coffee. Although the cooking style is modern the portion sizes are large, and the meals themselves are heart and traditional, and you are guaranteed not to be hungry leaving after your Sunday roast.
Address: Meagher's Quay, Waterford, Ireland
4. The Tavern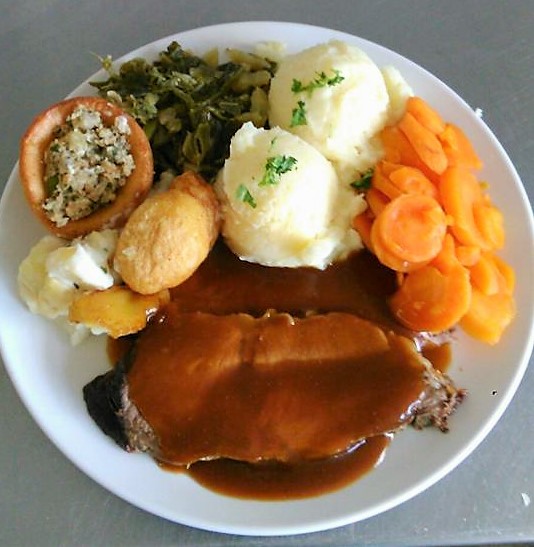 The Tavern is located on Grattan Square in Dungarvan, Waterford. The menu at the Tavern is a traditional old-style pub grub menu but it is hearty and delicious, and the portions are quite large. There are a wide variety of starters such as soup of the day, garlic mushrooms, and barbeque chicken wings. There is a separate Sunday lunch main menu which consists of roast beef, lamb, chicken or pork or the traditional bacon and cabbage, all served with mash, fresh vegetables, and gravy. The food is extremely reasonably priced with starters between €4.50 and €5.00 and all mains costing €9.50. If wholesome, hearty food is what you're looking for, drop into The Tavern for your Sunday Roast.
Address: 5 Lower Yellow Rd, Waterford, Ireland
3. O'Neils Bar
Situated in Summerhill, Tramore, O'Neils serves Sunday lunch every Sunday from 12.30-7.00pm and serves a delicious carvery every Sunday from 12.00-4.00pm. As well as serving a carvery full of Roast meat and potatoes and an assortment of fresh vegetable O'Neils have a 'Roast Joint of the Day' on their lunch menu so if you don't make the carvery on time, you can still get that typical hearty Sunday roast. Chose from their range of desserts and tea/coffee to finish off your Sunday lunch.
Address: Summerhill, Tramore East, Tramore, Co. Waterford, Ireland
2. The Reg
The Reg is located at The Mall in Waterford in the very heart of the Viking Triangle. The Reg opens at 12 pm in the afternoon and closes at 12.30am. There are four different menus available at The Reg: the morning menu, the casual dining menu, the set menu and the party food menu. The casual menu is available from 12.00m to 9.00pm and entails anything you could want from your Sunday lunch. With small bites/starters like a homemade soup of the day or chicken wings for starter and the traditional Irish bacon and cabbage or Pot Roast chicken for the main course, there are many different options to choose from. If you have the room, you can finish off your meal with one of their many delicious freshly made deserts they have on offer and a cup of tea or freshly brewed coffee.
Address: 2 The Mall, Waterford, Ireland
1. The Haven Hotel
The Haven Hotel is located on Dock Road, Dunmore East and is the perfect location for weddings, parties, and events and a weekend away. It also just happens to make a brilliant Sunday lunch served from 12:30 pm every Sunday. The Haven Hotel specialises in the roast rib of prime Irish beef and uses locally caught seafood in every meal, and their world-famous beef is served on Sundays.
Their delicious starters range from homemade soup to Caesar salad and garlic mushrooms. The main course menu is extensive but if it's a roast you're looking for your options include a stuffed roast chicken breast, the famous roast rib of prime Irish beef or a fillet of fresh hake, all served with mash, vegetables, and gravy. Follow that there is a wide range of desserts and tea or freshly brewed coffee. Everything you could ask for from your Sunday lunch! In the summer months, the haven also hosts "Family Fun Sundays" which includes bouncy castles, ice cream, and barbeques which are perfect if you've got small children.
Address: Dock Rd, Nymphhall, Dunmore East,, Co. Waterford, Ireland