Relive the adventures of knights and ancient Irish warriors by visiting the five best castles in Northern Ireland.
Castles have captured the imaginations of human beings for centuries. In literature, art, music and screen, these stone fortresses have been a source of mythical wonder, historical interest and at times, pure terror.
As Ireland is an ancient place, it has no shortages of striking castles, all with unique and fantastical stories to tell. While some in the north of the island have been reduced to ruins due to rebellion or lack of upkeep, many remain miraculously intact, just waiting to be explored.
Check out our list of the best castles in Northern Ireland below.
5. Belfast Castle – For cat lovers everywhere
If you're visiting the capital city of Northern Ireland, chances are you'll have added climbing the iconic Cave Hill to your to-do list. But don't miss out on the architectural beauty that is Belfast Castle, before you begin your hike.
Like many castles in the North of Ireland, such as Castlewellan Castle, Belfast Castle remains a fine example of the Scottish baronial style. Built in 1870, this beautiful site was never designed for defence purposes, but rather as an elegant mansion.
Nowadays it boasts a one-of-kind cat-themed garden, stunning views of Belfast city and beyond, as well as an antiques shop, a restaurant and visitor's centre.
Address: Antrim Rd, Belfast BT15 5GR
4. Carrickfergus Castle – A Norman masterpiece
For history lovers everywhere, Carrickfergus Castle remains one of best castles in Northern Ireland.
The site is one of the best preserved remnants of Norman times still standing today, having been built by Norman Knight John De Courcy in 1177.
Additionally, it also has the notability of being the only Norman castle in Ireland that has been continually used since it's coming into existence.
Hosting regular fun events for all the family, historical displays, as well as a range of guided and self-guided tours, Carrickfergus Castle is definitely worth a visit.
Address: Marine Hwy, Carrickfergus BT38 7BG
3. Glenarm Castle – The Downton Abbey of Northern Ireland
The magnificent Glens of Antrim are well known as a site of outstanding natural beauty. But within them, you can find a stunning example of man-made beauty too.
The Glenarm Castle has seen comparisons with the 'Downton Abbey' of television fame, and has been occupied as the family seat of the McDonnells, Earls of Antrim for around 400 years.
Unlike many of the castles in the North of Ireland, Glenarm is unfortunately only open to the public on special occasions and events. But don't worry; you can still get your fill of regal beauty in one of Ireland's oldest walled gardens on the grounds.
Make sure you also check out the ornate little tea room for a cuppa, and maybe even catch one of the many workshops and exhibitions held here daily.
Address: 2 Castle Ln, Glenarm, Ballymena BT44 0BQ
2. Enniskillen Castle – A site of bloody history
Ireland has a rich, yet at times, violent history, and this history can be witnessed clearly at Enniskillen Castle.
As the site of many bloody rebellions, particularly against English rule during the sixteenth century, this is a must-visit for anyone interested in learning more about the events of Irish past.
Originally build by the Gaelic Maguire family over 600 years ago, the site was later used a base for American pilots during the Second World War.
Nowadays, it's involvement with dramatic political happenings may have calmed down. But this strong fortress remains a source of wonder and story-telling across the local area. Make a point to visit and enjoy the unique artefacts contained within, in what has now become the Fermanagh County Museum.
Address: Enniskillen BT74 7HL
1. Dunluce Castle – For stunning sea-views and the best Instagram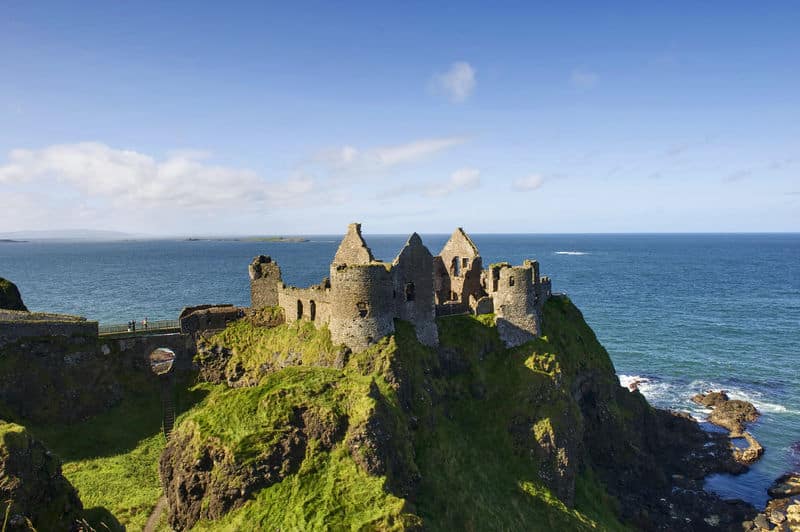 If you're one of the thousands of tourists a year who venture down the stunning Causeway Coastal Route, you just might come across the striking medical ruins of Dunluce Castle. Set on the edge of a dramatic cliff, this historic landmark dates back to the year 1500 and is one of the best Northern Ireland landmarks for history and culture.
Due to its unusual setting, the castle can only be accessed by a bridge, but the views once you reach them our second to none.
Take in the fresh sea air and stand within centuries of history. Once owned by British Prime Minister Winston Churchill, this site is a worthy addition to any Instagram feed, holding the title of one of the most photographed landmarks in the North of Ireland.
Address: 87 Dunluce Rd, Bushmills BT57 8UY
While we might never truly know exactly what it is about these buildings that attract so many of us to them, the castles on this list will get your started on your adventure of discovery. And why stop here? With so many beautiful fortresses, towers and castles on the emerald isle, this may only the beginning!