Cork, the second biggest town and the third most populous in Ireland, is so enthralling. Its name in Irish "Corcach" means "marshy place" as it was developed around the Lee River and some of the streets like St. Patrick's Street, for example, was a waterway in the past, that explains its sinuosity. Founded as a monastic colony in the Sixth Century, Cork became urban only 400 years later when the Viking colonizers built a commercial port at the second biggest natural bay in the world. County Cork is known as the "rebel county" due to the fact that it has been one important stage where the Irish fought against the British during the Independence War.
The weather in Cork is quite mild, however as it is located in the south part of the emerald island in front of the Celtic Sea, sometimes it rains frequently and you might think "what should I do or where should I go on these rainy days?" We provide you with 5 amazing recommendations below.
5. The Planet Cork
The Planet is a 65,000 square feet entertainment complex operating since 2005 in Cork and it is located at Old Mallow Road, Blackpool, just five-minute driving from the city centre or ten-minute walking from Blackpool Shopping Centre.
The facilities include: 9D Cinema & Oculus Rift, the world's most advanced laser tag equipment which is new to Ireland, Bar & Catering (try the Apollo Diner), tenpin bowling, Cosmo's fun world, American pool and simulators.
It becomes an excellent alternative for school tours, families, birthday parties, hens & stags, fundraising or corporate events.
Address: Old Whitechurch Rd, Blackpool, Cork, Ireland
4. Saint Fin Barre's Cathedral
Cork was founded by Saint Finbarr (commonly abbreviated to "Barra" or "Barre"), a Bishop of Cork and abbot of a monastery in where the town is located now, who lived from 550 to 623. He is the patron saint of the city and his feast day is celebrated on the 25th of September. He supposedly built some other small churches in some other places.
It is a Gothic revival three-spire cathedral completed in 1879 and located on ground that has been a worship place since the seventh century. For about the last 17 years of his life, Saint Fin Barr established himself in the area known as "The Great Marsh of Munster" and monks and students gathered around him. "Where Finbarr taught let Munster learn" still is the motto of University College Cork.
Pay careful attention to the architecture, sculptures, stained glass and pipe organ of the cathedral and you will understand why it is one of Cork's most important tourist spots.
Address: Bishop St, The Lough, Cork, Ireland
3. Crawford Art Gallery
It is a very important historic building erected in 1724 in the centre of the town as Cork's Custom House. In 1830, a new house was built to provide a room for the port operations and in 1884, an extension was added to accommodate a growing number of students, at William Horatio Crawford's expense. In 2000, the gallery was expanded again creating a new exhibition space dedicated for contemporary art and 6 years later it was designated a National Cultural Institution.
A set of Graeco-Roman and Neo-Classical sculpture casts formed the initial art collection of the gallery and it was augmented afterwards with works by students and teachers of the Cork School of Art. While the first statues by Antonio Casanova were brought to Cork from the Vatican in 1818, the association between the gallery and the school allowed the former to include in its collection works from James Brenan (the spellbinding "On the Way to Market"), Henry Jones Thaddeus ("The Wounded Poacher", now in National Gallery of Ireland) and William Gerard Barry ("An Old Woman and Children in a Cottage Interior"). So, yes, before you ask, you can enjoy and compare classic arts to modern arts.
What impressed me the most during my visit was that one of the security guards told me some interesting facts about the pieces of art. I wasn't expecting that from a staff member. Even if you are not a person so connected to arts, things like that transform the place into an unmissable destination in Cork.
Address: Emmett Pl, Centre, Cork, Ireland
2. Try Cork's favourite Stout
The Irish stout Murphy's made in Cork is smaller and younger than Guinness but is a locally adored product. It is so linked to the town that outside Cork you simply do not find much Murphy's. Why is it so loved and what makes it so special?
Murphy's was founded as Lady Well's brewery in 1856, 97 years later the foundation of Guinness, where a formerly abandoned hospital was located. But Murphy family didn't expel anyone, on the contrary, James J. Murphy, who run the business for 40 years, was a famous philanthropist having saved the entire Cork banking industry at a certain time. People use to sing songs about him in local pubs "Hurrah for the hero! You save my economy and supply me with beer? Yes, my friend, you are a hero!" Murphy's won gold twice (1892 and 1895) at the Brewers and Allied Trades Exhibition in Dublin, a Guinness territory.
Besides that, what assures Murphy's success? Like Guinness, it is a dry stout and it pours black, darker than Guinness, with the similar roasted chocolate and coffee taste, but it is less bitter than Guinness and super low alcohol, 4% ABV to Guinness's average 4.2%. In view of that, why not going to a pub to relish this marvellous beer?
1. The English Market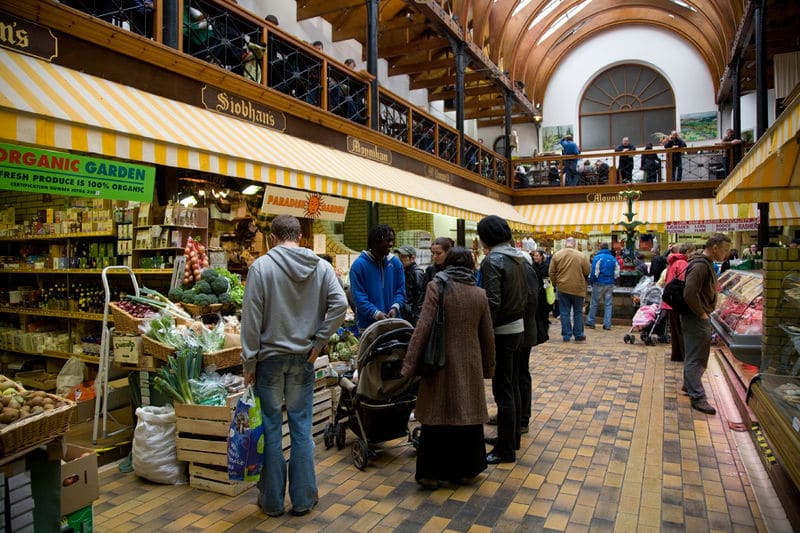 Which other roofed market do you know that has been trading fishes, fruits, meats, spices and delicacies for 230 years and is considered one of the oldest market of this kind in the world? The English Market has become an important civic centre or meeting place where you can find organic products being sold by small traders rendering personalized service to the public. At the market you taste the surprising combination between traditional local food and new food from afar as well as longstanding family-run stalls and newcomers from outside.
When Queen Elizabeth II visited the market four years ago, the local people felt like she was the privileged one and they were right as the place offers loads of craic with the vendors. You can go for buying purposes or just to have fun spending wisely your time while talking to different and interesting people.
Address: Princes St, Centre, Cork, T12 RW26, Ireland