Ireland is adored for its green countryside, epic mountain ranges, and ancient castles, but it also boasts places that don't quite fit this expectation. Check out these five places you'd never guess were in Ireland!
On an island renowned for its vast greenery, who would expect a whole region of rugged limestone terrain extending for miles?
Have you heard that the Northern Lights can be witnessed at Ireland's northern extremity? And who knew that a remote Irish island, a hidden gem, would one day have its spectacular beauty shown off in two Star Wars movies?
Were you aware that a prehistoric tomb, more ancient than the Great Pyramids of Egypt, exists in Ireland? And did you know that one of the top places in the world to observe the Milky Way Galaxy is in County Kerry?
Read on to find out more about these incredible places you would never guess were in Ireland if you're not from here!
5. Malin Head – watch the Northern Lights dance across the night sky
Many people suppose that the Northern Lights are only visible in countries within the Arctic Circle, but on a clear, dark night, the edge of this enchanting natural phenomenon can actually be spotted in Ireland.
Although it is possible to catch a sighting anywhere on the island, places with very little to no light pollution, clear skies to the north horizon, and the right solar conditions are crucial in order to behold this mesmerising spectacle.
Maximise your chances and take a trip to Ireland's most northern point, Malin Head, part of County Donegal's Inishowen Peninsula. Situated away from the city lights, along with its wide-open views, Malin Head provides the perfect panorama for this incredible display of colourful, shimmering lights.
Even still, the likelihood of seeing them can be very tricky to predict, so be sure to have a back-up plan in case the Northern Lights decide not to make an appearance.
Don't forget to consider the time of year. There is a greater possibility of seeing the aurora around the two equinoxes (around the 23rd of September and the 21st of March) because more particles emitted from the sun are able to enter the earth's atmosphere at these times.
You can't go wrong any time between September to mid-April between 9pm to 1am, but the darker the night, the better. The Northern Lights are therefore seldom visible during the summer months in Ireland due to the brighter and longer days.
Will you be one of the next lucky ones to catch a glimpse of this dreamy light show?
Location: Co. Donegal, Ireland
4. The Burren – explore a limestone wilderness stretching for miles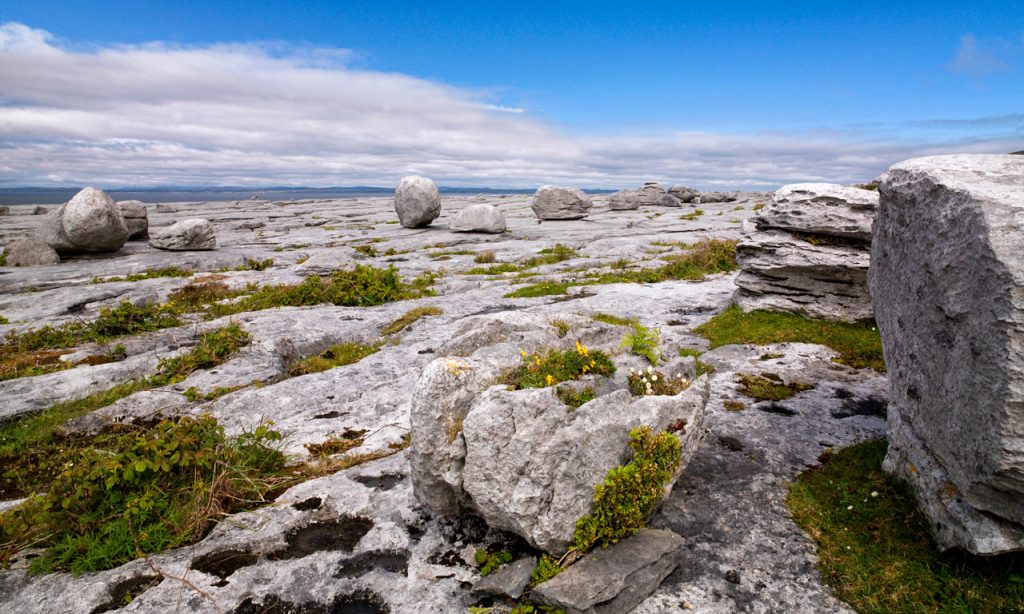 In stark contrast to the forty shades of green that Ireland is famous for, instead you'll notice forty shades of grey in the Burren! Adapted from the Irish word 'Boíreann', meaning 'Great Rock', this rugged region, primarily located in County Clare, no doubt lives up to its name. It's definitely one of those places you would never guess were in Ireland if you're not from here.
Long, pale slabs of limestone, characterised by crags and crevices, dominate its landscape. Limestone is very soluble, and thanks to Ireland's plentiful rain, the processes of erosion have taken their course over time, creating some truly magnificent features as a result. Miniature cliffs, caves, and even underground sinkholes are scattered throughout The Burren's expansive terrain.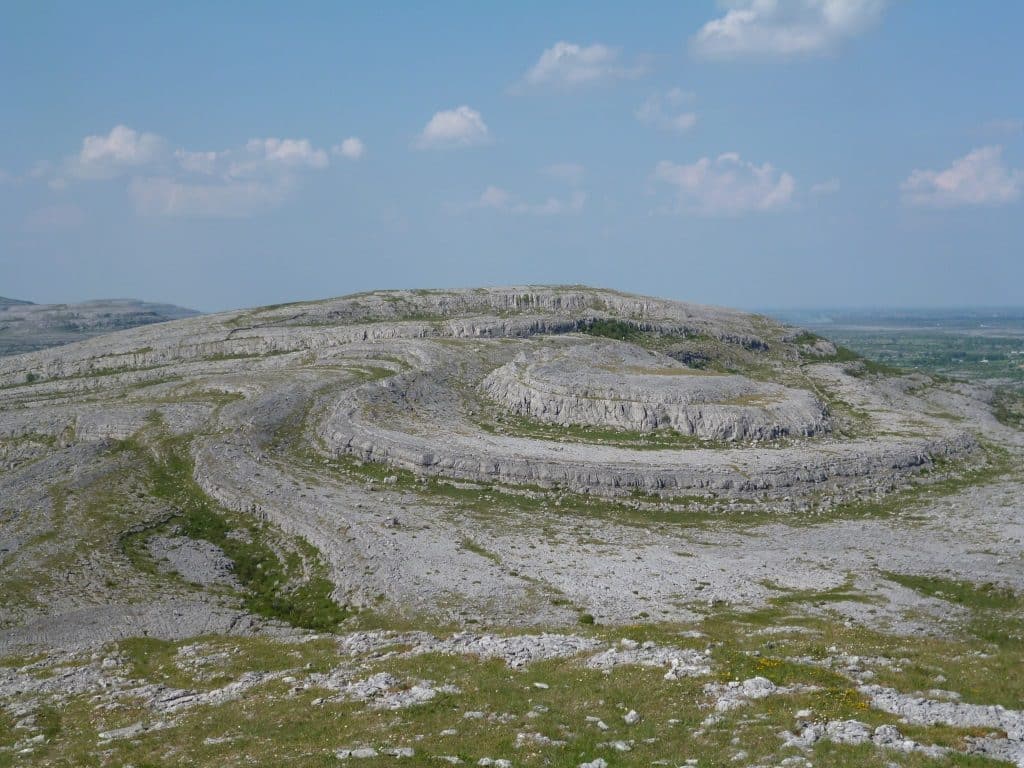 Another impressive dimension to The Burren is its archaeological heritage; get ready to encounter tombs, ring forts and castles, all which stand as evidence of civilisations dating back to as early as the Middle Stone Age. Our top picks are Poulnabrone Dolmen, Ireland's oldest megalithic monument, and Ailwee Cave, one of Ireland's oldest caves, and a fascinating ruined mansion named Leamaneh Castle, dating back to the early 15th century.
What the Burren lacks in colour, it makes up with its rare wildlife, including 100 breeding birds and even pine martens! Don't underestimate its plant species either, because it actually hosts about 70% of Ireland's native plant species! This wonderful stretch of rocky terrain is so exceptional that it is also recognised as a Special Area of Conservation, under the EU Habitats Directive.
Hike across this stony galore, an area that may possibly be the largest 'limestone pavement' in the world!
Location: Co. Clare (and a little of Co. Galway), Ireland
3. Skellig Michael – set foot on a Star Wars filming location steeped in history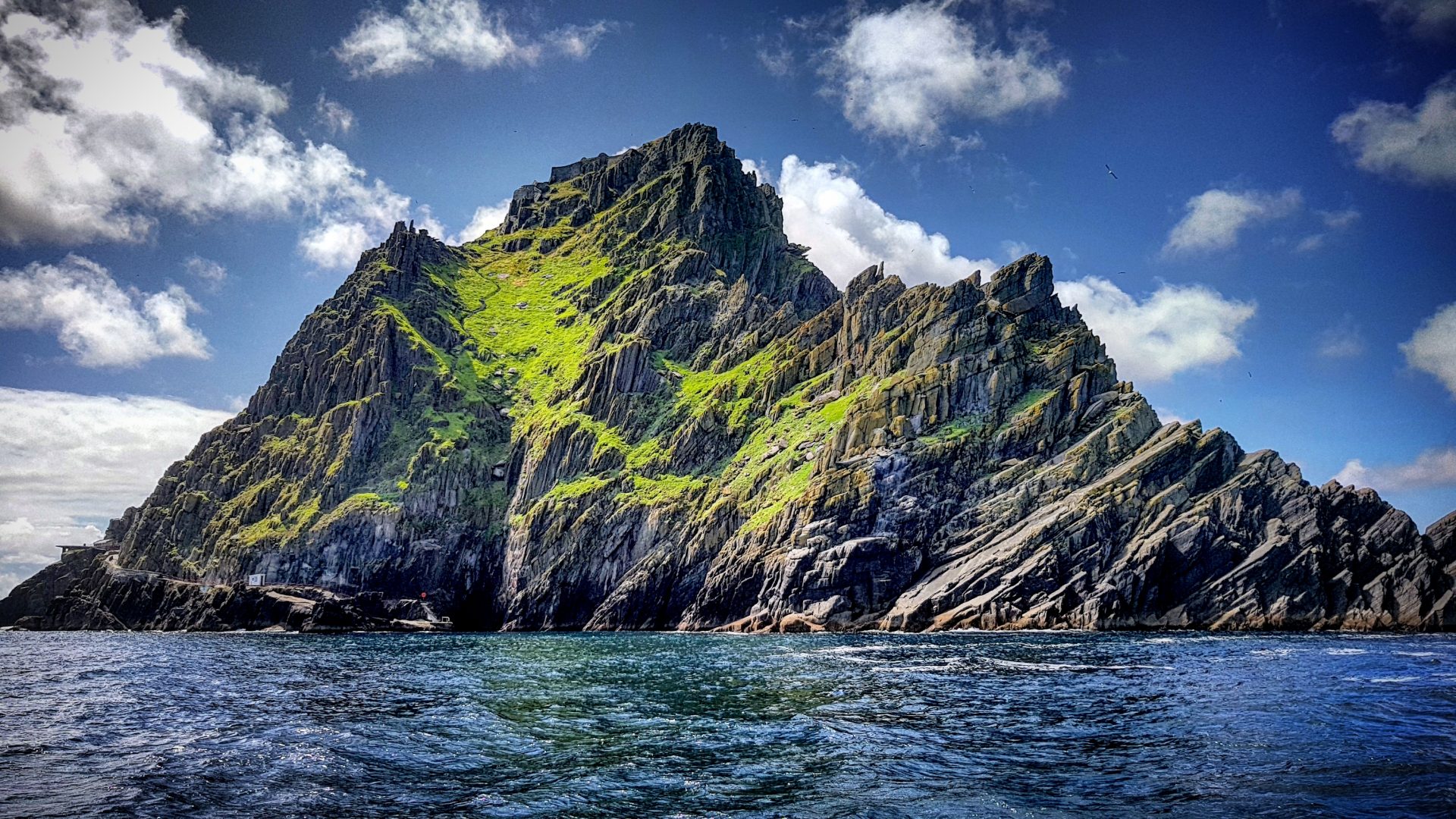 Until just a few years ago, a relatively unheard-of, remote Irish island known as Skellig Michael was thrust into the spotlight. Its majestic beauty was worthy of being featured in not one, but two Star Wars movies, Star Wars Episode VII: The Force Awakens and Star Wars: The Last Jedi. But Skellig Michael has a fascinating story of its own.
In the 6th or 7th century, a tiny community of Christian monks found solitude on this jagged island, located just 8 miles from the coast of County Kerry. Incredibly, the beehive-shaped stone huts and oratories that they built have not only stood the test of time, but have even survived a number of Viking raids! Even the iconic 618 paved steps that were carved up the steep cliffs remain well-preserved and intact.
The monks abandoned this lonely island in the 12th century, but no doubt the human race will never cease to visit this unbelievable island! Despite the dramatic spike in interest in recent years, only a couple of hundred visitors are allowed on the island per day.
Be sure to wrap up warm, wear sturdy footwear, and just to be extra prepared, bring waterproofs! Also be aware that due to Skellig Michael's sudden increase in popularity, we strongly advise that you book at least a month in advance to avoid disappointment.
If it happens to be a particularly stormy or windy day, sea conditions may not permit excursions out to the island, so keep your fingers crossed.
Will you someday climb those famous winding steps, leading to a summit where phenomenal views of the Atlantic await?
Location: Skellig Rock Great, Co. Kerry, Ireland
2. Newgrange Tomb – explore a monument more ancient than the Great Pyramids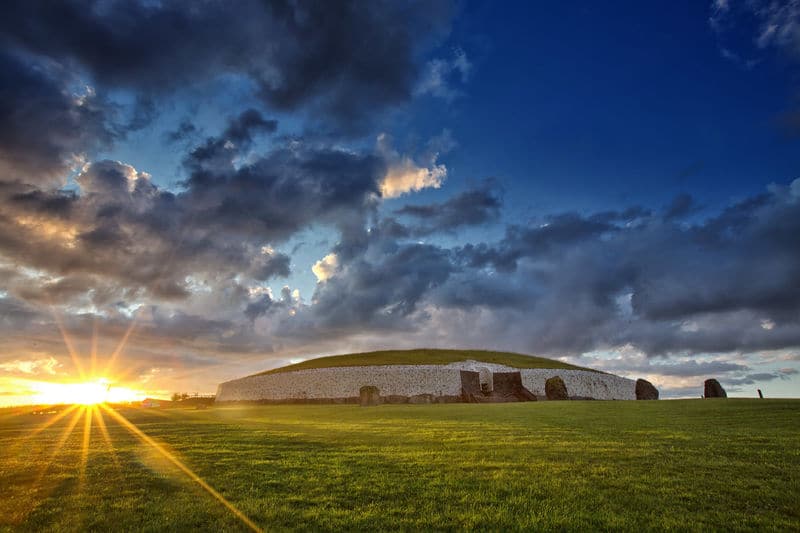 Who would have thought that a tomb, located in County Meath's Boyne Valley, would be at least half a millennium older than the Egyptian pyramids and over a millennium older than England's Stonehenge? Known as Newgrange Tomb, this circular mound is one of those places you would never guess were in Ireland if you aren't from here.
Newgrange opened its doors to the public in 1997. Roughly 250 feet in diameter, it was constructed by a community of Stone Age farmers and astronomers. Why astronomers, you ask? Well, the tomb is astronomically aligned in such a way that it serves as some sort of a prehistoric calendar, essentially a means to mark the beginning of a new year!
Around December 21st, on the morning of the winter solstice (the shortest day of the year), a beam of sunlight enters through the stone passageway, shining right into the central chamber.
This passage is a distinguishable feature of what archaeologists refer to as passage-tombs, ancient monuments that are dotted all across Western Europe.
Don't go to Newgrange Tomb directly because you are unable to enter from there. Instead, head to Brú Na Bóinne visitor centre, on the south side of the River Boyne. Since March 2019, this visitor centre underwent a huge £4.5m development.
It was designed to transport visitors back to 3200BC, and walk visitors through Newgrange Tomb's wonderful story of construction. This brand-new interactive exhibition brings a distant history to life, with all the latest information and findings.
Look out for the swirly Megalithic art carved into the kerbstones before you step inside this ancient wonder!
Location: Newgrange, Donore, Co. Meath, Ireland
1. Kerry International Dark-Sky Reserve – spend a magical evening star-gazing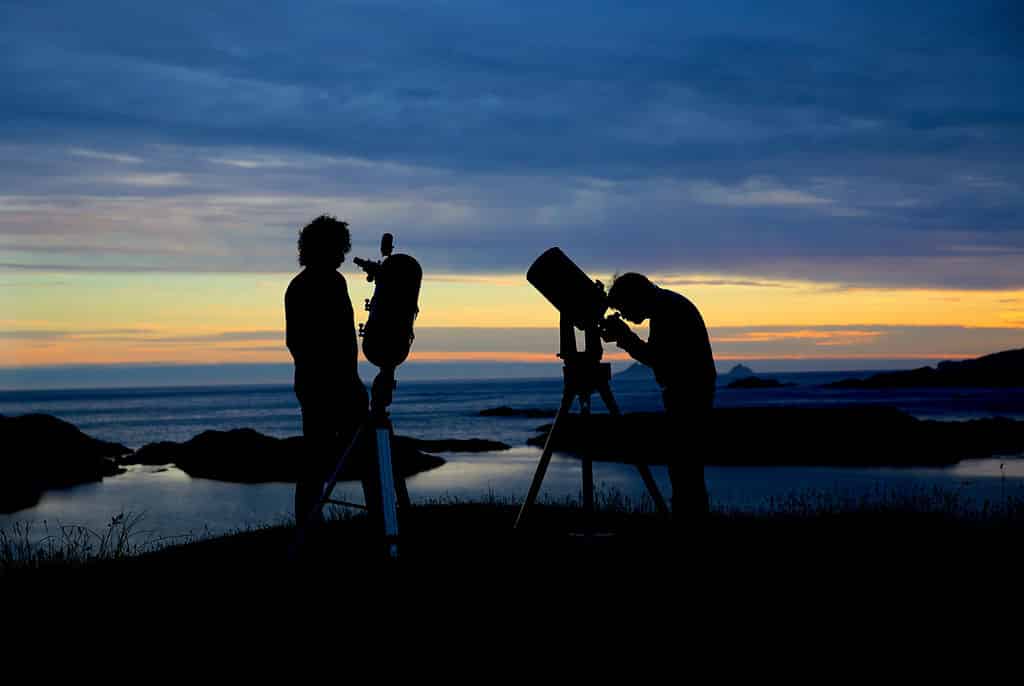 Stunning natural beauty is abundant all across Ireland during the day, but one area in particular possesses a beauty rarer than most, one that reveals itself after the sun goes down. In 2014, a 700 square km area in the Iveragh Peninsula of County Kerry was declared a 'Gold Tier' International Dark-Sky Reserve by The International Dark-Sky Association.
This essentially recognises it as 1 of the top 16 places on the planet to behold the stars, galaxies and other celestial wonders.
Experts have pointed to evidence that this place has been considered an exceptional vantage point to star-gaze since the Stone Age. Inscriptions written in Ogham, an early Medieval alphabet, can be found throughout the region, thought to be notes on astronomical observations. Apparently, our Neolithic ancestors also planted stone monuments around the area that align with the cycles of the sun, the moon and the stars.
This particular area of land lies between the Kerry mountains and the Atlantic Ocean, so light pollution is virtually absent, allowing for a clear canvas of the heavens. The galaxies, the aurora, meteors and other planets are among some of the far away phenomena that can be spotted, even without the aid of an astronomical instrument! However, the moon can sometimes take all the glory, so keep in mind that moonless nights allow for the greatest visibility.
One of Ireland's highest passes, Coomanaspic, is said to be a wonderful viewpoint in the reserve, bringing you that much closer to the constellations. Here, as you gaze upon thousands of the sky's gleaming jewels, the silhouettes of the Skellig Islands will add even more magic to your star-gazing session.
Location: County Kerry, Ireland
Go on, see these places you would never guess were in Ireland for yourself!