If owning your own land has always been on your secret bucket list, take a look at our favourite islands for sale in Ireland…and start dreaming!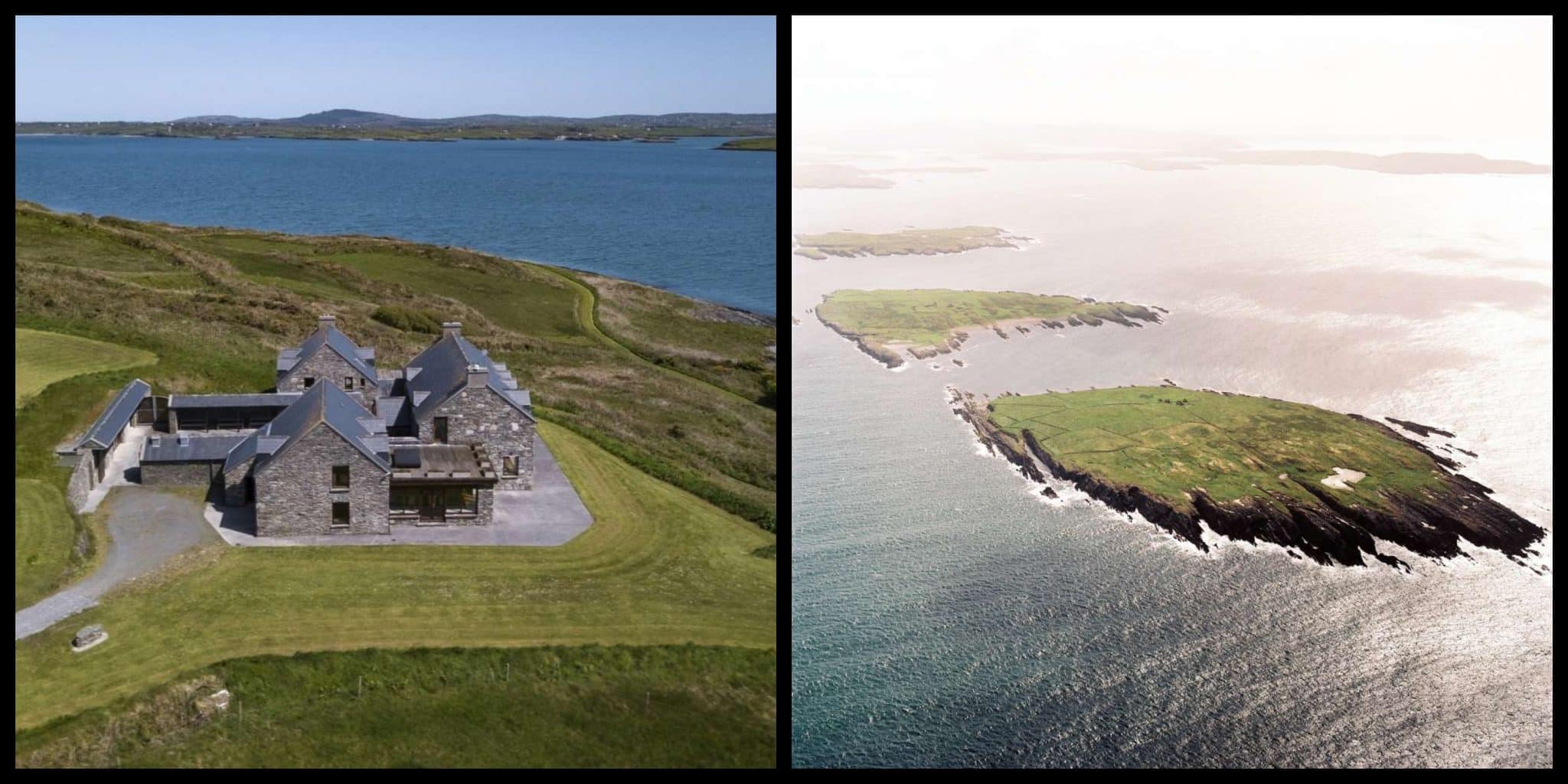 There's little more romantic (and glamorous) than jetting off to your private island for a weekend. And guess what—you don't have to be an A-list celebrity to get your hands on one of the private getaways. There are some amazing islands under the hammer right now, and they all belong to our beautiful Emerald Isle.
And they're not just any islands! They come with everything from gorgeous sandy beaches to spectacular coastal views, ready-to-move-in cottages, and even open-air pizza ovens. Sound tempting? Check out our five favourite islands for sale in Ireland below.
5. West Calf Island – a 62-acre paradise in West Cork
As the name suggests, West Calf Islands is the most westerly-situated of the three Calf Islands, right in the Roaring Water Bay in West Cork. The 62-acre paradise is just four kilometres from the mainland, with the access point being the public pier at Schull town. We imagine it as the perfect weekend getaway.
West Calf Island comes with stunning views over both the West Cork coast and the other islands, and it is equally suited for fishers and sailing fans. According to records, more than 20 people lived on the island permanently in previous times, so you will certainly have enough space for your friends and family.
Unfortunately, there's currently no house on the island—but then again, why not build your own dream castle on the property? You will be the island's queen or king after all.
Price: Available on request
Listing: https://www.privateislandsonline.com/europe/ireland/west-calf-island
4. Shore Island – a farmer's dream between Limerick and Clare
If farming is your cup of tea, Shore Island on Shannon Estuary might just be what you are looking for. The 30-acre island is sitting between Limerick and Clare, with the mainland shore just ten minutes away by a small boat ride, while Shannon airport is a 40-minute drive.
Shore Island is currently used for agricultural purposes with cattle calling it their home on an all-year-round basis. However, while we like the idea of keeping it a little farm surrounded by the ocean, you are obviously free to share your new island kingdom with whoever you prefer.
The property comes with a couple of ancient ruins on top—they certainly make good photo opportunities and might come in handy, too, if you apply for planning permission.
Price: €825,000
Listing: https://www.privateislandsonline.com/europe/ireland/shore-island2
3. Mannion Island – natural beauty in Dunmanus Bay
Only four acres in size, Mannion Island might not be the largest of the islands for sale in Ireland. But then again, it's not all about size, right? The natural beauty in Dunmanus Bay, West Cork, is only 200 metres of the foreshow, making it an easy boat commute to the newly constructed pier on the mainland. At low tide, you can even walk!
There is currently no house or ruin on the island, so you might want to consider bringing a tent for your first overnight stay. However, with approximately 60 per cent fertile soil, the options to use your new little kingdom are literally endless. If you have always secretly had a green thumb, this is the place to unleash your inner gardener.
Last but not least, think about all the great views you can share with your favourite plus-one. And going for just €150,000, Mannion Island is a pretty good deal too.
Price: €150,000
Listing: http://coastalhomes.ie/properties/mannions-island-dunmanus-bay/
2. Spanish Island – a former pirates' base
This beautiful island with a stunning size of 130 acres is sitting on the West Cork coastline, just a few minutes by boat from the fishing village of Baltimore. While we could totally imagine it as our new private home, it would also make an ideal base for an exclusive sailing school.
We especially love the great views of Baltimore Inner Harbour from the south side of the island and the Atlantic from the opposite end. And have we mentioned the beaches perfect for both sunbathing and long relaxing walks? Bear in mind that this area has an unusually high number of sunny days per year!
The Spanish Island was once a pirates' base which, historically, makes it one of the most interesting islands for sale in Ireland. It comes with a ruin of a stone farmhouse that you might be able to renovate if you obtain the necessary permission.
Price: Available on request
Listing: https://www.vladi-private-islands.de/en/island-archive/europe-atlantic/ireland/spanish-island/
1. Horse Island – a gorgeous sanctuary with sandy beaches and bay views
If you have won the lottery or robbed a bank (just kidding!), we suggest checking out Horse Island in Roaring Water Bay, West Cork. Only a few minutes' boat trip from the mainland harbours of Dreenatra Pier and Rossbrien Pier and 15 minutes from the fishing town of Schull, this gorgeous 157-acre island combines unspoiled nature, total privacy, and all the amenities of modern life.
The private refuge boasts stunning sandy beaches and views over the whole bay and comes with a gorgeous two-storey stone-built main house featuring six bedrooms, a huge living room with panoramic windows, a modern kitchen, a courtyard with a BBQ, and a wood-fired pizza oven, as well as a private wine cellar.
Still not convinced about our favourite of the islands for sale in Ireland? There are an additional six cottages for guests and even a private helicopter pad!
And just in case you don't manage to fill up all the space, shoot us a message. We promise to bring drinks!
Price: €6,750,000
Listing: https://www.privateislandsonline.com/europe/ireland/horse-island-1