Looking to holiday in Ireland in extreme comfort? These five amazing holiday homes for sale in Ireland are must-sees!
If Ireland is a destination close to your heart, and perhaps you've been planning to visit more often, then why not consider a fabulous Irish holiday home to call your own? Whether it be nestled in nature or close to a big city, we've got you covered.
We want you to live your dream, and who doesn't dream of waking up to a blissful Irish view with ample space to delve into your surroundings and explore more of Ireland comfortably? We have done our research and have found five extraordinary holiday homes for sale right now in Ireland. They're up for grabs as we speak, but the trouble is, how will you choose between these five beauties?
Take a look at these five fantastic holiday homes for sale in Ireland.
5. Mount Alverno, Sorrento Road, Dalkey, County Dublin – €7,950,000
Have you ever dreamed of living on one of the most expensive streets in Dublin, then this may be your chance. This exquisite home is up for sale, complete with views to die for – if you don't believe me, take a look at the listing.
It's real! Dalkey is one of the capital's most prestigious and beautiful neighbourhoods, and it is sometimes referred to by locals as the 'Dublin Riviera'. It's not hard to see why. In addition to the stunning views of Dalkey Island and beyond, this home-from-home has five en-suite bedrooms, five bathrooms, and the whole property sits on an elevated site split into two levels.
Can you imagine drinking your morning coffee in your bespoke Poggenpohl Porsche design kitchen while admiring the panoramic views over Dublin Bay? Now don't all rush at once!
Check it out here!
4. Castlefield House, Convent Rd, Delgany, County Wicklow – €4,500,000
Described as one of Ireland's finest period-style mansions, this property is an idyllic home for an Irish getaway. With sea views and over two acres of land, this family home is perfect for any family wishing to spend unforgettable summers in Ireland.
It has six bedrooms and six bathrooms and has extra space in the outhouses for all the in-laws, should they fancy a visit to the mansion. It's no wonder that this humble abode has made our list of fantastic holiday homes for sale in Ireland.
Check it out here!
3. Liss Ard Estate, Skibbereen, County Cork – €5,000,000
Fancy living the Victorian life, then this property is for you. This exceptional estate oozes character and is waiting for someone to appreciate it just as much as its previous owners. Could this be you?
This mansion comes with its very own lake, beach, guest lodges, tennis courts, and, get this – they even have a human-made crater! The property has 25 bedroom suites overall, but they have suggested the coach house to be used as extra accommodation, should you have that many visitors at once. This is a home like no other, and you get more bang for your buck down in Cork.
Check it out here!
2. Fedamore House, Fedamore, Co. Limerick – €3,500,000
If it's a home cinema that wins the race, then this luxurious property is a sure winner. Not only does it have a private cinema, but it also has six internal garages, a lift, an indoor heated swimming pool, and a gym. The property is a mere 30-minute drive from Shannon International airport.
As well as having eight bedrooms and ten bathrooms, this demesne has just as much leisure space to enjoy – 16 acres! It seems that your money stretches a long way in Limerick.
Check it out here!
1. Long Lake House, Tahilla, Sneem, County Kerry – €2,750,000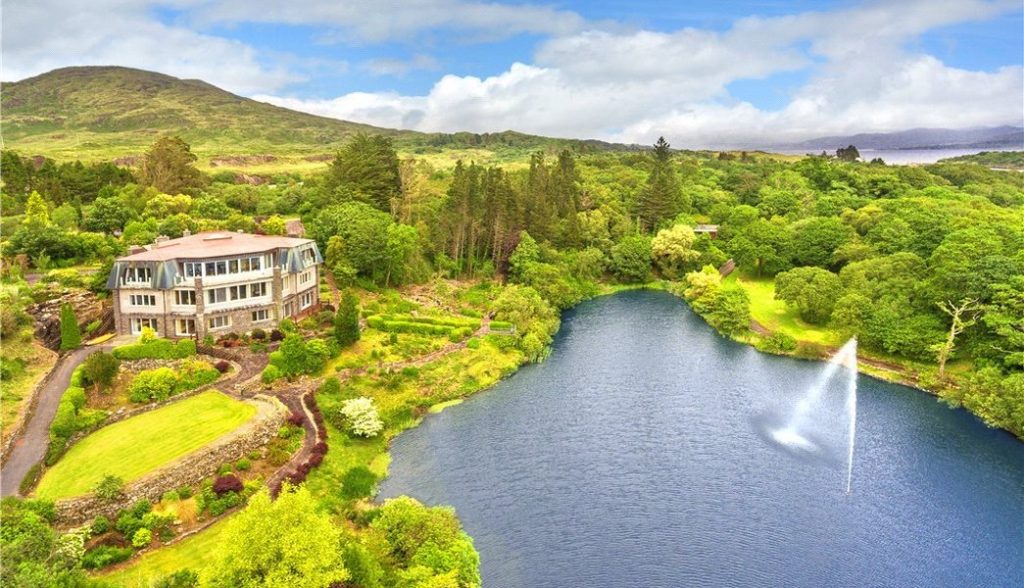 If you haven't been convinced just yet, this final property may hit the jackpot. Situated on the Iveragh Peninsula between Kenmare and Sneem, on the famous Ring of Kerry, this fan-shaped three-story house has a cedar cabin, pier, boat ramp, and boathouse perfect for those days out on the water.
With incredible views over Kenmare Bay and the Beara Mountains, this five-bedroom house is a genuinely humble and idyllic home-away-from-home, the perfect choice for experiencing true Irish tradition, rugged Irish scenery, and best of all, feeling like a local coming home.
Check it out here!
Now that we are a few steps closer to your Irish dream, having looked at five fantastic holiday homes for sale in Ireland right now, what's stopping you from making that dream a reality?
Ireland has welcomed people from all over the world for generations now and it's a truly remarkable country to always feel at home in, no matter where you are visiting from.
So come on, Ireland is waiting to be discovered – Again!