Monaghan is a beautiful county located in the border region of Ireland.
After accepting an invitation to undertake a press trip for Monaghan Tourism, we were looking forward to experiencing Monaghan for ourselves.
Despite travelling through Monaghan a number of times, we had never experienced the Ulster county in its entirety. We felt excited about staying to explore the best things the town and surrounding areas has to offer.
Here is our weekend itinerary, which comes highly recommended to anyone planning a visit to this beautiful part of Ireland.
It comes courtesy of Monaghan Tourism and local experts, so rest assured, it is an excellent guide.
Saturday Morning
11am – Free Walking Tour of Monaghan Town
On arrival, we began exploring Monaghan by joining a free walking tour, The Monaghan Heritage Walking Tour, starting outside The Western Arms Hotel.
Led by local and very knowledgeable guide, Laura Sherry, the tour lasted an hour and a half and gave us a great insight into the town.
It was so interesting to learn the history of Monaghan and how the place has changed over the years. The stories about some of the exciting things that have happened in the town were particularly fascinating.
Some of the tour stops include Peter's Lake, Church Square, Old Cross Square and Church Square, giving a fantastic insight into the history of Monaghan's architecture and landmarks.
It was the perfect way to start the weekend and we would highly recommend it to anyone who wants to get a good idea of what Monaghan is all about.
More info
Free walking tours of Monaghan Town take place every Saturday morning, meeting at 11am outside The Western Arms, The Diamond (until 28th September). The tour takes around 90 minutes.
Afternoon
Lunch at Neighbourhood
The tour left us hungry so with local advice and online reviews in mind, we chose Neighbourhood restaurant for lunch.
The menu offers a wide range of options for breakfast, lunch, dinner, or simply coffee. The food was good, the prices reasonable, and the service was excellent.
With some great vegetarian options, we feel it is a good place to suit everyone.
More info
Menu: https://www.neighbourhoodmonaghan.com/menu
Address: 13 Glaslough St, Roosky, Monaghan, Ireland
1.30pm – Rally Driving Experience at Rally School Ireland
Next on our itinerary was the rally driving experience in Scotstown just outside Monaghan town.
Here you can experience a heart-thumping, adrenaline filled day at a Multi-Million Euro facility.
They have Rally cars and Supercars, and with packages ranging from 6 laps to 45 laps, including Junior Rally Experiences for Kids 10+, Advance/Winter Driver Training, Rally and Supercar Packages, you are sure to find an experience to suit you. No licence is required.
Arriving at the venue I was instantly reminded of a Top Gear track. Match that with the gorgeous sunny day, and we were left with beautiful driving conditions.
We were greeted by staff and got kitted out to drive three excellent cars with the training and guidance of a nice gentleman named Seamus.
Seamus was an amiable man and a very experienced rally driver. He was very helpful and carefully prepared us to complete 12 laps in three different cars.
Overall it was an incredible experience and a great activity for either a couple or group of friends on a stag/hen do.
Seamus kept track of the times for each lap, so myself and my girlfriend got competitive and it quickly turned into a competition. The loser had to buy the winner a pint after, so there was no messing about.
Thankfully, I edged it slightly and won the best of three cars, and Georgia had to buy me a pint, which I thoroughly enjoyed at the Peaky Blinders bar in Monaghan town that evening.
More info
Rally experiences at the multi-million euro track at Rally School Ireland in Scotstown start from €225pp (half-day, 3 cars), rallyschoolireland.ie/tel: +353 47 89098
Address: Killatten, Scotstown, Co. Monaghan, H18 Y638, Ireland
Phone: +353 47 89098
Evening
7.30pm – Dinner at Taste of Tuscany
After the rally driving, we returned to the hotel before heading out for dinner at Taste of Tuscany restaurant in Monaghan town centre.
This upstairs eatery is what you would imagine an authentic Italian restaurant to be.
Their menu boasts a wide range of delicious food, including seafood, pasta, steak and burgers. They even have some great vegetarian and vegan options, which are sometimes hard to come by in a lot of restaurants in rural Ireland.
The service was excellent, the waitresses were very helpful and friendly and the food was amazing.
We would undoubtedly recommend visiting Taste of Tuscany for dinner and you can read our full review here: Taste of Tuscany Review
More Info
Address: 11 Church Square, Mullaghmonaghan, Monaghan, H18 T289, Ireland
Open: Thus-Sat 5pm-10pm; Sunday Lunch 12pm-4pm, with Italian menu available 4pm-9pm. Early bird menu available, 5pm-7pm.
Menu: HERE
Enjoy Monaghan Pubs
After dinner, we enjoyed a couple of Monaghan's best pubs. There are several to chose from but we only sampled two.
We had our first pint in The Peaky Blinders. This bar has a great atmosphere and we were served excellent Guinness by super friendly staff.
Next, we visited The Squealing Pig Bar & Restaurant. This is an excellent well-furnished pub which shows live sports and has a great atmosphere as well as tasty food.
Stay overnight at The Hillgrove Hotel
Situated just outside Monaghan town centre is the Hillgrove Hotel. The Hillgrove is a 4-star hotel which has several facilities including a pool and spa, a bar-restaurant and excellent rooms. It also struck us as an ideal wedding venue.
There was, in fact, a wedding party at the hotel during our stay and the celebrations give the hotel a great atmosphere.
We thoroughly enjoyed our stay here. It provided very comfortable surroundings, the room was immaculate and it ticked all the boxes of what you would expect from a fabulous 4-star spa hotel.
Sunday Morning
Breakfast & Spa at The Hillgrove
After waking in our cosy room from a great night's sleep, we went downstairs to enjoy a lovely breakfast. After being promptly seated in the beautiful restaurant, we were directed to a fantastic buffet with a wide range of choices to fit all preferences.
There was a superb choice of food with fresh breakfast items being cooked to order.
We both decided on the traditional full-Irish selection, which was incredible!
Fully satisfied after breakfast, we decided to check out the spa and pool facilities.
We were very impressed to find they have a steam room, pool and two jacuzzis, one inside and interestingly, one in a secluded location outside the hotel.
The second offers the best of both worlds as you can enjoy the luxury of the jacuzzi in the fresh outside air.
More info
Address: Old Armagh Rd, Latlorcan, Monaghan, H18 RK15, Ireland
Check availability: HERE
Prices at Hillgrove Hotel start from €99 B&B for midweek 1 night stay based on 2 sharing.
Afternoon
1 pm – Tour and Afternoon tea at Castle Leslie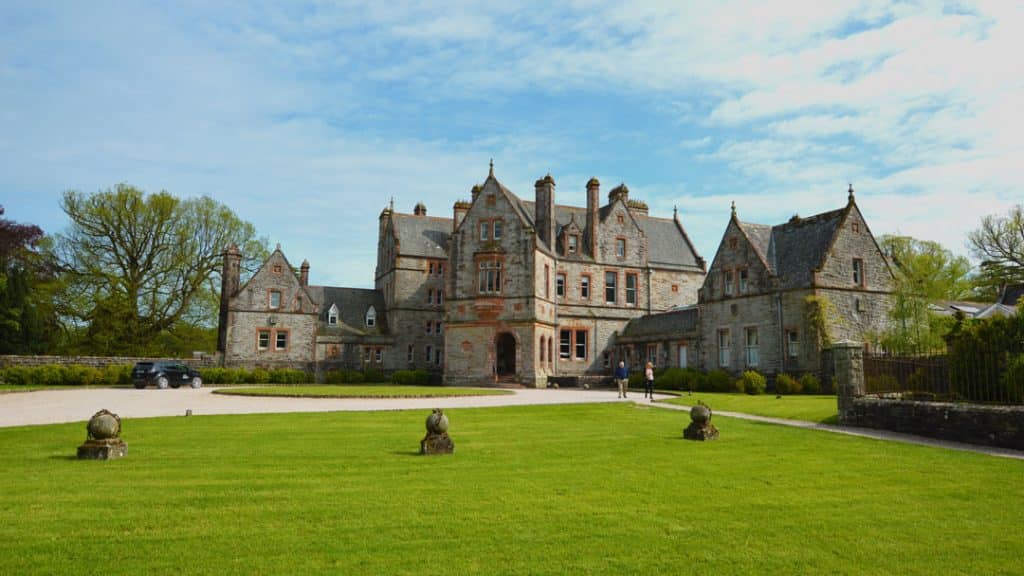 Our next adventure was Castle Leslie Estate. The castle is nestled on 1,000 acres of beautiful Irish countryside, dotted with ancient woodland and glittering lakes. It is one of the last great Irish Castle estates still in the hands of its founding family.
Since the 1660s, the distinguished and somewhat individual Leslie family have lived on the Estate. They have welcomed everyone from politicians to poets, ambassadors to ufologists to world-renowned celebrities.
When we arrived, we were greeted by Eoin, who gave us a half-hour tour. He revealed the history of the estate and fascinating stories about the Leslie family. The family had ties to the British military, were very wealthy and appeared to be very fond of themselves, with paintings of themselves displayed all over the walls.
The actual area itself is beautiful as it overlooks the lake at the road to the rear of the house.
It is a natural choice for weddings. Notable people have married here including former Beatle Paul McCartney in 2002, giving an idea of the type of wedding that may be hosted at the castle. It was clear from our visit what a spectacular setting for a wedding it would make.
Even without a marital ceremony, Castle Leslie is a stunning place to visit, steeped in history with the added bonus of afternoon tea, of which we were treated to after our tour.
It was by far the fanciest afternoon tea I had ever experienced. The lunch menu was incredible along with the service.
We were served a wide range of delicious sandwiches, as well as scones and savoury snacks.
We also tried both tea and coffee. The tea was excellent, but if I'm honest, the coffee wasn't great.
Overall, Castle Leslie Estate is a must-see in Monaghan. It is a house full of interesting history, beautiful rooms and stunning surroundings and should definitely to be added to any Monaghan Bucket List.
More info
Afternoon tea is available from €25pp at Castle Leslie
Address: Castle Leslie Estate, Glaslough, Co. Monaghan, Ireland
4pm – Electric bike hike at Drumlin Trails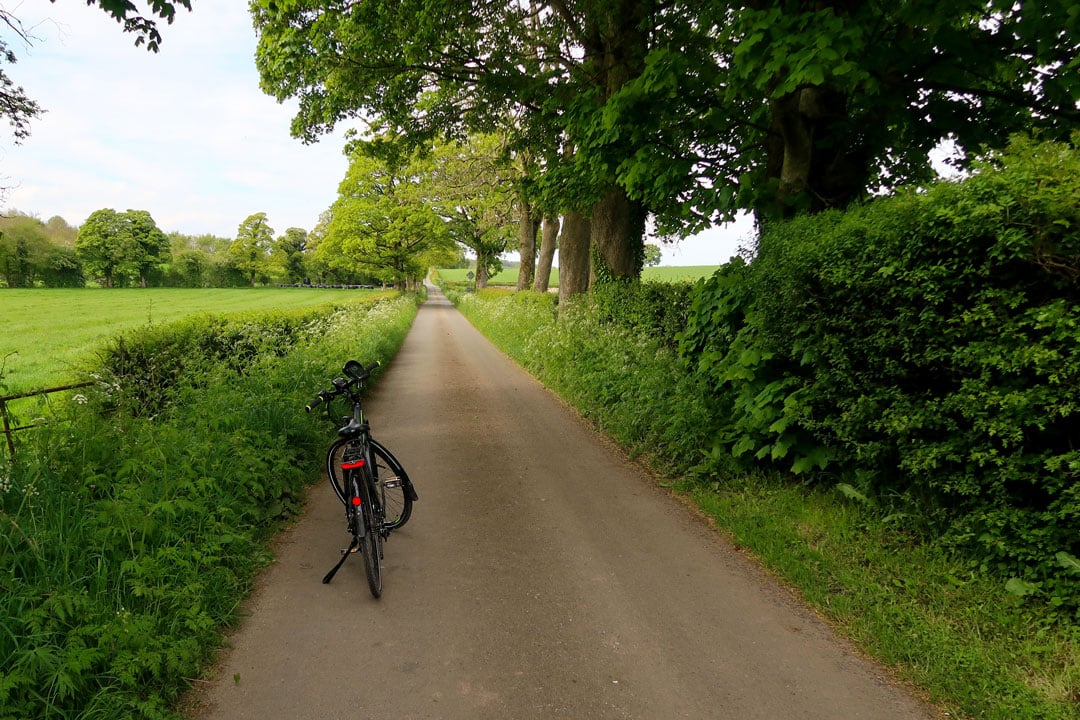 Shortly after our visit to Castle Leslie Estate, we went to drumlin trails which is an electric bike rental place just outside Glaslough in County Monaghan.
The bikes are available to rent at the rear of McQuaid's garage from either the owners Paddy or Joanna.
On this particular day, we dealt with Paddy, a lovely man who has set up a great tourist activity in the popular village of Emyvale, not far from Glaslough.
The bikes themselves were electric bikes. If you're wondering what an electric bike is, it is basically a standard bike with several different settings to help you cycle smoother. They assist the rider in climbing hills easier, offering a more relaxed ride.
However, you can also switch off the turbo or help option and just cycle as you would a regular bike.
Paddy recommended a couple of routes based on our interests and we agreed on a scenic cycle covering a range of landscapes as well as some lakes.
The route took one hour and involved cycling through some beautifully quiet Monaghan back roads, often enjoying them to ourselves.
We continued to enjoy scenic landscapes before cycling across the border and into County Tyrone in Northern Ireland. After around 15 minutes we arrived back in Monaghan.
During our cycle, we were stunned by the beauty of the Monaghan countryside. It really is gorgeous, peaceful county and precisely what any tourist might expect Ireland to be like.
Monaghan is an area you may not hear about on many Irish itineraries or on many travel websites. It is very secluded and rural in places and a completely break away from the busy working life of the city.
More info on Drumlin Trails
Drumlin Trails bike rental (+353 47 88108) from €15pp per day or €35pp per day for an electric bike (from 16 years of age).
Discounts available for groups of 4 or more, and helmets and hi-vis vests provided. Child seats and trailers available, too.
Address: McQuaids XL convenience store, Knockafubble, Emyvale, Co. Monaghan, Ireland
Phone: +353 47 88108
Next Stop?
Once you have finished your bike trail, you might want to head back to Glaslough to enjoy some incredible pizza at Ambledown Cottage before either staying in Monaghan or going to a nearby county.
You might want to head to nearby Armagh or even County Fermanagh to check out the famous 'stairway to heaven,' Cuilcagh Boardwalk Trail. Wherever you go next, have a great time!
Overall
Monaghan Tourism proudly claims that the county is Ireland's best-kept secret and they might just be right!
Our weekend in Monaghan was absolutely brilliant. We were genuinely taken by the beauty of the county. It is a unique beauty that leaves it unlike many of the usual places to visit in Ireland.
Neither a coastal county or a mountainous terrain, Monaghan is a rural place full of small hills, mature trees, green fields and clear lakes.
It's a peaceful county without many cars on the road, lots of birds singing and some of the friendliest locals we have ever met in Ireland … and that's saying something considering the Irish are always so helpful. Safe to say, we felt right at home in Monaghan.
We have come away feeling passionate about this county and we would urge everyone to experience Monaghan. We will definitely be planning a trip back very soon!
Get featured on Ireland Before You Die
Do you want to get your Irish business more online exposure? Especially to those interested in travelling the best places in Ireland? Then why not get a dedicated feature on Ireland Before You Die. Find out more 
here.