Bingo has been around for literally hundreds of years and has always been not only a great game but the perfect way of socialising with others from all walks of life.
Nowadays, there is no doubt that bingo has benefited from online and mobile tech advances, as innovative brands like mFortune have become extremely successful.
However, this has not taken anything away from taking a trip down to the local bingo hall, or visiting a venue in an area you might be holidaying in.
Belfast is a city full of bingo lovers, and this is proven by the sheer number of bingo halls which are available to play at.
And with so many to choose from, we've selected some of the finest bingo halls Belfast has to offer.
1 – Galaxy Bingo
Many local residents will tell you that Galaxy Bingo is the premier bingo venue in the whole of Belfast and it's easy to see why. Located in the Yorkgate Shopping Centre, it's perfectly placed for everyone to drop in and enjoy a session or two of exciting bingo action.
Galaxy Bingo is open Monday to Saturday from 10am until 10:30pm Mon-Thurs, staying open until midnight on Fridays and Saturdays.
Players at Galaxy will be able to enjoy traditional paper bingo, as well as the more modern electronic terminal approach, with huge prizes up for grabs every week.
Address: Cityside shopping centre, York St, Belfast BT15 1WA
2 – Star Bingo
Star Bingo, which is located on North Street in the city, is another well established and respected bingo hall in Belfast.
The venue runs afternoon and evening sessions 6 days a week, with afternoon sessions beginning at 3.00pm and evening sessions starting at 8.00pm.
One of the best things about Star Bingo, aside from the fantastic bingo action and prizes that are on offer, is the atmosphere.
Everyone who visits the venue comments on just how friendly and welcoming the atmosphere is, with the staff who work there having a real can-do attitude.
Address: 157-161 North St, Belfast BT1 1NE
3 – Westway Bingo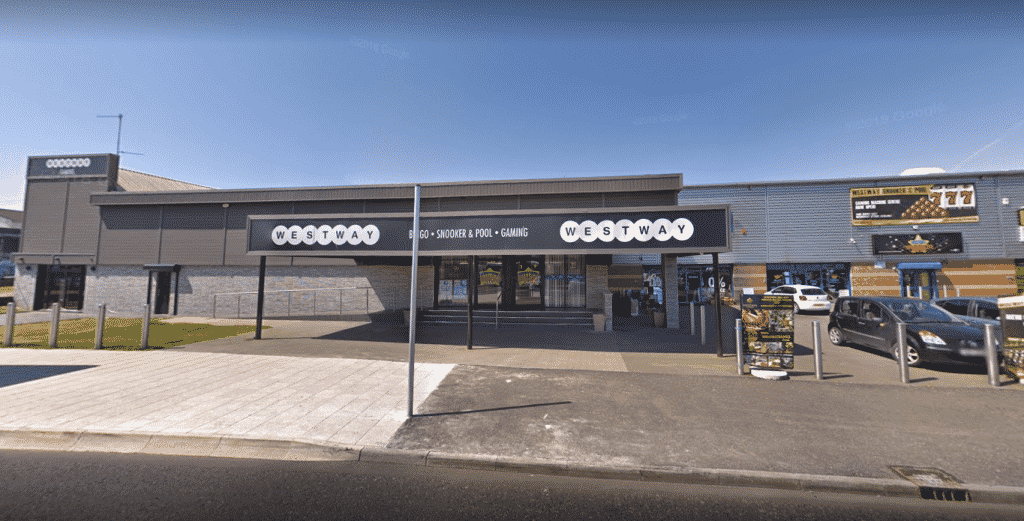 Westway Leisure is a premier gaming and leisure venue located in the heart of Belfast.
Visitors can enjoy some fantastic snooker and pool, while also being able to tuck into some great food and drinks too.
Westway Leisure is also ideal for bingo enthusiasts, with a dedicated bingo hall at the venue.
Their strapline of 'It pay$ to play at Westway' rings true in many respects, especially as the club has been operating for well over two decades now.
Players can, of course, enjoy traditional book bingo, as well as playing along via electronic touch-pads known as Genies, which also allow them to play slot games too.
They offer unrivalled hospitality, combined with brilliant jackpot prizes.
Address: 577-591 Falls Rd, Belfast BT11 9AB
4 – Jackpot Bingo
Jackpot Bingo, ideally placed in the heart of West Belfast, is a bingo venue with a brilliant atmosphere and in-house entertainment.
Open 7 days a week, players will be able to head down and enjoy morning, afternoon and evening sessions, all of which have some fantastic prizes on offer.
Jackpot Bingo as a venue regularly hosts special events and promotions, making the experience even more exciting, with thousands of pounds regularly up for grabs.
Jackpot Bingo is a must visit venue for the atmosphere and the brilliant staff alone.
Address: Dairy Farm Centre, Stewartstown Rd, BT17 0lb, Belfast
Get featured on Ireland Before You Die
Do you want to get your Irish business more online exposure? Especially to those interested in travelling the best places in Ireland? Then why not get a dedicated feature on Ireland Before You Die. Find out more 
here.
Legal Disclaimer
We cover articles relating to many activities. Some of our articles showcase gaming and gambling as activities. While we do not take money for bets or own any gambling venues, we feel it is important that our readers know the risks of such venues or sites that we may mention in our articles. Gambling involves risk. Please only gamble with funds that you can comfortably afford to lose. See our legal disclaimer for more info.