We pay tribute to four of Ireland's great sportswomen and remember what they achieved to earn a permanent place in Irish hearts.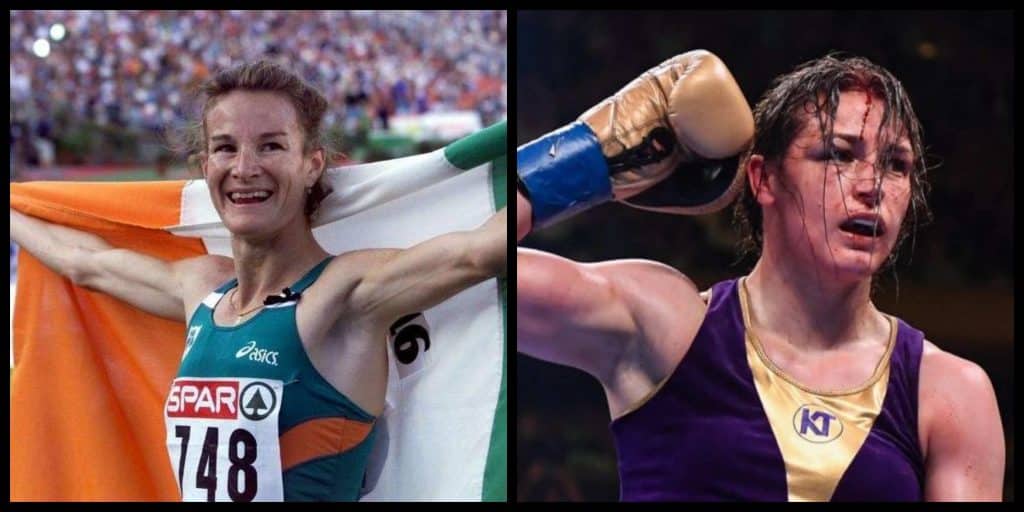 Anyone who can make it to the top in their sport is fully deserving of our respect and admiration.
For some, however, it is less about the achievements or the number of medals and more the journey to the top and the obstacles faced along the way that provides the inspiration.
Ireland has seen plenty of sports stars who fall into that category, from flawed geniuses such as Alex Higgins or George Best to men like Barry McGuigan.
When naming Ireland's top sports stars, it is mostly male-dominated, and as a result, it can sometimes feel like the Irish sportswomen who went down in history don't get the credit they deserve.
Pay gaps between genders also show that there is still work to be done to get us closer to a level playing field in sport. Those who live or work in Ireland will agree that this is a place where gender equality is taken seriously.
However, there are some instances where this is overshadowed by industry factors. This is exactly what we have seen in Ireland's booming tech sector, for example, a source of plenty of media attention over the past couple of years.
An identical story is seen in the world of sport, only here, the difference is even more pronounced.
From football to fencing and from sprinting to speedway there is a pay gap between male and female sports stars that almost defies belief in this day and age.
In football or rugby, there is at least some logic behind the difference. Here, the women's game is less established, and therefore there's less money generated through ticket sales and sponsorship deals.
However, sports such as tennis has shown that some women's finals are watched more than men's tennis, but still more emphasis is put on men's tennis with higher sponsorships.
With all this in mind, in this article we pay tribute to four of Ireland's great sportswomen and remember what they achieved to earn a permanent place in Irish hearts. 
1 – Lena Rice
If times seem tough for today's sportswomen, just imagine for a moment what it was like for Lena Rice. The pioneer of women's tennis was born in County Tipperary in 1866, and played in the era of long, flowing dresses.
Rice's professional career was a short one – in fact, according to the records available, it only lasted from 1889 to 1990.
Yet during that brief period, she made an impact on the game that is still being felt 130 years later. She made it to the final of Wimbledon in both 1889 and 1890, losing to Blanche Bingley Hillyard in straight sets in 89. But she got her revenge the following year and lifted the title.
Her biggest contribution to the game, though, is her invention of the overhead smash shot.
She used it to win the match-winning point in that Wimbledon final, and it has been an essential tool for every winner since.
Like her career, Rice's life was tragically short. She died of tuberculosis on her 41st birthday in 1907.
2 – Sonia O'Sullivan
The Cork native Sonia O'Sullivan was born in 1969 and from the minute she turned professional in 1990, she made an instant impact in the world of athletics.
Narrowly missing out on a medal at the 1992 Barcelona Olympics only strengthened her resolve, and in August of the same year, she smashed five Irish national running records in the space of less than two weeks.
For the next 15 years, she was a constant presence at world, European and Olympic events, collecting seven golds, six silvers and two bronzes along the way.
She has been a source of inspiration to a whole generation of young female athletes, not least her own daughter Sophie, who looks set to continue the family tradition.
Last year, the 17-year-old collected a silver medal of her own in the 800 metres at the under-18s European Championship.
3 – Emma Byrne
You only needed to see the hype that surrounded this year's World Cup to understand just how much women's football has advanced over recent years.
Responsibility for that surge in popularity can be placed squarely at the door of players like Emma Byrne.
An international career spanning more than 20 years and 134 appearances is an incredible achievement regardless of sex, and her career came when Girl Power was at its highest.
In short, she inspired a whole generation of talented girls to put on their boots and get out there, and today, she can sit back and watch how the women's game is growing with satisfaction and pride.
4 – Katie Taylor
Did somebody say Girl Power? The undisputed female Champion of the World, Katie Taylor, has it by the bucketload and has brought women's boxing to mainstream attention.
The girl from Bray is known today as one of Irish sport's trailblazers. But her list of world titles and her undefeated record only tell part of the story.
As a teenager attending St. Kilian's Community School, young Katie proved to have a talent for football – in fact, she was so good that she forced her way into the boy's team.
Selection for the Republic of Ireland suggested that a long and successful career was to follow, but after 11 caps, Taylor turned her back on the game and instead decided to follow a career in boxing.
This had always been her true passion, and at the age of 15, she was part of the first-ever official women's boxing match to be held in Ireland, when she beat Belfast's Alanna Audley at the National Stadium in Dublin.
At first glance, to see Katie Taylor in the ring, you might think she has nothing in common with Lena Rice in her flowing skirt with her wooden racquet.
Yet both are examples of women who have stood up to be counted in male-dominated sports and proved to us all that anything is possible. 
Get featured on Ireland Before You Die
Do you want to get your Irish business more online exposure? Especially to those interested in travelling the best places in Ireland? Then why not get a dedicated feature on Ireland Before You Die. Find out more 
here.