Ireland is home to some impressively talented sports stars. Today, we are looking at four who are at the top of their game.
When it comes to Irish sports stars, there are a few names that come to mind. Of course, we know all about the stars of yesteryear, Brian O'Driscoll, Roy Keane, and Christy Ring, but what of the current crop of players?
Read on to find out who is waving the tricolour highest for Ireland in elite sport right now.
4. Conor McGregor – one of the most well-known sports stars in Ireland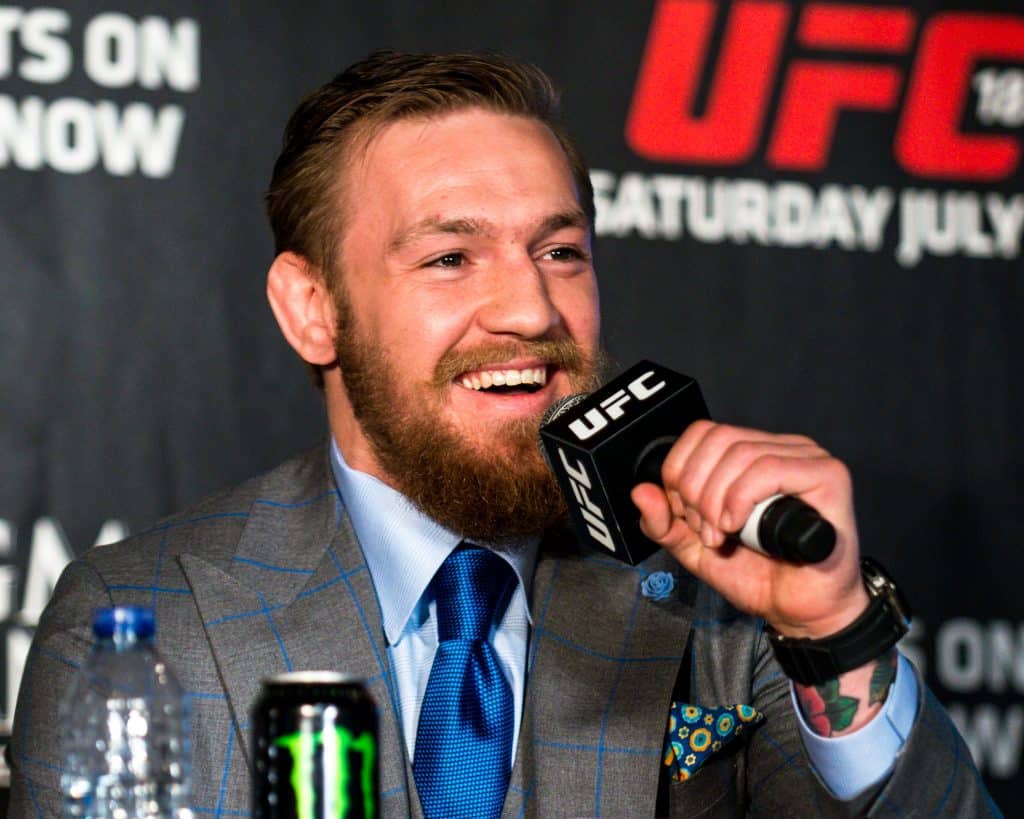 The 32-year-old mixed martial artist, Conor McGregor, from Crumlin, Dublin, is unquestionably one of the most famous current Irish sports stars.
The UFC star who didn't start fighting until the age of 12 and trained as an apprentice plumber in his early 20s made his UFC debut in 2013, knocking out Marcus Brimage.
Since then, infamy and fame have gone hand-in-hand for the Irish fighter, with fireworks expected ahead of his 10 July clash against Dustin Poirier.
If you want to back Notorious to knock out Poirier, take a look at this list of the best Irish bookmakers as voted by OLBG's community.
Beyond Conor McGregor, though, who are Ireland's most famous sports stars still at the top of their games?
3. Matt Doherty – a talented footballer
It is a fallow period for the national football team, with current manager Stephen Kenny coming under heavy criticism after guiding his side to just one win in 13 games, including an infamous loss to European minnows Luxembourg.
Kenny's tactics and credentials for the role of Ireland manager may be questionable. However, it's fair to say that he has the weakest pool of talent to pick from out of any Ireland manager in the past 20 years.
One player who stands out head and shoulders from his international compatriots is Tottenham Hotspur's flying wing-back, Matt Doherty.
The 29-year-old began his career with Swords Celtic and Home Farm before moving across the water in 2010 to link up with former Ireland manager Mick McCarthy at Wolves.
In a decade at the midlands club, Doherty racked up 260 appearances, chipping in with 20 goals as his club fell from the Premier League to League One, before rising back to the big time in style again under Portuguese coach Nuno Espirito Santo.
Doherty was a key player for Wolves as they romped to the Championship title in 2018 and then qualified for Europe in the 2018-2019 Premier League campaign.
His performances at Wolves piqued the interest of legendary coach Jose Mourinho, who brought him to the Tottenham Hotspur stadium last summer.
Like his teammates, Doherty struggled for form last season, but he did show in flashes why he is viewed as the most talented player in the current Ireland squad. Thus, he is definitely one of the Irish sports stars currently at the top of his game.
2. Brian Fenton – a Dublin legend
If this article were discussing potential, David Clifford's name would be in place of Brian Fenton's right now. The 22-year-old full-forward from Kerry has the talent and mentality to drag his county to at least a couple of All-Ireland's in the years to come.
Even if he does that, though, he'll still be some way off matching up to the trophy record of Dublin's Brian Fenton. The midfielder was a late bloomer, taking some time to adjust to the top-level game's pace and ferocity.
After winning his first All-Ireland in 2015, Fenton became an integral member of that phenomenal Dublin side. His distribution in that stellar midfield has been flawless over the past five years, and his fielding has also helped boost his side's cause.
At just 27, Fenton has a good few years left in the tank to add to his already bulging trophy cabinet and further cement his status as one of the top Irish sports stars.
1. Johnny Sexton – one of the greatest Irish sports stars
Johnny Sexton is, without doubt, one of the all-time greats to have represented Ireland at international level. The 35-year-old has won three Six Nations Championships with Ireland, represented the British & Irish Lions on two tours, and won the World Rugby Player of Year in 2018.
In Ireland's recent Six Nations victory, Sexton was a key figure once again leading the tournament in points scored – 15 more than the second-placed Owen Farrell. However, it's not just natural talent that makes Sexton one of the world's best; it's his tactical mind too.
Capable of carrying out the most elaborate tactical instructions and relaying those instructions to his teammates, Sexton truly is an indispensable player for head coach Andy Farrell.
Whilst at 35 most players would be enrolling in training courses for their post-playing career, Sexton appears to be getting better. If his body holds up to the rigours of top-level rugby, we could be due to see even more fireworks from the Leinster man in the years to come.
Notable mentions – more top Irish sports stars
Rugby diehards may well be reading this article and wondering why there is no mention of the iron-willed Conor Murray or the incredibly talented Jacob Stockdale.
Football fans may be questioning why Matt Doherty was included ahead of, err…Adam Idah? Okay, maybe that was the easiest choice of all!
The contrarians out there may also be wondering why Eoin Morgan, the 34-year-old Dubliner who led England to the 2019 Cricket World Cup, was omitted.
Unfortunately, though, there wasn't space for everyone in this list, but if you do feel like we've made a glaring omission, be sure to let us know in the comments section below.
Get featured on Ireland Before You Die
Do you want to get your Irish business more online exposure? Especially to those interested in travelling the best places in Ireland? Then why not get a dedicated feature on Ireland Before You Die. Find out more 
here.