It's easy to see Ireland through the lens of her cities or countryside, but what about the in-between? We've compiled a list of the 32 best towns to visit in every county of Ireland.
Ever dreamed of going on a road trip around Ireland? For those of you who are particularly adventurous and want to hit all 32 counties, we've drawn upon our knowledge of the Emerald Isle to make this hefty list of beautiful towns in visit in each one.
The local towns are not as big as metropolitan cities and are not as vast as the countryside, so their intimate feel bestows upon them a unique charm, and to see the true Ireland you need to visit the towns scattered across the island.
Here's the 32 best towns to visit in every county of Ireland.
The best towns to visit in every county of Ireland: 32-17
Antrim – Ballycastle
Ballycastle is a small seaside town in County Antrim. It is on the north-easternmost coastal tip of Ireland, in the Antrim Coast and Glens Area of Outstanding Natural Beauty. The harbour hosts the ferry to Rathlin Island, which can be seen from the coast.
Armagh – Portadown
Dating back to the 17th century, Portadown has a fascinating political history that is woven into the rich tapestry of Ireland's past.
Carlow – Carlow Town
Records show that humans have occupied the beautiful town of Carlow for thousands of years, and some of its most popular monuments even date back as far as the 6th century.
Cavan – Ballinagh
With both Killykeen Forest and Lough Oughter located in close proximity, Ballinagh is the perfect base to rest while you explore Cavan's gorgeous surroundings.
Clare – Ennis
The Earls of Thomond chose Ennis as the capital town of Clare for its great influence across Ireland as a market town. Today, it is still known for its lively market-culture and is now a centre for Irish traditional music.
Cork – Kinsale
A list of the best towns to visit in every county in Ireland would not be complete without the inclusion of Cork's finest. A historic port and fishing town, Kinsale is known for its brightly coloured buildings and shops that overlook its famous harbour.
Derry – Portstewart
One of Northern Ireland's most popular seaside resorts, Portstewart is best known for its gorgeous sandy beaches that attract surfers and lovers of the outdoors all year round.
Donegal – Bundoran
People have been coming in their waves to the magnificent beaches of Bundoran since the 18th century. Visitors are guaranteed bliss when experiencing its coastal walkways and outdoor paradise.
Down – Bangor
Bangor is a seaside town that offers something for everyone: beautiful coastal walks, an outdoor theme park, top-notch food and energetic bars.
Dublin – Dun Laoghaire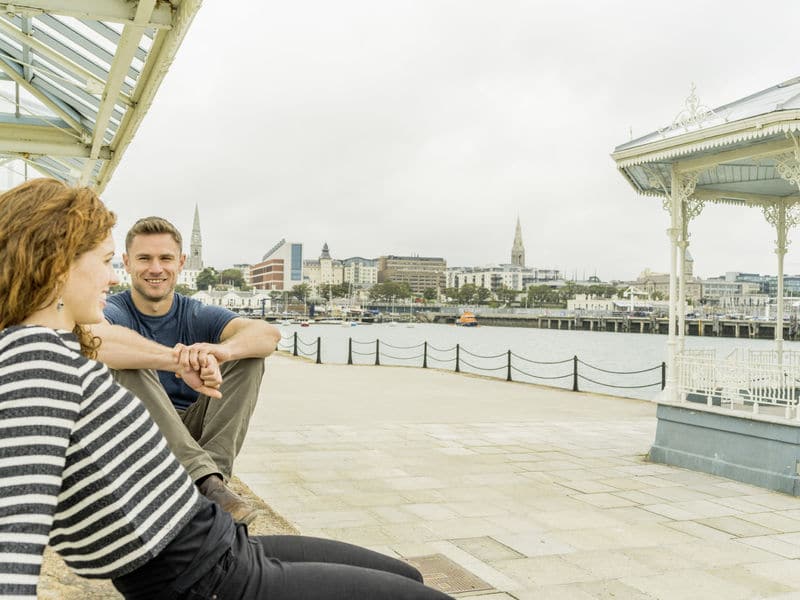 Once a small fishing town, Dun Laoghaire is now a gorgeous coastal resort that enjoys booming tourism in the summer months. It is popular for its luxurious hospitality and diverse range of quirky bars.
Fermanagh – Enniskillen
Enniskillen is located almost in the centre of the county. It is rich in history and was the hometown of literary geniuses Samuel Beckett and Oscar Wilde.
Galway – Kilronan
Kilronan is the main settlement on Inishmore, the most popular of the Aran Islands that sees huge swathes of visitors every year. Only a few hundred people call this cosy village their home, making it feel untouched by the boom of the modern world.
Kerry – Dingle
Dingle town is arguably one of the island's most charming. It's famous for its dolphin mascot – Fungie, who has been a resident of the surrounding Dingle waters since 1983.
Kildare – Naas
The second largest town in County Kildare, it is a historic market town with quaint shops and walkways overlooking a glimmering canal.
Kilkenny – Kilkenny Town
Kilkenny is a popular tourist destination because of its beautiful cathedrals, castles and thriving cultural happenings. It offers popular arts and music festivals every year and houses a number of iconic Irish breweries.
Laois – Abbeyleix
A great place to stop at while you're journeying around the Emerald Isle. Abbeyleix has some incredible bars that are as authentically Irish as they come.
The best towns to visit in every county of Ireland: 16-1
Leitrim – Leitrim Village
Leitrim town lies at the beginning of the Shannon-Erne Waterway canal. Over the last 15 years, it has been transformed from a small village into a bustling town full of pubs, restaurants and local amenities.
Limerick – Castleconnell
Castleconnell is a gorgeous village on the banks of the River Shannon, 11km outside Limerick City. Home to many beautiful architectural masterpieces, it is not short of things to do and see as you're road-tripping around the Emerald Isle.
Longford – Ardagh
This picturesque village has a population of just 70 people but has received awards for its cleanliness and overall inviting nature. It is said that Saint Patrick built a church here in the fifth century.
Louth – Carlingford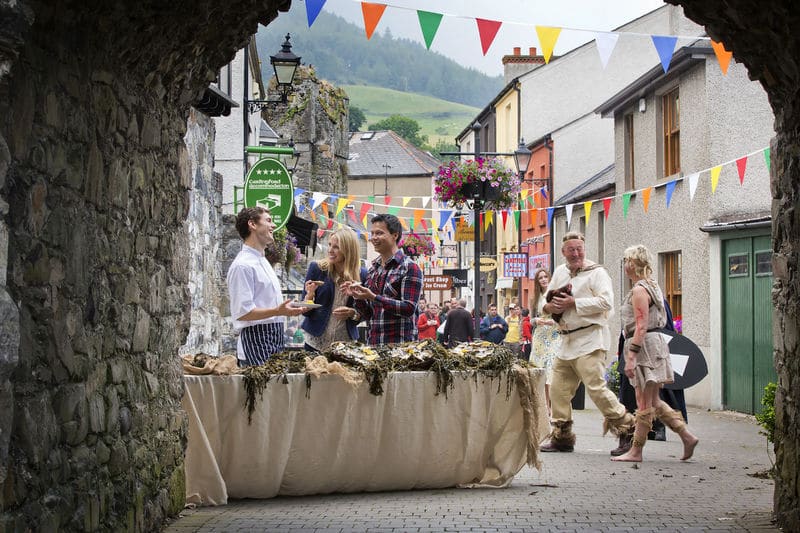 Said to be Ireland's best-kept secret, Carlingford promises wonderful craft shops, top-quality eateries and exceptional craic year-round. Don't forget the check out the neighbouring Cooley Peninsula for epic scenery!
Mayo – Westport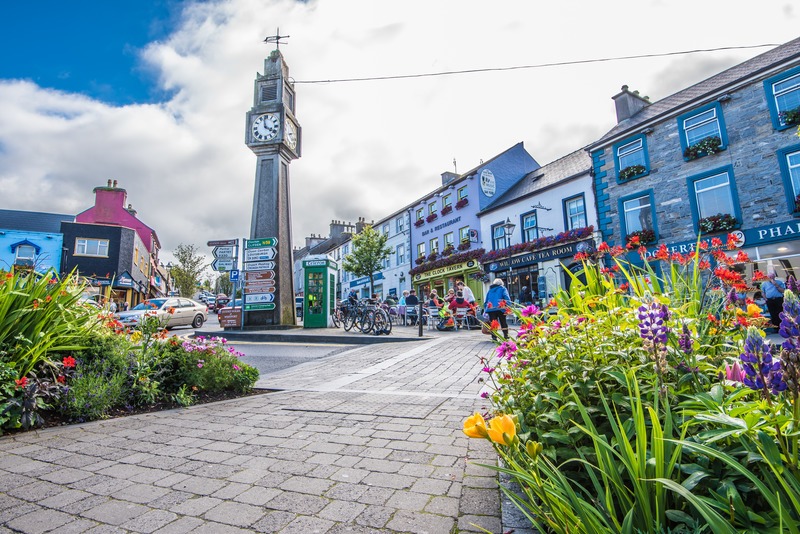 Westport is a vibrant town full of colour and culture. Along its scenic coastline, you can expect basking sharks and humpback whales, while the nearby Clew Bay islands are the perfect escape for those who want away from the hustle and bustle of the town.
Meath – Moynalty
Anyone in search of true Irish country life need look no further than County Meath's Moynalty. Near the border with Cavan, this village is famous for its lace-making industry which once supplied King George and his wife.
Monaghan – Glasnough
This magical village translates as 'calm' or 'green lake' is located on the outskirts of Castle Leslie Estate. It is in the centre of lush woodlands and shimmering bodies of water, and possesses a distinct architecture that gives tourists an authentic Irish feel.
Offaly – Birr
With its gorgeous blend of Georgian architecture and tree-lined cobbling paths, Birr is a clandestine gem on Ireland's map that any visitor would be foolish to miss out on.
Roscommon – Roscommon Town
A small town with a big castle. Roscommon's county town is not often major tourist avenues, but its majesty is beautiful all the same. Its history dates back thousands of years, and it has always been an important market town throughout history.
Sligo – Strandhill Town
A haven for surfers, Strandhill is a coastal town that sits on the base of the Knocknarea Mountain. It is known for its enduring buildings that go back hundreds of years and megalithic tombs that spout huge tourism for County Sligo every year.
Tipperary – Tipperary Town
Tipperary has a great cultural scene that includes exhibitions, galleries and theatres. It also contains an eighteen-hole golf course that is well known for being in close proximity to Cordangan Woods and the Galtee Mountains.
Tyrone – Omagh
A popular destination for shoppers, Omagh is a cute little town that is memorable for its cobbled streets and rich cultural significance within Northern Ireland. This is a must-see for any lover of Northern Irish history.
Waterford – Lismore
Lismore has a long and distinguished history that it prides itself on, tracing all the way back to 636AD! It helps that it's also surrounded by the Emerald Isle's characteristic green countryside.
Westmeath – Athlone
Athlone is perhaps known best for its medieval castle and surrounding historic ruins. Its proximity with the River Shannon makes it a popular spot for outdoor watersports during the summer months, although the town itself is heaving with life all year round.
Wexford – Ballyhack
Ballyhack is a charming fishing town at the mouth of the River Barrow. It invites tourists in with its rich historical interest that dates back to the 15th century.
Wicklow – Eniskerry
Just 30 minutes south of the city of Dublin is the beautiful Enniskerry. Originally built to accompany a manor house at the nearby Powerscourt Estate, it has since become well0known for its picture-postcard houses and picturesque town-centre.
There you have it – a complete itinerary for visiting the best town in every county in Ireland! But where will you start first?