There are many great things said about the Irish and our lands. Here are our picks for the best quotes about every county in Ireland.
Each of Ireland's 32 counties has something spectacular to offer that you won't find anywhere else in the world. Whether that be its scenery or its people, the Emerald Isle has a lot to offer so it's not surprising that many people have a lot to say about it. Here are our top quotes about Ireland, including song lyrics about each of the 32 counties.
1. Antrim
"It looks like the beginning of the world, somehow: the sea looks older than in other places, the hills and rocks strange, and formed differently from other rocks and hills — as those vast dubious monsters were formed who possessed the earth before man."
– William Makepiece Thackeray on the Giant's Causeway, 1842
William Thackeray was a British novelist, author, and illustrator known for his satirical works, including Vanity Fair. During a trip to Ireland to make notes for his book, The Irish Sketch Book, he visited the Giant's Causeway and had much to say about the unique rock formations.
2. Armagh
"When you stand in Creggan graveyard you're standing in one of the most historical places in south-east Ulster and perhaps the whole of County Armagh."
– Cardinal Tomas Ó'Fiaich
Tomás Séamus Cardinal Ó'Fiaich was an Irish prelate of the Roman Catholic Church. He was raised in Camlough, County Armagh, and was amazed by the history he saw before him in Creggan graveyard.
3. Carlow
"Follow me to wear the red, yellow, and green
Far over the sea
Follow me and by god make sure you're seen
Where your heart's lying somewhere in between
The red, yellow, and green."
– Derek Ryan, 'The Red, Yellow and Green'
Irish singer Derek Ryan was born in Garryhill, County Carlow, which is where his love for Irish music began. Despite his success, his home county still holds a special place in his heart.
4. Cavan
"As I walk the road from Killeshandra, weary I sat down
For it's twelve long miles around the lake to get to Cavan Town
Though Oughter and the road I go, once seemed beyond compare
Now I curse the time it takes to reach my Cavan girl so fair."
– Thom Moore, 'Cavan Girl'
Thom Moore is an American singer-songwriter whose strong Irish connections influenced many of his song lyrics, including the classic ballad 'Cavan Girl'.
5. Clare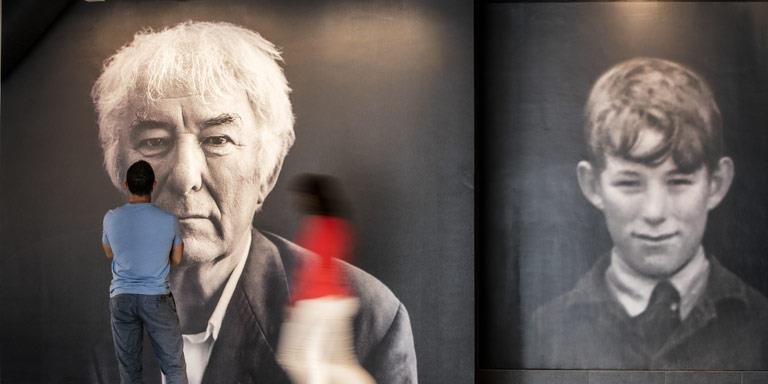 "And some time make the time to drive out west
Into County Clare, along the Flaggy Shore,
In September or October, when the wind
And the light are working off each other
So that the ocean on one side is wild."
– Seamus Heaney, 'Postscript', 2003
Seamus Heaney was an Irish poet and playwright who expressed his love for Ireland through many of his works. In his poem 'Postscript', he describes the natural beauty of the County Clare landscape.
6. Cork
"I have never seen a West Cork farmer with an umbrella, except at a funeral. His father or grandfather, who went to the creamery with an ass and cart, insulated himself against the vagaries of the heavens with a thick woollen overcoat and slightly greasy flat cap. Little rain permeated the oxter or the headgear. Beneath the outer layer, which could weigh a hundredweight when well soaked, the man remained dry and warm."
– Damien Enright, 'A Place Near Heaven – A Year in West Cork'
Damien Enright is a journalist, television writer-presenter, and author of five walking guides to County Cork. In his book, A Place Near Heaven – A Year in West Cork, he recalls how the West Cork farmers battled the elements to get their jobs done – and were very rarely seen holding an umbrella!
7. Derry/Londonderry
"I showed you THE walls and they're nothing short of spectacular."
Two of the most famous things about Derry/Londonderry is the hit show Derry Girls, and the city walls, so bringing the two together perfectly encapsulates and celebrates two of the city's greatest achievements.
8. Donegal
'The sea has been in my heart since I was a little girl. I grew up in Gaoth Dobhair, an Irish-speaking parish on the Atlantic coast of County Donegal, in the northwest corner of Ireland. The area is known for its rugged cliffs and windswept beaches, and the sea's moods and spirit still find their way into my music.'
– Enya
Enya is an Irish singer, songwriter, record producer, and musician originally from Gweedore in County Donegal. In an interview with the Wall Street Journal, she remembers life as a child growing up on the county's coast and reflects on how the rugged landscape has influenced much of her music.
9. Down
'I have seen landscapes, notably in the Mourne Mountains and southwards which under a particular light made me feel that at any moment a giant might raise his head over the next ridge. I yearn to see County Down in the snow, one almost expects to see a march of dwarfs dashing past. How I long to break into a world where such things were true.'
– C. S. Lewis
Belfast-born author and theologian Clive Staples Lewis took much of the inspiration for his successful Narnia series from the Mourne landscape. Today visitors to Kilbroney Park in Rostrevor, County Down, can immerse themselves in the magic of Narnia by visiting the Narnia trail.
10. Dublin
"For myself, I always write about Dublin, because if I can get to the heart of Dublin I can get to the heart of all the cities of the world. In the particular is contained the universal."
– James Joyce
Ireland's capital captured the hearts of many, including the Dublin-born novelist, short story writer, and poet, James Joyce. Before his death, he stated, 'When I die, Dublin will be written in my heart.'
11. Fermanagh
"Half the year Lough Erne is in Fermanagh, and for the other half Fermanagh is in Lough Erne."
– Adrian Dunbar
Adrian Dunbar is an Irish actor and director from Enniskillen, County Fermanagh, best known for his role as Superintendent Ted Hastings in the BBC One thriller Line of Duty. Talking about his childhood growing up in Enniskillen, he recalls the frequent rainfall which caused heavy winter flooding in his hometown.
12. Galway
"There is a feel about Galway you can wear around your shoulders like a cloak. It hangs in the air with its dampness; it walks the cobblestone streets and stands in the doorways of its gray stone buildings. It blows in with the mist from the Atlantic and lingers incessantly at every corner. I have never been able to walk the streets of Galway without feeling some unnamed presence accompanying me."
– Claire Fullerton
American-born writer Claire Fullerton took a trip to the west of Ireland and ended up staying for a year. She describes the atmosphere in Galway as the wind blows in from the Atlantic in her 2015 novel, Dancing to an Irish Reel. Her novel is full of great quotes about Ireland.
13. Kerry
"Any Kerryman will tell you that there are only two Kingdoms: the Kingdom of God and the Kingdom of Kerry – "One is not of this world, and the other is out of this world."
– Anonymous
The common witty quip sums up the love of the Kerry people for their home county.
14. Kildare
"And straight I will repair
To the Curragh of Kildare
For it's there I'll find tidings of my dear."
– Christy Moore, 'Curragh of Kildare'
Kildare native Christopher Andrew 'Christy' Moore is an Irish folk-singer, songwriter, and guitarist. In his song 'Curragh of Kildare', he describes a plain of about 5,000 acres of farming and grazing land.
15. Kilkenny
"Kilkenny the Marble City, home sweet home to me
and see the lovers hand in hand as the walk along John's Quay
then take me to its castle grounds lookin' over The Nore
flowing gracefully down to meet the River Suir."
– Eamon Wall, 'Shine on Kilkenny'
Kilkenny musician Eamon Wall talks about the beauty of his hometown in his song 'Shine On Kilkenny'.
16. Laois
"Lovely Laois, I hear you calling
In my dreams, I hear you say
Come back home to dear old Ireland
Lovely Laois, I'll come back to you some day."
– Joseph Kavanagh, 'Lovely Laois'
Musician Joseph Kavanagh recalls the beauty of County Laois as he yearns to return someday.
17. Leitrim
"Where the wandering water gushes, from the hills above Glen-Car, in pools among the rushes, that scarce could bathe a star."
– W. B. Yeats, 'The Stolen Child', 1889
William Butler Yeats was an Irish poet and one of the foremost figures of 20th-century literature. His poem 'The Stolen Child' refers to places in County Leitrim where he spent many summers in his youth.
18. Limerick
"In Limerick, a family that was dysfunctional was one who could afford to drink but didn't."
– Malachy McCourt
Malachy Gerard McCourt is an Irish-American actor, writer, and politician. Talking about the idea of 'dysfunctional families' he jokes about the Irish drinking culture.
19. Longford
"Oh Longford lovely Longford you're Ireland's pride and joy
The place that I remember when I was just a boy
I miss your hills and valleys and the folks I left behind
Please tell my sweetheart, Mary, I have Longford on my mind."
– Mick Flavin, 'Longford On My Mind'
Irish country singer Mick Flavin was born in Ballinamuck, County Longford. He shares his love for his home county in his song 'Longford On My Mind'.
20. Louth
"I always went to Ireland as a child. I remember trips to Dundalk, Wexford, Cork, and Dublin. My gran was born in Dublin, and we had a lot of Irish friends, so we'd stay on their farms and go fishing. They were fantastic holidays – being outdoors all day and coming home to a really warm welcome in the evenings."
– Vinnie Jones
Vincent Peter Jones is an English actor and former professional footballer who played for Wimbledon, Leeds United, Sheffield United, Chelsea, Queens Park Rangers, and Wales. He remembers his childhood trips to County Louth with his gran.
21. Mayo
"My mother was born on a tiny farm in County Mayo. She was meant to stay at home and look after the farm while her brother and sister got an education. However, she came to England on a visit and never went back."
– Julie Walters
Dame Julie Mary Walters is an English actress, writer, and comedian. Her mother came from County Mayo before moving to England as a young woman.
22. Meath
"So be proud all of Ireland of history long gone
That inspired generations of men later on
Your age is your greatness and a testament still
As you stand Bru na Boinne on a County Meath hill."
– Unknown
The Irish song lyrics show the pride many Irish people feel in their heritage and is one of the best quotes about Ireland.
23. Monaghan
"I have just returned from a trip to Paris and let me tell you, lads, courting in Monaghan is only in its infancy.'
– Patrick Kavanagh
Patrick Kavanagh was an Irish poet and novelist born in Inniskeen, County Monaghan. He is best known for his accounts of Irish life through reference to the everyday and commonplace. Kavanagh is one of the most quoted Irish writers but this lesser-known quote sends a witty message about romantic life in Monaghan.
24. Offaly
"My name is Barack Obama, of the Moneygall Obamas, and I've come home to find the apostrophe we lost somewhere along the way."
– Barack Obama, 2011
The 44th U.S. president claims his heritage back to the small Offaly town of Moneygall. Falmouth Kearney, a maternal great-great-great-grandfather of Obama, emigrated from Moneygall to New York City at the age of 19 in 1850 and eventually resettled in Tipton County, Indiana. His is one of the best quotes about Ireland on this list.
25. Roscommon
"As I gazed out of the window
Of this old apartment block
Across the concrete jungle
That's the City of New York
My thoughts go wandering slowly back
To those lovely woods and streams
That I left behind in Ireland
And Roscommon of my dreams."
– Larry Kilcommins, 'Roscommon of My Dreams'
Singer Larry Kilcommins sings about gazing out of a New York window while dreaming of his home in Roscommon.
26. Sligo
"I will arise and go now, for always night and day, I hear lake water lapping with low sounds by the shore; While I stand on the roadway, or on the pavements grey, I hear it in the deep heart's core."
– W. B. Yeats, 'The Lake of Innisfree', 1888
Yeats again uses inspiration from his childhood spent in Sligo in his poem 'The Lake of Innisfree'.
27. Tipperary
"Royal and saintly Cashel! I would gaze
Upon the wreck of thy departed powers,
Not in the dewy light of matin hours,
Nor the meridian pomp of summer's blaze,
But at the close of dim autumnal days."
– Aubrey de Vere, 'The Rock of Cashel', 1789
Aubrey Thomas de Vere was an Irish poet and critic born in Toreen, County Limerick. His poem 'The Rock of Cashel', describes the historical site located at Cashel in County Tipperary.
28. Tyrone
"I'm falling head over heels in love with the pretty little girl from Omagh in the county of Tyrone."
– Daniel O'Donnell
Daniel O'Donnell is an Irish singer and television presenter born in Donegal. Many of his songs mention places throughout Ireland including this one called 'Pretty Little Girl From Omagh', just another of the best quotes about Ireland.
29. Waterford
"I liken an affair to the shattering of a Waterford crystal vase. You can glue it back together, but it will never be the same again."
– John Gottman
John Mordecai Gottman is an American psychological researcher and clinician who has done much work on divorce and marital stability. Using a metaphor, he compared the fragility of Waterford crystal to that of a relationship.
30. Westmeath
"Last Thursday at the market in the town of Mullingar
A friend, he introduced me to a famous movie star
She'd was married several times before to men of every creed
And she thought she had found a sucker in the bachelor from Westmeath."
– Joe Dolan, 'Westmeath Bachelor'
Joseph Francis Robert "Joe" Dolan was an Irish entertainer, recording artist, and pop singer. Born in Mullingar, he used his home county as inspiration for this song, 'Westmeath Bachelor'.
31. Wexford
"We are Wexford, true and free. We are of a story yet untold. We are the people, of the purple and gold."
– Michael Fortune
Another of our top quotes about Ireland is by the Irish folklorist Michael Fortune who writes about what it means to be from County Wexford.
32. Wicklow
"Sweet Vale of Avoca! How calm could I rest In thy bosom of shade, with the friends I love best; Where the storms that we feel in this cold world should cease, and our hearts, like thy waters, be mingled in peace."
– Thomas Moore, 'The Vale of Avoca', 1807
Thomas Moore was an Irish poet, singer, songwriter, and entertainer. His song 'The Vale of Avoca', which describes the valley where the River Avon Mor and Avon Beag meet in the Vale of Avoca, brought fame to the area which is still a popular tourist destination today.
Note: our travel articles should be used only to plan future trips. Please stay at home until the government has advised otherwise.