When it comes to Irish landmarks, there are many to see. We've selected the best one to check out in every county of Ireland.
It goes without saying that Ireland is awash in remarkable landmarks. From hilltop fortresses and stone cairns to natural causeways and thundering waterfalls – there is so much to appreciate on this small and mystical isle.
In fact, there are so many possibilities that we thought we would make it a bit easier for you and compile a list of what we believe to be Ireland's best.
Without further ado, here are the best landmarks to see before you die in every county of Ireland!
1. Antrim – The Giant's Causeway
Almost a cliché, but for good reason, the spectacular Giant's Causeway consists of some 40,000 interlocking basalt columns forming natural steps into the mighty North Atlantic. These unique rock formations have stood for nearly 60 million years and never fail to amaze visitors.
Address: 44 Causeway Rd, Bushmills BT57 8SU, United Kingdom
2. Armagh – Navan Fort
A truly unique landmark, Navan Fort is a place where myth and reality collide and is one of Ireland's most famous and important archaeological sites. The Navan Centre offers visitors an interactive experience through the setting of a replica Iron Age dwelling. Take a seat by the fire and experience the Iron Age come to life!
Address: 81 Killylea Rd, Armagh BT60 4LD, United Kingdom
3. Carlow – Duckett's Grove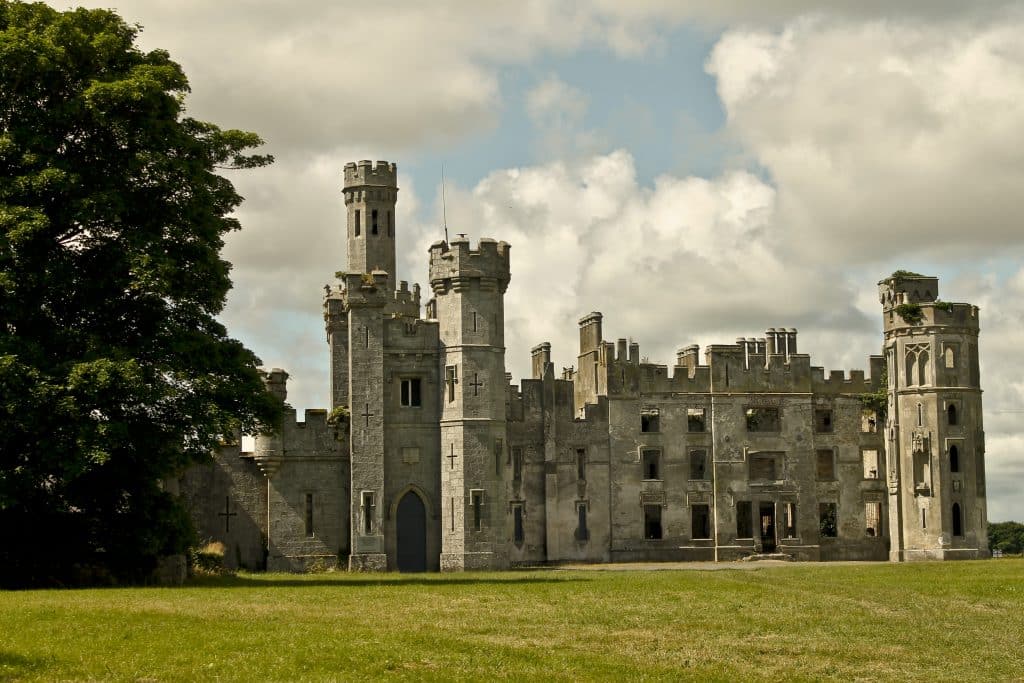 Since the 18th century, the awe-invoking towers and turrets that form Duckett's Grove have dominated the Carlow landscape. Now in ruins, this historic site is one of the most photogenic and eerily romantic Irish landmarks.
Address: Kneestown, Duckett's Grove, Co. Carlow, Ireland
4. Cavan – Cloughoughter Castle
Another ruin, this time on a small island in Lough Oughter, Clough Oughter Castle is a sight to behold in County Cavan. While the exact date of construction is unknown, it is estimated to have started in the early 13th-century.
Location: Lough Oughter, Cavan
5. Clare – Cliffs of Moher
The iconic Cliffs of Moher are one of Ireland's most visited attractions. Stretching for 8km along the wild Atlantic coast of Clare, these remarkable cliffs reach 214m at their highest point. Numerous vantage points offer striking views of the cliffs and the great expanse of the Atlantic Ocean.
Address: 11 Holland Ct, Lislorkan North, Liscannor, Co. Clare, V95 HC83, Ireland
6. Cork – Blarney Castle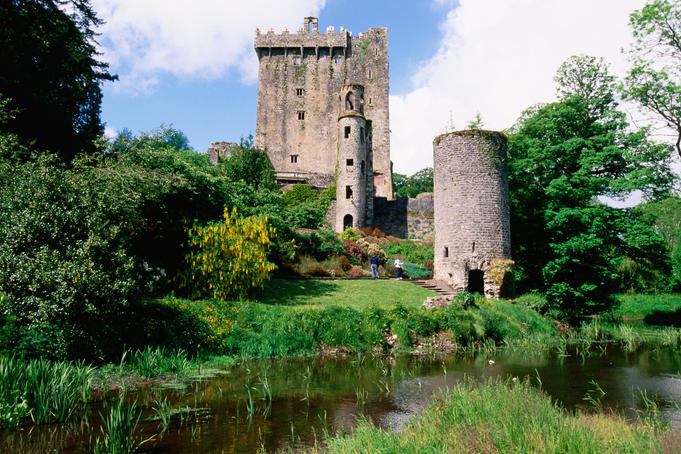 Next on our list is Blarney Castle, built nearly 600 years ago by one of Ireland's greatest chieftains, Cormac MacCarthy. The site is now a world landmark and one of Ireland's greatest treasures with countless visitors flocking to the site to see the legendary Stone of Eloquence.
Address: Monacnapa, Blarney, Co. Cork, Ireland
7. Derry – Mussenden Temple
This Derry gem is a strikingly memorable landmark. Mussenden Temple sits on the edge of a cliff overlooking the magnificent Downhill Strand. Constructed in 1785, the temple forms part of the estate of Frederick Augustus Hervey, as a summer library. What an amazing location to sit back and immerse yourself in a good book!
Address: Mussenden Rd, Castlerock, Coleraine BT51 4RP, United Kingdom
8. Donegal – Grianán of Aileach
Sitting on a hilltop in County Donegal sits the ancient stone fort of Grianán of Aileach. The fort offers breath-taking vistas of the entire peninsula. Legend states that the giants of Inishowen lie sleeping beneath the fort and will one day spring to life and reclaim their ancient lands.
Location: Carrowreagh, Inishowen, Co. Donegal
9. Down – Scrabo Tower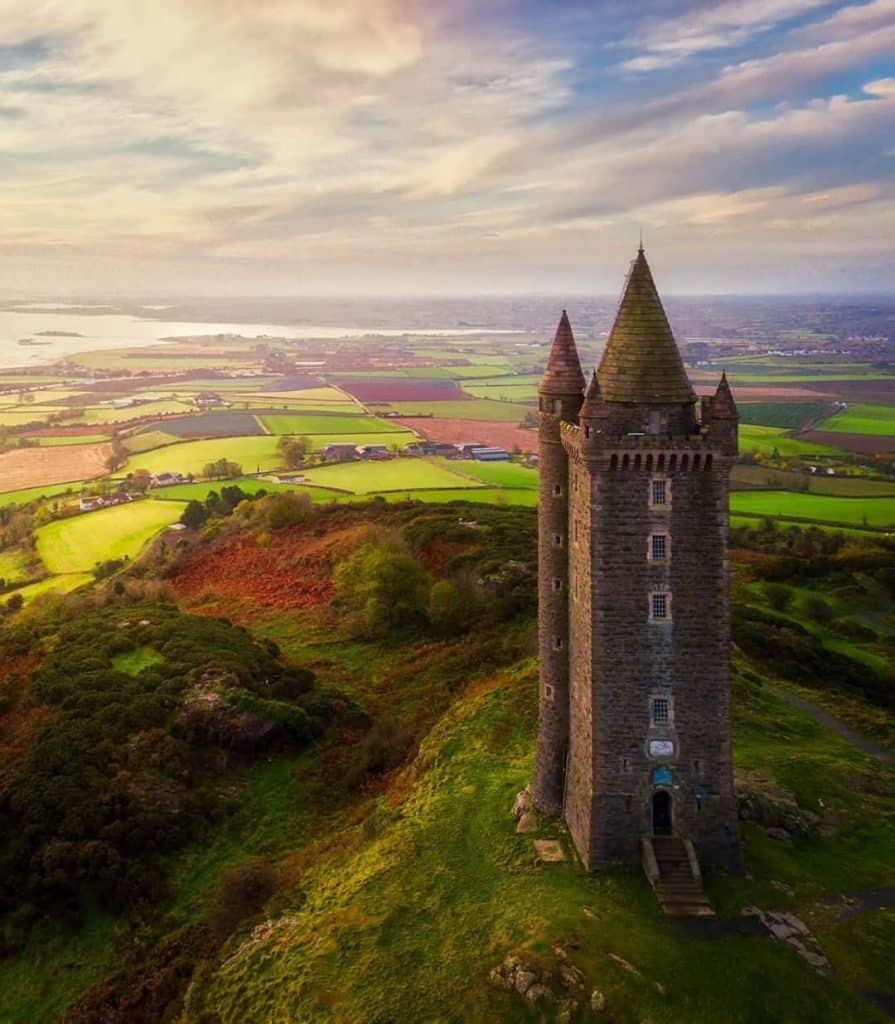 The next landmark on our list offers an unparalleled view of the Irish landscape, all the way to the coast of Scotland! Scrabo Tower, constructed in 1857, is one of the most famous Irish landmarks. It was constructed as a memorial to Charles Stewart, one of the Duke of Wellington's generals during the Napoleonic Wars.
Address: 203A Scrabo Rd, Newtownards BT23 4SJ, United Kingdom
10. Dublin – The General Post Office (GPO)
The General Post Office on Dublin's O'Connell Street is one of Ireland's most famous buildings. During the Easter Rising of 1916, the GPO served as the headquarters of the uprising's leaders. It was from outside this building on the 24th of April 1916 that Patrick Pearse read out the Proclamation of the Irish Republic.
Address: O'Connell Street Lower, North City, Dublin 1, Ireland
11. Fermanagh – The Marble Arch Caves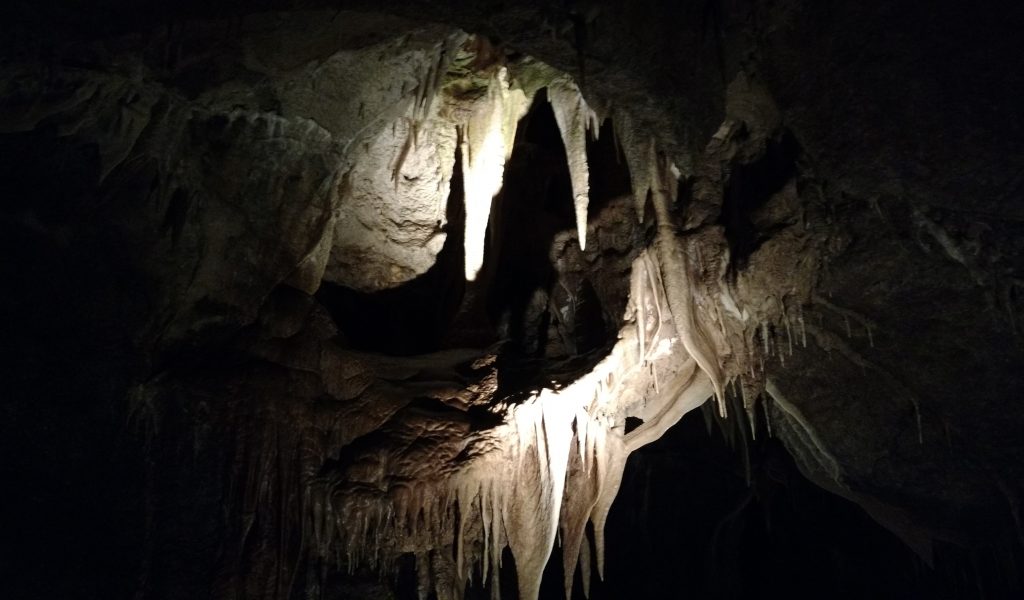 Our next landmark is the Marble Arch Caves, one of the finest cave systems in Europe. Visitors can take a guided tour through a natural underworld hidden beneath the earth. Home to rivers, waterfalls, winding passages, and awe-inspiring chambers, this is a landmark waiting to be explored.
Address: 43 Marlbank Rd, Enniskillen BT92 1EW, United Kingdom
12. Galway – Kylemore Abbey & Victorian Walled Gardens
Next on our list of best Irish landmarks to see is Kylemore Abbey. Today Kylemore Abbey is owned and run by the Benedictine community who have been in residence there since 1920. Visitors can experience woodland and lakeshore walks, magnificent buildings and explore Ireland's largest walled garden in the heart of the Connemara countryside.
Address: Kylemore Abbey, Pollacappul, Connemara, Co. Galway, Ireland
13. Kerry – Dunquin Pier
A now-famous postcard image of Ireland, Dunquin Pier can be found along the Dingle Peninsula. The surrounding landscape is an attractive mixture of mountain and clifftop, and a seasonal ferry service to the Blasket Islands operates from the pier.
Address: Ballyickeen Commons, Co. Kerry, Ireland
14. Kildare – Maynooth Castle
Maynooth Castle, a ruined 13th-century castle in Maynooth, was built at the junction of two streams and became the home of the Fitzgerald family. Maynooth Castle became the largest and richest Earl's house in Ireland and is now one of Kildare's best landmarks with seasonal tours available during the summer months.
Address: Maynooth Castle, Main St, Maynooth, Co. Kildare, Ireland
15. Kilkenny – Kilkenny Castle
The magnificent Kilkenny Castle overlooks the River Nore and has guarded this important river crossing for over 900 years. Two wings of the castle have been restored to their 19th–century splendour and include a luxurious library, drawing room and the renowned Long Gallery.
Address: The Parade, Collegepark, Kilkenny, Ireland
16. Laois – The Rock of Dunamase
The Rock of Dunamase offers spectacular views of the surrounding countryside, making the site a strategic location to build a stronghold. Control of the site has been fought over for centuries. Despite the castle's ruined state, visitors can get a sense of its former magnificence while taking in the stunning views.
Address: Dunamaise, Aghnahily, Co. Laois, Ireland
17. Leitrim – Glencar Waterfall
Particularly impressive after rain, the Glencar Waterfall in County Leitrim is a truly stunning Irish landmark. Although there is a multitude of waterfalls visible in the area, there are none quite as romantic as Glencar.
Address: Formoyle, Glencar, Co. Leitrim, Ireland
18. Limerick – King John's Castle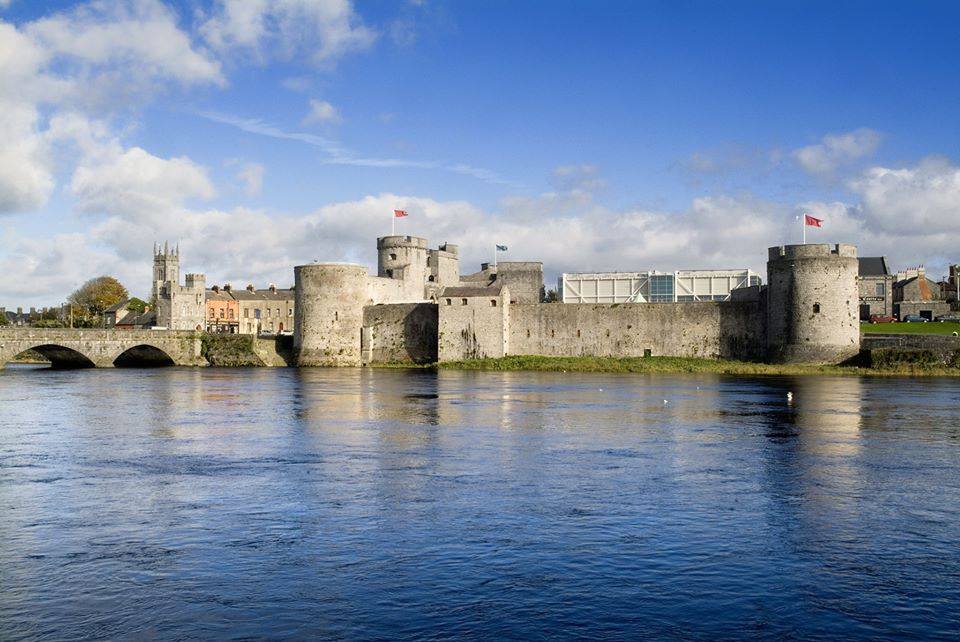 Our next landmark sits at the heart of medieval Limerick City. King John's Castle is a 13th-century castle overlooking the majestic River Shannon and offering panoramic views of the city. Visitors can discover excavated pre-Norman houses, fortifications, siege mines, and battlement walks while learning about the history of the castle and its king.
Address: Nicholas St, Limerick, Ireland
19. Longford – The Corlea Trackway
Exposed to view after years of hiding beneath Longford's bogland, the Iron Age trackway at Corlea consists of wooden 'toghers'. The trackway is the largest of its kind ever excavated in Europe, and visitors can see a beautifully preserved eighteen-meter stretch of it.
Address: 2 Cartron Rd, Cloonbreany, Keenagh, Co. Longford, N39 XT18, Ireland
20. Louth – Monasterboice
The ruins of Monasterboice are of an early Christian settlement, founded in the late 5th century by Saint Buite. It was once an important religious centre, and visitors can explore the site including the old graveyard, two churches, and a sundial. The landmark is best known for its spectacular high crosses.
Address: Bawntaaffe, Monasterboice, Co. Louth, Ireland
21. Mayo – Croagh Patrick
Croagh Patrick is situated close to the picturesque town of Westport. The 764m-high mountain dominates the surrounding landscape and offers magnificent views of Clew Bay and the surrounding Mayo countryside. The peak is an important site of pilgrimage and is a sacred place of ancient history and archaeological heritage.
Location: Croagh Patrick, Teevenacroaghy, Co. Mayo
22. Meath – Newgrange passage tomb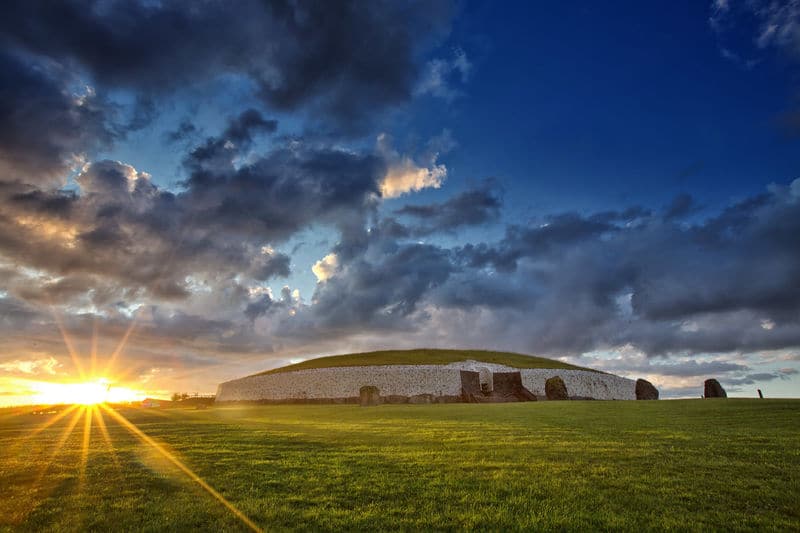 When it comes to Irish landmarks, you can't miss Newgrange. The site is Ireland's best-known passage tomb and dates to circa 3,200 BC. The large mound is one of the jewels in Meath's archaeological crown.
Of the many notable features at Newgrange, the most famous is the 'roof box' situated above the passage entrance. At dawn on the winter solstice, a shaft of sunlight illuminates the chamber through an opening.
Address: Newgrange, Donore, Co. Meath, Ireland
23. Monaghan – Lough Muckno
There is no better way to spend a sunny day in County Monaghan than Lough Muckno. This sparkling freshwater lake is located near the town of Castleblayney and is a popular spot for outdoor activities. There's a leisure park on its perimeter, offering water-skiing, wake boarding, and other water sports, while Hope Castle overlooks the lake.
Location: Lough Muckno, Co. Monaghan
24. Offaly – Birr Castle Gardens and Science Centre
The next spot on our list of Irish landmarks is in County Offaly and is none other than Birr Castle. Famed for its giant telescope, the Leviathan, and its extensive gardens, the castle offers visitors the chance to explore an impressive plant collection while also learning about amazing feats of science and engineering.
Address: Townparks, Birr, Co. Offaly, Ireland
25. Roscommon – Lough Key Forest Park
Comprising of stunning mixed woodland, a lake, several islands, and follies, Lough Key in Boyle, County Roscommon is one of Ireland's most extensive and picturesque forest parks. The landmark offers several nature walks and amenities to explore.
Address: Boyle, Co. Roscommon, F52 PY66, Ireland
26. Sligo – Classiebawn Castle
Located on the Mullaghmore peninsula in County Sligo, Classiebawn Castle is a stunning country house, built on what was formerly a 10,000-acre estate. The current castle was largely built in the late 19th-century and is still used as a private residence. Although inaccessible to the public, the views of the castle and towards Benbulben are truly phenomenal.
Address: Mullaghmore, Knocknafaugher, Co. Sligo, Ireland
27. Tipperary – Rock of Cashel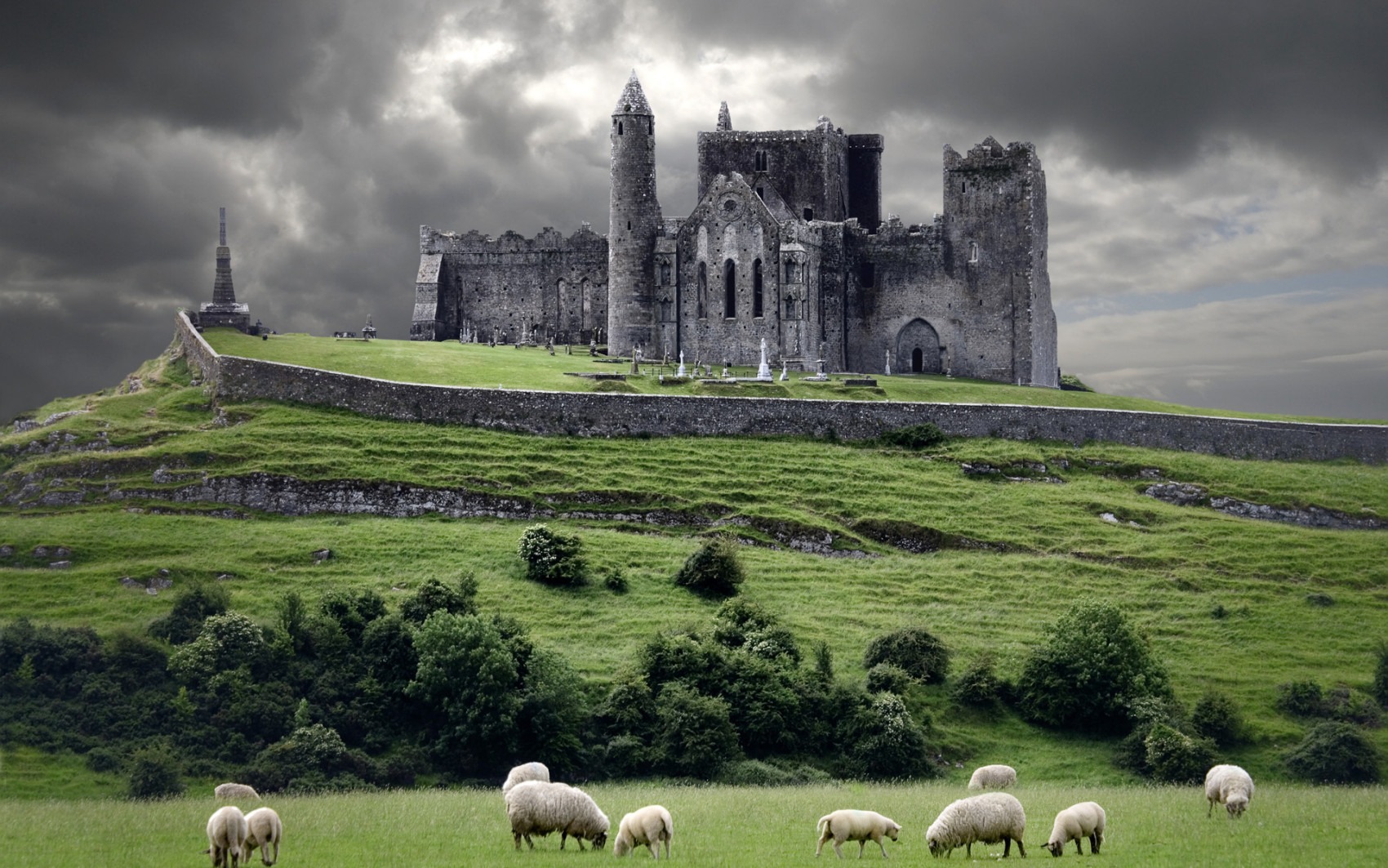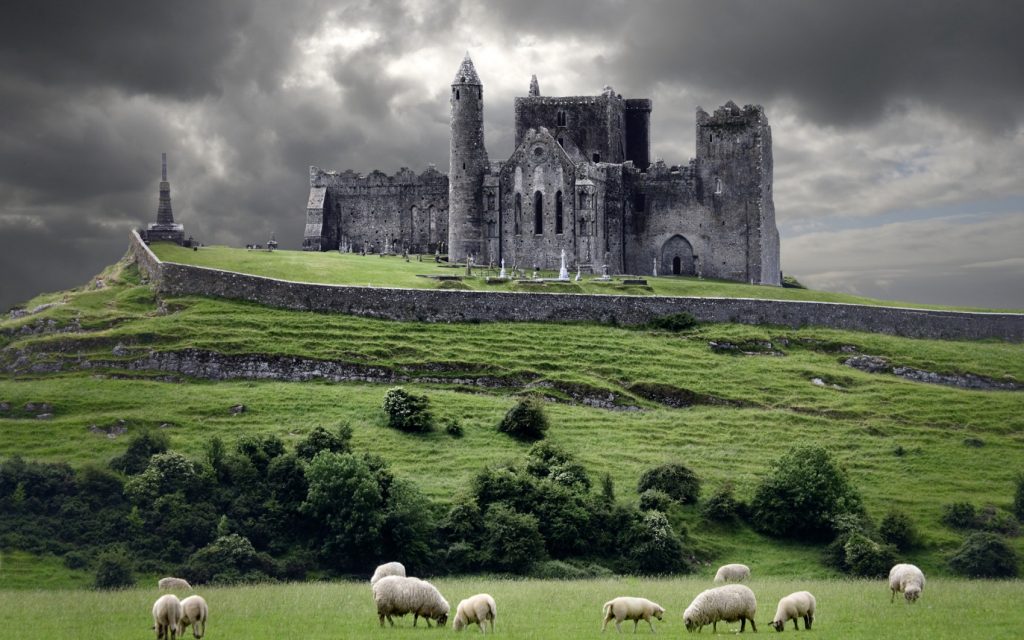 Our next landmark is one of Ireland's most visited attractions. The Rock of Cashel is a collection of medieval ecclesiastical buildings set on a high limestone outcrop. It is an ancient royal site of the kings of Munster and is associated with two of the most famous people of Irish legend and history – St. Patrick and Brian Boru.
Address: Moor, Cashel, Co. Tipperary, Ireland
28. Tyrone – Beaghmore Stone Circles
Discovered during peat cutting in the 1940s the site at Beaghmore is composed of a complex of early Bronze Age megalithic features including several stone circles and cairns. A truly enchanting and mystical landmark!
Address: 64-62 Blackrock Rd, Cookstown BT80 9PA, United Kingdom
29. Waterford – Ballysaggartmore Towers
Ballysaggartmore Towers are a collection of imposing gothic-style buildings constructed in the 19th-century. The magical towers provide a truly magical fairy tale setting for visitors and are one of the best Irish landmarks to visit in your lifetime.
Address: Southpark, Co. Waterford, Ireland
30. Westmeath – Athlone Castle
This 12th-century stone castle was designed to defend the crossing point of the River Shannon. Located on the west side of Athlone Town, the castle has evolved into a bold, defensive building with a diverse and fascinating history. Exhibits include a 360-degree cinematic experience of the Siege of Athlone.
Address: Castle St, Athlone, Co. Westmeath, N37 A6D7, Ireland
31. Wexford – Hook Lighthouse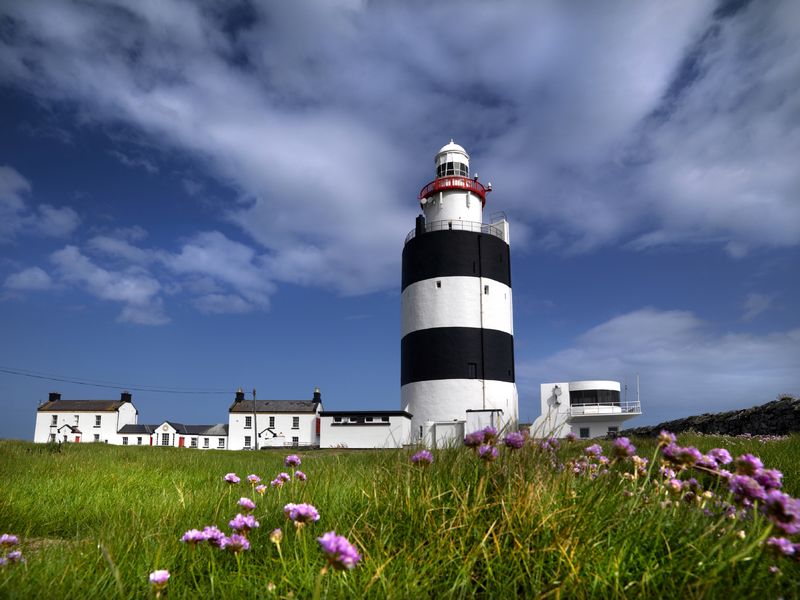 Hook Lighthouse in County Wexford is a popular attraction in Ireland's sunny south-east. It has marked the entrance to Waterford Harbour for at least 2,000 years and is one of the oldest operational lighthouses in the world. Constructed of local limestone, the tower is one of the most fascinating examples of medieval architecture in Ireland.
Address: Churchtown, Hook Head, Co. Wexford, Ireland
32. Wicklow – Powerscourt House, Gardens and Waterfall
Last, but by no means least, is a stunning demesne set in the foothills of the Wicklow Mountains. Powerscourt is one of the most beautiful Irish landmarks and is home to Powerscourt House and Gardens, and the island's highest waterfall.
Address: Powerscourt Demesne, Enniskerry, Co. Wicklow, Ireland